Eric Bischoff Blames Dixie Carter For 'Missed Opportunity' That Was TNA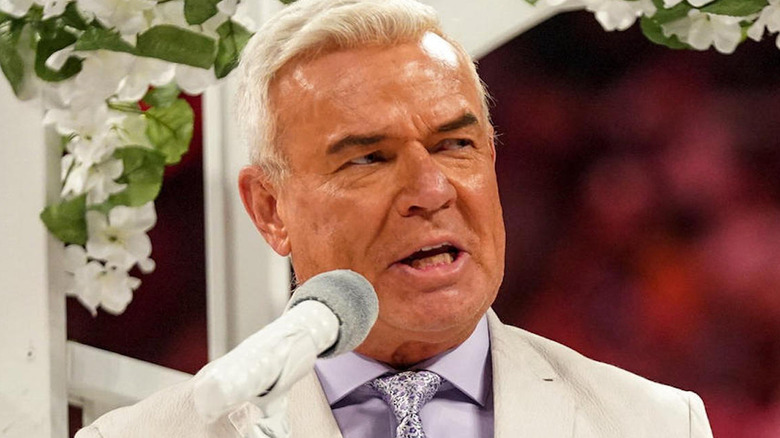 WWE
A decade ago, Impact Wrestling (fka TNA), flirted with the idea of being a legitimate competitor to WWE, once attracting 2.2 millions viewers for an episode of "TNA Impact" in 2010. The show moved to Monday that night, attempting to do what WCW did more than a decade prior by going head to head with "WWE Raw. However, the move to Mondays lasted just 10 weeks before the show moved back to its usual Thursday night slot. Despite having a talented roster, TNA, which was owned by Dixie Carter at the time, never seriously challenged WWE.
Eric Bischoff, who was TNA's executive producer during that period, recently talked about TNA failing to capitalize on its opportunity.
"It's still frustrating for me to this day," Bischoff said on his "83 Weeks" podcast. "This is a classic missed opportunity. All of the elements were there for TNA in 2010. You had the unwavering, without question, unmitigated support of Spike TV. Spike TV wanted TNA to be more successful than TNA did and was willing to do whatever they could to contribute to that.
"Spike TV threw a ton of money at TNA above and beyond their licensing fee to bring in Hulk Hogan, to bring in Eric Bischoff, to bring in Sting, to bring in Kurt Angle. That didn't come out of Dixie's pocket. Nonetheless, the talent was all there, the appetite for wrestling was there, and the appetite for an alternative was certainly there. The only thing that wasn't there was the commitment to really build and grow the brand."
If you use any quotes from this article, please credit "83 Weeks" with a h/t to Wrestling Inc. for the transcription.