Wrestling World Pays Tribute To WWE Hall Of Famer Scott Hall One Year After His Death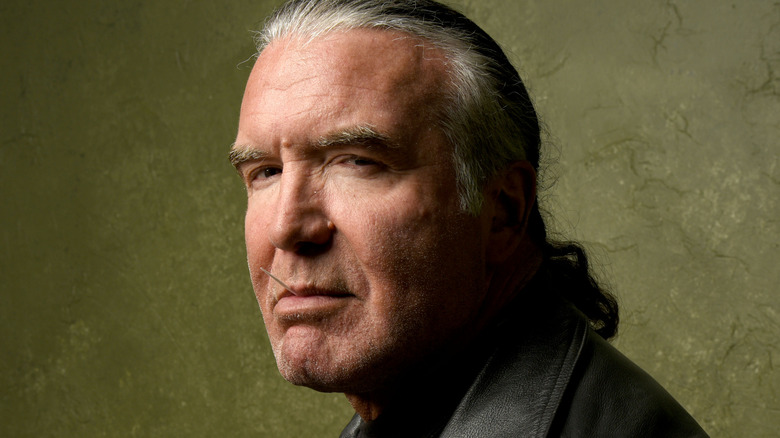 Larry Busacca/Getty Images
One year ago today, the wrestling world lost a "Too Sweet" legend in Scott Hall. The two-time WWE Hall Of Famer sadly passed away at the age of 63 after suffering three heart attacks, stemming from a blood clot issue following hip replacement surgery. Friends and fans all across the globe are still reeling from the passing of "The Bad Guy" and many have taken to social media to pay tribute, including fellow Kliq member Sean Waltman who simply shared two candid photos of him and Hall laughing together.
— Sean Waltman (@TheRealXPac) March 14, 2023
Another close friend in Diamond Dallas Page, a man who helped Hall overcome his substance abuse issues, took the time to write a few words about Hall in addition to sharing a tribute video in his late friend's honor.
"A year ago today I lost one of my closest brothers, the one and only Bad Guy, Scott Hall." DDP tweeted. "Today I chose to celebrate the amazing times we had together. Like when I was managing him as the Diamond Stud, driving my '62 pink Cadillac convertible from town to town. Scott didn't drink booze back then but he did like to roll some smoke and imitate lines from the classic movie Scarface. There's where Razor Ramon was born, 'The Bad Guy' through and through. I miss you brother and you'll never be forgotten, DDP."
— Diamond Dallas Page (@RealDDP) March 14, 2023
Beautiful tribute to Scott Hall from @FeeltheBang 💥💎 pic.twitter.com/3PcGYEmxs8

— Diamond Dallas Page (@RealDDP) March 14, 2023
"One year ago today we lost the coolest dude in the room. We love ya, 'Bad Guy,'" tweeted out Kevin Nash's "Kliq This" podcast account.
One year ago today we lost the coolest dude in the room. We love ya, #BadGuy. #ScottHall4Life 🤘 pic.twitter.com/PSlrcAEkuw

— Kliq This Podcast (@KliqThisPodcast) March 14, 2023
Thanks for everything,'Bad Guy!'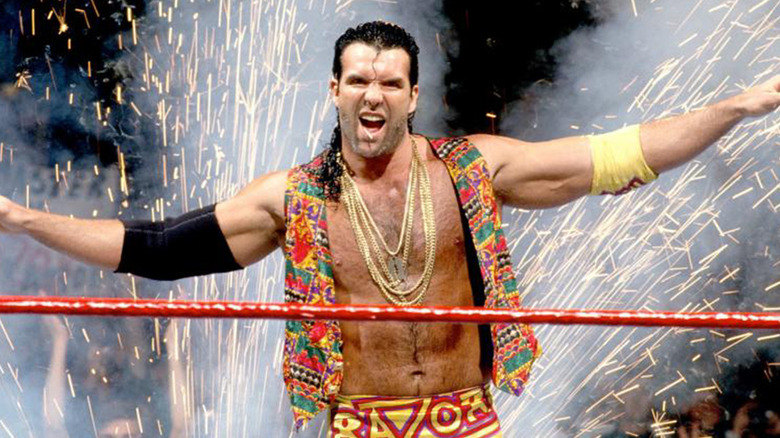 WWE
Someone who will always have a special tie with Hall even though he never faced the man in the ring is Matt Cardona. "The Indy God" took to Twitter to recount his memorable childhood story of meeting Hall, who was Intercontinental Champion at the time. The two got a picture together after Cardona was in attendance for WrestleMania X at Madison Square Garden. Fast-forward 22 years down the road when Cardona made a WrestleMania moment when he won that very same belt at WrestleMania 32 in of all things, a ladder match. Cardona made sure to meet up with Hall backstage to get a picture of the two together, this time having "The Bad Guy" hold his newly won belt.
"I love you, Scott. Thanks for everything, 'Bad Guy,' Cardona wrote.
RIP SCOTT HALL pic.twitter.com/Fl2MbW6dj0

— Matt Cardona (@TheMattCardona) March 15, 2022
"It was a year ago today we lost Scott Hall," colleague Marco Mero wrote. "I have so many wonderful memories with him. What a brilliant mind he had for the wrestling business. Rest in paradise."
Something that Hall will always be known for is his famously short and sweet WWE Hall of Fame speech, one he delivered with ease when he was inducted as Razor Ramon back in 2014.  Fresh from his tough road to recovery alongside DDP and Jake Roberts, Hall gave the instant classic line, "Bad times don't last, but 'Bad Guys' do." Current free agent and big man E.J. Nduka shared the memorable clip on Twitter for his followers to enjoy. 
— EJ Nduka "The Judge" (@EjTheJudge) March 14, 2023