WWE SmackDown Results (03/24) - Dominik Mysterio Comes Face-To-Face With His Family, Cody Rhodes Vs. LA Knight, WrestleMania Title Match Contract Signing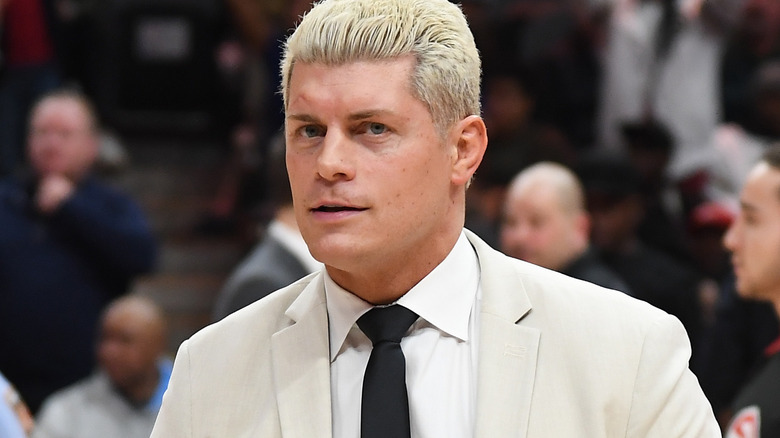 Paras Griffin/Getty Images
Welcome to Wrestling Inc.'s results of "WWE SmackDown" on March 24, 2023, coming to you live from the MGM Grand Garden Arena in Las Vegas, Nevada!
Ahead of his match with Roman Reigns for the Undisputed WWE Universal Championship at WrestleMania 39, Cody Rhodes will be squaring off Ludwig Kaiser as a result of a heated confrontation between the pair on last week's edition of "The SmackDown Low Down". Kaiser's last single's match was on the October 21 episode of "SmackDown", during which he suffered a loss at the hands of Rey Mysterio while Rhodes hasn't competed on the Blue Brand since April 2016.
Speaking of Rey, he will be returning to televised action for the first time since losing to Karrion Kross on the February 24 episode of "SmackDown" when he goes one-on-one with LA Knight. Rey threw out the challenge for the match after Knight made unwarranted comments regarding Rey's recent turmoil with Dominik Mysterio.
Rey's night doesn't just end there, however, as he and Dominik are set to come face-to-face along with the rest of the Mysterio family as Dominik looks to get their blessing to face him in Los Angeles, California. Dominik has made it crystal clear that he wants the match to take place, but Rey has refused to cave thus far and has voiced on multiple occasions his refusal to fight his son.
Before they clash on April 2 for the Intercontinental Championship, current titleholder GUNTHER and his challengers Sheamus and Drew McIntyre will be signing the contract for the bout tonight. Cracks in the relationship between McIntyre and Sheamus have grown over the past few weeks, as the pair simultaneously pinned the aforementioned Knight and Xavier Woods to win a Fatal Five-Way Number One Contender's Match two weeks ago before their match last week to determine GUNTHER's opponent ended in a no contest and Pearce ruled that they had both earned a spot in the match.
We are live! The show kicks off with a video recapping the events leading up to the reunion of Kevin Owens and Sami Zayn on last week's show, as well as what occurred on this past Monday's "WWE Raw". Michael Cole and Wade Barrett greet audiences at home as Cody Rhodes makes his way to the ring. Ludwig Kaiser and Giovanni Vinci are already waiting inside.
Cody Rhodes vs. Ludwig Kaiser (w/ Giovanni Vinci)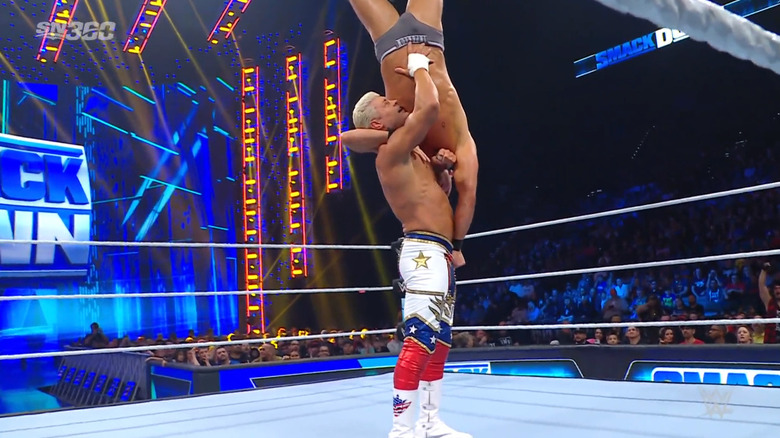 WWE/Fox
The bell rings and the two lock up. Kaiser delivers a right hand to Rhodes' midsection, but Rhodes fires back with a delayed vertical suplex. Paul Heyman appears on the ramp to watch on as Rhodes delivers a running knee that sends Kaiser to the outside.
Back from the break, Rhodes delivers a superplex to Kaiser. Kaiser then looks to send Rhodes' leg colliding with the ring post, but Rhodes prevents such from happening, then fires off right hands and tosses Kaiser back in the ring. Kaiser delivers a kick, then sends him crashing into the mat. He rains down right hands, then delivers a stomp to Rhodes' face and follows it up with an uppercut and a running knee. He then hits a right hand, but Rhodes fires back with some of his own. Kaiser responds with a stomp and whips Rhodes into the corner, then charges at him. Rhodes ducks out of the way and delivers a kick to his midsection, then sets up for Cross-Rhodes. Solo Sikoa appears next to Heyman, allowing Kaiser to execute a chop block. Heyman and Sikoa inch their way closer to the ring as Kaiser sends Rhodes colliding with the ring steps.
Back from another break, the two men level one another with clotheslines before Rhodes delivers a shoulder tackle and a scoop powerslam. Kaiser fires back with a clothesline, but Rhodes manages to hit the Cody Cutter. He then follows it up with Cross-Rhodes for the win.
Winner: Cody Rhodes
After the match, Heyman grabs a mic and hops up on the apron alongside Sikoa. Heyman says Rhodes is owed an apology, then rags on Samantha Irvin for her performance as ring announcer. He then re-declares Rhodes as the winner in a more extravagant manner, then says Rhodes' Road to WrestleMania has a major pothole in it when he takes on Sikoa next Monday on "Raw". He tells Rhodes that if he survives, then all roads lead to Roman Reigns, who will be on "SmackDown" next Friday to come face-to-face with him one more time before WrestleMania.
Rhodes asks Heyman if he's moving the goalpost, then asks if he's expected to say no to The Bloodline. He says he still managed to beat Seth "Freakin" Rollins with a torn pec, and says Reigns isn't ready for him before adding that Sikoa will find that out the hard way too on Monday.
Back from the break, Charlotte Flair heads to the ring.
We Hear From Charlotte Flair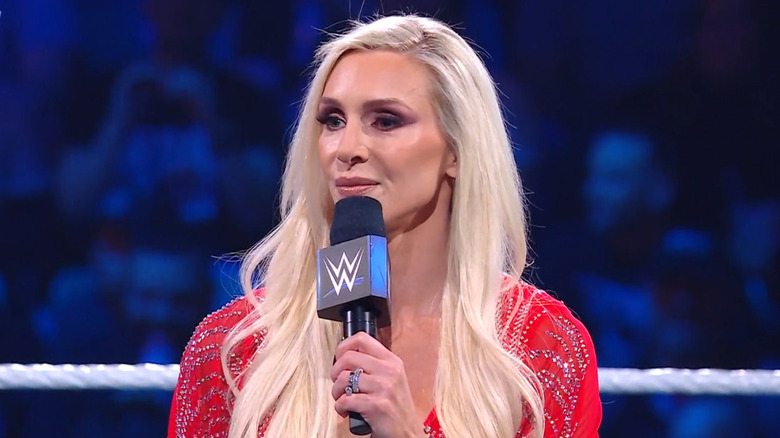 WWE/Fox
Flair points to the WrestleMania sign and says it's only eight days away. She says she didn't become a fourteen time champion due to her fears or insecurities. She says fear is a lack of understanding and ignorance, then says the wrestling business was built on respect. She tells Rhea Ripley she respects her, then says she respects all the women in the division. She says while she has insecurities, she has managed to overcome them. She then says she loves her father and intends to continue his legacy, then adds that diamonds are forever and so is she.
Back at ringside, Rey Mysterio heads down as we see his family cheering him on in the audience. LA Knight follows. 
Rey Mysterio vs. LA Knight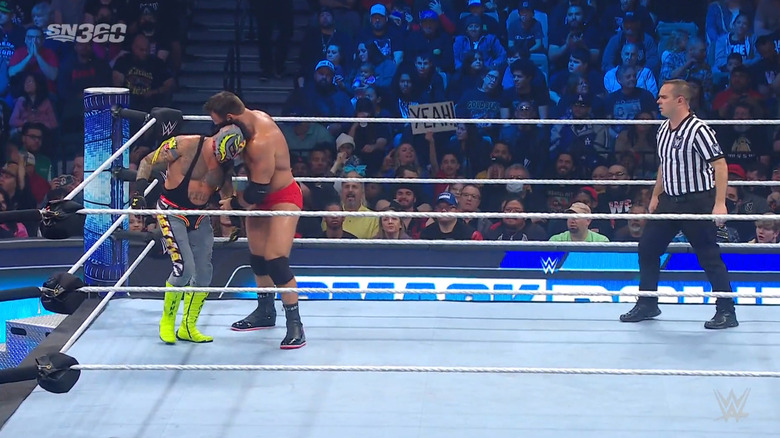 WWE/Fox
The bell rings and Knight charges at Rey. Rey ducks out of the way and delivers a dropkick and a double underhook suplex. He rains down right hands in the corner before Knight plants him face first. He then fires off several stomps and sends him crashing into the top turnbuckle, then delivers a right hand and follows it up with a neckbreaker. Rey hits a hurricanrana that sends Knight to the outside, then delivers a dropkick through the middle rope and follows it up with a splash under the bottom rope. He tosses him back in the ring, then delivers a shoulder to his midsection and ascends to the top. Dominik Mysterio's music hits and Rey becomes distracted, allowing Knight to execute a chop block. Dominik strolls down to the ring to watch on.
Back from the break, Knight delivers a knee to Rey's midsection, then follows it up with a running knee. He delivers a knee to his spine, then lands a back suplex and a powerslam. He looks for an elbow drop, but Rey rolls out of the way and delivers a bulldog, then ascends to the top and hits a senton. He follows it up with a crossbody off the ropes and goes for a pin, but Knight kicks out. Knight gets Rey up on his shoulders, but Rey reverses it into a swinging DDT and dropkicks him into the ropes. He looks for the 619, but Knight catches him and looks for a move. Rey counters with a hurricanrana that sends him into the ropes and looks for a 619, but Dominik trips him as he runs the ropes, allowing for Knight to roll him up for the win.
Winner: LA Knight
Dominik Mysterio Comes Face-To-Face With His Family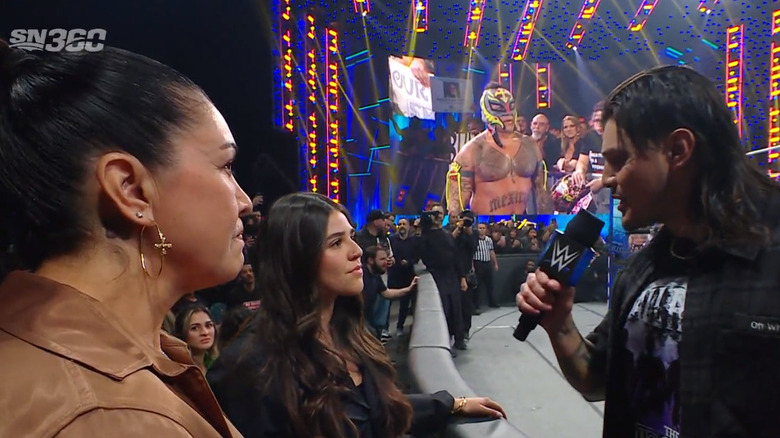 WWE/Fox
After Knight defeats Rey, Dominik grabs a mic and asks him if he'll give him what he wants. He asks Rey if he'll run away or be a man, then shoves him. Rey tells him no once again and looks to head to the back as Dominik asks Angie how it feels to be married to a pathetic loser and a coward. He approaches his family in the crowd and tells his mom she married a deadbeat because she watched Rey abandon him. He says because she did that, it makes her a deadbeat mom. Aliyah gets in her brother's face in defense of their mother, and Dominik calls her stupid.
Angie grabs the mic, but Dominik steals it back and tells her to shut up. Rey has had enough and knocks Dominik to the floor, then grabs a mic and says Dominik pushed him to do this. He says Dominik made him do what he just did, then tells him he doesn't just get to disrespect his mother. Rey tells Dominik if he wants a match at WrestleMania, he's on.
Back from the break, Xia Li and Lacey Evans head down. Shotzi and Natalya follow as we see Liv Morgan and Raquel Rodriguez watching on from ringside. 
Shotzi and Natalya vs. Xia Li and Lacey Evans in a Qualifier Match for the WrestleMania Women's Showcase Match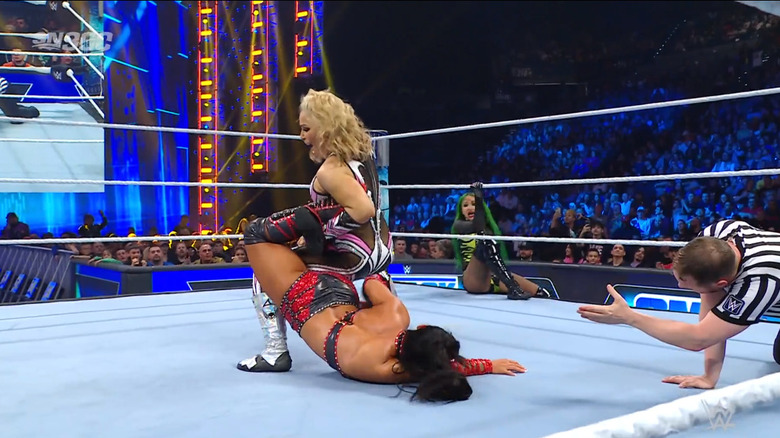 WWE/Fox
Evans and Shotzi begin the action. The bell rings and the two lock up. Li tags in and delivers a chop, then hits a running knee and a suplex. She sends Shotzi into the middle turnbuckle, then tags Evans in. Evans sends Shotzi's head bouncing off the mat, but Shotzi fires back with an enziguri. Evans hits a back elbow, then tags in Li. The two double team on Shotzi before Evans looks to hit Shotzi with a right hand. She accidentally hits Li before Natalya tags in and she and Shotzi hit the Hart Attack. Natalya then locks in the Sharpshooter for the win.
Winners: Shotzi and Natalya
After the match, Morgan and Rodriguez stare down Shotzi and Natalya. Ronda Rousey's music hits, and she and Shayna Baszler head to the ring. Baszler says all the women currently in the ring want to get their hands on them, then makes fun of them being injured by her and Rousey time and time again. She says they should all put an end to this tonight, and she heads down looking to get in the ring alongside Rousey. Rousey stops Baszler and says they have given Las Vegas so much, but they've gotten nothing in return. Baszler then informs the four women that her and Rousey have been added to the WrestleMania Women's Showcase Match.
Back at ringside, Drew McIntyre heads down. The Brawling Brutes follow as Adam Pearce is already waiting in the ring. 
GUNTHER, Sheamus, and Drew McIntyre Sign The Contract For Their WrestleMania Intercontinental Championship Match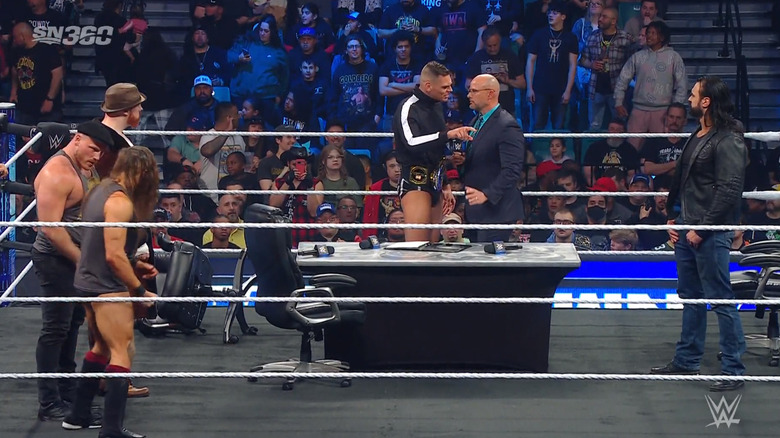 WWE/Fox
Sheamus says he's been asked why he's so angry at McIntyre, then poses a hypothetical. He says imagine sharing a dream with someone only to have them go behind their back and steal it from you. He says imagine you let them sleep on your couch and then you get the chance to hurt them after all they've done to hurt you.
McIntyre cuts him off and says Sheamus has been running his mouth on social media and it's embarrassing. He says they should be laughing about what happened, then says Sheamus has become too sensitive and is unable to separate personal from business. He says he knows he can beat Sheamus and GUNTHER, but Sheamus has been unable to defeat the Intercontinental Champion as history has proven.
McIntyre and Sheamus are about to brawl, but Pearce stops them from going at it and says he needs their signatures. Both men do as they're told before GUNTHER's music hits and he heads to the ring.
GUNTHER stares down Pearce, then says he needs Pearce to justify his decision to make him defend his title against both Sheamus and McIntyre. Pearce begs GUNTHER to sign the contract, and he does so, then asks Pearce if he's happy. He says he will do what he needs to defend his title as long as it's justified. He says he will beat McIntyre, Sheamus and even Butch and Ridge Holland if he has to.
Butch pounces at GUNTHER and begins beating him down before Holland peels him off. GUNTHER then gets in Pearce's face and tells him to give him a match with Butch right now.
GUNTHER vs. Butch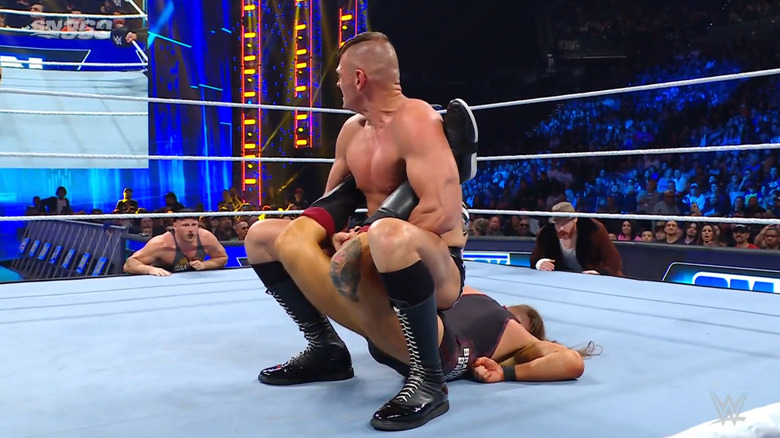 WWE/Fox
Back from the break, the bell has rung and GUNTHER delivers a big boot. He sends Butch crashing into the mat, but Butch catches him with a kick and a pair of right hands. GUNTHER delivers a double underhook suplex, then delivers a kick and a stomp. He follows it up with a chop and locks in a Boston Crab, then releases the hold and floats over into a Crossface. He releases it and sends Butch crashing into the mat, but Butch manages to hit a pair of step-up enziguris. GUNTHER then sends Butch to the outside
Back from another break, GUNTHER looks for a right hand, but Butch snaps his fingers and delivers a step-up enziguri. He sends GUNTHER to the outside and looks for a moonsault, but GUNTHER sends him toppling over the announce desk. He then stares down McIntyre and Sheamus as Butch sets up to hit him from behind. Butch accidentally hits McIntyre before the pair get in the ring and Butch steps on GUNTHER's fingers. He hits an enziguri and sets up for a move, but McIntyre hops up on the apron and gets into his face. Sheamus pulls him off, and McIntyre hits him with a Glasgow Kiss. Holland goes after McIntyre, but McIntyre sends him colliding into the ring post. Sheamus then attacks him. Amongst all the chaos, GUNTHER hits Butch back in the ring with The Last Symphony for the win.
Winner: GUNTHER
After the match, Sheamus gets in the ring and stares GUNTHER down. McIntyre then hits him with a Claymore Kick, and stares down Sheamus.
We head backstage to The Street Profits discussing their Showcase Match at WrestleMania. Braun Strowman and Ricochet walk in and say The Profits will fool around and find out. Strowman then tells The Profits that he and Ricochet want all the smoke.
Back at ringside, Kevin Owens heads down. 
Kevin Owens Hosts Sami Zayn On The KO Show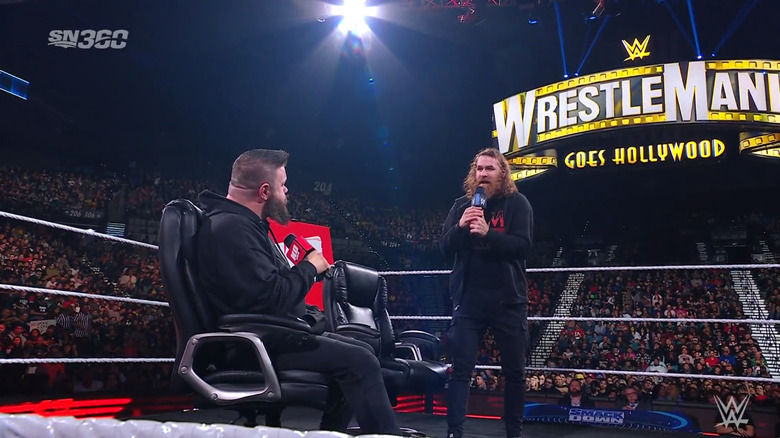 WWE/Fox
Owens welcomes fans to "The KO Show", then introduces Sami Zayn.
Zayn's music hits and he heads to the ring.
Owens asks if he did everything like he wanted with the big entrance and introduction, and Zayn says he didn't want any of that. Owens says Zayn told him he wanted separate entrances backstage so he could get his own pop, and says he totally understands. Owens takes a seat before Zayn asks if they can talk about WrestleMania instead of that. Owens agrees, and Zayn says he's been the one talking non-stop about conquering The Bloodline and asks if he realizes what they're on the verge of. He says this year's WrestleMania will be different.
Owens says that's why he brought him out here. He says he got him something and reminds him of what he told him a few months ago about getting him a new shirt to wear instead of The Bloodline's shirt. He pulls out a shirt unfolds it to reveals the KO-Mania shirt of the year. Zayn says it looks awesome, and Owens says that's actually the back. He says Zayn has been the MVP over the last 12 months and says this year's shirt is about the front. He tosses the shirt over to Zayn, and Zayn turns it over to reveal the front: Wrestle-Zayn-ia. Zayn flips out and says he loves it, then puts the shirt on as Owens unzips his hoodie to reveal the same shirt. Zayn extends his arms and asks for a hug. Owens says Zayn only gets one hug a year, but Zayn insists and the pair embrace.
The Usos then come in out of nowhere and attack Zayn and Owens. They deliver a double superkick to both men before hitting Zayn with 1D. Owens grabs a chair, and The Usos are forced to retreat.