Cody Rhodes Confirms That He Was A Heel During Final Days Of AEW Run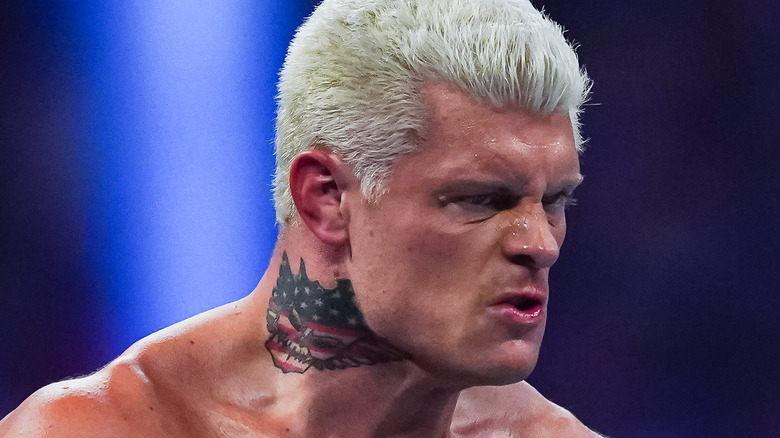 Alex Bierens De Haan/Getty Images
WWE star Cody Rhodes has stated that he was a heel during his final days with AEW. Rhodes spoke with Ariel Helwani of "BT Sport" to reflect on what got him to this point, recalling his last year with AEW.
Rhodes had "rejected" the idea of being a villain, once saying to the live audience that he'd never turn heel, which ultimately led to him being booed even more. Despite that seeming like a genuine sentiment to many fans, he revealed that wasn't what he meant.
"I think if you're going to be a bad guy today, you have to really be a bad guy," Rhodes said. "The number one thing a heel is supposed to do is take something away, the crowd wants to see something, oh, they're stomping their feet, they're clapping their hands, and then you take it away. The last heel run I had, the number one thing they wanted me to do was to turn heel so the number one thing that I could do was say, 'I'm never going to turn heel,' which makes me a heel.
"If people need further proof that this wasn't some revisionist history, look at the matches I'm having, I'm bumping and feeding. Maybe it was a bit too nuanced for any audience, and maybe it was a scenario where I swing and miss, you never know because I think people really thought I was adamant about not turning and that's not a real thing."
When asked if he'd turn heel in WWE, Rhodes said he doesn't "love the idea" of being a villain here, but mentioned that he would turn heel if something could present itself to make him change his mind. He also said WWE's younger audience could be a major factor, stating that if they believe in him he'd have to stick with being a good guy.