Brock Lesnar Turns On Cody Rhodes In Shocking Attack On WWE Raw After WrestleMania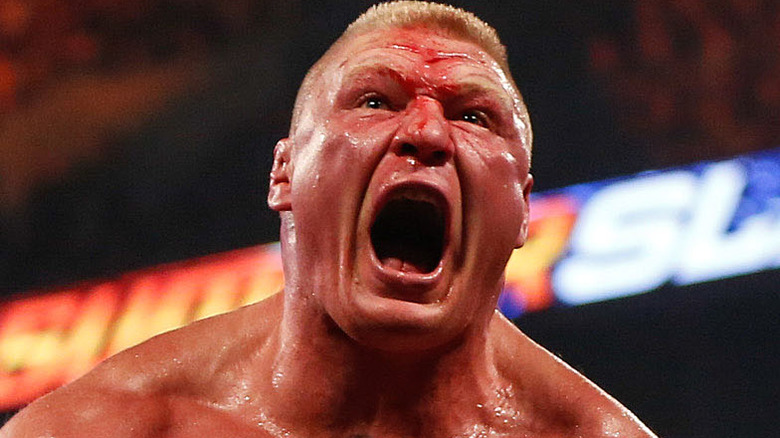 Jp Yim/Getty Images
Brock Lesnar is back to his heel ways, surprisingly dropping Cody Rhodes before what was supposed to be the main event of Monday night's "WWE Raw."
Earlier during Monday's "Raw" after WrestleMania 39, Roman Reigns and Rhodes met face-to-face, with the 2023 Royal Rumble winner issuing a challenge to Reigns for a rematch for the Undisputed WWE Universal Championship. Rhodes ultimately had to settle for a tag team match, with Lesnar seemingly coming out to be Rhodes' partner. After the ring introductions of Reigns, Solo Sikoa, Lesnar, and Rhodes, launched his attack on Rhodes quickly lifting him for an F-5. That was just the beginning of the beating "The Beast" handed to Rhodes. Lesnar landed several F-5s, smashing Rhodes into the ringside barricade, putting him through the announcers' desk, and driving Rhodes down onto the ring steps in the center of the ring with one final F-5.
The match never officially began, as Reigns and Sikoa quickly departed after Lesnar attacked Rhodes. Lesnar has not wrestled a match on "Raw" in more than 20 years, and he hasn't wrestled a tag team match in any situation in over two decades.
This capped off a tough 24 hours for Rhodes, who lost the main event of WrestleMania 39 Sunday night to Reigns due to outside interference by Sikoa. Rhodes' plight harkens back to John Cena in 2012 when he lost to The Rock at WrestleMania 28 and then got beaten up by a returning Lesnar the following night on "Raw." Although it's unclear where Rhodes' story will lead him next, Cena did rebound to triumphantly defeat Lesnar at the Extreme Rules pay-per-view just weeks later.