Roman Reigns' Favorite Wrestler Is Bret Hart, According To Natalya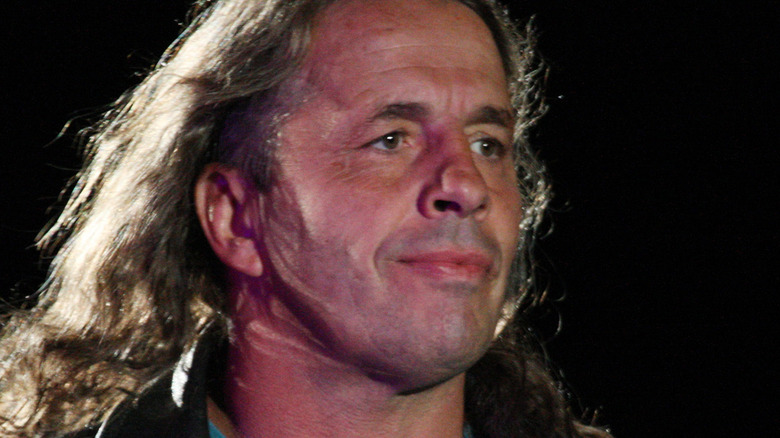 Gallo Images/Getty Images
The Tribal Chief acknowledges Bret Hart.
At some point, every wrestler names their "Mount Rushmore" of all-time greats, whether it was those who inspired them to pursue their dreams, or those who etched their name in the annals of history. During a recent appearance on "Insight," Natalya was asked who is among her Mount Rushmore of Canadian wrestlers, and the discussion led to an interesting revelation regarding Roman Reigns.
"First and foremost, Bret Hart," Natalya said. "Bret is, to this day, he inspires the new generation. To inspire, you know, your favorites, that Bret was their favorite. It's funny hearing Roman Reigns say it was, because you know, Roman grew up in a dynasty of wrestlers as well, with the Samoan dynasty. But I have heard Roman say so many times that Bret made him want to do this."
This isn't the first time Natalya has discussed Reigns' adoration of "The Hitman," as she revealed in 2021 that Hart feels like all of his work "wasn't for nothing" after knowing that he inspired the current face of WWE. The former "SmackDown" Women's Champion is obviously inspired by her uncle as well, who she believes once put on the greatest WrestleMania opener of all time.
"I would say my favorite Bret Hart match, I am so biased, I would say Bret Hart vs. Owen Hart," Natalya noted, "WrestleMania 10, Madison Square Garden, it was the greatest opener of all time." She praised the storytelling that was put on display and discussed how Bret stood up for Owen behind the scenes. Bret pushed for Owen to have his moment, and it all culminated in a classic match that fans still praise to this day.