Rhea Ripley Can Barely Put Into Words The Emotions Of Her WrestleMania 39 Title Win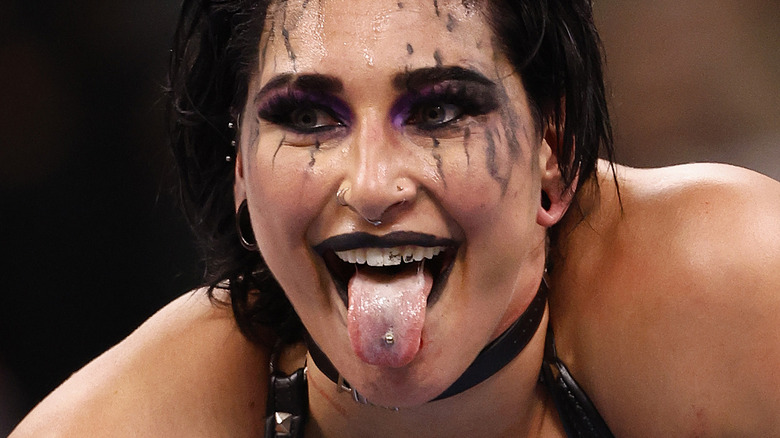 Ronald Martinez/Getty Images
New "WWE SmackDown" Women's Champion Rhea Ripley is still coming to grips with arguably the biggest win of her career, against Charlotte Flair at WrestleMania 39.
During her recent appearance on the "After The Bell" podcast, Ripley described the emotions she felt when a sea of people — including her family members — celebrated with her at SoFi Stadium in Los Angeles.
"I don't think I can even put it into words because there were so many feelings going through my body," Ripley recalled. "I was just so happy, excited and overwhelmed. I could see my family in the crowd, so that was getting me extra emotional. I feel like, once he [the referee] counted to three, I snapped back into myself, so Rhea Ripley was gone and I was myself at that moment.
"I got to take in everything — I could look around and see everyone, their faces, their reactions, and make eye contact with my mum and dad. It was such an overwhelming feeling of adrenaline, excitement and pure happiness."
Ripley admitted that her previous clash at the Showcase of Immortals against Charlotte — at WrestleMania 36 — not ending with a favorable outcome prepared her for her coronation in 2023.
"When I lost that, it felt like the feeling of WrestleMania got ripped away from me," Ripley recalled. "So, going into WrestleMania 39, it felt like everything came together. I was full of positive vibes, too."
The Ripley vs. Charlotte match was widely praised as one of the best matches of the WrestleMania 39 weekend. Dave Meltzer of The Wrestling Observer gave the match 4.75 stars, with only GUNTHER vs. Drew McIntyre vs. Sheamus (5 stars) and The Usos vs. Kevin Owens & Sami Zayn (5 stars) receiving higher ratings.