WWE NXT Results (04/18) - The Grayson Waller Effect Returns, Two Title Matches, Roxanne Perez Vs. Zoey Stark
WWE/USA Network
Welcome to Wrestling Inc.'s results of "WWE NXT" on April 18, 2023, coming to you live from the WWE Performance Center in Orlando, Florida!
Grayson Waller will be bringing back "The Grayson Waller Effect" tonight as he hosts "NXT" Champion Carmelo Hayes ahead of their title bout at next week's Spring Breakin' special. Waller secured himself the spot in the bout after defeating JD McDonagh, Dragon Lee, and Duke Hudson in a Fatal Four-Way Number One Contender's Match.
"NXT" Tag Team Champions Gallus will be defending their title against The Creed Brothers and The Dyad in a Triple Threat Match. This will be Wolfgang and Mark Coffey's third televised defense after having previously successfully retained it over Pretty Deadly, Tony D'Angelo and Channing "Stacks" Lorenzo, and the previously mentioned Julius and Brutus. Another title match is also set for tonight, as Wes Lee will be putting his North American Championship on the line against Charlie Dempey. Lee has defended his title week in and week out against the likes of Axiom, Von Wagner, and Dijak amongst others.
Former "NXT" Women's Champion Roxanne Perez is set to collide with Zoey Stark. The pair had a heated encounter with one another backstage after Stark had some choice words for Perez whilst she was in the middle of a conversation with the aforementioned D'Angelo and Stacks.
Noam Dar will also be making his televised in-ring debut tonight against an opponent who has yet to be named. Dar first appeared on "NXT" programming on the April 4 episode of the show alongside his "NXT UK" Heritage Cup to watch the aforementioned Dragon Lee and Nathan Frazer square off with one another in the ring.
Gallus (c) (w/ Joe Coffey) vs. The Creed Brothers (w/ Ivy Nile) vs. The Dyad (w/ Joe Gacy and Ava) for the NXT Tag Team Championship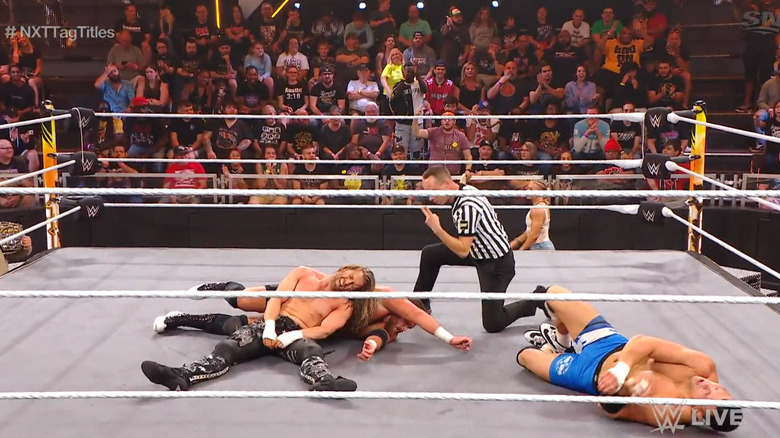 WWE/USA Network
We are live! Vic Joseph and Booker T greet audiences at home as The Dyad, Gallus, and The Creed Brothers are beating one another down at ringside. Referees eventually separate the men as Julius and Brutus are left standing in the ring. 
Julius, Wolfgang, and Fowler then begin the action as the bell rings. Wolfgang and Fowler each take turns going after Julius before Julius catches them both with a dropkick off the middle rope and tags in Brutus. Julius tosses Brutus onto both Wolfgang and Fowler, but Fowler manages to tag in Reid. Reid delivers a spinning heel kick to Julius and a forearm to Wolfgang, but Mark tags in and delivers a Samoan Drop to Reid. Julius tags in and catches both Reid and Mark with suplexes. Julius delivers a moonsault to Reid off the top rope, then hits Mark with a powerbomb.
Reid looks to level Julius, but Julius remains on his feet and catches Reid with a dropkick. Mark then levels him and hits a running knee and goes for a pin, but Julius kicks out.
Back from the break, Reid looks for an enziguri on Mark. Mark ducks it before Julius catches him with a dropkick. Fowler, Wolfgang, and Brutus tag in. Brutus hits Wolfgang and Fowler with a back elbow, then delivers the Brutus Smash to both Fowler and Wolfgang. Brutus then delivers a suplex to Wolfgang and pins him, but Fowler charges at him and he suplexes him while still pinning Wolfgang. He goes for a pin, but Mark breaks the fall.
The action spills to the outside, where The Dyad and The Creed Brothers send Gallus crashing into the ring steps. The four men spot one another and begin going at it in the ring. Reid dumps Julius to the outside before he and Fowler level Brutus with a double suplex. They look to do the same to Julius, but Julius reverses the momentum and suplexes both men. Ava hops up on the apron and causes a distraction, allowing Fowler to get Julius in an Electric Chair position. Nile gets in Ava's face. Reid tumbles on top of Ava, which allows Julius to get Fowler in an Electric Chair Position and Brutus to hit the Brutus Bomb off the top. Gallus then delivers their finisher for the win.
Winner (and still): Gallus
We then head to a video of a confrontation between Dijak and Apollo Crews in the parking lot from earlier today.
Back from the break, we head to the first edition of Hard Hitting Hone Truths with Nathan Frazer, where he reflects on everything that's happened over the past few weeks.
Back at ringside, Noam Dar heads down with his "NXT" Heritage Cup Championship in hand. Myles Borne is already waiting in the ring.
Noam Dar vs. Myles Borne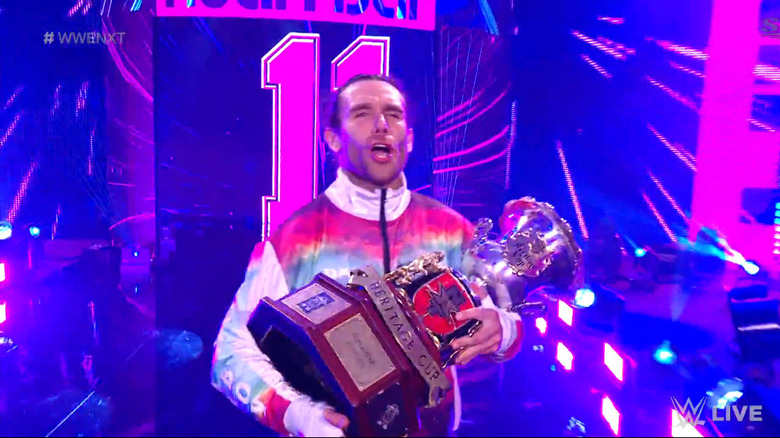 WWE/USA Network
The bell rings and the two lock up. Borne sends Dar crashing into the corner, but Dar responds with a series of elbows. He follows it up with several kicks to Borne's chest before Borne delivers a few right hands and a dropkick. He catches Dar with a Fallaway Slam, but Dar manages to hit the Nova Roller for the win.
Winner: Noam Dar
Back from the break, we head to a video of Kiana James in her office. Josh Briggs approaches her and asks for her help getting Brooks Jensen talking to her. James declines to do so, and Briggs begs him. He says they came up together and asks her to talk to Jensen. James tells him to talk to Jensen himself before Jensen appears in a white button down and glasses. Jensen tells Briggs to go, but Briggs says they need to hash it out because they're family. Jensen tells him that they aren't family, and Briggs tells him the man he doesn't know the man he's looking at. Jensen tells him that he's looking at a man who makes choices and tells him to leave once again.

Duke Hudson Confronts Bron Breakker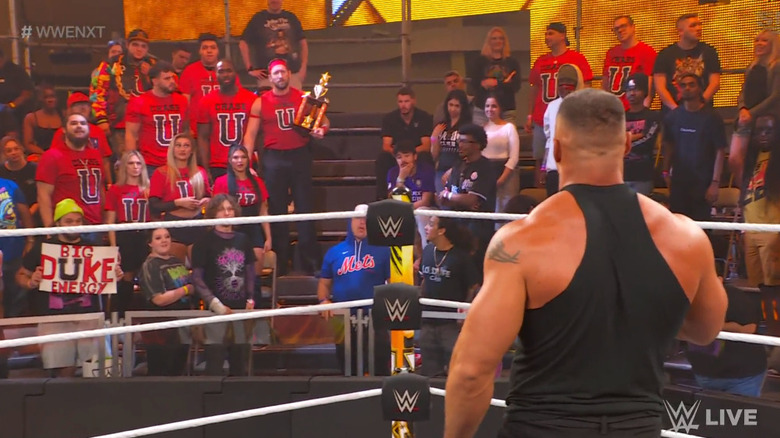 WWE/USA Network
Back at ringside, Odyssey Jones heads down. Bron Breakker appears out of nowhere and catches him with a spear. He mockingly asks Jones if that hurts, then says that's what happens when you get in his way. He says that he had to come out last week to put a stop to Chase U's pathetic award ceremony, then calls them all clowns. He says Jones, Carmelo Hayes, and Andre Chase have all felt his wrath.
Duke Hudson appears in the crowd and tells Breakker to keep Chase's name out of his mouth. He says Breakker made a huge mistake by interrupting his award ceremony and tearing the Chase U flag. He asks Breakker if he's sad because he lost the "NXT" Championship, then says no one puts down Chase U and gets away with it. He challenges Breakker to a match next week at Spring Breakin', and Breakker says the last time he saw him, Hudson took off running with his trophy. He tells Hudson to take seven days, but Hudson cuts him off and says he wasn't done talking. He says that Breakker won't be facing him, but Chase instead. Breakker turns to the camera and tells Chase to enjoy his last few seconds of breathing before he spears him in half next week.
Roxanne Perez then heads down to the ring. Zoey Stark follows. 
Back from the break, we head backstage to McKenzie Mitchell and Pretty Deadly. Mitchell notes that their issues with Tony D'Angelo and Channing "Stacks" Lorenzo have been escalating over the past couple of weeks, and both Kit Wilson and Elton Prince express their frustrations. They then challenge D'Angelo and Stacks to a match next week at Spring Breakin'. 
Roxanne Perez vs. Zoey Stark
WWE/USA Network
The bell rings and the two lock up. Perez delivers a pair of arm drags and begins to target Stark's arm, then gets her into a side headlock. The two then go back and forth with submission holds before Stark hits a shoulder tackle. Perez looks for a couple of her own, but Stark blocks them and delivers a kick. She then delivers a knee to her jaw and a tijeras that sends Stark crashing to the outside. Perez then looks for a tope suicida, but Stark sends her crashing into the ring apron face first.
Back from the break, Stark hangs Perez off the top turnbuckle and delivers a stomp. Perez fires back with a back elbow and several rights and lefts, then delivers a Thesz Press off the middle and hits several more lefts and rights. She dropkicks Stark out of the ring, then catches her with a tope suicida and tosses her back in the ring. She ascends to the top and delivers a crossbody. Stark then rolls Perez up, but Perez kicks out and delivers a Side Russian Leg Sweep. Stark responds with a superkick and Half-and-Half suplex, then hits a second superkick. Perez then manages to deliver Pop Rox with a little assistance from the ropes for the win.
Winner: Roxanne Perez
Indi Hartwell Gives Roxanne Perez and Tiffany Stratton A Shot At The NXT Women's Championship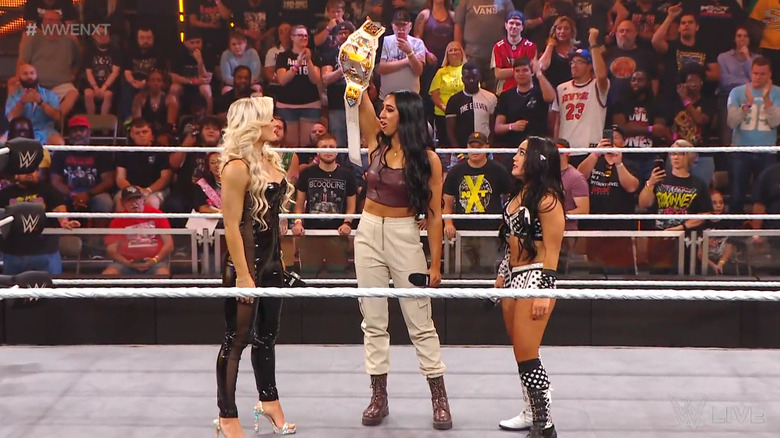 WWE/USA Network
After the match, Indi Hartwell's music hits and she heads to the ring. She congratulates Perez on her win, then says she wanted to come out tonight to tell Perez she wouldn't be "NXT" Championship if it wasn't for her. She says she wants to be a fighting champion, then offers her a match for the "NXT" Women's Championship. Perez says Hartwell is her friend in and out of the ring, but it's every woman for herself when it comes to her title. She accepts Hartwell's offer and looks to shake her hand, but before she can, Tiffany Stratton's music hits and she appears.
Stratton asks if she just witnessed Hartwell give someone else another shot and calls Perez a beatable talent. Perez reminds Stratton she beat her in the 2022 Breakout Champion, and Stratton says that's so 2022. A frustrated Hartwell cuts Stratton off and says she doesn't care who it is she faces because she'll prove herself at Spring Breakin' when she beats them both.
Gigi Dolin then heads to the ring. Cora Jade follows. 
Gigi Dolin vs. Cora Jade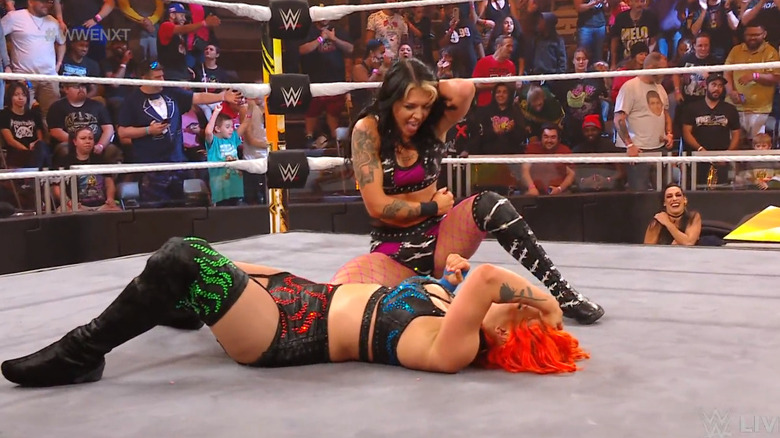 WWE/USA Network
The bell rings and the two lock up. They go back and forth with submission holds before Dolin delivers a knee and a kick to Jade's spine. Jade delivers a stomp to Dolin's spine, but Dolin manages to hit a Backstabber and a pair of kicks. Jade lands a forearm, but Dolin gets her on her shoulders. Jade escapes before Jacy Jayne appears out of nowhere. Dolin pulls Jayne into the ring and sends her crashing into the ring steps. Dolin tosses Jayne over the announce desk and gets back in the ring, where Jade is waiting with a running knee and a DDT for the win.
Winner: Cora Jade
After the match, Jade grabs a mic, but before she can speak, Lyra Valkyria's music hits and she appears. She tells Jade her time for talking is over, then challenges her to a match next wee at Spring Breakin'.
Dijak then heads to the ring. Apollo Crews follows. 
Back from the break, we head to a video of Fallon Henley and Josh Briggs hanging out in Henley's family bar and talking about Brooks Jensen. Jensen and Kiana James walk in, and Briggs says he's glad Jensen came to his senses. Jensen tells Briggs meant every word of what he said earlier, then challenges him and Henley to a mixed tag team match against himself and James next week. Henley accepts.
Dijak vs. Apollo Crews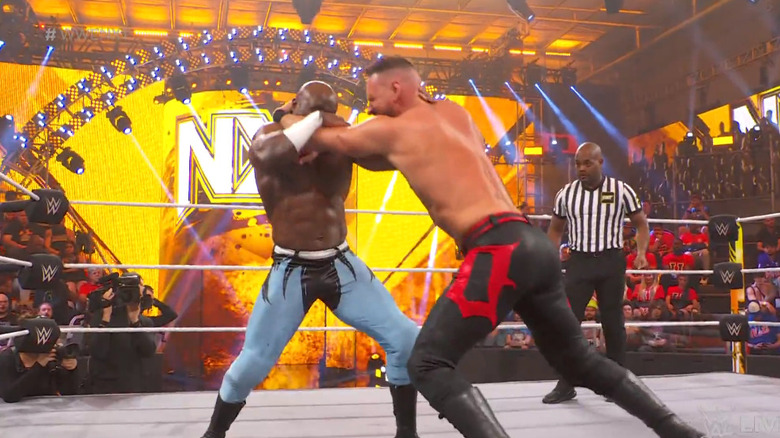 WWE/USA Network
The bell rings and the two lock up. They go back and forth with submission holds before Crews lands a dropkick and a pair of German suplexes. Dijak tosses Crews onto the apron and looks to suplex him into the ring, but Crews prevents him from doing so. Dijak opts to deliver a Stunner instead and sends him crashing to the floor.
Back from the break, Crews delivers a pair of clotheslines and a back elbow. He then delivers a splash in the corner and follows it up with a Blockbuster. He lands a knee and looks for a suplex, but Dijak lands on his feet and delivers a boot. He goes for a pin, but Crews kicks out at the last second. Dijak then delivers a chokeslam and goes for another pin, but Crews kicks out once again. Dijak then gets Crews up on his shoulders and lands Feast Your Eyes for the win.
Winner: Dijak
After the match, Dijak looks to continue to beat down Crews, but Ilja Dragunov runs down and makes the save.
Back at ringside, Charlie Dempsey and Drew Gulak head down. Wes Lee follows.
Wes Lee (c) vs. Charlie Dempsey (w/ Drew Gulak) for the North American Championship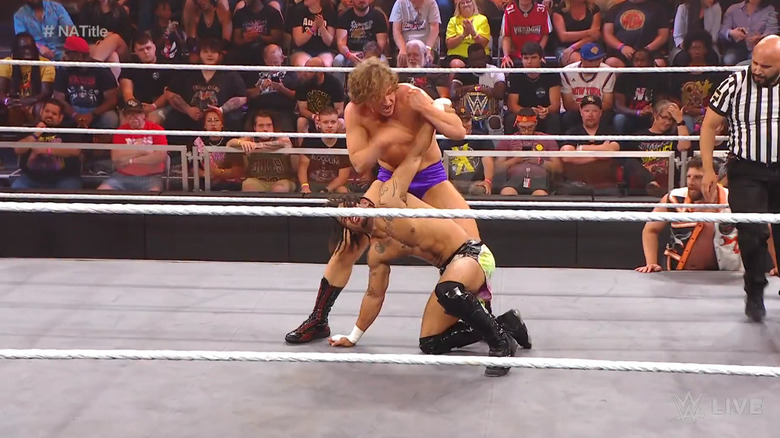 WWE/USA Network
Gulak takes a cheap shot at Lee as he looks to get in the ring while Dempsey distracts the referee. Lee gets in the ring and the bell sounds as Dempsey delivers a few uppercuts. Lee fires back with a kick under his jaw and a dropkick.
Back from the break, Dempsey is targeting Lee's arm. He sends Lee into the middle turnbuckle face first, then delivers a forearm and an uppercut. He follows it up with a Dragon Screw and sets up for a double underhook suplex, then delivers a German suplex and goes for a pin. Lee kicks out and Dempsey delivers a right hand to his spine. Dempsey looks for another German suplex, but Lee lands on his feet and delivers a kick to his head. He follows it up with the Kardiak Kick for the win.
Winner (and still): Wes Lee
After the match, Dempsey and Gulak attack Lee. Gulak then holds up Lee's title.
Back from the break, Grayson Waller is waiting in the ring. 
Grayson Waller Hosts Carmelo Hayes on The Grayson Waller Effect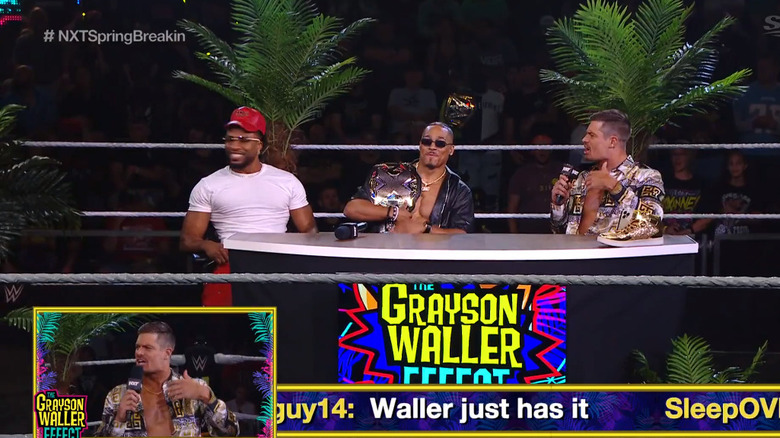 WWE/USA Network
Waller welcomes fans to "The Grayson Waller Effect", then introduces Carmelo Hayes.
Hayes' music hits and he appears alongside Trick Williams.
Waller says he knows Hayes wishes Bron Breakker was the one sitting here, and Hayes says it's fine. He says he has to give Waller credit because he always manages to end up in the main event spot, then says he's more decorated than a Christmas tree. Waller says the difference between himself and Hayes is that he's become the biggest star in eight months without a title.
Waller reads out the first question: what does Hayes mean by the catchphrase "I Am Him"? Williams says that Waller is a hater, then says Hayes has proved he is him. Waller says he thinks Hayes means that he is them (referring to the "NXT" Universe) and says he would be nothing without Williams. Hayes calms Williams down, then says Waller has stolen every opportunity he's had. He says there's greatness, then Waller, then himself. He says Waller may not be that guy and may not be cut out for being a champion, then calls for banners to be dropped on the screen. After nothing appears, Hayes says that's because Waller has no accomplishments to celebrate.
Waller and Hayes exchange jabs with one another before Waller says he" will go viral next week after he wins the "NXT" Championship and holds the title over his head in one hand while his golden shoe in the other. Hayes asks how Waller will be able to do that after he put Waller's golden shoes over the power line and walk out still the "NXT" Championship.