Matt Hardy Compares Early WWE Wrestling Styles Of Triple H And Steve Austin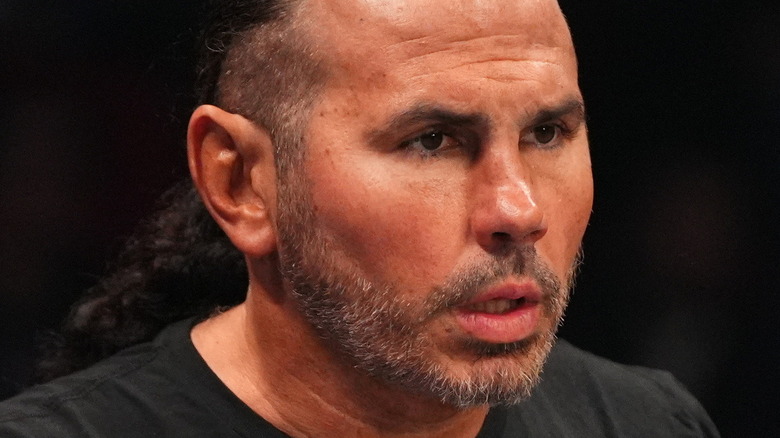 AEW
Former WWE star Matt Hardy has compared the wrestling styles of Hall of Famers Triple H and "Stone Cold" Steve Austin and how they were different in the ring.
"I thought Triple H, of the two of those guys, was smoother. Steve Austin wrestled more like an animal," said Hardy on the latest "Extreme Life Of Matt Hardy" podcast.
The two wrestling legends had some wars against each other, and each man had the ability to be able to put on a technically sound match while also being able to brawl. It's one of the reasons that both men were able to stand out during a competitive time in wrestling, but Hardy found that Austin was more "wild and unpredictable."
"The match came off a lot more legitimate, like very realistic," Hardy said about Austin. "He didn't choreograph his moves, he wasn't smooth in everything he did, he was very aggressive and very physical with stuff."
Hardy worked against both men several times throughout his career, getting an up-close understanding of their style while also being able to learn and take bits from them. While the AEW star is known for performing high-risk moves, he ultimately feels like his style is a mix of what Triple H and Austin did early on.
"I like to be able to be smooth and technical and really crisp in everything I'm doing, especially if I am wrestling around someone or whatever," Hardy said. "But I also like to be able to have that ability to be very rough and almost make it look like an animal where it looks more like a real fight."
If you use any quotes from this article, please credit "Extreme Life Of Matt Hardy" with a H/T to Wrestling Inc. for the transcription.