Jake Roberts Thinks Lifelong Babyface Ricky Steamboat Would've Been An Excellent Heel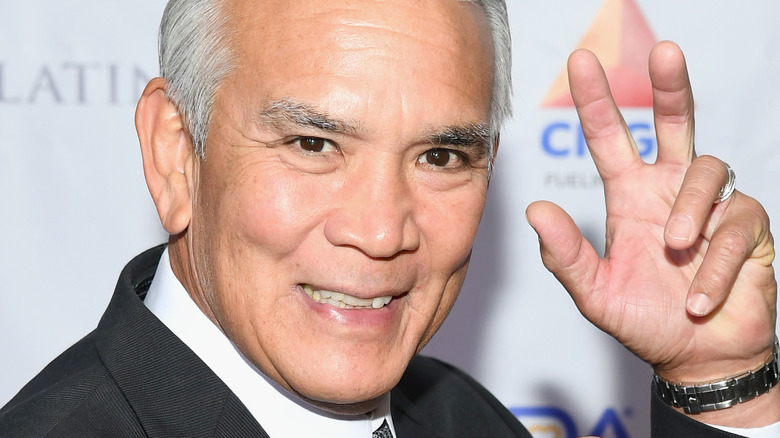 Dave Kotinsky/Getty Images
Some wrestlers have always exuded an organic babyface vibe, and the idea of them turning on fans is almost inconceivable. One wrestler who fits that mold is the iconic Ricky Steamboat, who portrayed the fan-favorite character throughout his stints for JCP/NWA, WWE, NJPW, and WCW. 
While fans never got to witness a heel Steamboat, Jake Roberts believes his former rival had all the tools to pull off being a wrestling villain. Roberts shared his thoughts on "The Snake Pit" podcast, where he reflected on his time teaming with a very young Steamboat in Mid-Atlantic Championship Wrestling, revealing that he "lobbied" for Georgia Championship Wrestling to sign "The Dragon" in the mid-80s when he was the head booker for the promotion.
"I wanted to bring him in there when I was the booker," Roberts revealed, reflecting on his time tagging with Steamboat in Mid-Atlantic Championship Wrestling. "I wanted him as the top babyface."
At this point, the host of the podcast asked Roberts if Steamboat could have portrayed a heel character. "Yes," Roberts responded emphatically. "Because he's such a student of the game. If Ricky put his mind to something, he's gonna get it done, man. I think he would have been a phenomenal heel."
Shortly after his stint in Georgia, Roberts joined WWE and quickly entered into a rivalry with Steamboat. He was admittedly on cloud nine. "I couldn't believe it," Roberts said. "It was like wishing you get a new car, and when you get it, it's like a f—ing Lamborghini or Mercedes."
The rivalry culminated in several "Snake Pit" matches that were won by Steamboat, who later moved on to a program with Randy Savage thereafter.