Hulk Hogan Warned Eric Bischoff Not To Call Out Vince McMahon On WCW TV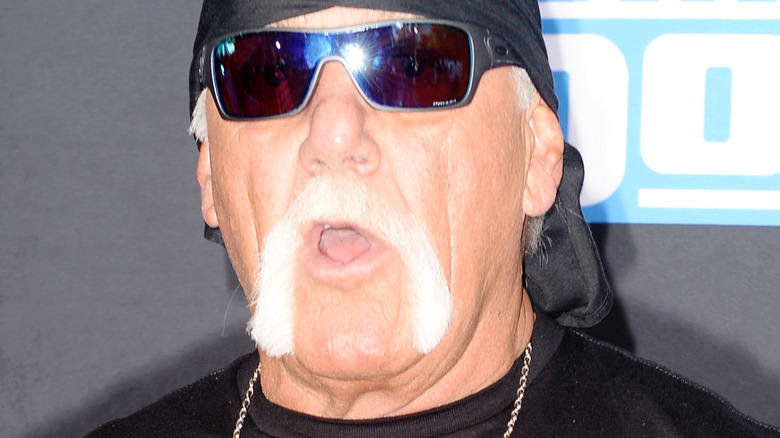 Jerod Harris/Getty Images
The "Monday Night Wars" saw WCW and WWE resort to some questionable tactics in an effort to one-up each other. One of the most memorable publicity stunts saw Eric Bischoff appear on an episode of "WCW Monday Nitro" and challenge Vince McMahon to a shoot fight at Slamboree 1998. In the end, McMahon didn't respond to Bischoff, but Hulk Hogan believed that he would be willing to brawl with "Easy E."
Bischoff recalled his conversation with Hogan on the latest edition of 83 Weeks, noting that he ran the idea by the former NWO leader before he sent for McMahon. Hogan told Bischoff that McMahon was a "different cat," and he was shocked when the Slamboree challenge didn't come to fruition.
"Hulk believed up until the last minute that Vince would show up... I'm not sure that's why [Hulk] agreed to just do a run-in [at Slamboree], but now that I'm sitting here thinking about it... I think that's the only reason he said yeah." Bischoff noted that Hogan wasn't contractually obligated to work that night, but the possibility of watching his boss and McMahon get into a fight prompted him to make an appearance.
Furthermore, even though Bischoff is a trained martial artist, Hogan thought he'd lose to McMahon in a legitimate fight. "Hogan was convinced that Vince would just shred me... He thought Vince would kill me." Bischoff went on to say that he told people not to interfere if McMahon did show up and get the better of him — unless he was being pulverized. "I said... do not interfere unless it looks like it could be permanent, meaning if Vince McMahon is digging out one of my eyes, go ahead and throw a chair."
If you use any quotes from this article, please credit 83 Weeks with an h/t to Wrestling INC. for the transcription.