Nick Patrick Recalls Being Concerned For Vader During Fight With Paul Orndorff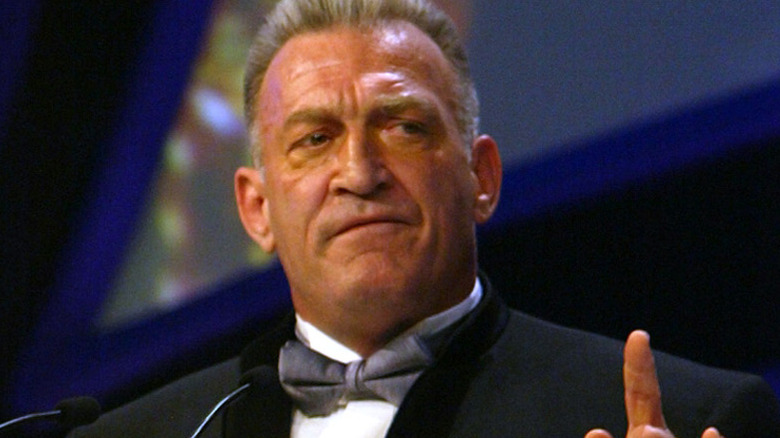 Chris Farina/Getty Images
When one has worked in professional wrestling as long as Nick Patrick, witnessing a particularly nasty fight is all but inevitable. On this week's "Monday Mailbag," Patrick said that he was lucky enough to never have taken part in one.
"I've had arguments with a couple people," the former WCW and WWE referee said, "but nothing that would become physical ever, not ever. I've seen other folks do it, but I didn't do it."
According to Patrick, the most brutal fight he saw was between Paul Orndorff and Vader.
"I saw that start to finish, both rounds, it was a little two-rounder," Patrick chuckled. "I was the one who – once Paul stopped kicking [Vader], I kinda grabbed him like, 'Paul he's not moving, let's get out of here,' and I ran with Paul."
Nick Patrick convinced Orndorff to check on Vader, who wasn't moving. According to Patrick, during the fight, Orndorff kicked Vader multiple times in the face, while everyone that had ever been hurt by Vader cheered Orndorff on. Vader tried to fight back while Orndorff was cleaning up in the middle of the fight but to no avail and Orndorff beat the former WCW Champion into unconsciousness.
Vader had a long history of being a locker room bully, according to Jake "The Snake" Roberts, which led to the almost-gleeful response Orndorff's beating received. Vader has said he was surprised by Orndorff's power, considering Orndorff's hand and right arm had shrunk from an injury, with Vader noting that Orndorff's hand was the size of Vader's wrist.
If you use any of the quotes in this article, please credit "Monday Mailbag" with an h/t to Wrestling Inc. for the transcription.