Steve Austin Learned Of WrestleMania 38 Night 2 Appearance The Day Of The Show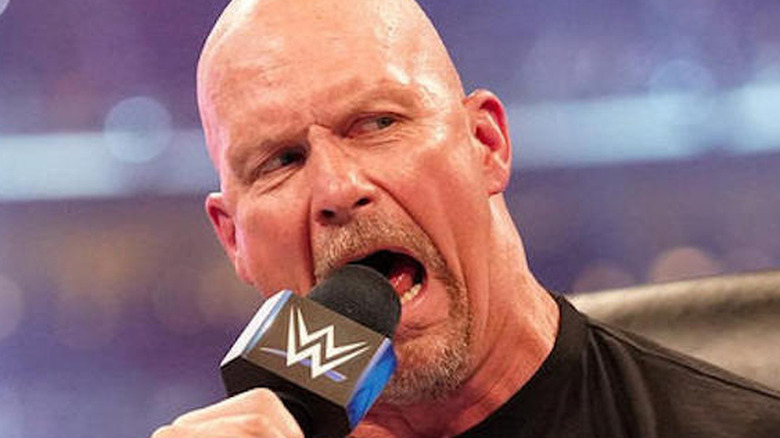 WWE
"Stone Cold" Steve Austin had a memorable weekend as a participant at WWE WrestleMania 38. In addition to facing Kevin Owens on Night 1 of the two-day event, "The Rattlesnake" showed up the following evening to hit Vince McMahon, Austin Theory, and Pat McAfee with Stunners. That said, he had no idea that WWE officials planned on having him work both nights.
In a recent interview with TMZSports, Austin said that his original plan for WrestleMania 38 Night 2 was to drink backstage with his friends from the "Broken Skull Ranch" and support the WWE Superstars who performed on the show. However, his boozing festivities were temporarily delayed after Vince McMahon asked him to appear in the aforementioned segment.
"Vince called me into his room and said, 'Hey man, could you come out and stun me, McAfee, and Theory? And I said, 'Sure,' so I couldn't drink until after the show." Afterward, Austin, McAfee, Brock Lesnar, and a trainer named Larry hung out in Lesnar's locker room and drank whiskey from the bottle, which caused a couple of them to have headaches the following day. 
Austin also reserved some high praise for McAfee during the interview, stating that he's a natural for the sports entertainment business. "I think he's amazing," Austin said. "He's very entertaining. And, as a human being, I like him a whole lot." 
Furthermore, Austin believes McAfee is one of the best performers out there at selling the Stunner, and he was especially tickled by the former NFL star gargling beer after taking the move at WrestleMania 38.
If you use any quotes from this article, please credit TMZ Sports with a h/t to Wrestling Inc. for the transcription.