Steve Austin Says He's Open To Entertaining Business Offers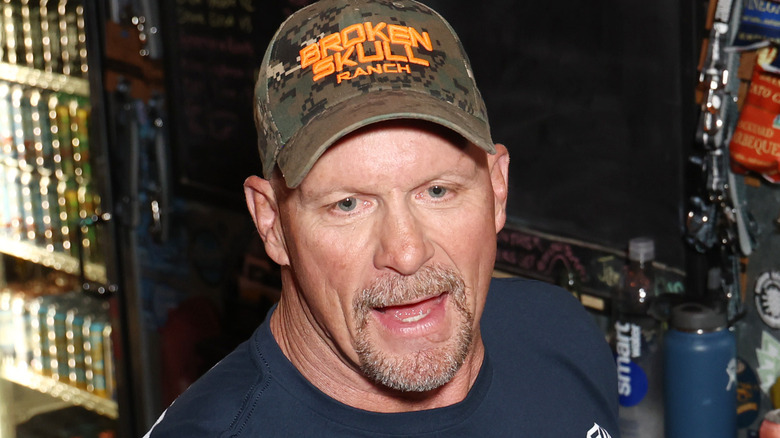 Joe Scarnici/Getty Images
"Stone Cold" Steve Austin returned to the ring last year for a one-off return where he defeated Kevin Owens in a match that effectively main evented night one of WrestleMania 38 but was never actually advertised in advance as happening. Coming 19 years after his initial retirement, when he made the choice to hang up his boots with his WrestleMania XIX loss to The Rock, it served to give him the "moment" that he didn't get in 2003, as he did not publicly announce his retirement until long after the fact. Since he's recently been back in the ring, questions about if he has any other plans for an on-screen role in WWE are inevitable, and sure enough, in an interview on "SI Media with Jimmy Traina," Austin was asked if he had any desire to have a full-time role with WWE again.
"I don't know," he replied before answering more firmly. "Right now, off the top of my head, I'd say no, because I don't want to put the time in to living my life back on the road again. I rode that road HARD. I lived the lifestyle. I worked my ass off, I put my body on the line, and I ran hard. And now I'm at the place where i'm still living life: I started racing...I work with Kawasaki Motorsports. That's as much travel I want to do is going to races on weekends and stuff like that. I'm happy where I'm at. I'd always entertain any kind of business offer. But I spent enough time on the road and I'm picking and choosing. I still wanna work and be productive. I'm in the beer business, I've got three beers on the market with El Segundo Brewing Company. I work with Kawasaki and I've got some other private ventures that I'm into. I don't wanna get out on the road again. I've been there and I did it, and I ran hard."
You can find out more about Austin's line of beers at BrokenSkullBeer.com. To keep track of the latest on his Kawasaki Motorsports activity, you're best off following his Instagram account.
If you use any of the quotes in this article, please credit "SI Media with Jimmy Traina" and provide a h/t to Wrestling Inc. for the transcription.