AEW Double Or Nothing Results (05/28): Four-Way World Title Match, Anarchy In The Arena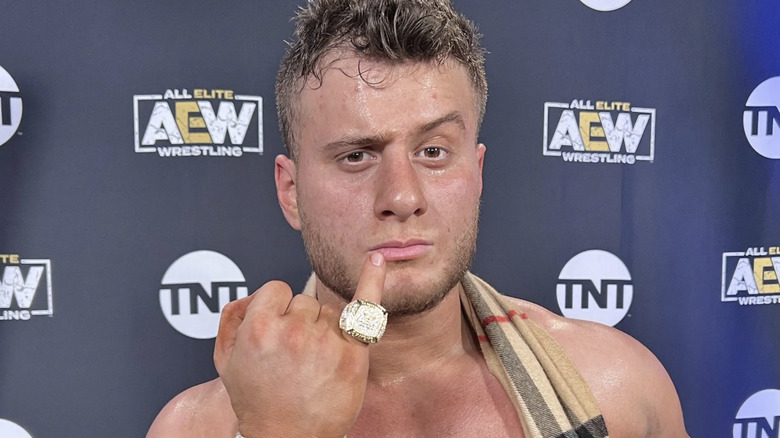 AEW
Welcome to Wrestling Inc.'s results of AEW Double or Nothing on May 28, 2023!
AEW returns to Las Vegas for their fifth Double or Nothing pay-per-view event. This year's show will be headlined by a "Four Pillars" four-way match for the AEW World Championship. MJF will be tasked with defending against Darby Allin, Sammy Guevara, and "Jungle Boy" Jack Perry in the company's first four-way World title bout. Fresh of the success of last year's Anarchy in the Arena match, the "anything goes" free for all is returning as The Elite's Kenny Omega, Hangman Page, and The Young Bucks take on Blackpool Combat Club's Jon Moxley, Claudio Castagnoli, Wheeler Yuta, and Bryan Danielson.
From the women's division, both titles will be on the line as Jamie Hayter is scheduled to defend the AEW Women's World Championship against Toni Storm, plus Jade Cargill will defend the TBS Championship against Taya Valkyrie. Other title matches will see Wardlow put his TNT title on the line against Christian Cage in a Ladder match, plus FTR will defend their AEW World Tag Team titles against Jeff Jarrett and Jay Lethal. 
The House of Black will put their AEW World Trios Championship on the line in an Open House Rules open challenge, while Orange Cassidy will have to withstand 20 other challengers in a 21-man Blackjack Battle Royale for the International Championship. Rounding out the card is Adam Cole vs. Chris Jericho in an Unsanctioned match, plus Ethan Page and The Gunns will face The Hardys and HOOK in a six-man tag on the Buy-In pre-show.
Buy In: The Hardys & Hook vs. Ethan Page & The Gunns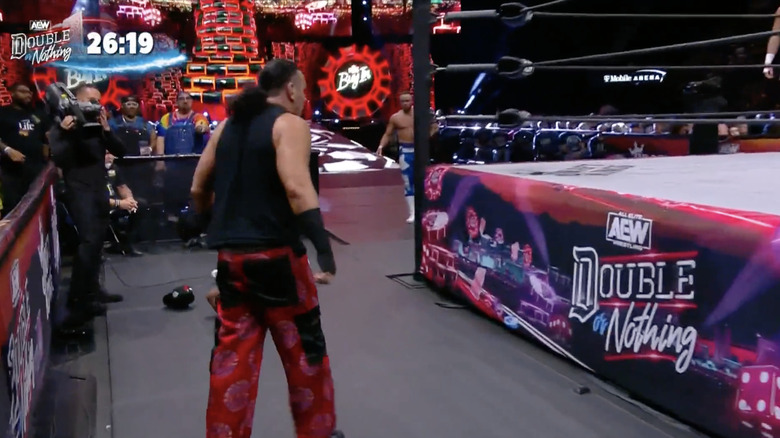 AEW
Hook and Austin lock up to start. Austin works the left wrist before switching to a headlock. Hook goes for a left ankle lock but Austin reaches the ropes. Hook slams Austin down and then tags Matt, who leaps in with an arm breaker. Jeff comes in for his first match in a year. Jeff elbow drops and covers. Hook returns and slams both Gunns before taking Page down. Hardys and Hook clothesline their opponents out of the ring. The heels recollect on the ramp as Hardys and Hook break it up. Hook punches Page off the apron. Hook returns to the ring and gets hit by a facebuster by Austin. 
Page holds Hook in the heel corner while the ref is distracted. Hook gets dragged back as Austin tags back in. He gloats too long and goes for a corner spear but Hook evades. Page tags in and cuts Hook off again, but Hook slams Page out of his way to tag Matt. Matt and Colten meet in the middle before Colten is taken to the corner for Deletes. Side Effect connects on Colten and then Ethan. Isaiah Kassidy is outside with a neck brace on when The Gunns rip the brace off. Matt is then cornered by the heels despite Jeff trying to intervene. 
Matt throws Ethan into the turnbuckle, but Colten tags in and tries to stop him. Colten gets tossed out so Austin charges and falls over the top rope. Matt crawls over to tag, except Jeff and Hook are pulled off. Colten backdrops Matt and tags Austin who applies a headlock on the mat. Page gets the tag and misses an elbow drop. Matt capitalizes with a DDT and tags Jeff. Jeff works both Gunns for a moment with legdrops and dropkicks. He gets a nearfall on Austin. Hardy kicks Austin out of the corner and then splashes for a cover. Jeff gets stopped briefly until he tags Hook. 
Hook throws hands at Page and then hits a cradle suplex. Hook is backed to the heel corner and catches a hand. Hook flips Ethan down to the mat for an armbreaker until Colten breaks it. Matt tags in as Hook clotheslines Page. Jeff runs in for the corner splash, but Austin intervenes. Matt gets dropped by The Gunns, but Jeff breaks the pin with a Swanton Bomb. Page and Hook are legal again as Hook eats a boot to the face. Hook gets triple teamed until Hardys hit Twist of Fate on Gunns. Page turns around to all three opponents. Twist of Fates are followed by Redrum and Page taps out.
Winners: Hook & The Hardys
Matt Hardy now owns Ethan Page's contract.
21-man International Championship Blackjack Battle Royal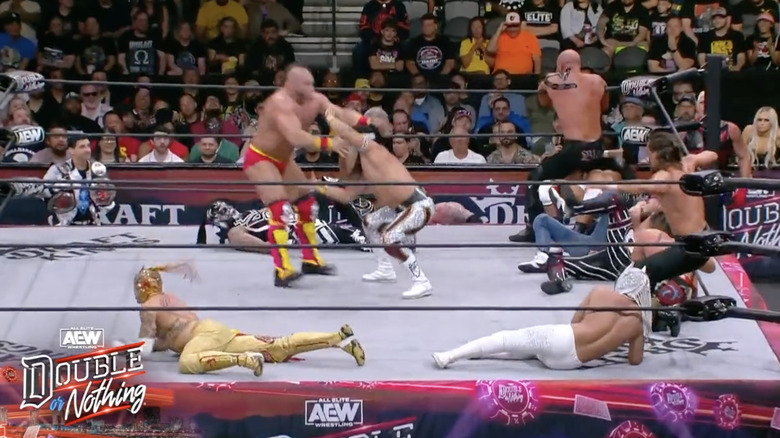 AEW
Orange Cassidy is almost tossed out by Sabian to start. Komander wipes out Bill and Moriarty at ringside after not officially getting in the ring yet. Men are brawling in and out of the ring while Swerve and Cage are watching. The luchadores work together in fending off a bunch of guys while Bandido holds up Nese in the middle of the melee. Daivari gets eliminated. Cage finally gets in and double suplexes Lucha Bros. They then gang up on Cage while Juice and White are shown beating people up. Dustin boots Butcher in a corner. Penta kicks White as Bandido and Fenix double team Robinson. Komander goes to the ropes but gets shoved out by White. 
Starks holds on to the ropes for deal life despite Juice's best efforts. Kip lifts Orange up again before Best Friends roll in and triple powerbomb Kip with Orange. Chuck clotheslines Kip out as Best Friends embrace. Big Bill breaks it up as Lee plants Orange. Trent tries a sleeper on Bill as Blade chops Keith Lee in the middle. Blade gets tossed out. Keith and Cage duke it out for a beat. Swerve jumps on Keith and then they meet face to face. Cage interrupts before Swerve and Keith trade shots. Keith powerslams Swerve. Butcher gets tossed by Lucha Bros. Trent throws out Moriarty. Lee and Swerve meet again as Keith unloads with punches. Cage runs up and eliminates Keith.
Keith still tries to pull Swerve out but then Dustin hits Cage with Cross Rhodes. Cage is almost out when Swerve breaks it up. White comes back in and works Fenix with Juice. Penta accidentally bumps Fenix before Starks bumps Juice. Penta and White meet in the middle. Starks spears White and tosses him out. Juice pulls Starks out and they brawl. White throws Starks into the barricade. Cage is still trying to get Dustin out. Starks slips back in as Bill stands over him. Starks punches Big Bill but then Bill boots Starks out. Cage and Dustin are on the apron and Cage gets tossed, Swerve boots Dustin. 
Big Bill, Swerve, Penta, and Cassidy are the final four. Penta and Bill meet after OC and Swerve are taken down. Bill boots Penta and clotheslines him out. Bill sidewalk slams OC with Swerve's assist. Bill and Swerve get into it. Swerve eliminates Bill from behind. Swerve is almost out, then OC almost gets tossed. They come back to the ring where OC hits Stundog Millionaire. The fans come alive as both men fall to the mat. Prince Nana trips OC so Swerve can kick him. Swerve Stomp connects. Swerve puts OC's hands in his own pockets and lifts him up. OC uses the ropes to block and then DDTs Swerve. OC hits another DDT and Orange Punches Swerve to the apron. Swerve cuts OC off and pulls him to the apron. OC backs Swerve into the post. Nana tries interfering again but then Swerve knees OC. Swerve gets countered and OC kicks his hand off the rope to win.
Winner: Orange Cassidy (c)
Unsanctioned Match: Adam Cole vs. Chris Jericho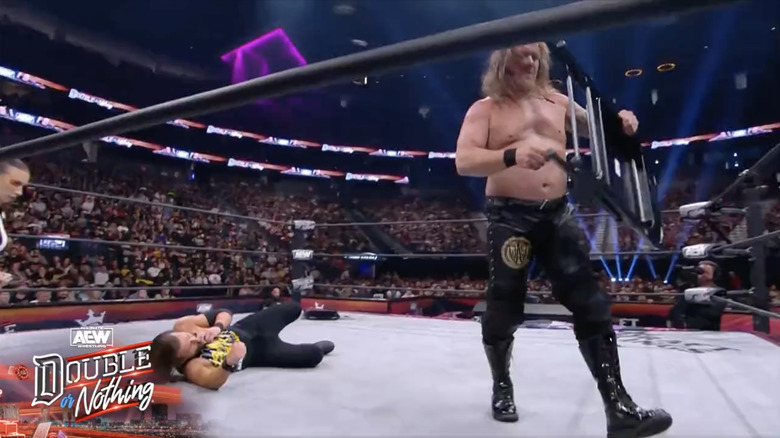 AEW
Sabu is serving as the special guest enforcer.
Jericho and Garcia double team Cole right away. Sabu has a chair in the ring as Jericho stands across him. They smack chairs a few times until Jericho drops his first and then gets struck. Cole punches 2.0 at ringside. Sabu splashes through Matt Menard on a table. Cole and Jericho finally meet in the ring as Sabu is sending JAS backstage. Cole targets Jericho's left hand by throwing it against the ring steps. Jericho manages to suplex Cole off the apron and onto the floor. Back in the ring, Jericho chops Cole in the corner. Jericho props a chair in the ropes but ends up getting ran into it. Cole unloads with punches but then gets stopped in his tracks.
Jericho catches Cole and applies the Liontamer. Cole reaches the rope but it doesn't count. Cole crawls further and finds a fire extinguisher under the apron. Cole is finally able to lift it up as Jericho drags him to center. Cole blinds Jericho to break free. Jericho hits a Codebreaker and covers. Jericho lets out some extinguisher and then drops it on Cole's stomach. Jericho retrieves a kendo stick before Britt Baker runs down with a stick in hand. She unloads on Jericho with no remorse. Saraya runs in but eats kendo shots all the way up the ramp before running back. Cole chokes Jericho with a stick and then hits a backstabber, cover. Cole gets sent through a table at ringside. Jericho retrieves a chain and brings it into the ring. 
Cole pulls out a DDT onto the chain for a nearfall. Cole handcuffs Jericho and now it's a chain match. Cole superkicks him and then follows it with Panama Sunrise. Jericho turns it back around by whipping Cole with the chain. Cole ducks Judas Effect but then gets choked with the chain. Cole rolls through and superkicks before hitting a kick to the back of the head. Cole wraps the chain around his knee for another Shining Wizard from behind. Cole unloads with punches, which bloodies Jericho's eye. Aubrey stops the match.
Winner: Adam Cole
Tag Team Titles: FTR (c) vs. Jeff Jarrett & Jay Lethal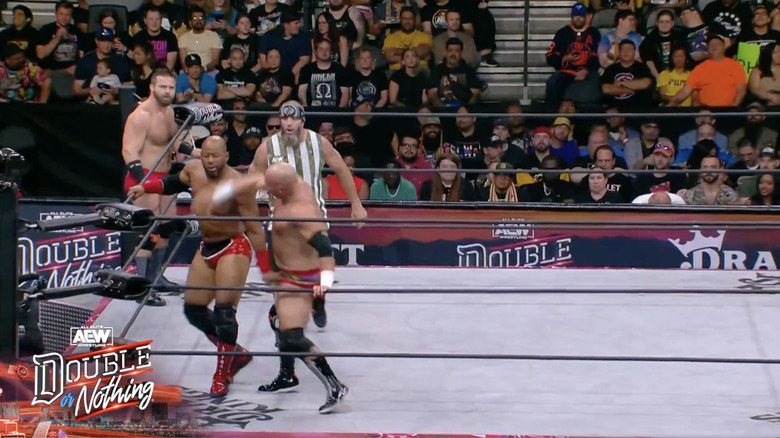 AEW
Mark Briscoe is the special guest referee.
Lethal and Dax start with a lockup. Lethal works the left arm for a beat until Lethal does a roll up and Mark is slow to count. Dax takes Lethal down with a headlock. Lethal backs Dax to the corner for a chop. Dax fires back with his own vicious chops and then they trade. Dax is dumped through the ropes as Lethal drags Cash in. Jarrett tries double teaming but then Dax double crossbodies the challengers. Double atomic drop connects and FTR take them down for a double leg hold but they reach the ropes. Lethal regroups with Dutt. Lethal rolls back in to meet Dax with a lockup. Cash comes in and works the left arm. Lethal fakes a tag but Mark puts a stop to it. FTR drop Lethal and keep JJ out. Lethal accidentally wipes Jeff out at ringside.
FTR slide out for more offense. Jarrett pulls the rope down and Cash falls out. JJ grabs a chair but Mark catches him. JJ tosses Cash into the barricade twice. Back inside, Lethal suplexes Cash. Jarrett holds Cash in the ropes and then Karen gets involved while Mark has his hands full. Jarrett stomps on Cash after Lethal had another turn in. JJ struts and flips Dax off. Lethal hits a neckbreaker and continues to keep Cash in the wrong corner. Jarrett applies a Figure Four. Dax comes in with a diving headbutt on Jeff to break it. Cash is able to leap over Lethal to tag Dax, who chops away at Lethal. Dax hits a pair of Germans before a Brainbuster, cover. Cash punches JJ on the apron as Lethal and Dax are up top. 
Lethal chops Dax until he falls but doesn't do the elbow drop because Dax pops up and hits a superplex. Cash hits Doomsday Powerbomb and then dives onto Jeff. Dax covers but Sonjay pulls him out. Dax chases and Mark comes between them. Mark ejects Sonjay out of the bout. Satnam is thrown out as well. Dax ducks and Jeff hits Mark with a guitar. Lethal gets hit with Shatter Machine, but Mark is still down. Aubrey runs down but Sonjay gets in her way. She shoves him down and then Karen hits her with a guitar. Lethal hits Lethal Injection on FTR. Karen grabs the tag titles as the crowd curses her. Dax escapes JJ and piledrives Lethal only to get hit with a title shot. Jarrett plants Dax but Mark is still down. Mark finally counts, but Dax kicks out. JJ shoves Mark around as he tries coming to. He slaps Mark and then Mark slaps him. FTR hits Jeff with Shatter Machine to retain.
Winners: FTR (c)
Backstage, Ricky Starks is interviewed when Bullet Club Gold attacks. FTR make the save.
Jericho and Saraya challenge Cole and Baker to a tag match on Wednesday. 
TNT Title Ladder Match: Wardlow (c) vs. Christian Cage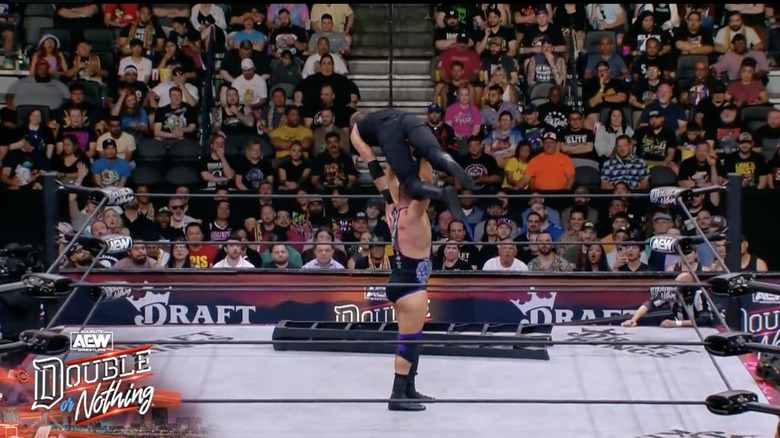 AEW
It doesn't take long for the action to spill out of the ring. Christian dropkicks a ladder into Wardlow, but then Wardlow tosses the ladder back at him. Wardlow retrieves a table. Christian takes back over by striking Wardlow with another ladder at ringside. Cage props the ladder from the apron to barricade. Wardlow clobbers Cage and places him on the ladder. Wardlow pops up on the apron and attempts a powerbomb, but Cage manages to trip him up and Wardlow falls on his crotch. They get back in the ring as Cage places a ladder in a corner. Wardlow whips Cage into it with force. Cage slips through and sends Wardlow into the ladder next.
Cage launches Wardlow face-first up into the propped ladder. Wardlow gets up and takes Cage down again. Wardlow tries climbing, but Cage grabs his foot. Cage is almost powerbombed but escapes onto the ladder. Wardlow drags Cage back to the mat and then takes the ladder down. Wardlow spins Cage around and drops him on the ladder, Cage rolls out. Wardlow scales the ladder as Luchasaurus comes down and rolls Cage back inside. Cage chases up and drops Wardlow with a neckbreaker. Cage goes for a spear but Wardlow kicks him and Alabama Slams him onto the corner ladder. Wardlow goes up top and sentons, but Cage evades. Cage runs a ladder into Wardlow to knock him out of the ring.
Arn runs down and whispers in Wardlow's ear. Cage goes up the ladder and Wardlow jumps on it, breaking the ladder and knocking them both down at the same time. Wardlow tries another ladder but then Luchasaurus chokeslames him twice. Arn comes in and bites Lucha's thumb to avoid a slam. Wardlow whacks Lucha with a chair at ringside. Lucha is laid out on a pair of tables. Wardlow goes all the way up to the top of a ladder and sentons through Luchasaurus for a big pop. Back inside, Arn pushes Cage off a ladder and Wardlow catches him with a powerbomb. Wardlow climbs and grabs his title.
Winner: Wardlow (c)
Women's Title: Jamie Hayter (c) vs. Toni Storm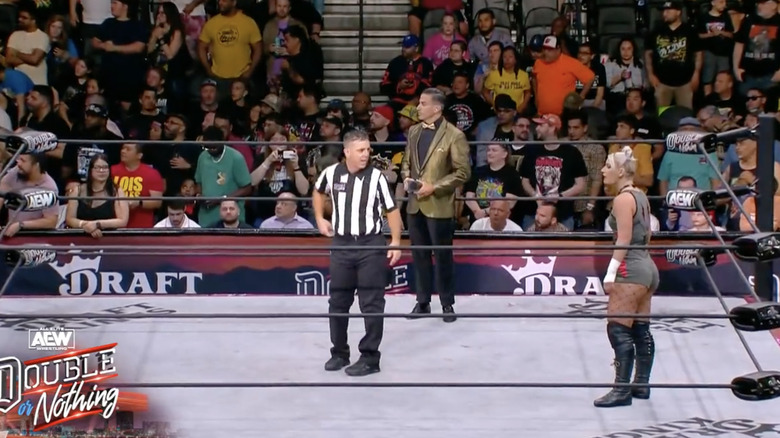 AEW
Hayter's music hits twice before she is shown getting beat up down the ramp by Ruby and Saraya. Storm targets the right arm and slams it into the ring post before sending her into the steps. Storm dropkicks Hayter's arm in the steps. The match officially starts and Storm gets a two-count. Storm picks the arm apart as Britt runs down. Britt beats up Saraya. Hayter whips Storm into the ref, who hits a turnbuckle and Soho. Ruby sprays Hayter's eyes and then Storm hits the hip attack. Storm covers, but Hayter kicks out. Shida whacks Ruby with a kendo stick. Soho fights back and they throw punches. Storm is tossed into the turnbuckle and Hayterade connects. Storm kicks out. Hayter kisses her arm and tries another Hayterade but Storm evades. Storm hits Storm Zero for the three.
Winner AND NEW: Toni Storm
Saraya and Soho celebrate with Storm after the match.
Trios Title Open Challenge: House of Black (c) vs. The Acclaimed & Billy Gunn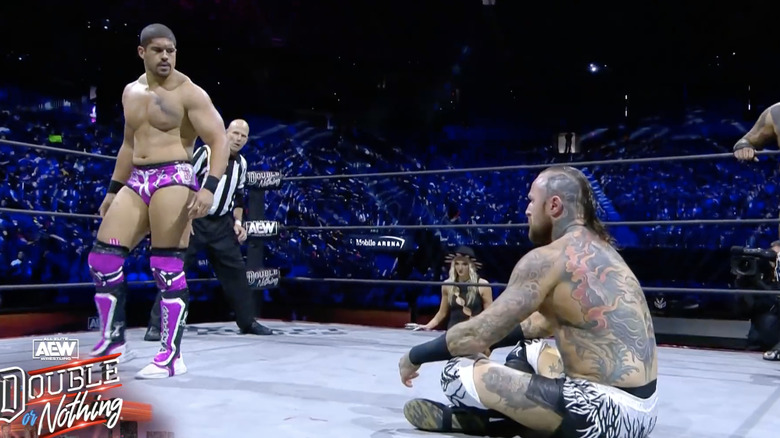 AEW
Bowens and Black start the bout by circling each other before a lock up. Black does his signature sit and Bowens mocks him with a scissor. Buddy comes in and stomps on Bowens arm. HOB dominates briefly, but then The Acclaimed take control over Black as Bowens lands Scissor Me Timber leg drop. Brody goes after Billy while Black traps Bowens in a leg bar. Black splashes Gunn into the barricade. Bowens hits a neckbreaker onto his hurt knee. Black knees Bowens in the head and then traps him in another knee bar. Buddy hits Bowens with a meteora and Billy tries to run in. Bowens finally kicks Black in the head to get some space but wasn't able to make the tag.
Buddy comes in and works the left leg in the ropes. King comes in next with a senton on the leg. Bowens gets chopped and then eats a cannonball in the corner. Black throws Caster into the ring steps. Bowens slips through and shoves King into Buddy. King spills over the ropes but Buddy traps Bowens for a moment. Bowens sends him over the top and tries crawling but Black stops him. Bowens kicks Black off and then almost tags Billy but Brody pulls Gunn off. Bowens superkicks Buddy as he comes off the top. Gunn finally gets the tag and he clocks Black. Gunn runs the corners on Buddy and Black. King comes in and chops Gunn to no avail. Famouser connects. Buddy eats a Famouser off the ropes. Billy turns around into Black Mass. Black pins for the win.
Winners: House of Black (c)
TBS Title: Jade Cargill (c) vs. Taya Valkyrie; Cargill (c) Statlander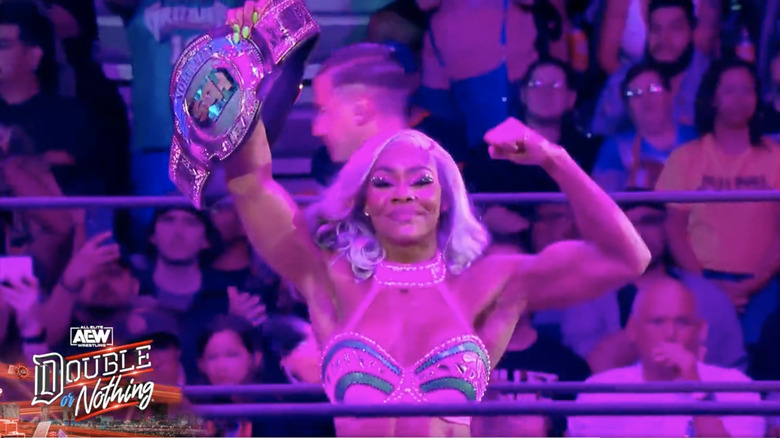 AEW
Taya goes right after Jade with punches. Taya tries for her finisher and then Jade does as well, but a back elbow breaks it up. They meet heads and then duke it out again. Taya with a big overhand chop to the chest. Taya shoulderblocks to knock the champ down. Sliding lariat from Taya, Jade rolls out. Taya dives off the top onto Mark Sterling. Jade pump kicks Taya at ringside. Back inside, Jade gets hung up in the ropes for Taya's sliding suplex. Leila pulls Taya's foot on the apron, which allows Jade to kick Taya to the floor. Jade hits a suplex outside.
Back in, Jade hits a spinebuster for a two count. Jade drops Taya on the barricade and they roll back in. Jade stretches Taya's arms with a knee to the spine. Jade clotheslines Taya twice while holding her other arm. Jade applies standing sleeperhold for only a moment before Taya hits a sit out powerbomb. Jade springboards in but Taya gets her knees up in midair and they collide to the mat. Back up, they throw strikes. Taya pulls Jade down and applies a chinlock. Taya curbstomps Jade, nearfall. Taya kicks Leila off the apron, and Jade rolls her up. Taya spears and hits Road to Valhalla for a nearfall. Jade gets up and hits Jaded to retain.
Winner: Jade Cargill (c)
Jade goes 60-0 with the win. Sterling gets on the mic and says there is nobody left to challenge her. Out comes a returning Kris Statlander. The bell rings for an impromptu match.
Jade Cargill (c) vs. Kris Statlander
Statlander avoids a pump kick and hits a roundhouse. Stat hits a running knee in the corner. Stat lifts Cargill but Jade escapes and pump kicks. Stat avoids Jaded and hits a piledriver for the win.
Winner AND NEW: Kris Statlander
World Title: MJF (c) vs. Jungle Boy vs. Sammy Guevara vs. Darby Allin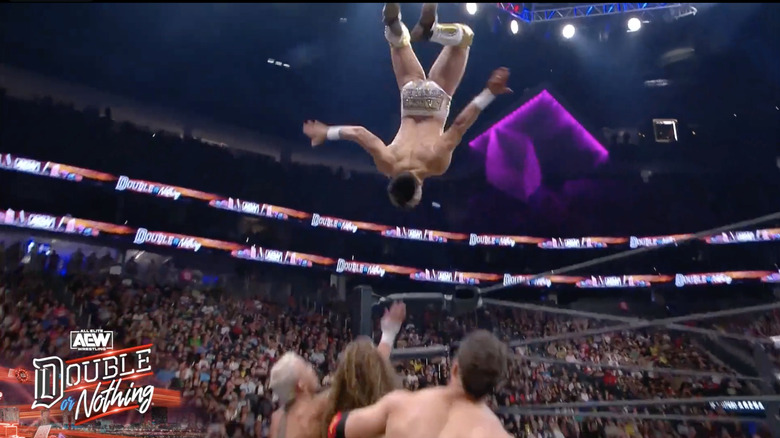 AEW
Sammy and Tay use cue cards to announce that Tay is expecting a baby.
The three challengers beat up MJF in a corner to start. Then they break down with their own moves on each other as Perry arm drags Guevara and Allin out of the ring. MJF clears the ring for a moment before Guevara hits a shooting star press out of the ring onto the three. Perry knocks all three down in the ring and attempts to cover Sammy. Allin stuns MJF and does a takeover into a cover, two. Darby dives out and Sammy catches him with a cutter on the floor. Sammy hits a Spanish Fly on MJF in the ring and then dives onto Perry. Frog splash onto MJF for a nearfall. MJF drops Darby with a driver for a two. MJF spits on Darby and talks trash.
Perry superkicks MJF and all four men are down in the ring. Darby pulls himself up to Death Drop MJF. Guevara lung blower, then Perry's Killswitch. MJF hits Cross Rhodes on Perry for a two. MJF gets on the mic and tells Sammy to lay down since he needs money for the baby. Sammy says he'll lay down and take the money. Sammy lays down and suckers MJF in with a roll up. Sammy tries GTH but MJF counters into an attempted lock. Sammy tries Liontamer. Darby locks Perry into a Scorpion Death Lock. Perry and Sammy both lock in Darby, but then MJF adds to it and all four men are locked up. 
Perry hits Canadian Destroyer on MJF while leaping over the other two. Perry sits out Sammy, cover. Darby drives Perry into the barricade and then clotheslines Perry and MJF over into the crowd. Darby goes up top but Sammy knees him. Sammy spanish flys Darby onto MJF and Perry outside. All four men get back in and slowly trade strikes. MJF gets triple kicked and then Code Red by Darby. They trade quick covers and kick outs, which brings the fans alive. Sammy drops Perry on his face with a DDT. Darby pins Sammy, then MJF trips Darby up top. MJF powerbombs Darby from the top rope. Perry tries pinning everyone. Sammy and Jack trade chops on the top rope until Sammy hits a cutter, Perry rolls out. MJF pulls his ring out, but Darby strikes him with the skateboard. Darby hits Coffin Drop, Perry breaks. 
Allin shoves Perry, then they break out in a slapping war. MJF slips in with his title while Darby and Perry are down. Perry blocks the shot, allowing Sammy to clothesline MJF out. Perry holds the belt and then throws it. Allin trips him and covers for a nearfall. Sammy flying knee strikes to both of them. GTH on Jack, then Darby shoves him off the top. Darby Coffin Drops onto the title on Perry. MJF takes Darby down for the three.
Winner: MJF (c)
Anarchy In The Arena: The Elite vs. Blackpool Combat Club
AEW
The brawl starts in the crowd while a band performs "Wild Thing" live. As they approach the ring, Moxley clobbers Omega by leaping off the announce desk. Claudio hits Omega with a chair to the back. In the ring, Bryan kicks the crap out of Page until Hangman hits  a huge lariat. Page takes his eye patch off and tosses it to Bryan. Page pulls out a screwdriver, but Yuta chopblocks him. BCC beat down Page in the ring. The Elite come back and all punch BCC in all four corners before delivering superkicks. The Bucks go up to the band and superkick the lead singer. Omega uses a piece of the desk against Moxley in the ring. Yuta gets suplexed by Matt Jackson down the ramp. 
In the ring, Moxley gets double teamed by Omega and Page. Claudio and a Buck are in the crowd. Bryan chokes Page with his wrist tape while Claudio and a Buck continue brawling up the stairs. Moxley suplexes Omega onto a poker chip with barbed wire near the stage. A Buck and Claudio brawl near concessions, while Yuta and Bryan continue whipping Page. Claudio spins the Buck while Moxley stabs Omega with a fork. Yuta strikes Page with a chair, while Moxley knees Omega at ringside. Bryan punches away at Nick. Claudio tosses Matt into a pickup truck outside. Yuta tries pinning Page. Claudio hits a piledriver. Yuta uses a leafblower to Omega's back. Moxley and Yuta hit Hart Attack on Omega as Bryan throws Nick off the stage. Hangman hits Dead Eye on Mox on the apron, but then Yuta strikes him with the leafblower.
Omega uses a trash can shield like a Captain America shield until Claudio returns and uppercuts him. Nick Jackson comes back to fight BCC. Mox piledrivers Nick, nearfall. Moxley and Yuta double team Nick Jackson with a submission in the ring. Matt comes stumbling down to the ring to superkick Moxley with an explosion. Matt kicks Yuta three times. Hangman Buckshot Lariats Yuta for a nearfall. Claudio kicks Matt's shoe into the crowd. Bryan and Yuta beat Matt down as Omega and Claudio slide out. Matt is stomped on tacks barefoot by Mox. Death Rider connects for a nearfall. Bryan applies a heel hook. Nick sentons to break it. Nick is cuttered on tacks. Omega snaps Mox. Claudio stops V-Trigger but then gets hit with it himself. Bryan knees Omega and then Page. Bryan elbows away at Omega and the rest of BCC join in. Matt tries breaking it up but Yuta low blows.
Mox shoves tacks in Matt's mouth. Claudio uppercuts, Yuta suplexes, Hangman breaks. Page and Omega meet and realize it's 2 on 3. Omega takes out Claudio. Bryan kicks away at both. Page hits Dead Eye. Omega hits One Winged Angel on Bryan, Yuta saves. Omega moonsaults on Yuta, Page moonsaults on Claudio. Callis is at ringside as Mox pulls Omega out. Yuta spikes Hangman with the screwdriver thanks to Callis. Omega V-Triggers Yuta and then Callis gets in the ring. Takeshita kicks Omega out of nowhere. Yuta spikes Omega with the screwdriver for the win.
Winners: Blackpool Combat Club
Callis chokes Omega as BCC and Takeshita all celebrate.