Kurt Angle Remembers Eddie Guerrero's Botched Blade Job At WWE Judgment Day 2004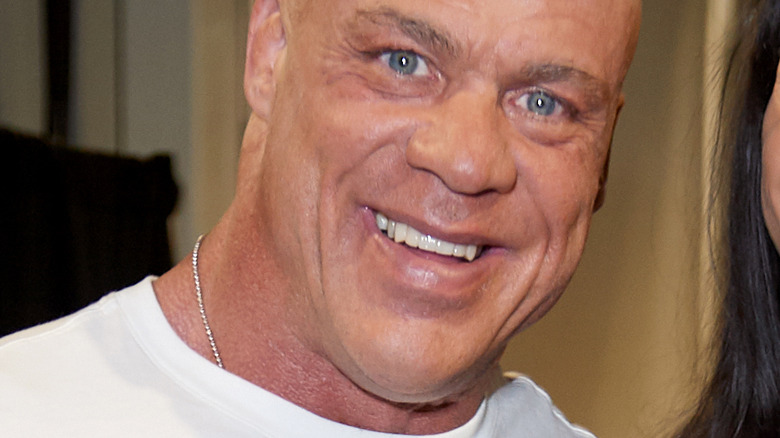 Unique Nicole/Getty Images
Following his loss to Eddie Guerrero at WrestleMania XX, Kurt Angle was ruled out of in-ring competition due to recurring neck issues, owing to which he was temporarily named the General Manager of the "SmackDown" brand. 
Despite assuming an on-air authority figure, Angle continued his beef with Guerrero, stacking up the odds for him in his rivalry against JBL. It was around this time that Guerrero defended his WWE Championship against JBL in the main event of Judgment Day 2004. Recalling the bout on his "The Kurt Angle Show" podcast, Angle couldn't help but point out Guerrero's infamous botched blade job that led to him bleeding profusely midway through the match.
"It was the worst gimmick I had ever seen. The worst cut ever," Angle recalled. "He hit an artery, and it would not stop bleeding. I mean, it was pulsating out, it was horrible. There was so much blood in the ring, and all over Eddie and Bradshaw — it was ridiculous. It was like half the blood from Eddie's body came out of his body. It was crazy."
Angle — who had seen his fair share of crimson masks — stressed that he had "never seen anything like that" in his life before and was shocked that Guerrero was not rushed to the hospital.
"The next day, he was getting lightheaded or something," Angle added. 
In the pay-per-view that followed Judgment Day, The Great American Bash, Angle successfully cost Guerrero the WWE Championship in a Texas Bull Rope Match against JBL. He would subsequently be fired as the blue brand GM by Vince McMahon, a move that paved the way for his in-ring return and resumption of his rivalry with Guerrero.