WWE Raw Viewership Dips On Memorial Day Opposite Heat-Celtics Game 7
Until the weekly wrestling TV shows are rid of direct competition from playoff games in the NBA and, to a lesser extent, the NHL, there's not much that can be read into the Nielsen ratings for the wrestling shows. WWE and AEW have made up a small amount of ground when they've loaded up their shows, but that's about it. On Monday, besides whatever influence the Memorial Day holiday had, "WWE Raw" was opposite game seven of the NBA Eastern Conference Finals as well as what ended up being the deciding game of the NHL Western Conference Finals, and that seemingly made a further dent.
According to reporting from ShowbuzzDaily and Wrestlenomics, Monday's "Raw" averaged 1,611,000 viewers across its three hours (down two percent from last week), approximately 683,000 of which were in the "key demo" most valued by advertisers, adults aged 18 to 49 (down three percent from the week prior). The latter figure translates to a 0.52 rating in P18-49, which earned "Raw" fourth place in ShowbuzzDaily's rankings of Monday's cable originals, behind the NBA game as well as the pre-game and post-game shows. Given Nielsen's stated ten percent margin of error, it can be considered something of a win, but it also follows the trend of the bigger NBA games siphoning viewers away.
On Another Level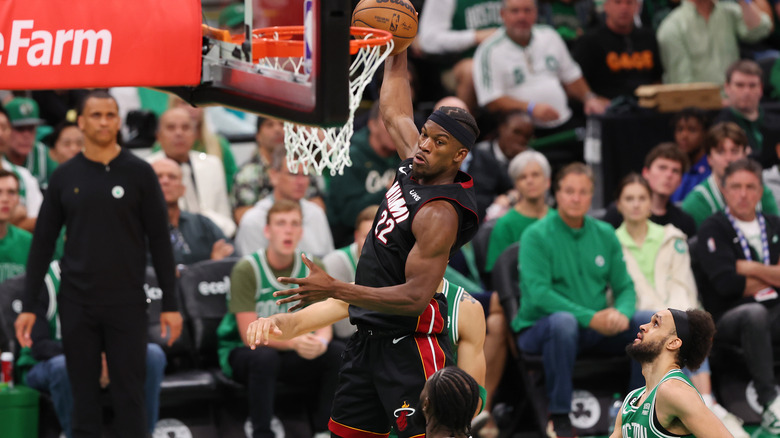 Maddie Meyer/Getty Images
That NBA game on TNT, with the Miami Heat downing the Boston Celtics to win the Eastern Conference Finals, averaged 11,900,000 viewers overall with a 4.24 rating in the P18-49 demo. According to a Warner Bros. Discovery press release, it was the most-watched Eastern Conference Finals ever on TNT.
For a bigger-picture look at the ratings, the Wrestlenomics Patreon page tracks how "Raw" performs across various demographics compared to the median viewership of the previous four weeks. By that metric, all but two of the demographics moved downward, with the exceptions being women aged 18 to 49 (up three percent) and female viewers aged 12 to 34 (up two percent). The only percentage change to top Nielsen's ten percent margin of error came in male viewers aged 12 to 34, which dropped 16 percent from the median. Of the single-digit percentage changes, the most significant was in total viewers, which was down eight percent.