Impact Wrestling Results (06/01): Bully Ray Speaks, Trinity Vs. Savannah Evans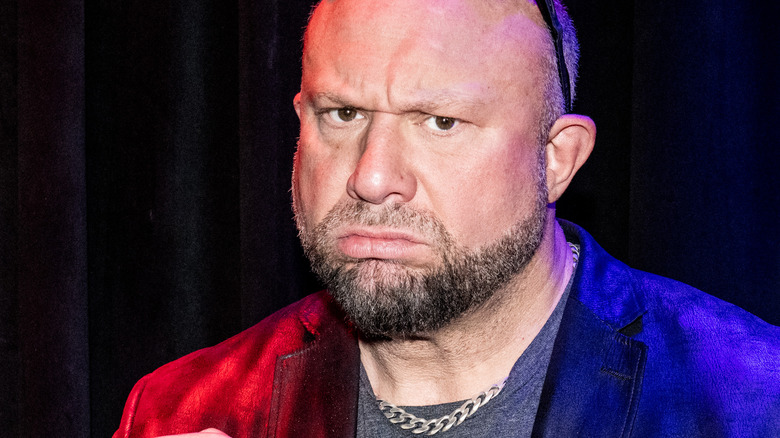 Timothy Norris/Getty Images
Welcome to Wrestling Inc.'s results of "Impact Wrestling" on June 1, 2023!
Fresh off of last week's Under Siege event, Bully Ray will kick off the show to address his heinous actions. Under Siege went off the air with Bully and Steve Maclin putting Impact President Scott D'Amore through a burning table in the ring. It clearly sent a message that they don't abide by the company's authority figure, which leaves several questions left to be answered.
A pair of Knockouts matches will highlight some of Impact's newcomers. After beating Gisele Shaw at Under Siege, Trinity will now go one-on-one with Shaw's muscle, Savannah Evans. Evans tried interfering in the Under Siege match, however Trinity still prevailed. We'll also see the Impact in-ring debut of Dani Luna, who previously competed for "NXT UK." Luna accompanied Subculture to the ring for the World Tag Team title match at Under Siege, but tonight, she will square off against Jody Threat.
Additionally, Eddie Edwards will take on Yuya Uemura after the two came up short in a six-way contender's match last Friday. Sami Callihan will team up with Jake Crist again to face Decay in a tag team bout. Crist returned to the company at Under Siege as Callihan and Rich Swann's mystery partner in a trios bout against The Design. 
We can also expect more developments as it relates to Against All Odds, which is quickly approaching on Friday, June 9, as the last stop before Slammiversary in July.
Bully Ray speaks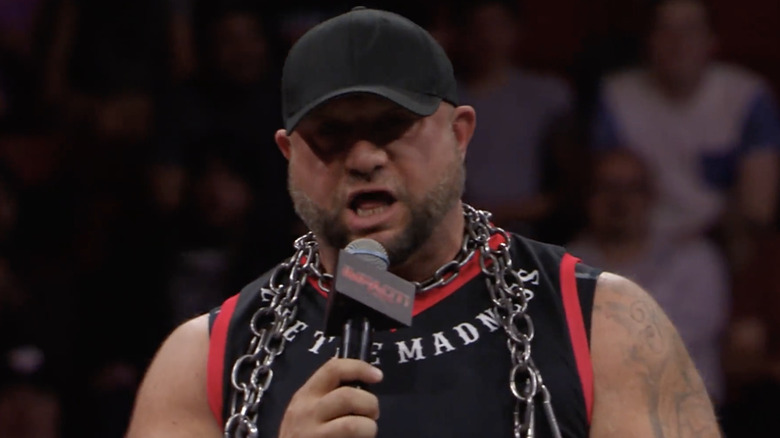 Impact Wrestling
After a recap of Under Siege, Bully Ray makes his way to the ring. Bully says he's the most hated person in wrestling today. He calls Under Siege one of the greatest nights of his career and life. It brought him great pleasure to put Scott through a table. Ray declares that he will win the 8-4-1 match at Against All Odds to get the world title match at Slammiversary. World Champion Steve Maclin comes out with a bandage on his head. Maclin says that Bully acknowledged him at Under Siege. And now people are asking "what if" they continue to be a team. Maclin says he loves that question, but there is a but. If Bully wins, Maclin will have to beat him.
Motor City Machine Guns enter next. Shelley reminds them that he's the number one contender. Bully says he can beat him down verbally like no one else can. He says Shelley should be in the conversation of GOATs, but he's not. Bully says he knows that gets under his skin — that a guy like him can't win the big one. Sabin interjects and reminds him that he was the one who beat Bully for the world title a decade ago. Maclin says it's great to go down memory lane, but there's a lot of truth here. Maclin says Shelley will drop the ball again at AAO, to which Shelley says that Maclin is no Josh Alexander. Shelley says Maclin would've never touched gold if Josh hadn't gotten hurt. MCMG suggest a tag match tonight. Bully says let's do it, but not tonight.
Subculture come out next. Andrews says they'll answer the open challenge in Maclin and Ray don't want to compete. MCMG vs. Subculture is a dream match for them. Shelley says they'll accept and then puts Maclin on warning.
Eddie Edwards vs. Yuya Uemura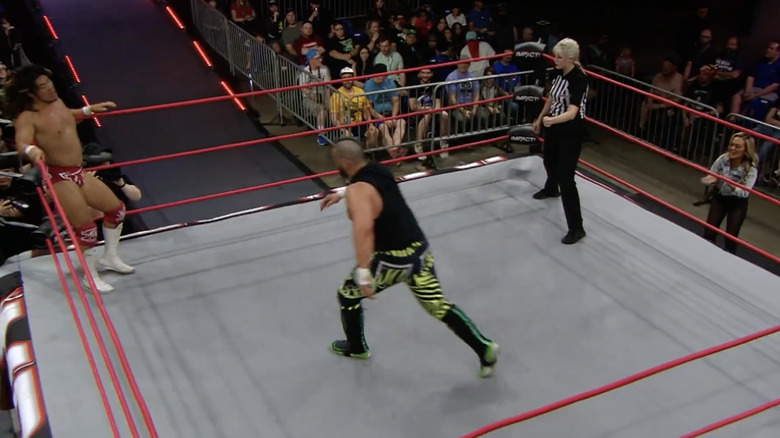 Impact Wrestling
Backstage, Jimmy Jacobs interviews Nick Aldis. He calls Kenny King a fine athlete and looks forward to their next match. Aldis touches on the uniqueness of the 8-4-1 match. Aldis promises to win and become the next world champ.
Eddie Edwards vs. Yuya Uemura
Eddie takes him down to start, but Yuya comes back with an arm hold. Eddie backs into a corner to separate and then chops away. Yuya launches out to flatten Eddie heading into commercial. We come back to find Eddie beating down Yuya in the center of the mat. Eddie shifts to a headlock until Yuya gets to his feet with elbows to the gut. Eddie counters with strikes to keep him grounded. Yuya fires back with a flurry of offense. Yuya goes up top, but Alisha distracts long enough for Edwards to get to his feet. Eddie connects with a superplex. Yuya manages to slam Eddie again and goes up top. He goes for a crossbody, but Eddie knees him right in the ribs. Tiger Driver connects for a nearfall. Eddie hits Boston Knee Party for the win.
Winner: Eddie Edwards
After, Frankie Kazarian comes out with a mic and harps on Edwards demanding respect. He disses Eddie for how he conducts himself before throwing a punch. Alisha hops on his back, but he shakes her off. Kaz leaves standing tall.
Decay vs. Callihan & Crist; Trinity vs. Savannah Evans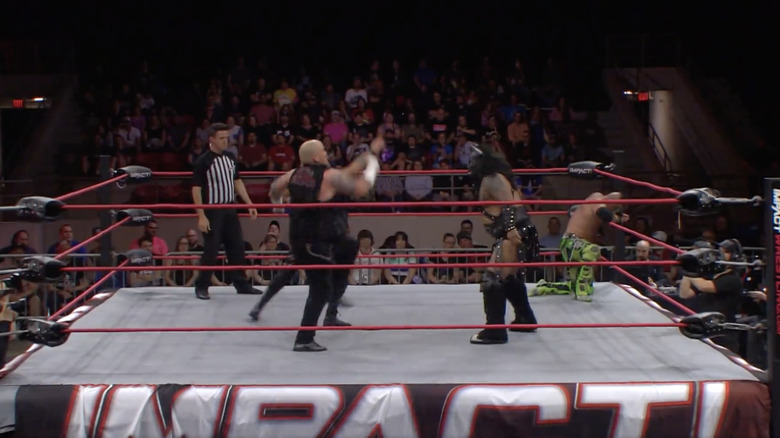 Impact Wrestling
Sami and Jake touble team Steve with pump kicks. Tauarus comes in to toss them out and helps Steve come back alive. Taurus launches Steve out of the ring to take down oVe. Crist superkicks Taurus and then Sami joins for double pump kicks. Crist cutters Steve and then Callihan covers for the win.
Winners: Sami Callihan & Jake Crist
Kon sneaks in and double chokeslams Sami and Jake. Angels and Deaner join in on beating them down further. Deaner DDTs Crist as Kon stomps on Sami's head. Rich Swann runs down with a chair in hand and The Design decide to retreat.
Backstage, Sami yells at Swann. Swann says he's already busy at Against All Odds with the 8-4-1 match. That means Sami and Jake will have to find another partner. Sami says they'll have to call a monster.
Trinity vs. Savannah Evans
Lock up to start as Evans backs Trin to the corner. Trin tries a waist lock but gets tossed aside. Trinity runs at her with a headlock to try and take her down, but Evans throws her into the corner. Trinity with a forearm shot and then kicks her a few times. Trin ducks a clothesline but then runs into a pop up powerbomb. Evans pins while standing and then tries holding her against the ropes. Evans runs Trinity into the turnbuckle and then tosses her by her hair. Trinity comes back by driving Evans face first into the mat before covering. Trinity eventuallty.y gets Starstruck locked in to make Evans tap.
Winner: Trinity
Trinity calls out Deonna. Deonna speaks and Trinity gets right to the point – she wants a world title match at Slammiversary. Deonna says "let's do it," but then Gisele, Evans, and Vidal take them down. Jordynne Graces runs down to make the save, but Shaw strikes her in the head with a handbag. Shaw hits three knee strikes on Grace to keep her down. Shaw and Co. stand tall.
Dani Luna vs. Jody Threat; MCMG vs. Subculture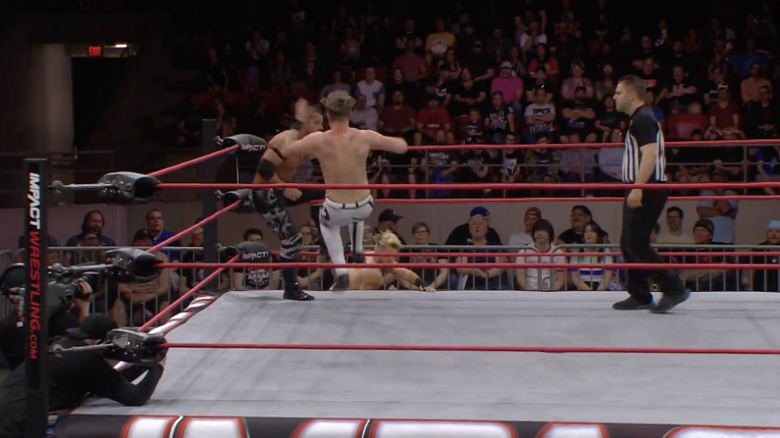 Impact Wrestling
Luna tries a headlock on the mat before pivoting to a left arm hold. Threat fires back with a pump kick and corner clotheslines. Luna stalling slams Threat for a two count. Luna hits a vicious clothesline for another nearfall. Threat throws a right and lands a German suplex. She lifts Luna up for a spin out bomb. Threat covers for the win.
Winner: Jody Threat
Joe Hendry talks to Santino backstage when Kenny King and Sheldon Jean interrupt. Santino books Jean vs. Hendry for next work. He also sets up a Digital Media title rematch between Hendry and Dango for Against All Odds.
We see a replay of Killer Kelly and Masha Slamovich brawling at Under Siege. We see a vignette from Kelly as it's confirmed she'll face Masha in a Dog Collar match a week from Friday. The announcers also confirm Frankie Kazarian vs. Eddie Edwards, plus Evans and Shaw vs. Trinity and Purrazzo for Against All Odds.
Set for next week
Tag Team Titles: The Coven (c) vs. The Death Dollz
Moose & Rich Swann vs. Nick Aldis & Jonathan Gresham
Motor City Machine Guns vs. Subculture
Shelley and Andrews start with a lock up into a wrist lock on Mark. He reverses it into a left wrist lock of his own before they get back up to a stand still. Flash and Sabin tag in and Sabin applies a headlock. Webster runs around Sabin and hits an armdrag before an inverted senton for a cover. The Guns double team Webster and then take out Andrews. Shelley takes Webster down to the mat to manipulate his right arm. Andrews gets the tag once Flash breaks free. They double team Shelley and then Sabin with flips. Subculture dive out to flatten MCMG. Back in the ring, MCMG counter Subculture with double clotheslines.
After the break, the Guns are working Andrews in their corner. Andrews meets a double clothesline and Sabin covers. Sabin stretches Andrews out and the continues tagging out. Flash argues with the ref as Andrews gets double teamed again, cover attempts follow. Shelley grounds with a headlock. Andrews almost breaks free until Shelley snaps his arm. Andrews manages to break free from both Guns and tags Flash, who initially works Sabin and then moonsaults onto both of them. Sabin accidentally kicks Shelley, allowing Flash to hit a crossbody in the ring to cover Sabin. 
Subculture hit a Falcon Arrow on Sabin for a nearfall. All four men are in as the Guns knocks Webster out. They hit a neckbreaker and then Magic Killer on Andrews, but Flash breaks it. Sabin dropkicks Andrews off of Shelley, but he lands on his feet. Subculture eats a double clothesline from Sabin. The Guns kicks Andrews in a corner. Sabin eats Stundog Millionare as Webster tags in. Sabin cutters Flash after Shelley did a run in. Andrews punches them and then gets wiped out with a flurry of double offense. Flash gets planted as Sabin covers for the win.
Winners: Motor City Machine Guns