WWE SmackDown Results (06/02) - Celebration For Roman Reigns, Money In The Bank Qualifiers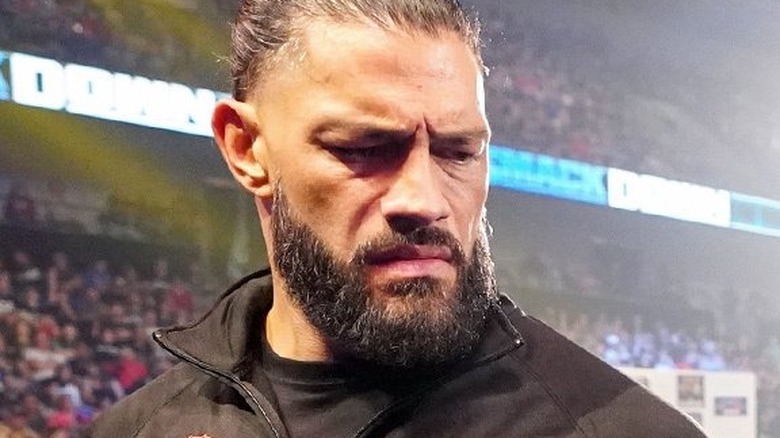 WWE
Welcome to Wrestling Inc.'s results of "WWE SmackDown" on June 2, 2023, coming to you live from the Mohegan Sun Arena at Casey Plaza in Wilkes-Barre, Pennsylvania!
Undisputed WWE Universal Champion Roman Reigns recently surpassed 1,000 days as Universal Champion, and tonight, he will be hosting a celebration for the occasion. The dynamics in The Bloodline will be interesting, as tensions between Reigns and The Usos boiled over last week at Night of Champions 2023 after Jimmy Uso hit Reigns with a pair of superkicks, ultimately costing himself and Sikoa the Undisputed Tag Team Championship.
Two more qualifier matches for the Men's and Women's Money In The Bank Ladder matches on July 1 in London, England, as LA Knight is set to take on Montez Ford of The Street Profits while Zelina Vega collides with Lacey Evans. Ricochet and Shinsuke Nakamura both secured their spots in the men's match after defeating The Miz and Bronson Reed this past Monday on "WWE Raw".
We are live! Michael Cole and Wade Barrett greet audiences at home before throwing it to a video of notable moments throughout Roman Reigns' 1,000 days as champion.
Back at ringside, Austin Theory is waiting inside the squared circle.
We Hear From Austin Theory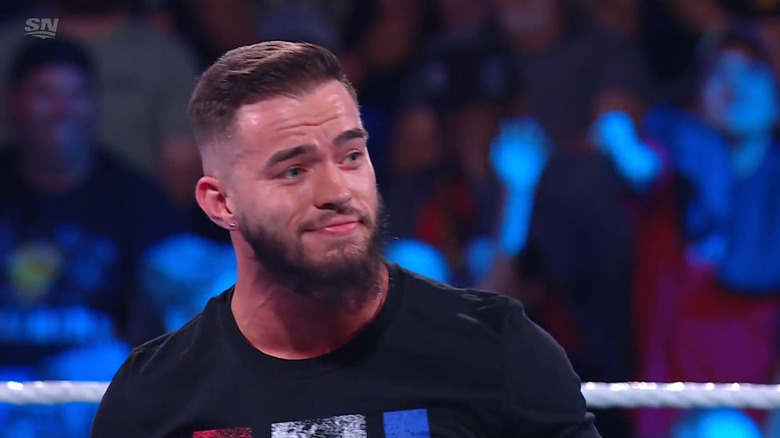 WWE/Fox
Theory welcomes fans to Austin Theory Live, then says tonight is special because Roman Reigns' historic championship reign will be celebrated. He says if you combined Reigns' run as champion with his, you would have a total of 1,209 days. He says it's both impressive and inspiring, and says he will surpass Reign's run if they keep giving him matches against guys like Sheamus for the United States Championship. He says when you're as great as him, everyone gravitates to him. He then introduces Pretty Deadly, and the duo's music hits.
Kit Wilson and Elton Prince make their way down to the ring and each grab a mic. Wilson says it was an honor to destroy The Brawling Brutes, and Prince says Theory is a champion the people deserve. The trio are cut off by The Brutes' music, and Sheamus, Ridge Holland, and Butch make their way down to the ring.
Austin Theory and Pretty Deadly vs. The Brawling Brutes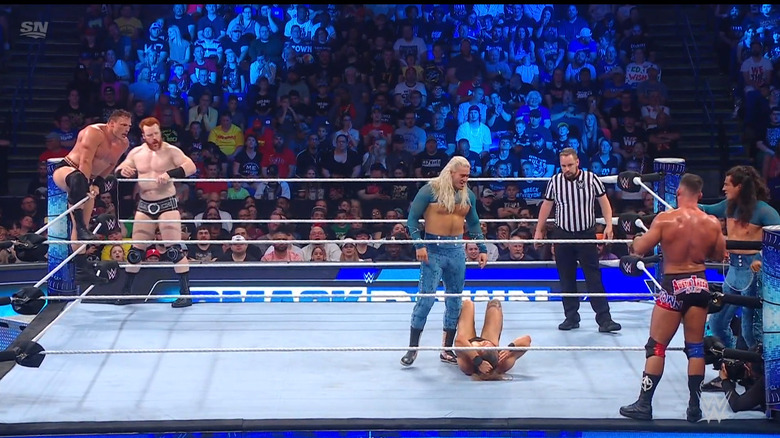 WWE/Fox
Holland and Prince begin the action. The bell rings and Holland delivers a back elbow. He follows it up with an uppercut, then sends him crashing into the top turnbuckle face first. Butch and Wilson tag in. Wilson delivers an uppercut, but Butch regains the upper hand and wears him down. Theory and Sheamus then tag in.
Back from the break, Prince is wearing down Butch. He lands a forearm, then tags in Theory. Theory taunts Sheamus and beats down Butch before Prince tags in and delivers a vicious uppercut. Prince hits an suppercut, but Butch responds with a series of chops and a Tornado DDT. He then tags in Sheamus as Prince tags in Theory. Sheamus delivers a pair of splashes to Theory in the corner, then plants him on the mat. Pretty Deadly try interfering, but Sheamus gains the upper hand and sets up for The Ten Beats of the Bodhran. Theory saves his teammates by rolling up Sheamus, but Sheamus kicks out.
Pretty Deadly gets in the ring, but Sheamus levels them. Butch and Holland join Sheamus in the ring, and the trio deliver a triple White Noise to Pretty Deadly and Theory. Sheamus follows it up with a Brogue Kick to Theory and looks to pin him, but Wilson and Prince pull Theory out of the ring before he can. Holland delivers a pair of shoulder tackles to Pretty Deadly as Sheamus ascends to the top. Sheamus then delivers a pair of clotheslines before Butch lands a moonsault.
Back from another break, Holland tags in and double teams with Butch on Prince. Sheamus becomes legal and goes flying off the top, then sets up for the Celtic Cross. Prince escapes and tags in Wilson. Theory then tags in before Pretty Deadly double teams on Sheamus. Theory plants Sheamus and goes for a pin, but Sheamus kicks out. Theory rains down right hands, but Sheamus responds with a clothesline and a knee.
Holland and Prince tag in. Pretty Deadly looks to level Holland, but Holland plants them both. The Brutes then execute The Ten Beats of the Bodhran on Theory and Pretty Deadly before Holland plants Wilson. Theory hits Butch with A-Town Down, but Sheamus clotheslines him out of the ring. Theory then sends Sheamus into the ring post.
Back inside the ring, Wilson and Prince swap places. Prince covers his face with the ring skirt so the referee and Holland don't notice it's actually him, allowing Wilson to run around the ring and blindside Holland. Prince then tags in, and Pretty Deadly land Spilt Milk. Theory tags in and pins Holland for the win.
Winners: Austin Theory and Pretty Deadly
We then head to a video recapping what went down at Night of Champions in the Undisputed Tag Team Championship match.
Back from the break, we head to The Bloodline's locker room. Paul Heyman tells Solo Sikoa they need to make their upcoming championship celebration special for Reigns following Night Of Champions, then says he's going to talk to Adam Pearce to ensure that The Usos are nowhere to be found.
We then head to a video recapping the finals of the World Heavyweight Championship match between Seth "Freakin" Rollins and AJ Styles.
Styles and the rest of The O.C. then head down to the ring. Hit Row follows. 
The O.C. (w/ AJ Styles and Michin) vs. Hit Row (w/ B-Fab)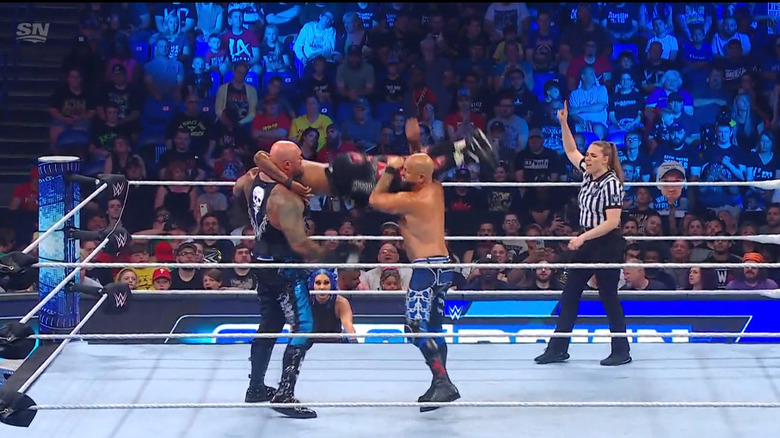 WWE/Fox
Anderson and Adonis begin the action. The bell rings and Adonis fires off several stomps. He follows it up with a clothesline, then gets in Gallows' face. Top Dolla tags in and uses Adonis as a weapon, tossing him shoulder first into Anderson. Adonis tags back in and delivers a knee to the back of Anderson's neck before B-Fab takes a cheap shot at him while the referee is distracted. Michin and Styles get in B-Fab's face before Anderson lands a spinebuster on Adonis in the ring. Gallows tags in and delivers a running back elbow, then hits a slam and tags Anderson back in. Gallows and Anderson then land Magic Killer for the win.
Winners: The O.C.
After the match, Top Dolla levels Gallows and Anderson, but turns around into a Phenomenal Forearm from Styles.
Grayson Waller Hosts Asuka On The Grayson Waller Effect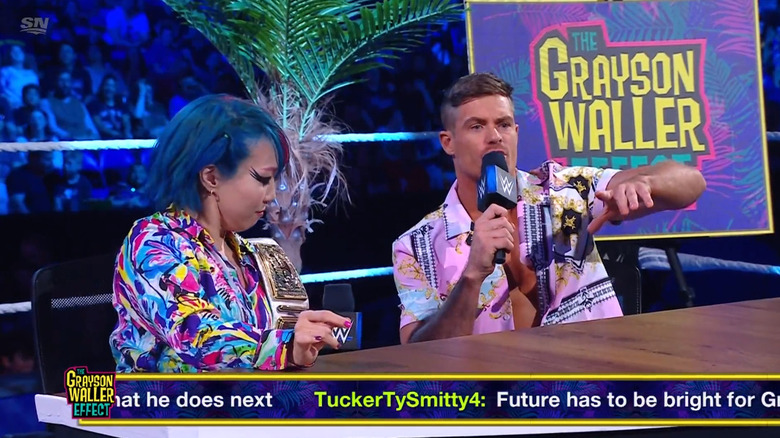 WWE/Fox
Waller welcomes fans to The Grayson Waller Effect and introduces Asuka.
The reigning "Raw" Women's Champion's music hits, and she heads down to the ring.
Waller congratulates Asuka on dethroning Bianca Belair at Night of Champions, then addresses the Women's Money In The Bank briefcase above the ring. He tells her that she needs to keep her head on a swivel, and says Belair will be coming for her championship. Asuka mocks Belair with fake tears, but before she can continue, IYO SKY's music hits and she marches her way down to the ring. She yells at Asuka and begins to complain, and Asuka gets in her face.
Bayley's music hits and she marches her way down to the ring. She says either herself or SKY will win the Women's Money In The Bank briefcase and dethrone Asuka.
Shotzi's music then hits and says she can't wait to crush Bayley's dreams with some cold, hard steel. Lacey Evans' music hits, and she demands respect before saying she'll win the briefcase after defeating Zelina Vega's music hits and she appears. She says the problem with everyone's plan is that they're underestimating her, and says she was so close to becoming "SmackDown" Women's Championship at WWE Backlash. She tells Evans she'll never be half the woman she is and says the more everyone underestimates her, the sweeter her victory will be.
All the women begin arguing with one another in the ring as Waller eggs them on. Asuka, now on the ramp, tells them that no one is ready for Asuka, but Belair blindsides her and the pair begin brawling. Officials then run out and separate the two women.
Back from the break, we head backstage to Cameron Grimes and Adam Pearce watching Baron Corbin's attack on Carmelo Hayes this past Tuesday on "NXT". Grimes says he wants to get his hands on Corbin the next time he appears on "SmackDown" for what he did. 
Zelina Vega vs. Lacey Evans In A Money In The Bank Qualifier Match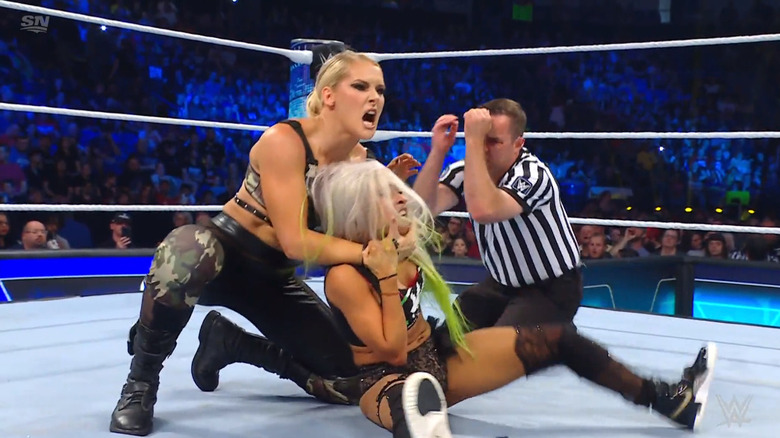 WWE/Fox
The bell rings and Evans fires off stomps on Vega after already jumping her during the commercial break. She follows it up with a modified Bronco Buster before sending Vega's head repeatedly crashing into the mat. Vega responds with a Code Red for the win.
Winner: Zelina Vega
Back from the break, we head backstage and see LWO celebrating Zelina Vega's win.
Back at ringside, Montez Ford heads down. LA Knight follows.

LA Knight vs. Montez Ford In A Money In The Bank Qualifier Match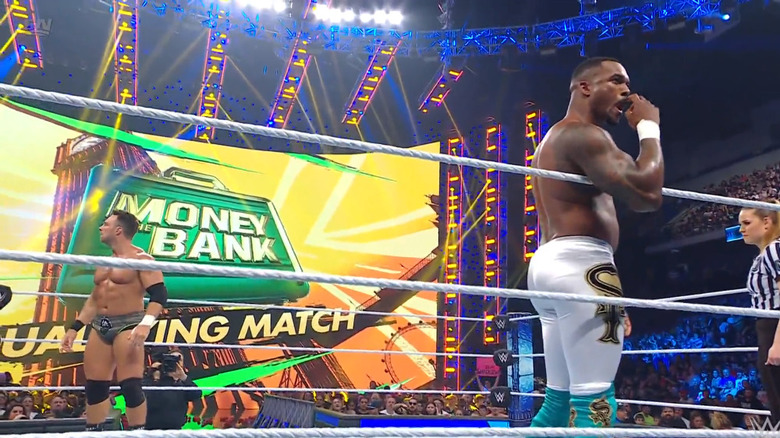 WWE/Fox
The bell rings and the two lock up. They go back and forth with submission holds before shoving each other. Ford then lands a shoulder tackle and a dropkick, then delivers a right hand from the apron before Knight sends him crashing onto the floor.
Back from the break, Ford and Knight deliver right hands to one another. Ford lands a shoulder tackle, then follows it up with a clothesline and a sidewalk slam. Knight gets Ford up on his shoulders and plants him, but Ford lands a Uranage. Both men level one another and go back and forth with right hands before Ford hits an enziguri and ascends to the top. Knight meets up him there, but Ford delivers a headbutt to knock him off. He looks for a Frog Splash, but Knight moves out of the way. Ford then rolls him up, but Knight reverses the fall (while grabbing onto the middle rope for some assistance) for the win.
Winner: LA Knight
After the match, Knight sets up a ladder and climbs up to where the Money In The Bank briefcases hang.
We then head over to a cryptic video from The Unholy Union.
Triple H then heads down to the ring.
Roman Reigns Hosts 1,000 Day Championship Celebration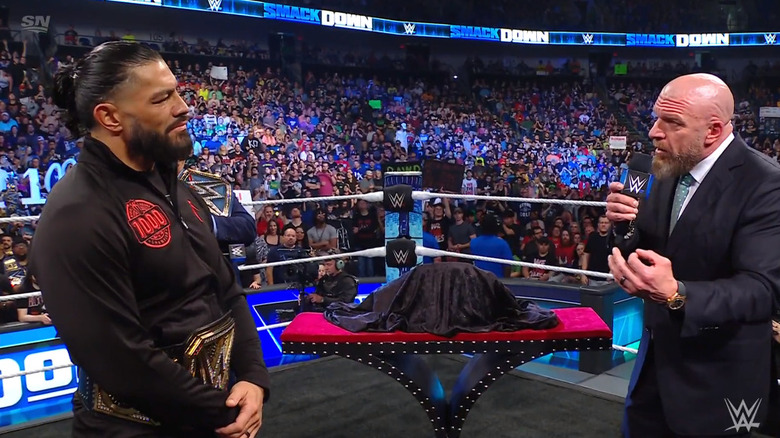 WWE/Fox
Triple H says an athlete comes along that is so dominant that they change their sport. He cites Muhammad Ali and Michael Jordan as examples, then says Roman Reigns is the WWE's version of that and introduces him.
Reigns' music hits, and he appears alongside Paul Heyman and Solo Sikoa.
Reigns and Heyman shake hands with Triple H before Triple H congratulates Reigns on behalf of WWE and the WWE Universe. He says no one has held onto a title for 1,000 days for almost 40 years, then says it's his honor to present him with a new WWE Universal Championship. He unveils the belt on the table next to him and hands it over to Reigns.
Reigns takes off the WWE Championship and hands it over to Heyman before raising it over his head. Triple H then puts it around his waist, and Heyman hands him a mic.
Reigns tells the entire universe to acknowledge him, but before he can continue, The Usos music hits, and Jimmy and Jey appear.
Back from the break, The Usos have entered the ring and Jimmy is staring down Reigns. Reigns then demands that Jey kick Jimmy in the face, seeing as Jimmy did the same to him and cost him the Undisputed Tag Team Championship at Night of Champions. He tells Jey to fix it by doing as he says, but Jey is reluctant. Reigns says he won't tell Jey to do it again and tells him to fix it.
Jimmy cuts Reigns off and says he's the one who needs fixing. He says he superkicked Reigns because he was being a brother, and says Reigns hasn't been a good brother lately. He asks what kind of brother hurts and betrays his own family, then tells Reigns he's gone crazy. He says Jey and Sikoa are his brothers, then talks directly to Sikoa and says Reigns will keep manipulating him and putting him in the dirt.
Fans chant for The Usos, and Reigns takes responsibility for doing that. He calls Jimmy an imposter for talking like he's the leader, and hands the mic over to Sikoa so everyone can hear first hand who he's loyal to. Sikoa acknowledges Reigns, but says The Usos are his brothers and hands the mic over to Reigns. He walks over to stand next to his brothers as Reigns watches on in disbelief. Jimmy asks what it's going to be. He asks if he wants to run things with respect or stay alone on the Island of Relevancy.
Reigns tells Jimmy to shut up, but Jimmy pushes his face. Jey gets in between Reigns and Jimmy. He tells them that they're family, and Jimmy asks what they're doing. He says they're stronger together, and says like Sikoa and Jey, Reigns is his brother too. He says they're family and still the ones.
Reigns and Jimmy hug one another as Reigns begins to cry. He then declines Jimmy's offer before Sikoa hits Jimmy with a Samoan Spike. Jey checks on Jimmy as Reigns and Heyman leave the ring. Sikoa stares down his brothers before joining Heyman and Reigns on the outside. On the way to the back, Heyman asks Reigns what about Jey, and Reigns says Jey will fall in line.