WWE Raw Results (06/05) - World Heavyweight Title Match, Money In The Bank Qualifiers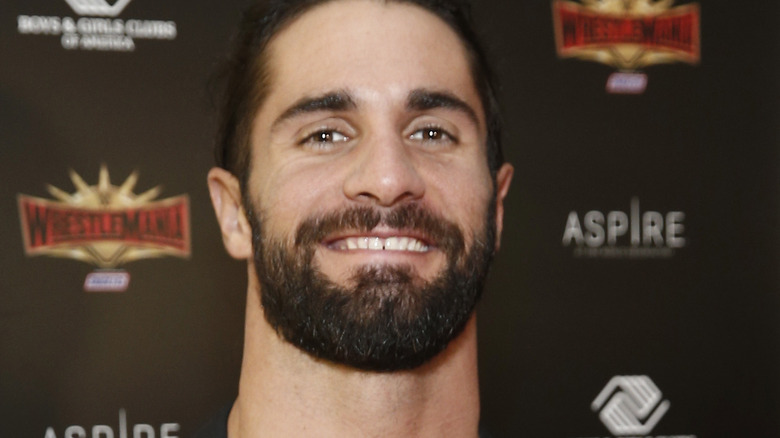 Brian Ach/Getty Images
Welcome to Wrestling Inc.'s results of "WWE Raw" on June 5, 2023, coming to you live from the XL Center in Hartford, Connecticut!
Seth "Freakin" Rollins is set to defend his World Heavyweight Championship for the first time in televised action as he faces Damian Priest. Priest was the one to answer the call after Rollins issued an open challenge on Twitter last Friday. While Rollins and his tag team partner AJ Styles ultimately got the better of Priest and his fellow Judgment Day member Finn Balor last week, it remains to be seen if the outcome will be the same tonight.
Two more entrants in the Women's Money In The Bank Ladder match will be determined tonight, as Becky Lynch collides with Sonya Deville while Zoey Stark goes one-on-one with Natalya. The winners will join Zelina Vega to earn the opportunity to receive a contract for a Women's Championship match of their choosing at any time or place.
"Miz TV" will be making its return tonight, as Cody Rhodes sits down with The Miz. Rhodes called out longtime rival Brock Lesnar on last week's edition of "Raw" as a means of determining who the better man is once and for all. Both men currently have a victory over one another under their belt, with Rhodes earning a victory over Lesnar at WWE Backlash while Lesnar picked up a win at WWE Night of Champions.
We are live! Corey Graves and Kevin Patrick greet audiences at home as Seth "Freakin" Rollins makes his way down to the ring.
We Hear From Seth Rollins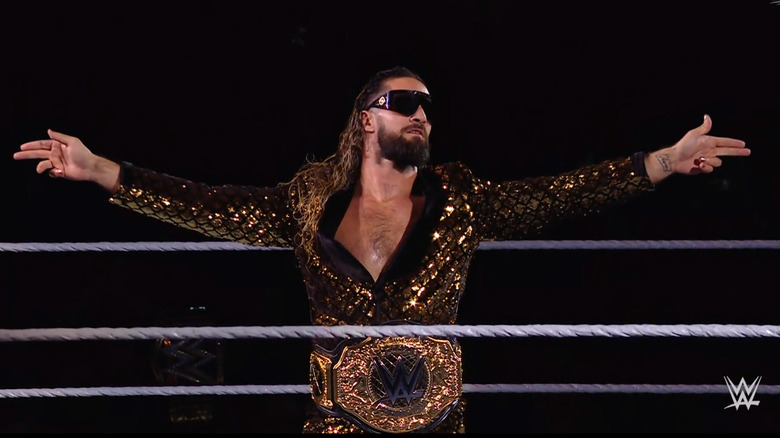 WWE/USA Network
Rollins welcomes fans to Monday Night Rollins, then says his first week as World Heavyweight Champion has been a non-stop party. He says in the midst of it all, he thought about the last time a match for the World Heavyweight title happened on "Raw", and it turns out that it's been nearly two years. He says he thought to himself that was too long, which prompted him to put out the Open Challenge last Friday. He says Damian Priest answered the call, and he's psyched up he was the person to do so because he wants all the fights. He says whether you love or hate Judgment Day, they're as good as it gets. He says he's looking forward to show that they aren't as good as he is.
Judgment Day's music hits, and Priest heads down to the ring along with Finn Balor. Rollins asks where Dominik Mysterio and Rhea Ripley are, and prepares for them to jump him. Priest tells him to relax because the two of them have business to take care of, and all he has to worry about is himself. Rollins questions why Balor is with him them, and Balor says Rollins is being a funny man. He says while everyone loves his song, they won't love it when Priest becomes World Heavyweight Championship later tonight. Priest adds that while he thinks Rollins is a deserving titleholder, he is one too and he doesn't need the rest of Judgment Day to prove it.
Rollins says he knows if it's just himself and Priest in the ring tonight, Priest has no chance of beating him. He challenges him to leave Judgment Day in the back, and Priest accepts his terms. He brags about becoming the new World Heavyweight Champion and says Rollins will go down in history as one of the shortest reigning champions. Rollins tells Priest no matter how you slice it, his reign will always be longer than Balor's was as Universal Champion and heads to the back.
Becky Lynch's music then hits, and she makes her way down to the ring. Sonya Deville and Chelsea Green follow. 
Becky Lynch vs. Sonya Deville (w/ Chelsea Green) In A Money In The Bank Qualifier Match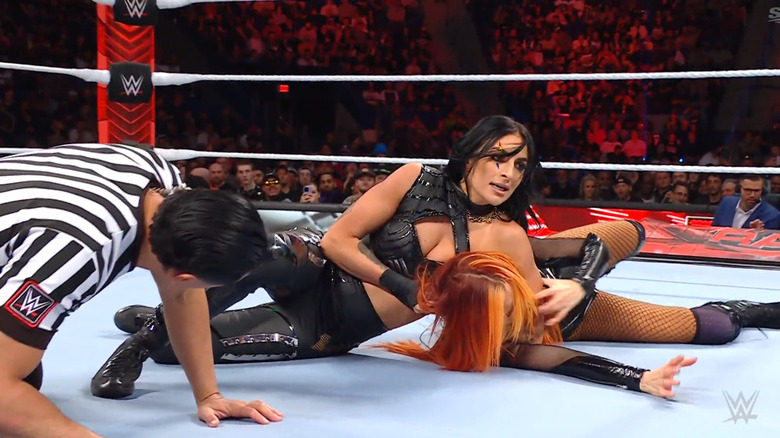 WWE/USA Network
The bell rings and Deville looks to blindside Lynch while she's engaged in a verbal exchange with Green. Lynch ducks out of the way and takes a couple of shots, but Green helps Deville gain the upper hand. Deville fires off several stomps in the corner, then lands a pair of right hands. Lynch responds with a back elbow and a pair of clotheslines, then lands a splash in the corner and follows it up with the Bexploder. She lands an uppercut off the middle rope and goes for a pin, but Deville kicks out. Trish Stratus' music hits. Herself and Zoey Stark appear to watch on from the ramp as Lynch plants Deville.
Back from the break, Deville and Lynch are teetering on the top rope. Deville lands a superplex and goes for a pin, but Lynch kicks out. Deville then lands a right hand, but Lynch fires back with one of her own and the duo go back and forth. Lynch eventually gains the upper hand and lands a flying forearm, then delivers a dropkick to Deville on the outside from the bottom rope and tosses her back into the ring. Green kicks Lynch and gets her inside the ring. Deville goes for a pin, but Lynch kicks out.
Lynch hits an enziguri, then levels an interfering Green and sends her crashing into the barricade repeatedly. Deville tries helping her tag team partner, but Lynch overpowers her and does the same to her. She gets Deville back in the ring, but Deville gains the upper hand and lands a series of forearms. Lynch then hits the Man Handle Slam for the win.
Winner: Becky Lynch
Back from the break, we head to a video recapping what happened between the members of The Bloodline this past Friday on "WWE SmackDown".
We then head backstage to Byron Saxton, Kevin Owens, and Sami Zayn. Saxton asks for their take on what happened on "SmackDown", and Zayn says it's nice to see Jimmy Uso do what he should've done months ago. He says while Jey's allegiance remains a mystery, it isn't his problem anymore. Giovanni Vinci and Ludwig Kaiser walk in, and put the two men on notice. Owens says they're sticking their nose in other people's business once again before GUNTHER enters and says since he's a disciplined man, he needs to teach Owens a lesson in controlling his temper. An angered Owens tells GUNTHER he's on, and makes his way to the ring alongside Zayn. Imperium follows. 

GUNTHER (w/ Imperium) vs. Kevin Owens (w/ Sami Zayn)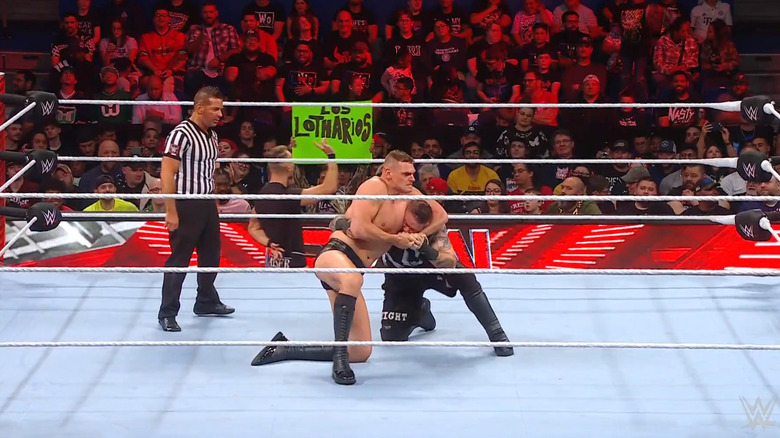 WWE/USA Network
The bell rings and the two lock up. GUNTHER wears down Owens with a series of submission holds before landing a shoulder tackle. Owens slaps GUNTHER and delivers a kick to his midsection, then looks for a shoulder tackle of his own. GUNTHER blocks it, and Owens rains down right hands on him. Owens then delivers a chop, but GUNTHER hits a big boot and a German suplex. The action spills to the outside, and Owens delivers a chop. GUNTHER whips Owens into the barricade, then sends him crashing into the ring apron spine first.
Back from the break, GUNTHER lands a bodyslam. He follows it up with a neck crank and a pair of elbows, then continues targeting Owens' neck. GUNTHER then hits a big boot, but Owens delivers a pair of forearms. GUNTHER responds with a series of chops, then delivers a stomp and locks in a Boston Crab. He transitions into a crossface, but Owens escapes his grasp. GUNTHER delivers a chop and a vicious clothesline, then delivers a short arm lariat. Owens hits a pair of German suplexes, but GUNTHER lands a stomp on the back of Owens' neck. Owens executes a series of superkicks and a cannonball, but GUNTHER locks in a Sleeper. Owens escapes, and GUNTHER catches him with a shotgun dropkick. Owens then plants GUNTHER with a Fisherman's Buster before the two men wind up on the top and GUNTHER plants Owens with a suplex.
GUNTHER drags Owens to the corner and ascends to the top, then looks for a flying headbutt. Owens gets his knees up, then climbs up to the top himself and executes a Swanton Bomb. Vinci tries distracting Owens, but Zayn levels him. Kaiser helps Vinci beat down Zayn, which causes Owens to get involved. He drags Kaiser in the ring and delivers a Stunner, which opens the door for GUNTHER to roll him up for the win.
Winner: GUNTHER
Back from the break, we head backstage to a physical altercation between Matt Riddle and Imperium.
We then head over to Byron Saxton, Ronda Rousey, and Shayna Baszler. Saxton asks the pair what it means to be the new Women's Tag Team Champions, and Baszler says they've been dreaming of this moment for a decade. Rousey says they're here to establish the title as legitimate, and says they'll take on any team who wants to challenge them. Kayden Carter and Katana Chance walk in and introduce themselves before answering the call, and Rousey says they're being ignorant. Baszler says she thinks of it as bravery, and Rousey accepts their challenge.
Rousey and Baszler then head down to the ring. Carter and Chance follow.

Ronda Rousey and Shayna Baszler (c) vs. Kayden Carter and Katana Chance for the Women's Tag Team Championship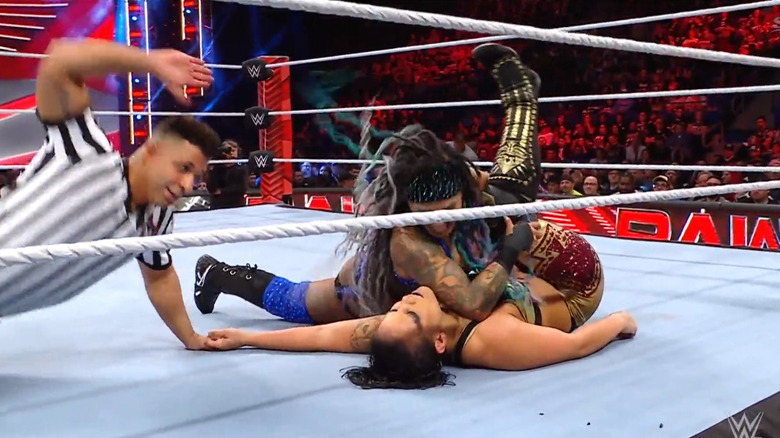 WWE/USA Network
Baszler and Carter begin the action. The bell rings and the two lock up. Carter delivers a kick to Baszler's thigh, then lands a dropkick off the ropes and tags in Chance. Chance delivers a senton from the apron to Baszler before Rousey tags in and delivers a hip toss. Chance delivers a boot to Rousey's face, then delivers a knee to her midsection and targets her arm. The action spills to the outside before Rousey gets Chance back in the ring and continues to wear down her arm. Baszler tags in and delivers a sliding knee to Chance as Rousey holds her in place, then manipulates her fingers. She stomps on them, but Chance manages to tag in Carter.
Carter delivers a shoulder tackle and a dropkick, then delivers a superkick to Baszler. She pins Baszler, but Baszler kicks out. Chance makes the blind tag before Carter sends her into the ring post and ascends to the top. Herself and Carter land their finisher. Chance goes for a pin, but Rousey kicks out. Chance then lands a crossbody off the top, but Rousey manages to cinch in an Ankle Lock. Chance escapes and lands a Codebreaker. Baszler and Carter tag in. Carter rolls up Baszler, but Baszler kicks out and delivers a back suplex. She locks in the Kirifuda Clutch, and Carter is forced to tap.
Winners (and still): Ronda Rousey and Shayna Baszler
We then head to Ricochet, Bronson Reed, and Shinsuke Nakamura getting into a heated discussion about the upcoming Men's Money In The Bank Ladder match in Gorilla position. Ricochet then heads down to the ring. Nakamura follows. 
Ricochet vs. Shinsuke Nakamura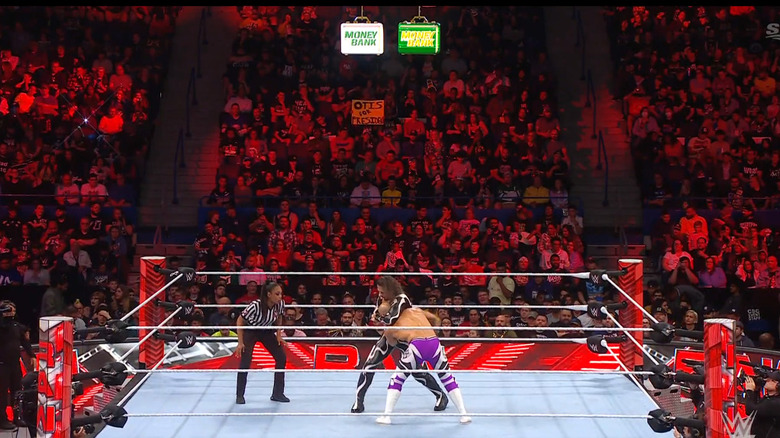 WWE/USA Network
The bell rings and the two lock up. Nakamura delivers a shoulder tackle, but Nakamura fires back with an arm drag. Ricochet hits a dropkick before the action spills to the outside and he lands a tope suicida.
Back from the break, Ricochet delivers a kick to Nakamura's face. He goes flying off the top, then lands a standing Shooting Star Press. He then delivers a crossbody, but Nakamura responds with a knee to his midsection. He hits a kick to his head, then follows it up with an Exploder and sets up for the Kinshasa. Ricochet stops him in his tracks with a running knee and a Recoil, then ascends to the top. Nakamura follows him up there, but Bronson Reed appears out of nowhere and blindsides both men, causing the referee to call for the bell.
Winner: N/A (double disqualification due to outside interference)
After the match, Reed delivers a splash to Ricochet. He follows it up with Tsunami.
Back from the break, The Miz is waiting in the ring on the set of "Miz TV".
The Miz Hosts Cody Rhodes (And A Couple Other Surprise Guests) On Miz TV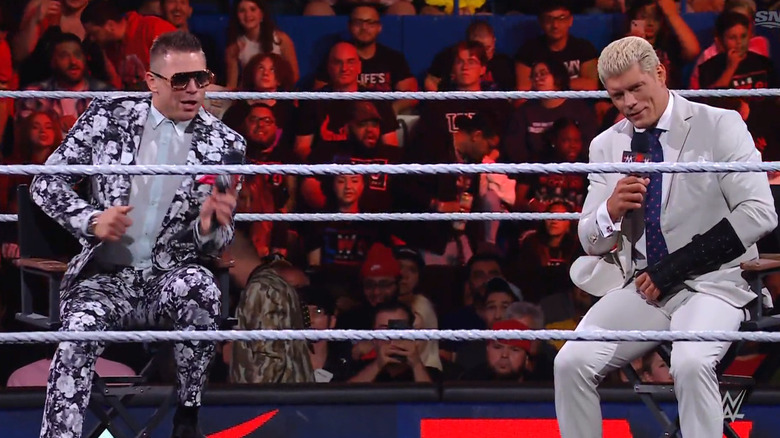 WWE/USA Network
Miz welcomes fans to "Miz TV', then introduces Cody Rhodes.
Rhodes' music hits and he makes his way down to the ring.
Miz says Rhodes looks dashing, then asks him about the challenge he threw out to Brock Lesnar last week. He asks Rhodes if he thinks that was as stupid as he does, and Rhodes says he hasn't heard his challenge been called stupid until now. He says no one will be seeing Lesnar now since he's on his annual break. Miz says he has a surprise for Rhodes, then introduces a multi-generational talent that shares Rhodes' struggles: Dominik Mysterio.
Dominik's music hits, and himself and Rhea Ripley make their way down to the ring. Miz looks to ask Dominik a question, but Ripley cuts him off and says Dominik has something to say. She hands the mic over to Dominik, and Dominik says he was happy when Miz invited him out. He says he heard Rhodes talking like he was the big dog in the yard, but to someone who's done time like he has, he's a little birdie with a broken wing. He says he realized last week that Rhodes is a bad father, and says he should be taking care of his daughter. He says he's a deadbeat father like Rey Mysterio.
Rhodes says he has a ton of empathy for Dominik, and says the fifteen minutes he spent in prison were really rough for him. He says he has a worse prison tattoo than he does, then says his WrestleMania match with Rey was "like a public spanking." He says he knows Rey has made terrible mistakes because he's looking at one.
Dominik and Ripley tease leaving the ring, but they turn around. Dominik slaps Rhodes, and an angered Rhodes looks to do the same to him. Ripley inserts herself in front of Dominik and dares Rhodes to go after her, but Rhodes refuses to do so and the pair leave the ring. Rhodes then clocks Miz and sends him crashing to the mat.
Trish Stratus and Zoey Stark then make their way to the ring. Natalya follows. 
Zoey Stark (w/ Trish Stratus) vs. Natalya In A Money In The Bank Qualifier Match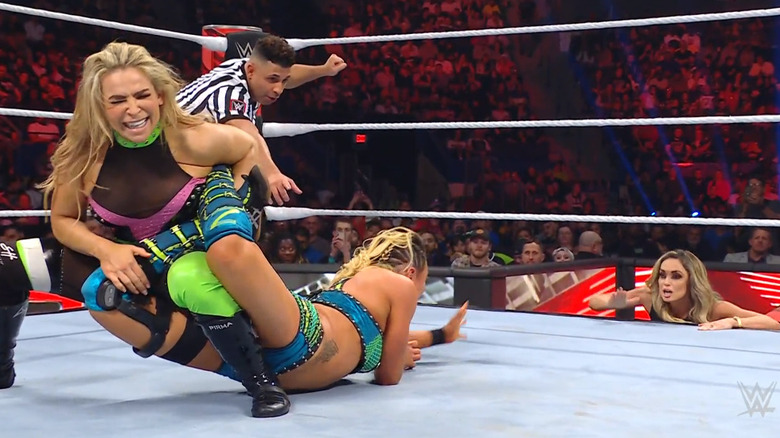 WWE/USA Network
The bell rings and the two lock up. Stark fires off stomps on Natalya in the corner before the two go back and forth with submission holds. Stark lands a superkick, then hits a shoulder tackle. Natalya delivers an arm drag and a kick, then follows it up with a German suplex and goes for a pin. Stark kicks out and Natalya locks in a Sharpshooter. Stark makes it to the bottom rope to break the hold before the action spills to the outside. Natalya tosses Stark back in the ring and looks to follow her, but Stratus prevents her from doing so. Natalya manages to escape, and Stark takes advantage by hitting Z360 for the win.
Winner: Zoey Stark
We then head to a video from Paul Heyman, who announces that Jey Uso will make his choice on this coming Friday's edition of "WWE SmackDown" as to whether he will stand by Jimmy Uso or Roman Reigns, Solo Sikoa, and himself.
Back from the break, Indus Sher heads down to the ring. Cedric Alexander and Shelton Benjamin are already waiting inside for their scheduled match. 
Indus Sher Blindside Shelton Benjamin and Cedric Alexander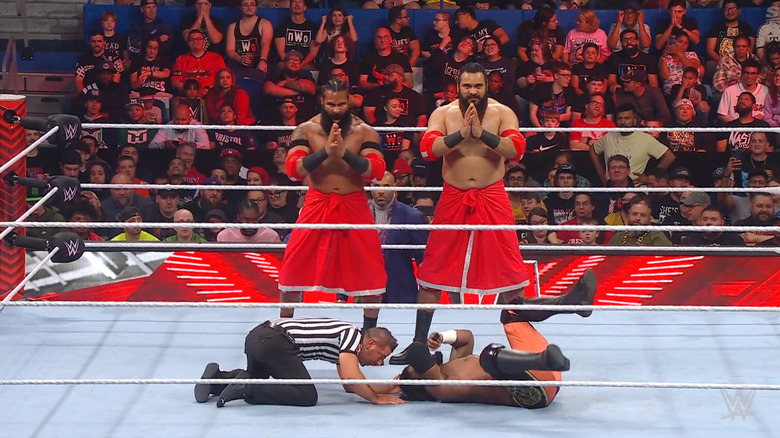 WWE/USA Network
Indus Sher blindsides Alexander and Benjamin. Mahaan lands a clothesline on Alexander before hitting their finisher on him and gloating. The referee calls off the match, and Indus Sher hits their finisher for the second time.
Back from the break, Damian Priest heads down to the ring. Seth "Freakin" Rollins follows.
Seth Rollins (c) vs. Damian Priest for the World Heavyweight Championship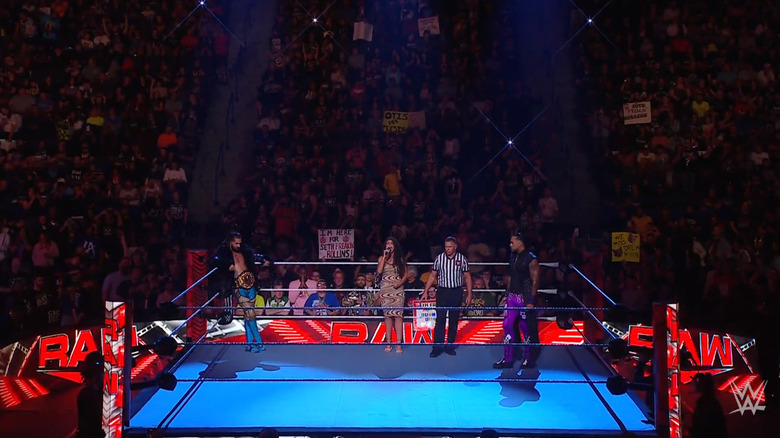 WWE/USA Network
The bell rings and the two lock up. Rollins lands a series of right hands and chops before Priest hits a back elbow. Rollins sends Priest crashing to the outside, then delivers a flying knee off the apron.
Back from the break, Priest delivers a vicious right hand to Rollins on the outside as he goes flying off the barricade. He tosses him back in the ring, then fires off stomps in the corner. Priest lands a kick on Rollins' spine, then delivers another one to his chest. He lands a forearm and begins targeting Rollins' shoulders.
Rollins delivers an enziguri, then executes a series of chops and right hands. He hits a couple of clotheslines, but Priest remains on his feet. He then hits a superkick and a backbreaker before ascending to the top. He looks for a Frog Splash, but Priest rolls out of the way and delivers a back elbow in the corner. Rollins hits a Sling Blade, and Priest rolls to the outside. Rollins then looks for a tope suicida, but Priest ducks out of the way and delivers a Flatliner to Rollins on top of the announce desk.
Back from another break, the two men teeter on the top rope. Rollins lands a superplex, then rolls through and hits a Falcon Arrow. He goes for a pin, but Priest kicks out. The action spills to the outside, and Rollins delivers three tope suicidas (the final of which sends Priest crashing over the announce desk). He gets Priest back in the ring, then delivers a superkick and a Frog Splash off the top.
Priest delivers a series of kicks, but Rollins fires back with a rolling elbow. Priest sets up for South of Heaven, but Rollins escapes and Priest eats a boot. The two men wind up back on the top rope, and Priest hits a hurricanrana. He goes for a pin, but Rollins kicks out. Rollins then lands the Pedigree and crawls over to Priest to pin him. Priest kicks out and the duo end up on the apron. Rollins delivers a chop block, then powerbombs Priest onto the barricade next to the timekeeper's area.
Finn Balor appears, but Rollins spots him and levels him. This allows Priest to hit South Of Heaven when he gets back inside the ring and he goes for a pin. Rollins kicks out, and Priest asks Balor what he's doing. The door opens for Rollins to deliver a superkick before following it up with a right hand and a Curb Stomp for the win.
Winner (and still): Seth "Freakin" Rollins
After the match, Balor appears behind Rollins. Rollins takes note, and the two men stare one another down.