Bruce Prichard Explains Why John Cena Was Chosen To Be WWE's Top Guy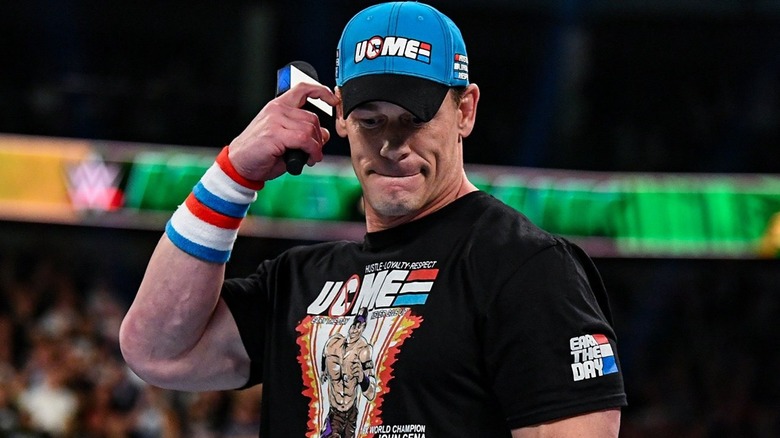 WWE
In the mid-2000s, WWE was forced to undergo a major changing of the guard in the main event scene after the departures of The Rock and "Stone Cold" Steve Austin from full-time in-ring competition. A fresh crop of talent began being transitioned from the OVW developmental system to the main roster. While one in particular would go on to become a 16-time world champion and the face of WWE for many years, John Cena was hardly a shoo-in to fill such a vacancy. On the latest edition of his "Something To Wrestle" podcast, long-time WWE executive Bruce Prichard admitted there were plenty of discussions regarding who might assume that position, detailing what it takes to be "the guy" in WWE. 
"Cena was in that discussion, Batista, Brock [Lesnar] had been in that discussion at one point –- there were a lot of guys," Prichard shared. "Dusty [Rhodes] was in love with Randy Orton ... that's the only way to go, third generation wrestler, youth and all this stuff. Cena — he's got the look, he's got the charisma, he's got everything and the best attitude out of all of them. All of them were fighting hard ... being the top talent is a shoot and you've got to fight to get there, and if you can't do that and you aren't willing to do that, then you're never gonna make it."
However, according to Prichard, that top spot wasn't delivered to John Cena — or anyone that has come before or after him, for that matter. It took someone special to earn it. "The top guys weren't people that just got it handed to them. Guys like Cena, Austin, Rock, Hunter [Triple H], [Mick] Foley –- those guys all wanted to be the guy," he added, "and they wanted everything that came with it... they really wanted to be the best at what they did. They were willing to sacrifice and do whatever it took to be the best."
If you use any quotes from this article, please credit "Something To Wrestle With Bruce Prichard" with a h/t to Wrestling Inc. for the transcription.