Shannon Moore On Partying After First WCW Monday Nitro, Wanting To Learn How To Drink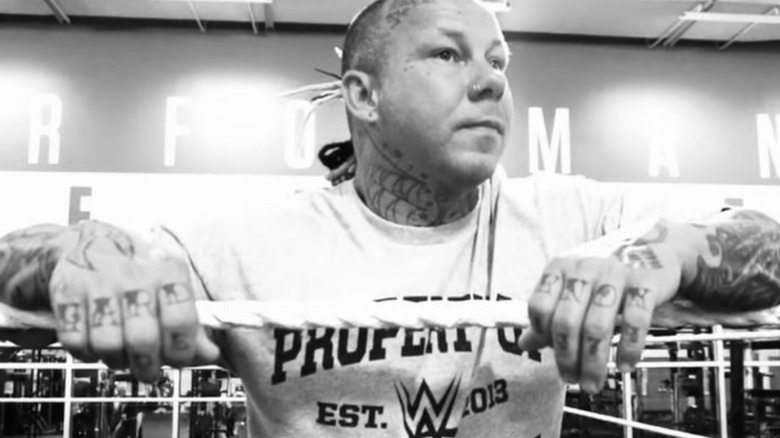 Instagram
"WCW was great. It was such a learning experience for me," Shannon Moore said in a recent interview with "Developmentally Speaking." The well-traveled veteran shared that the first wrestler to welcome him to the locker room was Sting, but the former WCW Hardcore Champion said he learned even more lessons from Kevin Nash, Curt Hennig, and Scott Hall.
"That first Nitro, I drank a lot," Moore said. "Kevin Nash and Curt Hennig and Scott Hall ... business happens at the bar. That's the way I was brought up." Moore has very open about his struggles with substance abuse and how his time in WCW helped exacerbate his issues.
"So I walk in the bar that night after 'Nitro' and Kevin, Scott, and Curt, they're at the bar, having a few beers." Moore said, noting that he approached the trio alongside Shane Helms. "They just started to order — Jack Daniels, Jack Daniels, Jack Daniels, and I wasn't much of a drinker yet. I start pounding Jack Daniels, and I got really sick, had to go to the bathroom and throw up, and I kept drinking." Moore said that going home from that night made him realize that he needed to learn how to drink. 
"I couldn't even buy alcohol at the time," Moore continued, "so I had a buddy that's 21 and I was like 'Man, you gotta go buy me some beer and liquor because I gotta go drink this week so I can get the hang of it." Moore then stated he went home and started learning to drink, so he wouldn't look bad in front of the locker room.
If you or anyone you know needs help with addiction issues, help is available. Visit the Substance Abuse and Mental Health Services Administration website or contact SAMHSA's National Helpline at 1-800-662-HELP (4357).