Ted DiBiase Talks About The Impact Of WWE Hall Of Famer Junkyard Dog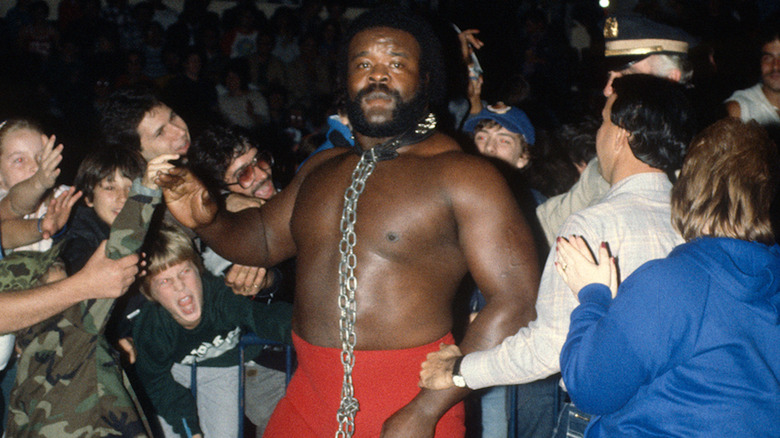 WWE
Mid-South Wrestling promoter Bill Watts was famous for often putting societal prejudices – as well as his own prejudices – aside in favor of making cold hard cash. On "Everyone's Got A Pod," former Mid-South North American Heavyweight Champion Ted DiBiase said it was this attitude that led to the rise of the wildly popular Junkyard Dog.
"The one thing I did understand is we were in the Deep South ... Louisiana and Mississippi ... the two racist states left in the United States," DiBiase said of the Mid-South touring itinerary, "but everyone loved [Junkyard Dog]."
DiBiase believes that Watts putting money above racism unintentionally helped change the culture of the Deep South.
"It was good for the culture," DiBiase explained. "In some ways, it even helped to heal some of those wounds, if you will."
While JYD was popular in many venues that Mid-South Wrestling ran, New Orleans fans gravitated towards him especially.
The King of New Orleans
WWE
"I remember they – the fans, especially in New Orleans, they came up with a chant," DiBiase continued. "When we would get to that part of the match, I'd be like, 'Ok, buddy it's time for you to light that fuse.' As he would do that, the fans would start chanting 'Who Dat?'"
DiBiase remembers being awed by how loud the chant was. In fact, it remains popular at New Orleans Saints games to this day.
"It just echoed everywhere," DiBiase said.
"I know that [Junkyard Dog]'s legacy as a wrestler is he's a groundbreaker," he continued. "Here's a guy, you can go back as far as you want to, there've been other Black wrestlers but to my recollection, there has never been a Black guy, who achieved the heights of success that JYD did. When you've got the whole crowd chanting 'Who Dat!?' and he did ... New Orleans was unique but anywhere in Mid-South, everywhere that Bill [Watts] ran, he had that kinda reception."
If you use any of the quotes in this article, please credit "Everyone's Got A Pod" with an h/t to Wrestling Inc. for the transcription.