AEW's Young Bucks Reveal Why They Haven't Pursued Singles Careers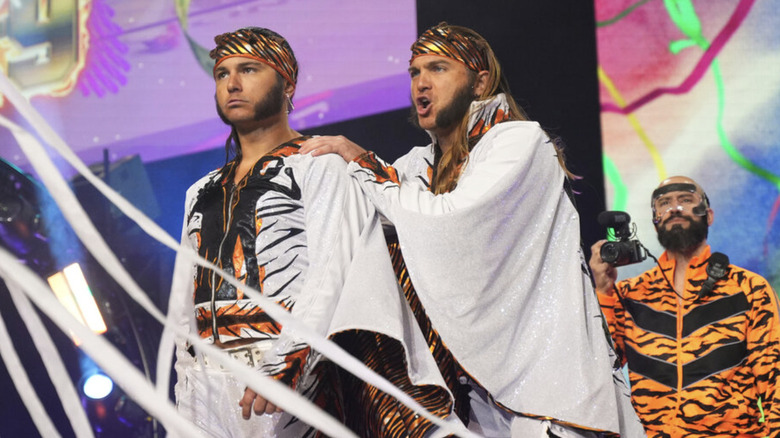 AEW
During a recent appearance on "Swerve City Podcast," The Young Bucks discussed why they've never pursued singles careers.
"It's different because you don't see it often," Nick Jackson said. "Honestly, man, we've never had aspirations of being singles wrestlers, so I think that is a big thing for it. We always aspired to be a tag team. We saw The Hardys do it most of their career and we were like, 'Oh, maybe we can do the career with each other.' And it honestly makes it so much easier traveling with him. I don't want to do a show without him. I don't want to get on a plane by myself, things like that."
Nick recalled, "I did do a Japan tour without him, and that was crazy. That was like a 25-day tour and that sucked. I was a singles guy for it. It was a Super Juniors tour in 2015. It was rough being by myself. But I think after doing that, I knew for sure, 'All right, I have to be in the tag team because this singles stuff's way too hard.'"
Teaming Up Was Happenstance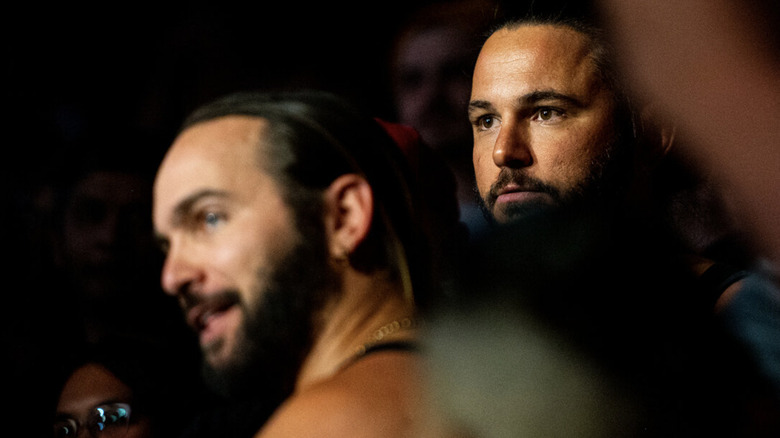 AEW
"When we first started our careers, we were singles wrestlers," Matt said. "In the very, very beginning. Like '04, '05. I think it was just one of those happenstance moments where the promoter booked us as a tag team and it clicked. Everybody started wanting us as a tag team. We were kind of against it at first. We were like, 'No, I wanna wear red and call myself Mr. Replay, he wants to wear blue and call himself Slick Nick. We're not the Young Bucks.'"
Matt continued, "And it was almost forced upon us like, 'No, no, no, you're the Young Bucks.' We started seeing we were getting more bookings and there was more buzz about us. So it was almost like, 'Why are we going against what everybody wants?' This is undeniable and there's more marketability in this. There's probably more chances that we're gonna succeed because, at the time, there weren't that many tag teams blowing up and doing things. Maybe this is our way in to get the push that we want."
Matt and Nick have remained tag team partners ever since, although they did recall one time when Vince Russo wanted them to have a singles feud during their days as Generation Me in TNA. Nick admitted that he does want to have a singles match against Matt on "AEW Dynamite" one day without it being a proper feud.
If you use any quotes from this article, please credit "Swerve City Podcast" with a h/t to Wrestling Inc. for the transcription.