Billy Corgan Talks Relationship With WWE, Says NWA Was Discussed For The Network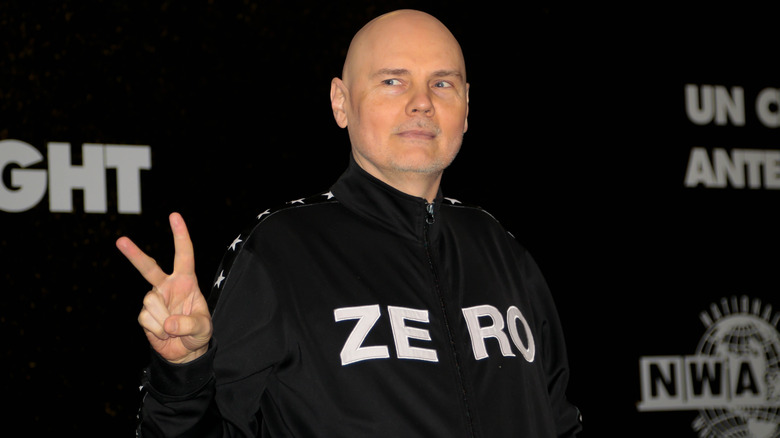 Medios Y Media/Getty Images
When WWE purchased WCW's tape library in 2001, the company came into possession of some of pro wrestling's most iconic moments from the past. As a result of its former membership in the NWA (as Capitol Wrestling), and through its ownership of WCW — which purchased NWA's most prominent territory, JCP, in 1988 — WWE suddenly owned a majority of significant NWA matches from the 1970s through early 1990s.
Despite owning nearly every piece of classic NWA footage, WWE is in no way affiliated with the current iteration of NWA, which was rebranded as a stand-alone promotion by Billy Corgan in 2017. During his recent appearance on "Insight with Chris Van Vliet," Corgan revealed the conversations he's had with WWE about the possibility of media-sharing between the two promotions. 
"We have had conversations," Corgan said. "WWE has been nothing but great — absolutely world-class great. No problems, no poaching of talent, total respect for the contracts, no messing with my talent — absolutely gold standard. Any business discussions I've had with them were always great and respectful."
When asked to specify the nature of his conversations with Vince McMahon's promotion, Corgan revealed WWE recently contacted him about a piece of footage they wanted — without getting into specific details. More interestingly, Corgan noted that WWE had floated the possibility of including the current NWA programming — including "NWA Powerrr" — on Peacock and the WWE Network internationally. 
"We had conversations about NWA being on the WWE Network, and talking about how that would work," Corgan said. "They were in a different mode [at the time], this [conversation] happened pre-sale [merger with Endeavor]."
In a 2022 interview, Corgan revealed that the only piece of classic NWA footage owned by him is the NWA Houston library. Corgan added that the only other NWA libraries not owned by WWE are from forgotten regional promotions that "don't intend on selling." WWE also owns libraries of promotions such as WCCW, AWA, Georgia Championship Wrestling, Deep South Wrestling, and Stampede Wrestling.