Carmelo Hayes Comments On He & Wes Lee Being First Black Men To Wrestle For NXT Title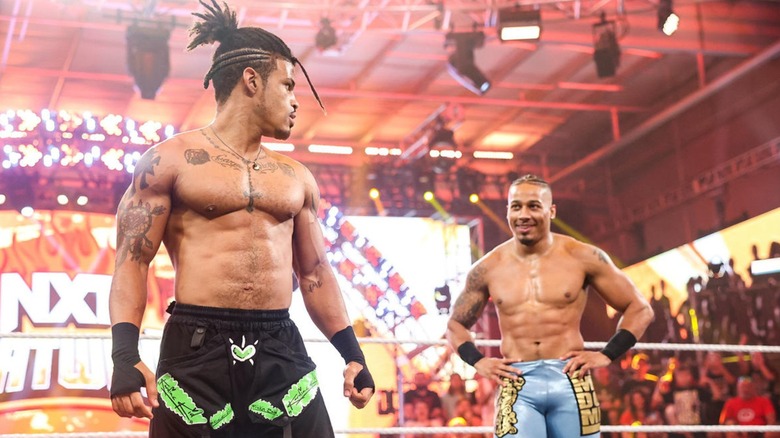 WWE
Carmelo Hayes and Wes Lee made history Tuesday night on "WWE NXT Heatwave" by becoming the first pair of African American men to wrestle in a singles bout for the "WWE NXT" Championship.
After his successful title defense, Hayes showered his opponent with praise and touched upon the pride he felt to wrestle a fellow Black wrestler for the top title in WWE's developmental brand. "Freakin' Wes Lee, man! He was one of the greatest North American Champions for a reason ... that kid has got so much fight in him," Hayes said. "Also, I'm not sure if you know this, Kelly [Kincaid], but he and I made history ... this was the first-ever main event with two Black men for the 'NXT' Championship — ever.
"It was a special moment for me, but I didn't take my eyes off the prize," Hayes continued. "I left a lot of questions on the table as to how I was retaining my title. But tonight, I gave everybody the answer they were looking for — and that is, I am HIM."
It's worth pointing out that the match also had a Black ring announcer [Alicia Taylor], referee [D.A. Brewer], and commentator [Booker T], a fact that was acknowledged by Taylor and Brewer on their respective Twitter pages. Besides the many fans who celebrated this powerful moment, even "NXT" superstar Jakara Jackson acknowledged that it was "beautiful to witness" her people shine in their respective roles and "Exude Black Excellence."
Previously, the likes of Keith Lee and Big E held the "NXT" title but did not defend it against a fellow Black wrestler. 
Was an honor to make history with one of the best in the world @WesLee_WWE 🙏🏾 https://t.co/lH0YesvAZO

— Carmelo Hayes (@Carmelo_WWE) August 23, 2023
History was made tonight! And it was beautiful to witness! Seeing my people do what we do best- Exude BLACK EXCELLENCE 🖤 @AliciaTaylorNXT @DallasIrvinWWE @Carmelo_WWE @WesLee_WWE https://t.co/HzYh6QTxQ6

— Jakara Jackson (@JakaraWWE) August 23, 2023
History. #WWENXT #NXTHeatwave #NXTChampionship pic.twitter.com/bxVQwQl69U

— New Normal Wrestling (@WrestlingNormal) August 23, 2023