Kurt Angle Had Wanted To Wrestle John Cena In Last WWE Match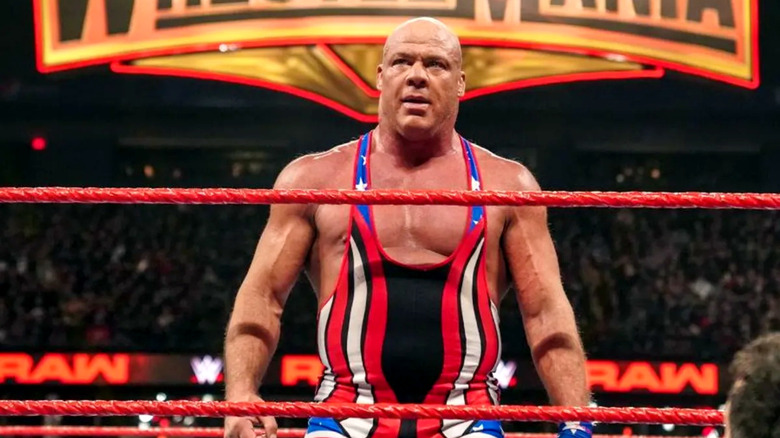 WWE
Kurt Angle has discussed why he decided to hang up his boots earlier than initially intended and talked about facing Baron Corbin.
While speaking on "Insight with Chris Van Vliet," Angle said that he chose to retire because he "looked old" inside the ring and was not his usual self.
"I was doing a program with Baron Corbin when I decided I was going to retire," Angle stated. "The reason why I decided to retire is because I wasn't me anymore. I was a half a step behind. I looked like I was old. When I was wrestling, I didn't like what I saw. And Vince wanted me to keep wrestling."
Angle revealed that he wanted to face John Cena instead of baron Corbin, and recalled the conversation he had with Vince McMahon about it. 
"I asked Vince, 'Hey, can I have John Cena? 'Because I started his career. I think it'd be proper if he ended my career.' And Vince said, 'No, you have Baron Corbin. You've been doing a program with him for six months. You have to continue. But if you want Cena, you can have it next year.' And I said, 'Well, I'm going to go this WrestleMania.' And he said, 'Well, then you're going to wrestle Baron Corbin. Are you okay with that?' I said, 'Yeah, that's fine.' So I wasn't able to get Cena, but he gave me the option."
Following a ten-year run in TNA, Kurt Angle returned to WWE in 2017 to be inducted into the company's Hall of Fame and have one final in-ring run. However, despite a promising start where he was a featured performer, he didn't get to see out his wrestling contract and decided to retire early.
If you use any quotes from this article, please credit "Insight with Chris Van Vliet" with a h/t to Wrestling Inc. for the transcription.