Former Referee Nick Patrick Names Biggest Matches He's Officiated In WWE & WCW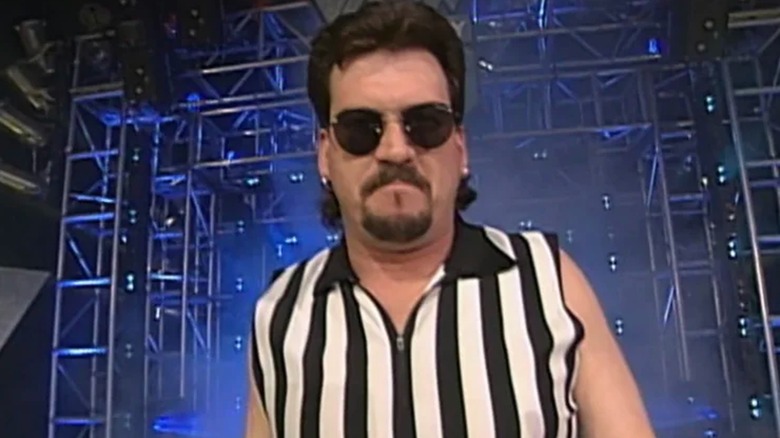 WWE/Peacock
As someone who refereed matches for WCW throughout the company's 13-year history, between 1988 and 2001, and officiated for another seven years for WWE, between 2001 and 2008, Nick Patrick called his fair share of "big matches" in his career. On "Monday Mailbag," Patrick was asked to single out the two biggest matches he refereed — one each from WCW and WWE.
Without hesitation, Patrick named the Hulk Hogan vs. Sting match from Starrcade 1997, which, although remembered for all the wrong reasons — including a controversy involving Patrick himself — was still the main event of the highest-grossing pay-per-view in WCW history. and the culmination of a near-two-year WCW vs. NWO storyline. "Hogan and Sting in WCW had to be the biggest," Patrick responded.
As it pertains to WWE, Patrick chose a match between JBL and The Undertaker — without specifying the exact match between the former rivals. One can assume Patrick was referring to the JBL vs. Undertaker match at SummerSlam 2004, which he did officiate as the designated referee from the "WWE SmackDown" brand. JBL won that encounter via DQ after 'Taker struck him with a title belt, then proceeded to chokeslam him through the roof of a limousine. Later that year, JBL and "The Phenom" had a brutal Last Ride Match at No Mercy, another match that was officiated by Patrick. As such, it's also possible Patrick was referring to the latter contest. For what it's worth, the match at No Mercy was the main event of the card, meaning the stakes were higher for everyone involved, including Patrick.