AEW Collision Results 8/2 - All Out Go-Home Show, Dennis Rodman Appears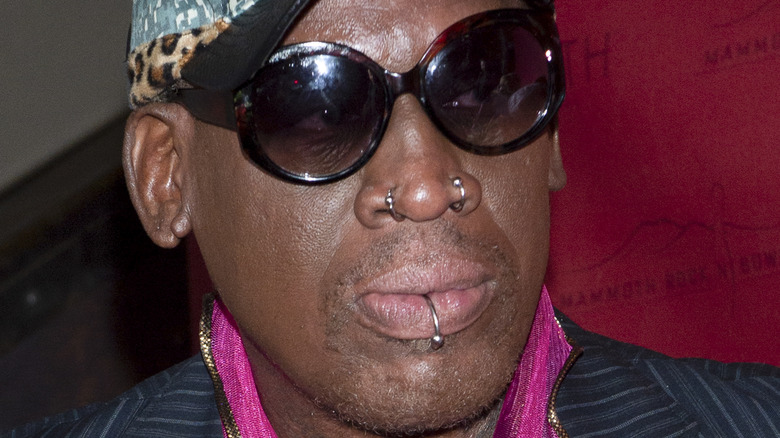 Michael Bezjian/Getty Images
Welcome to Wrestling Inc's live coverage of the September 2 episode of "AEW Collison." This week's episode comes from the United Center in Chicago, Illinois.
In the All Out Go-Home Show, Chicago Bulls legend and former NWO member Dennis Rodman is set to make his All Elite Wrestling debut. Also, AEW Women's Champion Saraya is teaming up with Ruby Soho and Toni Storm to face TBS Champion Kris Statlander, Britt Baker, and Hikaru Shida. It'll be interesting to see if the Outcasts can stick together long enough for the match.
Max Caster, Anthony Bowens, and Billy Gunn are going to be putting their AEW Trios Titles on the line against Angelo Parker, Matt Menard, and Daniel Garcia. Jay White will be in action against Dax Harwood and Ricky Starks is expected to call out Ricky "The Dragon" Steamboat or a strap match tomorrow at All Out.
The show kicks off with a video of Tony Khan addressing the release of CM Punk. He says that he felt his life was in danger and he apologizes to fans. 
Tony Schiavone is in the ring and Starks comes out along with Big Bill. Schiavone says that Starks is out of his mind for wanting a match against Steamboat, a strap match. He takes the mic and says that they keep throwing obstacles in his way and he's "tired" of always having to start over. He gives Big Bill a pep talk and tells him that he believes him. Steamboat comes out after Starks says he wants to talk to him right now. Steamboat has a contract in his hand and he says let's do it old school. Starks signs it, but it's really Bryan Danielson that he's going to face since he was also known as "Dragon."
Bryan Danielson Returns, AEW Trios Match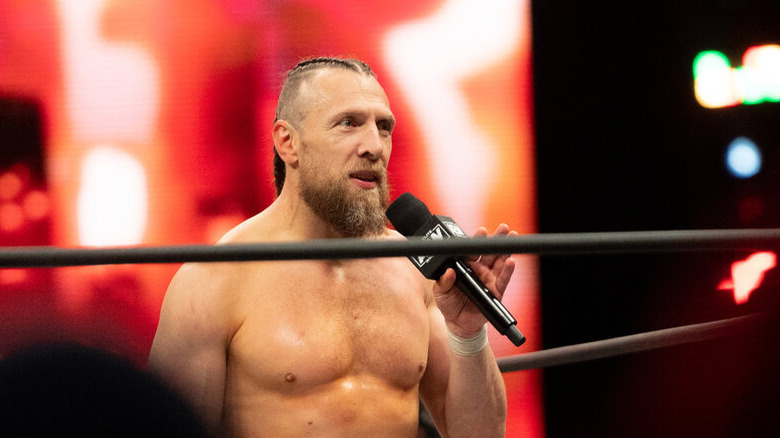 The crowd is shouting you f***k up to Danielson. Steamboat tells him that you got your "strap match" and Danielson smiles.
The camera cuts to Jon Moxley backstage and he talks about AEW TNT Champion Orange Cassidy and their match tomorrow at All Out. Cassidy is defending his title against Moxley. He goes on about how a lot of people believe in him and says, "Don't disappoint us."
Garica, Menard, and Parker come out, up next is the AEW World Trios Title match. The bell rings and Bowens and Parker lock up. Bowens gives him some right hands and Parker tags in Garcia, while Bowens tags in Gunn. They lock up. Chops to Gunn. Garica dances and then tells Gunn to suck it. Gunn then knocks him down and dances with Garica's face by his groin. Piledriver to Bowens and it's a three on one and then Garcia has him in the dragon tamer. Bowens grabbed the bottom rope, but Edwards didn't see it. It then goes to commercial.
Blind tag to Menard, while Garcia was in the ring going against Gunn. Jake Hager shows up and tries to help Menard, but gets chased out of the arena. Famer-A**er to Menard for the win. 
Winners and still the AEW Trios Champions The Acclaimed & Gunn 
Aussie Open Vs. NIck Wayne & Komander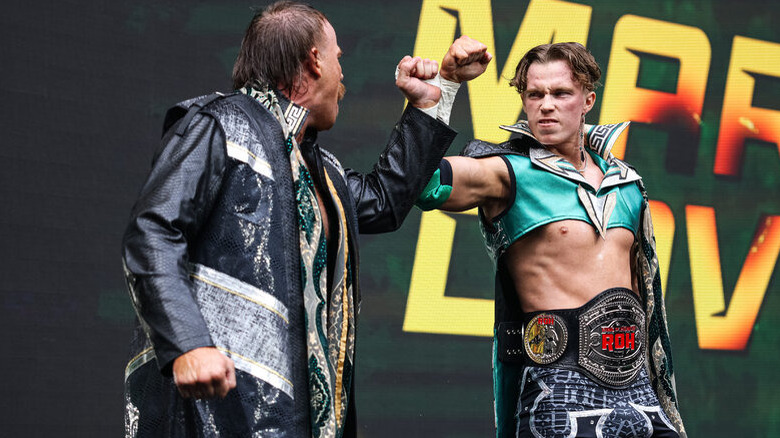 AEW/socialie
Backstage, Starks is upset over the match at All Out, but he says that he will basically still win.
Davis and Wayne start off the match. Wayne and Komander hit a double dropkick on Aussie Open. Komander has him in an armlock, and Davis tags in Fletcher. Powerbomb to Komander. They hit a throwing cutter for a two-count. Commercial break.
Back from the break, an uppercut to Komander. Komander gets the tag to Wayne. Wayne hits a frog splash to Fletcher, but he kicks out by the two-count. Davis gets tagged in after Fletcher hits the dragon suplex. There's a lot going on, Komander tries to save Wayne but gets kicked in the face. Wayne gives some offense until they catch him and hit their finisher for a three-count.
Winners: Aussie Open
Post-match, Schiavone is in the ring with Wayne. He says that the sky is the limit for Wayne. Wayne gets on the mic and says that he's frustrated with Darby Allin for forgiving AR Fox for what he did to Wayne. Allin comes out and talks about how he never got to forgive Wayne's father before he passed and that's why he apologized to Fox. He then asks him to be in the corner of his TNT Championship.
Christian Cage's music hits and he comes out to the ring. Cage teases Wayne about his mother and then Allin. He says that tomorrow's match is going to be a massacre. He also calls, Wayne, Allin's "pity project."
Video of what happened between Wheeler Yuta and Claudio Castagnoli on "Dynamite." Castagnoli is beating up Yuta. It goes backstage to Kingston and Shibata and they make fun of Yuta and Castagnoli.
Rodman Comes To AEW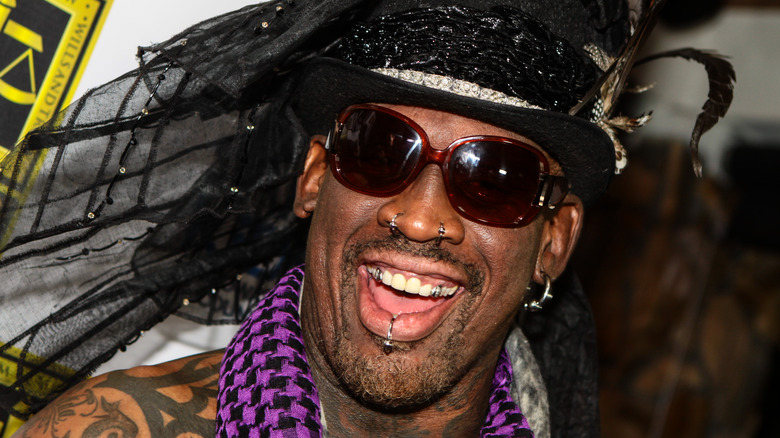 Ulora/Shutterstock
Back from the break, it's Saraya and Soho talking about All In and tomorrow's match between Soho and Statlander.
In the ring, it's Schiavone again and he announces Rodman. Schiavone calls him, "Rodzilla" and asks him what he is doing in AEW. Jeff Jarrett's music hit and the whole gang comes out to the ring. Jarrett is on the mic and says that both he and Rodman go all the way back.
Jarrett makes fun of Rodman for wearing a dress. He then starts talking about being the NWO together. He wants Rodman to join his family. Rodman finally has the mic, he says how it's his first time in the United Center in 13 years. Sonjay Dutt now has the mic, he tells them to get out of the ring to not make "Rodman nervous." Rodman attacks him and the Acclaimmed and Gunn come out. Bowens says that they should get in the ring, but Gunn says, he's too old to wrestle again. He puts the trios titles on the line tomorrow at All In and Rodman will be in their corner.
Backstage to Joe, who is calling out Joe ahead of their ROH World TV Title against Shane Taylor.
The Outcasts Vs. Britt Baker, Kris Statlander, & Hikaru Shida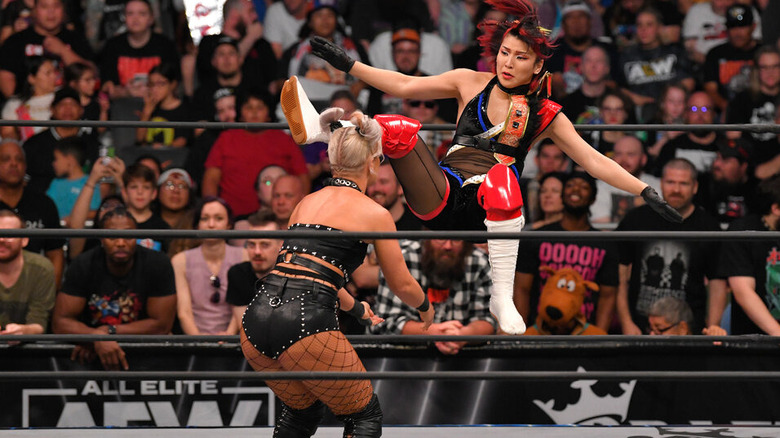 The match starts off with Storm and Statlander. They lock up and then shove each other. Storm flies into Statlander's arms and she throws her to the mat. Storm now is up and kicking Statlander in the corner. Shida is in the ring now, the crowd is chanting her name. Soho is also the legal woman in the match. Soho has Shida in the corner of the ring. It cuts to commercials. Back from the break and it's now Shida and Storm in the ring, but not for long, Statlander tags herself in and Saraya. Powerslam to Statlander. A quick tag to Baker, who hits a neckbreaker to a now-legal, Soho. Saraya sprays Baker's eyes and Soho pins her for the win.
Winners: The Outcasts
Adam Cole is backstage to give a promo ahead of his and MJF's ROH Tag Team Titles match against The Dark Order. He reads texts from MJF about the Dark Order. 
Back from the break, Statlander is talking to Lexy Nair and is upset about how Soho won the match. Soho comes over and they start yelling, Saraya breaks it up and tells Statlander: "Shut up you stupid b***h."
To the ring and Powerhouse Hobbs is in a match against an enhancement talent, and he wins the match quickly. Miro's music hits and he is in the ring. They start throwing punches. Miro pushes Hobbs out of the ring. Hobbs throws Miro into the steel steps. Miro then flips him over into the crowd. Hobbs walks off after a staredown. 
Main Event Match: Jay White Vs. Dax Harwood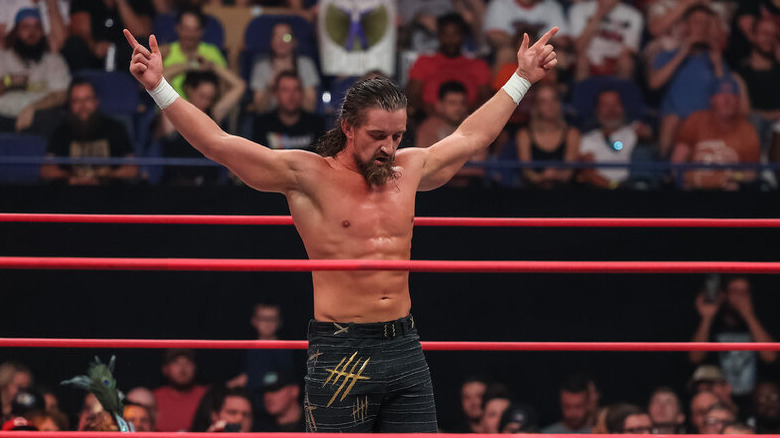 AEW/socialie
The commentators now are talking about tomorrow's pay-per-view card and a video airs about the upcoming match against Takeshita and Omega. Back from the break and it's Cassidy talking about his match against Moxley.
It's the main event time between Harwood and White. The bell rings, and they lock up. White keeps going out of the ring. The third time, he is out of the ring after some chops by Harwood. The other members of Bullet Club Gold "console" him.
Back from the break and White is on the top rope. Thumbs to the eyes of Harwood and then White throws him in the turnbuckles. Harwood is outside of the ring and the BCG tries to attack him, but Wheeler chases them away with a chair.
Both men are back in the ring and White hits a DDT and gets a two-count. Side headlock and a whole up. Springboard cover to White. Closed fist from Robinson. Harwood and White are on the top rope and Harwood hits a double suplex.
Young Bucks For The Save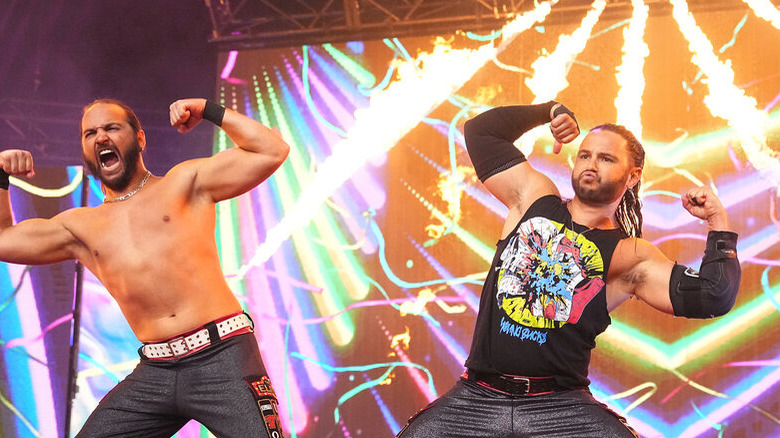 White gets a little offense now and hits a for a two-count. Piledriver to White and another two-count. Big Boot and a two-count. White throws Harwood in the ring corner. He later hits a uranage. Slingshot powerbomb but White kicks out.
Harwood tries to make White tap out with the sharpshooter, but BCG saves him and then outside of the ring, Harwood gets hit with a blade runner on the outside. Back in the ring, Harwood goes for a roll-up, but White hits the blade runner for the win.
Winners: White
Post-match, BCG tries to attack Harwood, but Wheeler comes in, but it's the number game. The Young Bucks come in to save him and Harwood. The crowd is chanting "CM Punk" because they are in Chicago. Harwood and Wheeler also don't shake the hands of the Bucks because of All In, when the Bucks wouldn't shake their hands.