Matt Morgan Details His Journey To The WWE Main Roster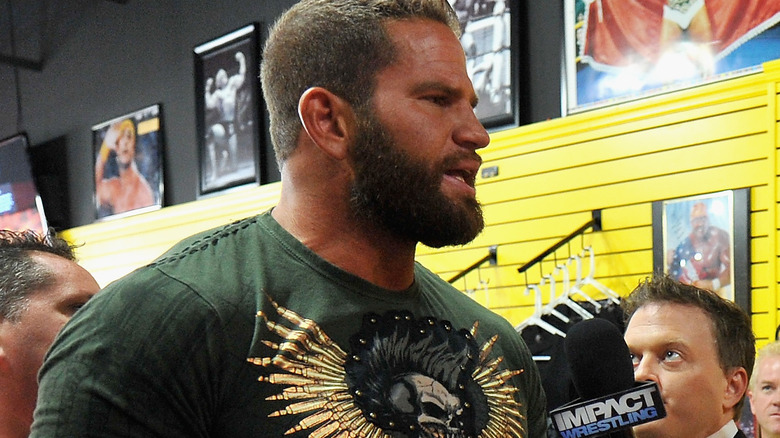 Tim Boyles/Getty Images
Matt Morgan was determined to become a WWE Superstar, to the point where the former basketball player got an invite from a WWE writer to train at WWE Headquarters in the hopes of being spotted by Vince McMahon.
"Every week for six months straight, every Friday night I went [to the gym at WWE Headquarters] after work," Morgan said on "Stories With Brisco & Bradshaw" recently. "I even got a job at Enterprise rent-a-car because it was one block away from WWE. So long story short, every Friday night I worked out in that gym until six months later I'm walking into the men's room of that gym as he's walking out and –same way I met my wife ironically– he smacked right into my chest as I was walking in."
McMahon reportedly told Morgan to contact Jim Ross and Kevin Kelly about a job, which he did. Morgan was asked to audition for "Tough Enough" and he was accepted for Season 2 of the show. Unfortunately, Morgan tore his knee during the show. After losing some weight and rehabbing his knee, WWE signed him and sent him to Ohio Valley Wrestling.
"WWE Magazine did this article on the next line of new athletes at the time," Morgan said, and included Morgan alongside stars like LeBron James as the "Next Next Big Thing." A month after the article. a writer told Morgan that creative had an idea for him, despite the fact that he wasn't ready.
"Long story short, got called up, they told me it was me and Nathan Jones teaming together," Morgan recounted. The team with Jones turned out to be the team representing WWE Champion Brock Lesnar at the 2003 Survivor Series, which included Lesnar, Jones, Morgan, A-Train, and The Big Show.