Rhino Assesses ECW Legacy, Regrets Not Having A Bigger Program With One Star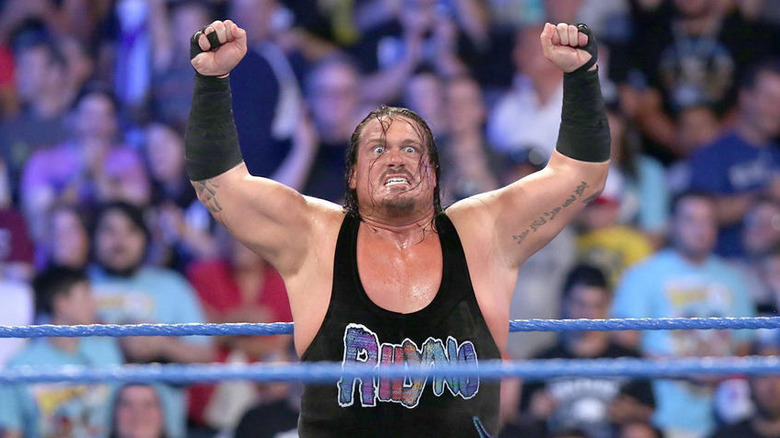 WWE
During an appearance on the "The Kurt Angle Show" podcast, Rhino was asked about his thoughts on being the final ECW World Heavyweight Champion of the original Extreme Championship Wrestling promotion.
"A lot of people forget I was the [ECW] TV Champion too," Rhino said. "So I was the only one to unify both titles. And coming from a promotion, like what Kurt [Angle] was saying, working with [Tommy] Dreamer and [The] Sandman and Rob [Van Dam] and Raven, and all these guys, and Mikey Whipwreck, Spike Dudley ... I'll tell you a quick story about Taz. The first time I wrestled him, he cuts a promo, he's like, 'I'm gonna make you bleed.' And he didn't.
"Well, here's the deal, right? I'm still old-school, kayfabe, but he throws me into the guardrail headfirst, and I dropped something [a blade] ... We meshed really well together. I came through the back, and Paul [Heyman] goes, 'Hey, none of that matters; the match was great.' And we really complimented each other in the ring, Taz and I, and it's unfortunate that we didn't get a chance to work a bigger angle."
Rhino, who is currently signed with Impact Wrestling, faced Taz three times during his run with ECW. Their first meeting took place during a taping for "ECW Hardcore TV" on June 17, 1999, where Taz retained the ECW World Heavyweight Championship. They collided again in another title clash the following day at an ECW house show, with Taz emerging victorious once more. Their final encounter in ECW took place at a non-televised event in September 1999, with Taz retaining the ECW World Heavyweight Championship for a third time.
If you use any quotes from this article, please credit "The Kurt Angle Show" with an h/t to Wrestling Inc. for the transcription.