Nick Khan Explains WWE's Approach To Letting Talent Develop, Succeed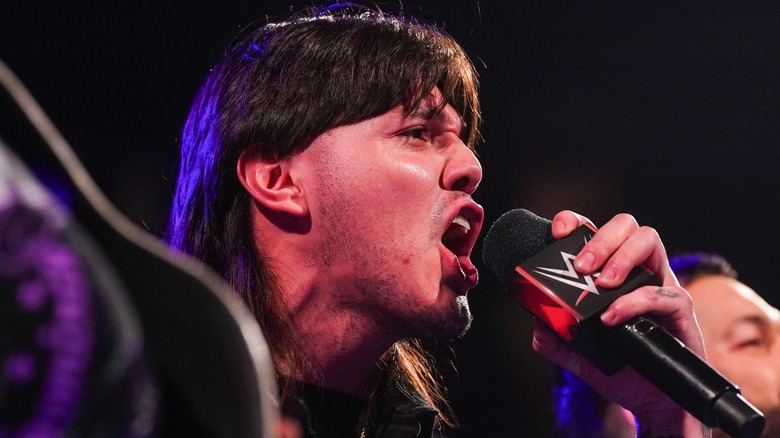 WWE
WWE President Nick Khan believes that patience is not only a virtue but also an investment. In an interview with Bill Simmons, Khan said that the recent success of "NXT" North American Champion Dominik Mysterio is the latest case of patience in a talent paying off.
"When I started with WWE ... height of COVID, Dominik — young wrestler, Rey's son, seen as Rey's son, nice young man — but it wasn't really working," Khan said. "I think the patience that Vince and Paul Levesque, Triple H, show with the talent, you saw it with Roman, where people were not buying him as the monster face, if you will. And then, all the sudden during COVID, he came back to the Florida facility when we were taping down there, came back as a heel and boom! Roman Reigns takes off," he added. "Dominik Mysterio — 'Hey, I'm the good son of Rey Mysterio.' It was great, they stuck with it ... turned him into a heel, amazing!" 
Khan further stated that Mysterio is only in his early 20s and can become a huge star if he stays healthy and creative does right by him. "I think sticking with it and really giving people a shot to be the best versions of themselves on the mic," Khan explained, saying that LA Knight, Dominik Mysterio, Jey Uso, and Jimmy Uso are all talents benefitting from WWE not giving up on them. "I think sticking with what you think can work is probably a good plan."
Khan went on to note that WWE legends Dwayne "The Rock" Johnson and "Stone Cold" Steve Austin both had long journeys to success — with plenty of stumbles along the way. "When The Rock came in as Rocky Maivia ... boos throughout — even worse than boos, no response," Khan said. A conversation between McMahon and Johnson resulted in The Rock being born in Madison Square Garden. "He sort of lit it up and The Rock took fire."
He compared that moment to Steve Austin's famous "Austin 3:16" promo at the King of the Ring. "There tends to be that moment where all of the sudden it catches fire," Khan said.