WWE Raw Results 9/18 - Jey Uso Takes On Drew McIntyre, Shinsuke Nakamura Faces Ricochet
Welcome to Wrestling Inc.'s results for "WWE Raw" on September 18, 2023, coming to you live from the Delta Center in Salt Lake City, Utah!
As his quest to continue making amends with the "Raw" locker room continues, Jey Uso will be shifting gears tonight to go one-on-one with Drew McIntyre. McIntyre emerged victorious over New Day's Xavier Woods in singles competition on last week's episode of "Raw" while Jey and Kevin Owens came up short against Judgment Day due to a miscommunication. Later that night, Jey and McIntyre found themselves face-to-face backstage and Jey threw out the challenge after McIntyre made it clear that he was wary of Jey's newfound attitude.
After scoring a win over Shinsuke Nakamura on the September 4 edition of "Raw", Ricochet looks to do it once more as the two square off in a rematch. During their first bout, Nakamura used a chair and ultimately got himself disqualified from the bout after tensions between the two had been mounting.
Cody Rhodes has had no shortage of issues with Judgment Day over the past few months nor has it remained a secret. Tonight, he has another shot at getting some retribution over one of their members as he collides with reigning "WWE NXT" North American Champion Dominik Mysterio. Dominik, Finn Balor, Damian Priest, and Rhea Ripley have been looking to build numbers within their group, with their latest target being the aforementioned Jey.
We are live! Michael Cole and Wade Barrett greet audiences at home as Cody Rhodes makes his way down to the ring.
Cody Rhodes Gets Interrupted By Dominik Mysterio
WWE/USA Network
Rhodes asks Salt Lake City what they want to talk about, then says they could talk about Jey Uso after being interrupted last week.
Before he can continue, Dominik Mysterio appears and says the only thing fans need to know about Jey Uso is that once he's joined Judgment Day, they will continue being the most dominant faction in WWE. He then says Rhea Ripley isn't here after being injured by Nia Jax last week, but she will be back sooner and better than ever. He says he will dedicate his victory over Rhodes tonight to Ripley, and Rhodes mocks the loud boos raining down on Dominik as he's trying to speak. He says maybe his win tonight will be the thing that impresses Ripley enough to define their relationship, and Dominik seems to be far more into Ripley than she is to him. He says Ripley seems to have eyes for Jey, and Dominik gets defensive. He says Judgment Day is a family, and Jey will understand once he becomes a member.
Damian Priest and Finn Balor then appear on cue to be at ringside for Dominik's upcoming match with Rhodes.
Cody Rhodes vs. Dominik Mysterio (w/ Judgment Day)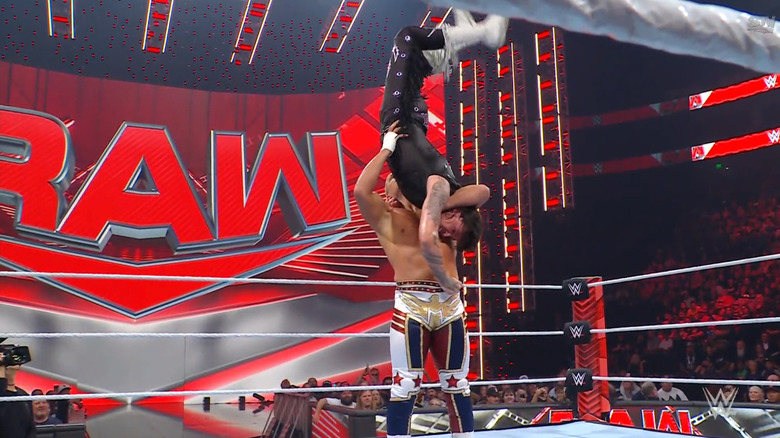 WWE/USA Network
Dragon Lee watches the action from the crowd ahead of his North American Championship match on next week's "Raw" with Dominik as the bell rings and the pair waste no time going after each other. Rhodes plants Dominik face first from a delayed vertical suplex position, then cinches in a Figure Four Leg Lock. Dominik makes it to the bottom rope to break the hold, and Rhodes delivers an overhand chop.
Dominik regains the upper hand after some help from Priest and Balor. He looks to execute The Three Amigos, but Rhodes escapes his grasp and delivers a Cody Cutter. He follows it up with Cross-Rhodes for the win.
Winner: Cody Rhodes
After the match, Judgment Day looks to attack Rhodes, but Kevin Owens and Sami Zayn run down to the ring to provide him with some backup. The two parties then stare down one another until Judgment Day backs down to the disappointment of Rhodes, Zayn, and Owens.
Before Rhodes heads to the back, Owens calls him back down to the ring to "talk about something."
Kevin Owens, Sami Zayn, and Cody Rhodes Have A Chat About Jey Uso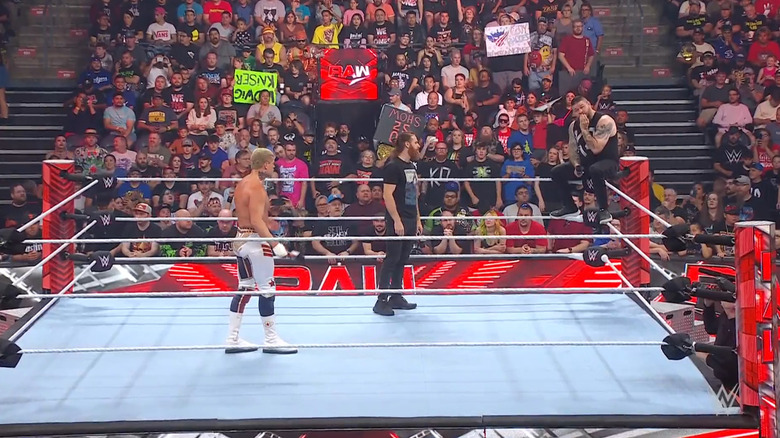 WWE/USA Network
Owens clarifies that Jey Uso is back on "Raw" because of him, and Rhodes confirms that is the case. Owens says Jey did a lot while he was part of The Bloodline, then asks Rhodes why he thought bringing Jey to "Raw" was a good idea, seeing as a lot of people in the back need to hear why he did so. Rhodes says that fans probably know where he's going with this and his job is to make people happy. He says Jey is one of the best in the world and he deserves a second chance. He says that everyone should give him the time to prove that he's changed, and it's not necessarily a bad thing The Bloodline is down a member.
Zayn chimes in and echoes Rhodes' sentiment. He tells Owens that they've both given each other second chances before and he doesn't need to trust Jey right away. Owens says he hears them, and he'll pretend that Jey didn't cost them their Undisputed WWE Universal Championship opportunities or close to joining Judgment Day if he wants them to. He says while he doesn't trust Jey, he trusts both of them and he hopes they're right before heading to the back.
We then head over to a video recapping the events of the WWE Women's World Championship match between Rhea Ripley and Raquel Rodriguez, as well as the return of Nia Jax.

Michael Cole provides injury updates on Ripley and Rodriguez, noting that Ripley suffered a rib injury and is on a day-to-day basis while Rodriguez is recovering from whiplash.
Kofi Kingston then heads down to the ring. Ivar and Valhalla follow. 
Kofi Kingston vs. Ivar (w/ Valhalla)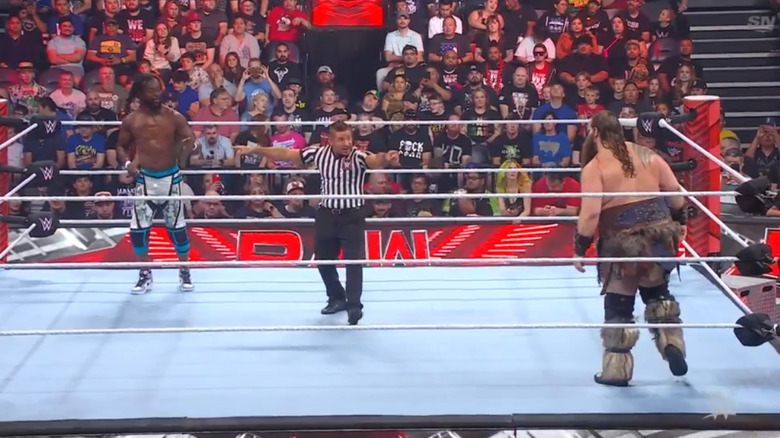 WWE/USA Network
The bell rings and the two lock up. Ivar lands a shoulder tackle, but Kingston fires back with a leaping back elbow. Ivar fires back with a senton as Kingston charges at him, then whips him into the corner. Kingston responds with a series of right hands and ascends to the top, then goes flying and lands a dropkick. He then delivers a clothesline and a kick to Ivar's head. Ivar dumps him out of the ring and delivers a splash off the apron.

Back from the break, Ivar plants Kingston before landing a sliding crossbody. He ascends to the top and looks for a Frog Splash, but Kingston rolls out of the way and lands a splash to Ivar's spine off the top rope. He follows it up with The Boom Drop, but Ivar plants him with a powerbomb and goes for a pin. Kingston kicks out and lands a back elbow, but Ivar catches him with a spinning back heel kick and a senton in the corner. He ascends to the top rope and executes a moonsault, then goes for a pin but Kingston kicks out. The two men then teeter on the ropes before Kingston delivers a Sunset Flip and Trouble In Paradise for the win.
Winner: Kofi Kingston
Shinsuke Nakamura then heads down to the ring. Seth "Freakin" Rollins follows, but Adam Pearce and several officials look to prevent him from getting farther than the ramp. Rollins manages to get past them and chases Nakamura out of the ring, but security catches up to him and holds him back.
Back from the break, Ricochet heads down to the ring.
Shinsuke Nakamura vs. Ricochet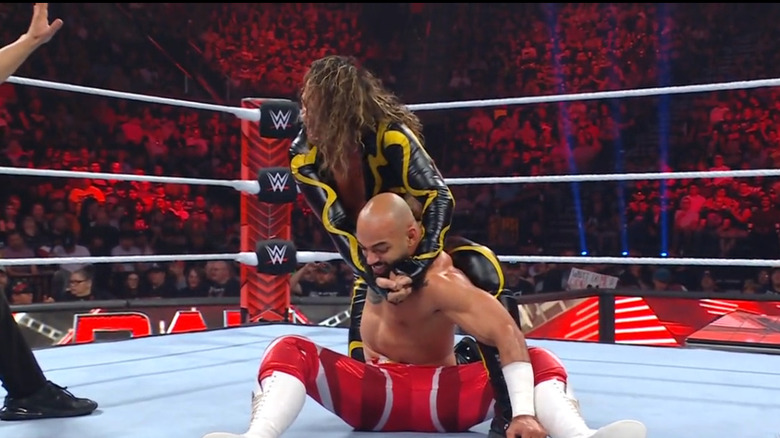 WWE/USA Network
The bell rings and the two lock up. Nakamura sends Ricochet into the middle turnbuckle face first, then fires off stomps and lands a kick on his chest. Ricochet responds with a hurricanrana and a dropkick, then gets him on his shoulders. Nakamura escapes and delivers a sliding dropkick, then drapes him on the top turnbuckle and delivers a running knee. He follows it up with a knee to his midsection. Ricochet lands a standing moonsault, but Nakamura delivers a chop. The action spills to the outside, and Ricochet delivers a moonsault out of the corner.

Back from the break, Ricochet catches Nakamura with a Shining Wizard as he charges at him. He fires off right and left hands on his midsection, then lands a springboard back elbow and a standing Shooting Star Press. Nakamura delivers a knee to Ricochet's midsection before Ricochet lands a crossbody off the top and goes for a pin. Nakamura kicks out at the last second and delivers a kick to his leg.
The action spills back out of the ring, and Ricochet delivers a step-up enzuigiri. Nakamura grabs a chair, but Ricochet takes it from him and cracks it across his spine, causing the disqualification.
Winner: Shinsuke Nakamura (as the result of a disqualification)
After the match, Nakamura delivers a Kinshasa to the back of Ricochet's head. He wraps Ricochet's around the ring post and repeatedly hits it using the chair. Seth "Freakin" Rollins appears to give Ricochet a hand and wastes no time beating down Nakamura. He looks to plant him on the chair, but Nakamura delivers a back body drop and sends Rollins crashing on the chair spine first. Officials run down to separate the two men, but Nakamura sends him into the announce desk spine first before planting him on top of it. 
Back from the break, we see Rollins struggling to walk into the trainer's room, eventually accepting help from a referee.
Back at ringside, Shayna Baszler and Zoey Stark head down. Piper Niven and Chelsea Green follow.

Shayna Baszler and Zoey Stark vs. Piper Niven and Chelsea Green
WWE/USA Network
Stark and Green begin the action. The bell rings and Green delivers a boot to Stark's midsection before firing off right hands. Stark comes back with an uppercut and tags in Baszler. Baszler delivers a variation on a backbreaker and tags Stark back in. Stark delivers a kick to her knee and looks for a splash in the corner, but Green moves out of the way and delivers a missile dropkick off the top rope. Niven tags in and delivers a shoulder breaker. Green tags back in and gets caught with a thrust kick. She goes for a pin, but Niven breaks the fall. Baszler gets in the ring and goes after her before they tumble out of the ring and continue to brawl. Nia Jax then appears out of nowhere and tosses Niven into the ring steps, causing a disqualification.
Winners: N/A (no contest due to outside interference)
Jax then delivers a Samoan Drop and a senton to Stark. Green tries running once she spots her, but Jax chucks her across the ring. She then delivers a splash to Baszler before following it up with the Annihilator.
We then head backstage to Chad Gable and Adam Pearce. Gable asks what he has to do to get another shot at the Intercontinental Championship, and Pearce says he has to work his way back there. Bronson Reed walks in and tells Gable to go to the back of the line, and the two begin yelling at one another. Pearce then makes a match between them official.
Back from the break, we head backstage to Jey Uso and Jackie Redmond. Damian Priest walks in and asks for a moment alone with Jey. He explains that Judgment Day wants Jimmy Uso in the group, but he really wants him. He says that if Jey is willing, they can be the family he's been looking for his whole life as long as he doesn't make him look bad. He demands an answer by the end of the night.
Back at ringside, Alpha Academy heads down. Bronson Reed follows.
Chad Gable (w/ Alpha Academy) vs. Bronson Reed
WWE/USA Network
The bell rings and the two lock up. Gable delivers a right hand and a dropkick off the top rope, but Reed catches him with a splash and a powerslam. He follows it up with a chop and whips Gable into the corner, then executes a double ax handle. Gable fires back with a boot to his face, but Reed delivers a Military Press onto the top turnbuckle and sends him crashing out of the ring.

Back from the break, Gable delivers a series of offensive strikes to Reed. Reed catches him with a clothesline and sits him on the top rope before Gable sends him face first into the top turnbuckle and fires off forearms. He ascends to the top and lands a diving headbutt, but Reed flattens him with a splash. He looks for a senton, but Gable gets his knees up and looks for a German suplex but can't quite get him up and over. Reed then drags him into the corner and ascends to the top before landing a Tsunami for the win.
Winner: Bronson Reed
Back from the break, we head backstage to Kevin Owens and Sami Zayn arguing about Jey Uso. Jey walks in and confronts Owens, telling him that if he has something to say then he should say it to his face. The two get into a verbal exchange, and Owens storms off. Zayn explains to Jey that Owens needs some time to come around and tells him to chill. He says Jey has a decision to make tonight in regards to Judgment Day.
Back at ringside, Becky Lynch heads down. 
Becky Lynch Issues An Open Challenge for the NXT Women's Championship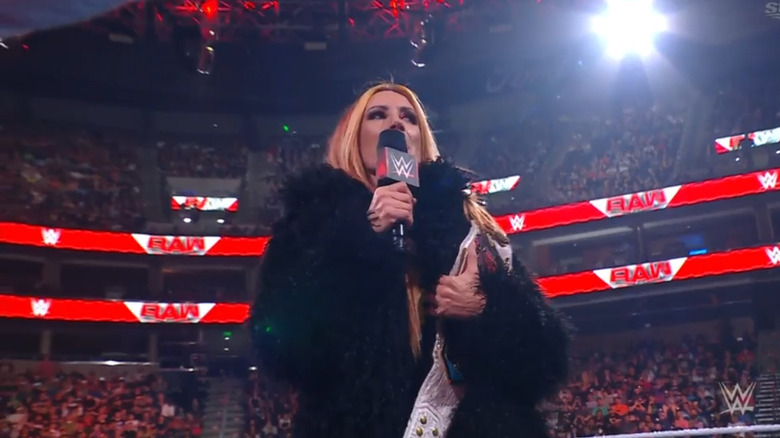 WWE/USA Network
Lynch says "The Man" has come around to Salt Lake City and is the new "NXT" Women's Champion. She says while she didn't expect to win the title, she's learned to take opportunities when she can get them. She says she wants to elevate the title she holds and says "NXT" is the future before issuing an open challenge for the "NXT" Women's Championship.
Natalya's music hits and she looks to answer the call. Lynch says while she has the utmost respect for her, she meant for someone newer to answer. Natalya pleads her case and says Lynch took opportunities away from the younger talent. She shoves Lynch, and Lynch accepts Natalya's challenge.
Becky Lynch (c) vs. Natalya for the NXT Women's Championship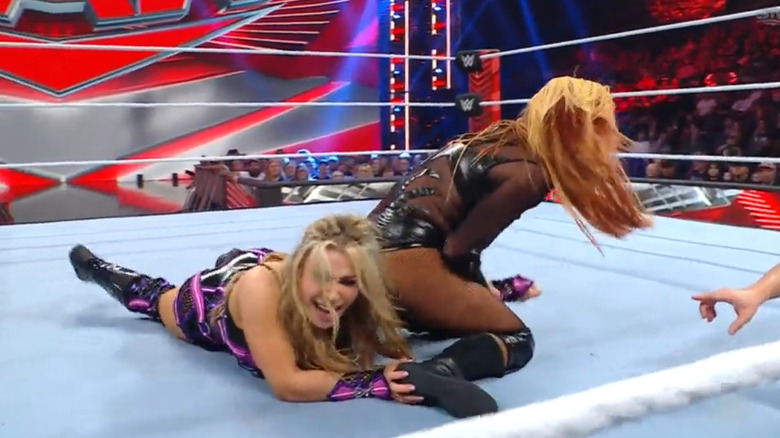 WWE/USA Network
The bell rings and Natalya sends Lynch crashing into the ring post shoulder first.
Back from the break, Lynch sends Natalya crashing into the mat and delivers a forearm in the corner. She follows it up with the Bexploder, but Natalya fires back with a German suplex and looks to lock in a Sharpshooter. Lynch rolls her up to evade the hold, and Natalya kicks out. Lynch ascends to the top, but Natalya meets her up there and executes a superplex. Lynch lands a dropkick and a baseball kick under the bottom rope, then tosses Natalya back in the ring and looks to go flying. Natalya moves out of the way and delivers a discus lariat. Lynch looks to lock in the Dis-Arm-Her, but Natalya escapes by rolling her up. Lynch kicks out and rolls Natalya up. Natalya reverses the fall, but Lynch rolls Natalya up once again for the win.
Winner (and still): Becky Lynch
Imperium then heads down to the ring. Tommaso Ciampa follows.
Tommaso Ciampa vs. Giovanni Vinci (w/ Ludwig Kaiser)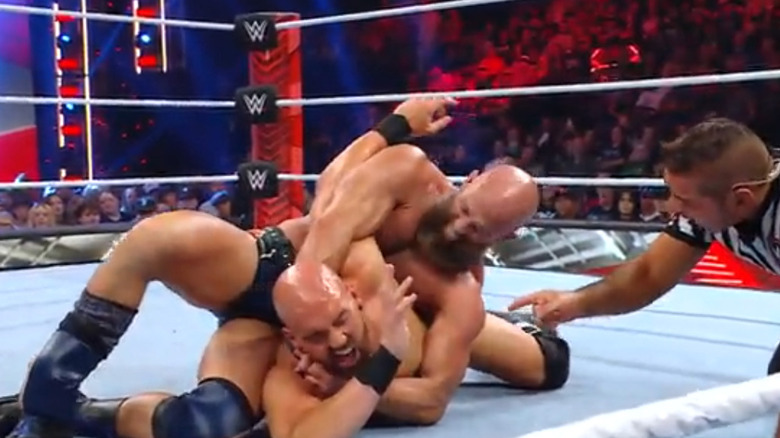 WWE/USA Network
The bell rings and the two lock up. Vinci beats down Ciampa right out of the gate as GUNTHER watches the action from backstage. Ciampa plants Vinci, but Vinci rolls him up after Kaiser causes a distraction. Ciampa kicks out and delivers a boot to Vinci's face, then locks in the Sicilian Stretch. Vinci is forced to tap.
Winner: Tommaso Ciampa

Back from the break, we head backstage to Byron Saxton and Seth "Freakin" Rollins, the latter of whom tells Shinsuke Nakamura to name the time, the place, and the stipulation for the WWE World Heavyweight Championship for their rematch.
Back at ringside, Jey Uso heads down. Drew McIntyre follows.
Jey Uso vs. Drew McIntyre
WWE/USA Network
The bell rings and the two stare one another down before locking up. McIntyre fires off stomps and right hands in the corner before Jey delivers a pair of open palm strikes. McIntyre whips him into the corner and delivers a boot to his midsection before hitting a suplex. Jey lands a headbutt and fires off right hands before McIntyre lands a massive right hand and a chop. Jey dumps McIntyre out of the ring and delivers a pair of tope suicidas as Judgment Day saunters down to ringside.

Back from the break, McIntyre and Jey teeter on the top rope. McIntyre delivers a superplex before the pair go back and forth with right hands. Jey lands a kick and a Samoan Drop, then goes for a pin. McIntyre kicks out and ascends to the top. He looks to go flying, but Jey ducks out of the way. McIntyre then plants him with a spinebuster and a neckbreaker, then kips up and looks for the Claymore Kick. Jey catches him with a running kick. Judgment Day hops up on the apron looking to give Jey some advice, and although it looks like Jey might listen for a second, he superkicks Damain Priest, Finn Balor, and Dominik Mysterio. He then turns around into the Claymore Kick from McIntyre for the win.
Winner: Drew McIntyre
Judgment Day then hops in the ring and circles around Jey as McIntyre watches from the ramp. Balor, Priest, and Dominik attack him and Balor fires off right hands as Priest and Dominik hold him in place. McIntyre is torn and looks to head to the back, but he stops. Before he can make a decision, Cody Rhodes runs down and provides Jey with some backup. He delivers a Cross-Rhodes to Dominik and shakes Jey's hand as the show goes off the air.