Taya Valkyrie Tried To Keep Name In WWE NXT, Reveals Origins Of Franky Monet Moniker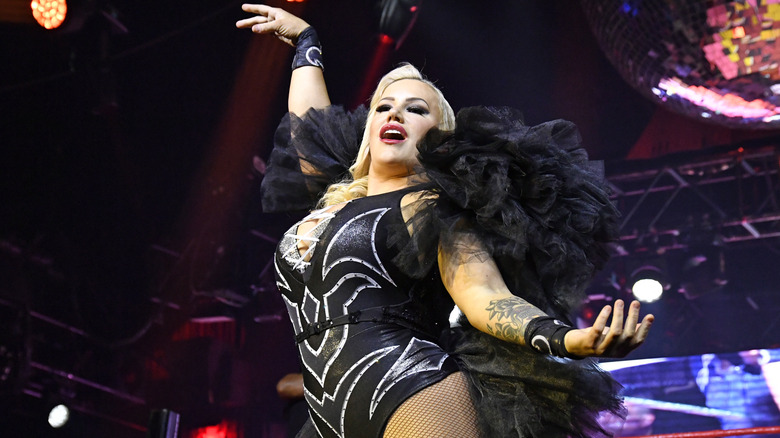 Michael Tullberg/Getty Images
For the majority of her professional wrestling career, Taya Valkyrie has performed under her present ring name. But during her brief stint in WWE, Valkyrie introduced a new moniker — Franky Monet. Before her "WWE NXT" debut, though, Valkyrie attempted to keep her well-known wrestling name.
"I was fighting so hard for 'Taya Valkyrie.' Oh, my god. I went to bat for her over and over again and just kept getting 'No, no, no,'" Valkyrie told "AEW Unrestricted." "Even variations of it. I was going to use my first shoot name and then Valkyrie. I was trying all these different combinations of things because this is who I've been for 12 years, almost 13 years. I felt like that's who the fans know, which made it even harder because I felt like Taya kind of died for a second. She kind of was taken to jail. She was nowhere to be seen. It was crazy."
While it became clear that Valkyrie would have to alter her ring name in "NXT," she eventually settled on Franky Monet — a name that derived from a mixture of art and movie influences. 
Valkyrie cited the 1999 "Stigmata" horror movie character Francesca (commonly referred to as Frankie) as one of the inspirations behind the first half of her WWE ring name. Valkyrie also mentioned she was a fan of gender-neutral names, such as Franky, in general. 
For the "Monet" portion of her former moniker, Valkyrie drew the idea from the French painter Claude Monet, whose work was often displayed in art exhibits that Valkyrie's father took her to in Europe during her childhood. "I have been an artist my entire life and it just kind of went along with the artist [Claude] Monet," Valkyrie said.
If you use any quotes from this article, please credit "AEW Unrestricted" with a h/t to Wrestling Inc. for the transcription.