Why John Cena Is Happy To See Cody Rhodes 'Back Where He Belongs' In WWE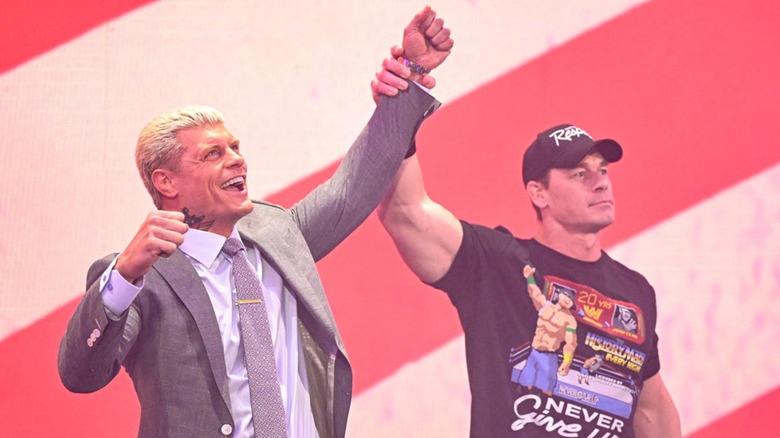 WWE
Cody Rhodes wouldn't be the superstar he is today if not for his excursions outside WWE. During his time away, he was able to reinvent and rebuild who he was as a wrestler, helped found WWE's biggest competitor in two decades, and developed a better understanding of the business that would have made his late father proud. It has also made John Cena proud, watching Rhodes become both the man and wrestler he's become today.
"I'm extremely proud of Cody, especially because he was bold enough to bet on himself," Cena told "WWE's The Bump." "He knew it [going outside WWE] was going to be painful, he knew it was going to be a path of growth, and now he's back and performing at a level even more elite than before. He's kind of crafting his own path; he's much more authentic. The Cody Rhodes you see is him, it's the young man I saw speak inducting his father into the Hall of Fame."
Cena further praised Rhodes for learning the ins and outs of wrestling — beyond the ring — during his time away and bringing back his newfound wisdom to the place "where he belongs" — WWE. "He's learned how events are set up, grips, cameramen, audio people, and catering — not that he didn't before, but because that was a lot of his responsibility, he got a new depth of field for everything that happens here and I'm really proud of him."