WWE SmackDown Results 10/6 - Cody Rhodes And Jey Uso Appear, Dragon Lee Vs. Austin Theory
Welcome to Wrestling Inc.'s results for "WWE SmackDown" on October 6, 2023, coming to you live from the Enterprise Center in St. Louis, Missouri!
With WWE Fastlane quickly approaching tomorrow night, Judgment Day, Cody Rhodes, and Jey Uso have all declared that they will be in the building for tonight's show. Rhodes brought Jey over to "WWE Raw" several weeks ago much to the chagrin of the roster, and are set to join forces at the upcoming Premium Live Event as they look to capture the Undisputed Tag Team Championship from Finn Balor and Damian Priest.
United States Champion Rey Mysterio and Bobby Lashley will be colliding at Fastlane in a Six Man Tag Team Match with their respective teammates The Street Profits and LWO. However, before they do, they will be going one-on-one in singles action. Tensions have been on the rise between the two teams, dating back to last month.
Dragon Lee will be competing on "SmackDown" for the first time tonight as he goes one-on-one with Austin Theory. Lee has previously appeared on "Raw", and watched Theory defeat Cameron Grimes from the crowd during last week's episode of "SmackDown". The pair found themselves in a physical altercation following the conclusion of the bout wherein Theory executed A-Town Down on Grimes.
Asuka and Charlotte Flair have both emerged victorious over Bayley in singles competition on September 15 and September 29 respectively, with Flair also picking up recent tag team wins over Bayley and Women's Champion IYO SKY. Tonight, Bayley looks to seek some retribution as she and SKY go head-to-head with Asuka and Flair.
Additionally, John Cena, LA Knight and Jimmy Uso are also scheduled to be in town tonight per WWE's event page.
We are live! The show kicks off with a video recapping what happened between John Cena, LA Knight, and The Bloodline last week.
Michael Cole, Corey Graves, and Kevin Patrick greet audiences at home as LA Knight makes his way down to the ring.
We Hear From LA Knight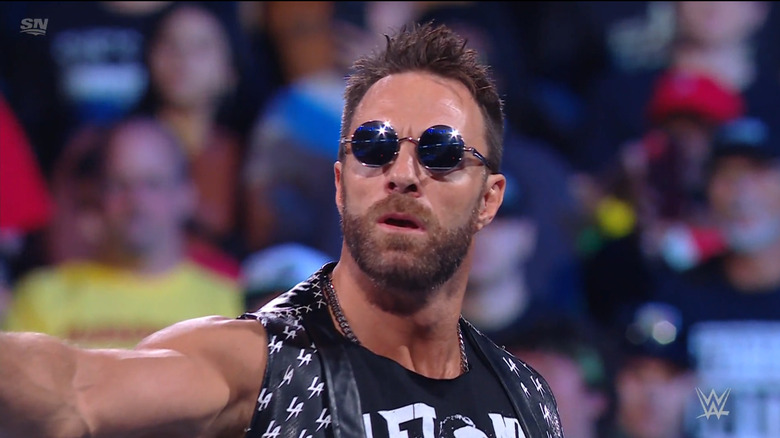 WWE/Fox
Knight tells fans he wants to talk to them, but before he can continue, Paul Heyman cuts him off as he makes his way down to the ring alongside Jimmy Uso and Solo Sikoa. He introduces himself and says he has a reputation for spotting the next big thing in the business. He says he can always spot the next big megastar, and next in line for that position is Knight. He says Knight has all the momentum in the world and has earned his respect, then says now that Knight has earned his attention The Bloodline will have to do something about it.
Knight asks Heyman if he's done running his mouth, then says it's a wise move to put respect on his name. He pulls out a receipt and says he didn't buy anything Heyman just said. Jimmy then cuts him off and formally introduces himself, Sikoa, and Heyman. He tells Knight he won't make it to Fastlane before he and Sikoa set up to attack Knight.
John Cena's music hits and he runs down to the ring to provide Knight with a helping hand. Jimmy and Sikoa back down, and Knight mocks them. He says they clearly didn't have Roman Reigns' permission before saying he's thinking about tonight rather than Fastlane tomorrow. He then challenges Jimmy to a match, and Jimmy accepts his challenge.
We then head backstage and see Judgment Day arriving at the Enterprise Center. Damian Priest takes note of JD McDonagh's presence, and questions why he's with them. Rhea Ripley explains that she asked him to be with them tonight.
Back at ringside, Charlotte Flair heads down. Asuka and Damage CTRL follow. 
Damage CTRL (w/ Dakota Kai) vs. Asuka and Charlotte Flair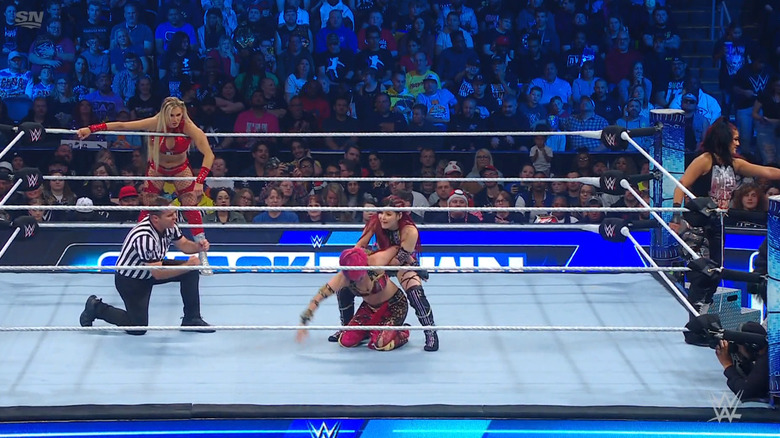 WWE/Fox
SKY and Flair begin the action. The bell rings and SKY rolls up Flair. Flair kicks out and SKY lands a hurricanrana, but Flair sends her crashing into the mat and follows it up with a tilt-a-whirl backbreaker. Asuka tags in and delivers a series of chops. SKY looks to tag in Bayley, but Bayley is busy gloating and doesn't notice. This gives Asuka the upper hand, and she looks to land a running dropkick on SKY in the corner. Bayley pushes her out of the way and absorbs the impact before Asuka ascends to the top and hits a dropkick.

Back from the break, Asuka lands a kick on Bayley's thigh. Bayley fires back with a suplex and tags in SKY, who delivers a kick to Asuka's shoulder. Bayley tags back in, and Asuka fires off right hands on her midsection. Bayley sends her crashing into the corner spine first and delivers a stomp, then clocks Flair on the apron and tags SKY back in. SKY and Bayley deliver a double flapjack and SKY pins Asuka, but Flair pulls her off. Asuka delivers a pair of forearms, but SKY delivers a boot to her midsection. Asuka fires back with a boot of her own, then follows it up with a kick and tags in Flair.
Bayley tags in and Flair lands a forearm. She ascends to the top and delivers a crossbody before firing off chops and hits an interfering SKY with a T-Bone suplex. She sends Bayley crashing into the middle turnbuckle, then delivers a flipping clothesline. Asuka tags in and sits Bayley on the top turnbuckle. Flair tags herself in and joins Asuka and Bayley on the ropes. SKY pulls everyone down.
Asuka holds Bayley in place as Flair sets up for a boot, but Bayley ducks out of the way and Flair accidentally hits Asuka. Bayley looks to cinch in a Figure Four Leg Lock on Flair, but Flair fights her off (sending her crashing into SKY on the apron) and delivers Natural Selection for the win.
Winners: Asuka and Charlotte Flair
We then head backstage and see The Bloodline run into Judgment Day. The two teams end up staring one another down until Rhea Ripley and Paul Heyman are left alone to have a chat with one another. 
Back at ringside, LWO makes their way down to the ring. Bobby Lashley and The Street Profits follow. 
Bobby Lashley (w/ The Street Profits) vs. Rey Mysterio (w/ Santos Escobar)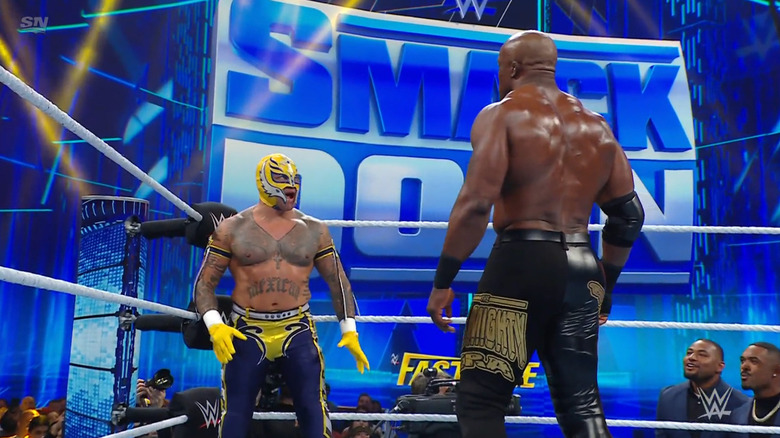 WWE/Fox
The bell rings and the two lock up. Lashley sends Rey crashing into the mat and fires off shoulders on his midsection before getting him up on his shoulder. Rey lands on his feet and low bridges Lashley out of the ring.

Back from the break, Lashley whips Rey into the corner and lands an elbow across his spine. He lands a pair of shoulders to his midsection in the corner and charges at him, but Rey ducks out of the way and delivers a senton off the top rope. He delivers a pair of dropkicks to his knees, but Lashley gets him up on his shoulder. Rey counters with a Tornado DDT and fires off right hands in the corner, then sends him crashing into the ropes and looks for a 619. Lashley catches him and sends him crashing to the outside before Rey sends him crashing into the ring post shoulder first and gets him back inside the ring. He then delivers a pair of 619s and looks to ascend to the top. Ford hops on the apron, which leads to a brawl on the outside between The Profits and LWO. The Profits are left standing tall until Rey levels them with a senton off the apron. As he gets back inside the ring, Lashley catches him with a Spear for the win.
Winner: Bobby Lashley
Lashley quickly slips out of the ring when he spots Santos Escobar sliding in with a chair in hand.
We then head backstage to Rhea Ripley and Paul Heyman. Ripley proposes an alliance between Judgment Day and The Bloodline, and Heyman likes the idea. He tells her that he'll take the idea to Roman Reigns to get it authorized, but Ripley stops him from doing so and says it's already authorized. Heyman says it's only been authorized for Judgment Day, as Reigns needs to give his permission. Ripley then tells Heyman to acknowledge her, and Heyman warns her that she's in the wrong locker room to say something like that. Ripley tells Heyman he will acknowledge her unless he wants to find out which stable is stronger.
Back at ringside, Austin Theory heads down. Dragon Lee follows.
Dragon Lee vs. Austin Theory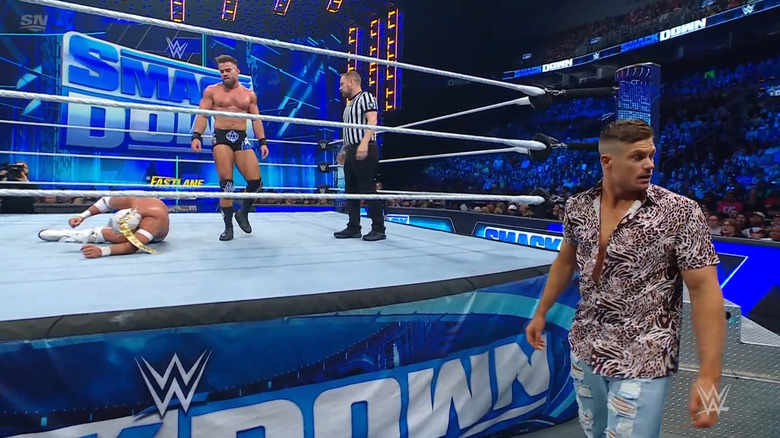 WWE/Fox
Theory grabs a mic and starts running his mouth. The bell rings and Lee executes a hurricanrana. Grayson Waller's music hits and he appears, opening the door for Theory to gain the upperhand. Theory is sent crashing out of the ring and Lee looks to run the ropes, but Waller hops up on the apron. Theory takes advantage and lands a rolling dropkick.

Back from the break, Lee lands a superkick on Theory. He follows it up with a series of right hands to his head and a pair of back elbows before hitting a kick on his chest. Theory executes a backbreaker, but Lee lands a powerbomb and ascends to the top. Waller distracts him, allowing Theory to trip him and plant him.
The two men teeter on the top rope before Lee lands a double stomp on Lee's chest. Theory is sent crashing to the outside, and Lee goes flying over the top to level him and Waller. He dumps Theory back in the ring, but Waller sends his face crashing into the ring apron as the referee is distracted. Cameron Grimes takes him out as Theory sets up for A-Town Down on Lee in the ring, but Lee escapes and rolls him up Theory back inside the ring for the win.
Winner: Dragon Lee
Back from the break, we see Rey emerge from the medical office and tell Santos Escobar and Zelina Vega that neither Cruz Del Toro and Joaquin Wilde will be cleared in time for tomorrow night. Vega asks what they're going to do now that they're down a partner, and Rey says he has a call to make.
We then head over to a video recapping what has happened between Seth "Freakin" Rollins and Shinsuke Nakamura over the past few weeks.
Jimmy Uso and Paul Heyman then head down to the ring. LA Knight follows. 
LA Knight vs. Jimmy Uso (w/ The Bloodline)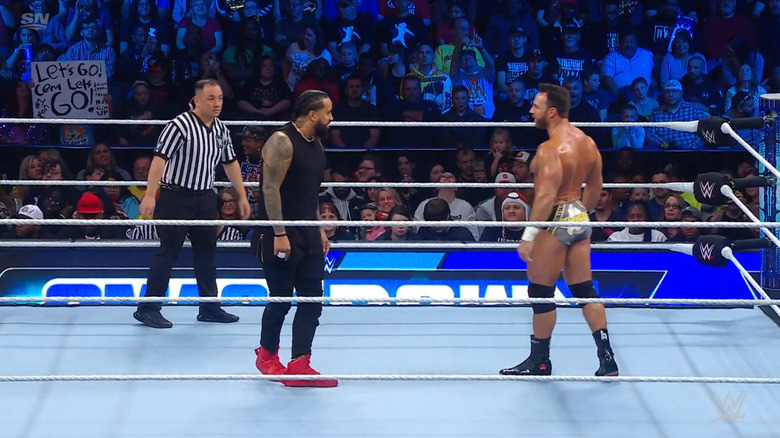 WWE/Fox
The bell rings and the two lock up. They go back and forth with submission holds before Jimmy delivers a shoulder tackle. Knight responds with a back elbow, but Jimmy delivers a superkick. Knight delivers a dropkick to Jimmy through the middle rope on the outside, but Jimmy fires back an enzuigiri inside the ring.
Back from the break, Knight delivers a Sunset Flip-Backstabber combination. He delivers a powerslam and an elbow drop, but Solo Sikoa blindsides Knight and causes the disqualification.
Winner: N/A (as the result of a disqualification)
John Cena's music hits and he runs down to the ring to provide a hand to Knight. Judgment Day then appears and shakes hands with Heyman before hopping up on the apron alongside The Bloodline. Jey Uso then appears to even the odds, and Cody Rhodes is not far behind. Heyman tells Sikoa to hop down before a brawl ensues between the two parties.
Cena and Sikoa brawl in the center of the ring. Knight then joins in and levels Sikoa before hitting McDonagh with BFT. Cena plants him and delivers the Five Knuckle Shuffle and an Attitude Adjustment. Rhodes hits McDonagh with Cross Rhodes.