Seth Rollins Retains WWE World Title In Hard-Fought Fastlane Bout With Shinsuke Nakamura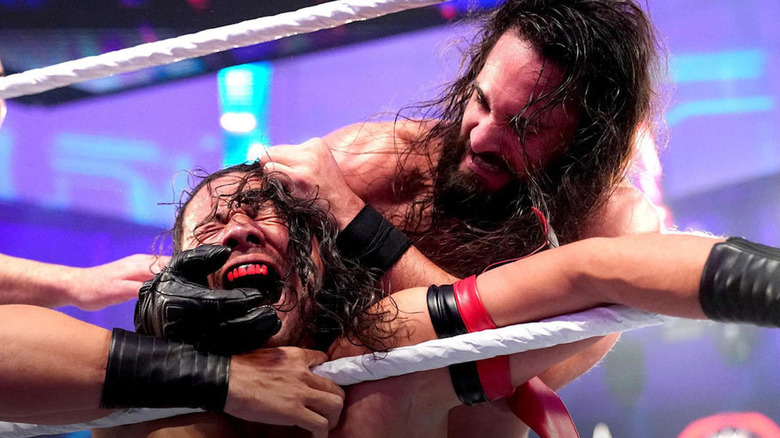 WWE
In a match that featured kendo sticks, chairs, ladders, tables, garbage cans, and even nunchucks, with its combatants traversing much of the arena floor as Last Man Standing bouts are wont to do, a battered Seth Rollins finished the contest on his feet, rising just in the nick of time, to retain the WWE World Heavyweight Championship over Shinsuke Nakamura.
Refreshingly, in a match with no rules, Rollins and Nakamura wasted no time from the onset, getting right after it with Nakamura rolling to the outside, and Rollins measuring him up for a dive, only to abort the move when Nakamura got wise to it, and instead bringing out a kendo stick to really get things rolling. Nakamura was able to work Rollins' compromised back early, often, and throughout the match, to the point where commentary consistently wondered aloud how long the champion could keep up the pace he's been running for so long already.
Making their way across the arena floor, Nakamura managed to launch Rollins from the arena stairs onto the floor below before walking him back to the ring with a series of chair shots, culminating in a backdrop to the exposed concrete. After Rollins regained control and set up a ladder near the announce table, both men climbed opposite sides and when it appeared as though Rollins would hit a suplex, Nakamura spit red mist in his face and pushed him off the ladder through the announce table below.
In the end, fighting once again in the crowd, Rollins hit a Pedigree and a Stomp on Nakamura on top of an elevated platform but the challenger beat the 10-count. Rollins, sensing desperation, hit a Falcon Arrow off the platform and through two tables and both men were down through the count of nine when Rollins was able to rise to his feet and remain the champion, despite the damage incurred.