WWE Fastlane 2023: 4 Biggest Winners And 4 Biggest Losers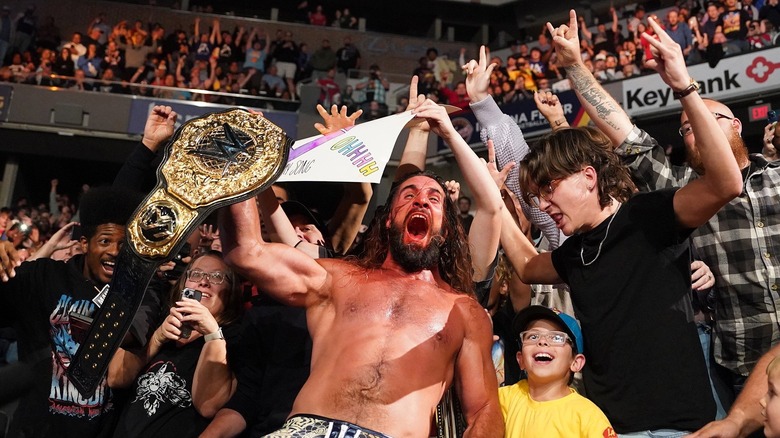 WWE
WWE brought one of its second-tier premium live events — Fastlane — to Indianapolis this year, packing the seats at the Gainbridge Fieldhouse. But for a show with not a ton of buzz behind it, what, or who, managed to shine above expectations for this particular show — and who left Indiana wishing they'd had a better night overall?
Let's get down to brass tacks and sort through the biggest winners and losers of WWE Fastlane in a supersized version that carries all the way through the post-show press conference. Buckle up for what is sure to be a smoother ride for some than others.
Winner: Shinsuke Nakamura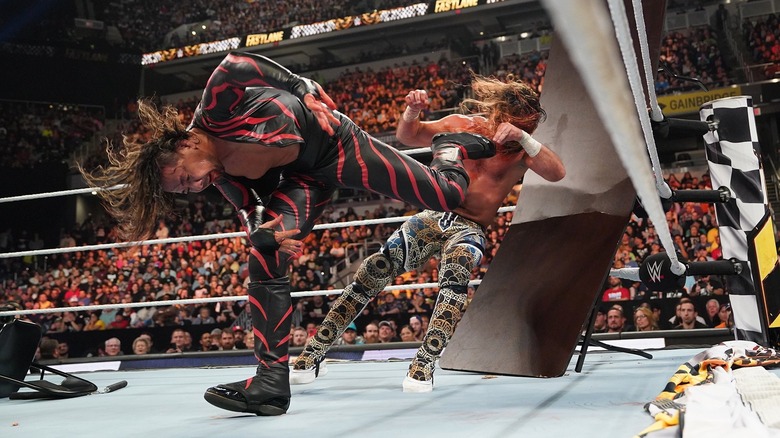 WWE
Shinsuke Nakamura may have fallen short of capturing the WWE World Heavyweight Champion tonight for the second time in the last month, but the man walked out of Fastlane looking so much better in the hierarchy of WWE than he did before this feud with Seth Rollins began. 
Let me remind you that, for quite some time, Nakamura was nowhere. He was floating around in the WWE Universe without much of a purpose. Oh, sure — he still had killer entrance music that fans loved, but what else has there been to him? Nakamura hasn't been relevant in WWE for quite some time. That has changed rather quickly. Nakamura has been in two consecutive WWE PLE main events. He has been a viable threat in each. There were quite a number of people who believed he might actually have a chance to walk away with the title in one of those Rollins encounters. 
That's how you elevate talent and rebuild those who were once lost. Nakamura once again has credibility to his name, and it feels like we're seeing a version of the Superstar we haven't seen in wrestling in a long time. Even in defeat, Nakamura looks like a winner here. 
Loser: Non-Major Premium Live Events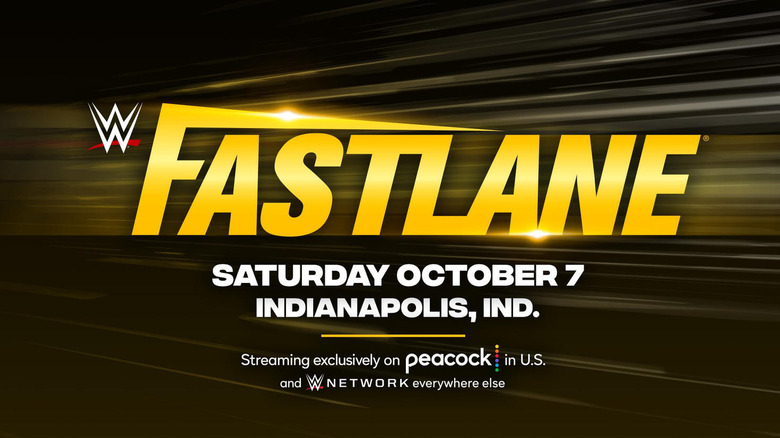 WWE
There was a stretch not too long ago where watching a WWE premium live event outside of the big ones (WrestleMania, Royal Rumble, SummerSlam, Survivor Series) was an absolute chore. They felt like things that just existed to fill time and space until we got around to one of those major shows again. Then, the tide started to turn, and WWE began exceeding such low expectations for these shows by actually putting together a number of cards that overdelivered. And it became a little bit easier to get excited about those lesser-brand events. 
But Fastlane didn't get the memo about being better. That's not to say this year's show was bad. It wasn't. It wasn't great either though. It was fine. It was about as middle of the road as it could get. There was some cool stuff sprinkled in with a lot of average, and that shouldn't necessarily be a negative. But WWE fell victim to the rising expectations it has set for itself and, whether it likes it or not, that made Fastlane come through as a bit of a disappointment. It was like a televised house show, which — not a bad thing, but I think we all were hoping for something a bit more. 
Winner: Jade Cargill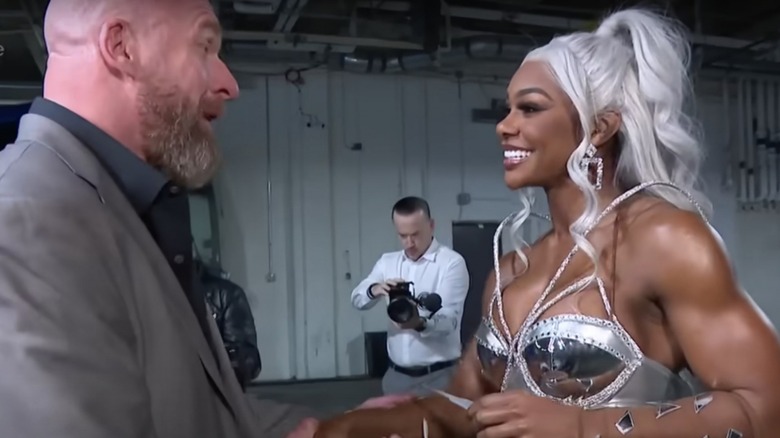 WWE/Peacock
WWE wasted no time in getting Jade Cargill onto our screens, as she officially made her first television appearance for her new company at Fastlane. She was relegated to only a backstage appearance arriving at the arena and being greeted by Triple H, but WWE did its absolute best to put the moment over as a big thing — the way it should be. She was hyped as a premiere free agent, which makes her sound important to anyone who might be unfamiliar with her work in AEW. But, on top of that, the talk of her signing really gave off the impression that she is going to be a major player in WWE, whenever she decides to make her presence felt a bit more forcefully. 
This was just a taste of Cargill to whet fans' collective appetite, but until she makes her presence felt a bit more forcefully, this at the very least puts her on the radar as someone who matters for when she does.
Loser: Whoever Decided Motor Speedway Sound Effects Were A Good Idea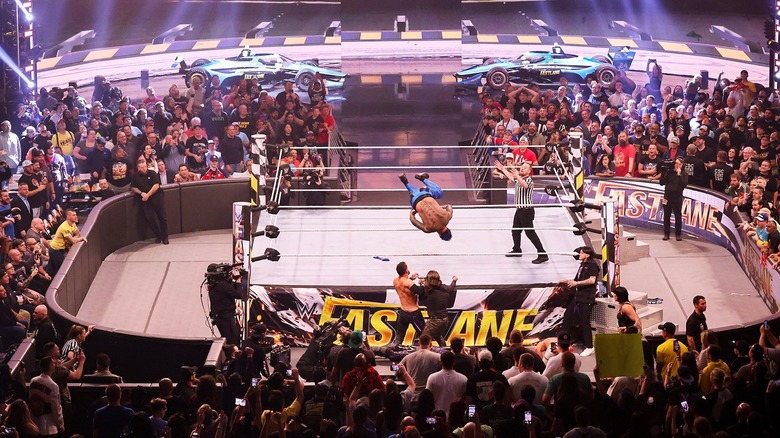 WWE
I get it. The event is called Fastlane. It took place in Indianapolis — home of the Indy 500. There is an auto racing theme that inherently goes along with it. Hell, there was a pair of Formula 1 cars bracketing the entranceway. WWE really leaned in on this one. 
But whoever on the production team who thought it'd be a great idea to play the sounds of cars racing by on the motor speedway to transition in and out of every single replay shown throughout the night should face their own personal Judgment Day sooner rather than later. 
It got to be so annoying that even the slightest hint that something might trigger a call for a replay made me cringe in advance. I may not be a fan of NASCAR now, but I doubt I'll ever get into moving forward due to the PTSD I'd be sure to experience just from listening to it. Thanks for permanently closing off options for me, WWE. But seriously — whoever made that call, I genuinely hate you. 
Winner: Carlito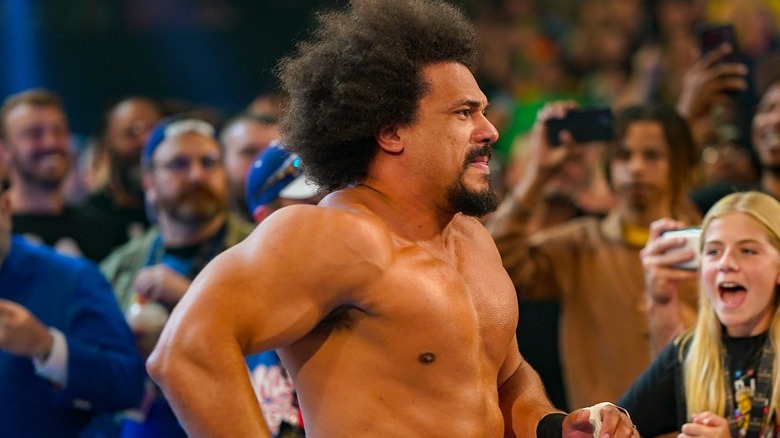 WWE
Fastlane saw what seemingly was the permanent return of Carlito to WWE and all I can say is FINALLY. This comeback feels like it had been talked about as being in the works forever, and it was nice to at last see it happen. It had been 13 years since Carlito was a full-blown member of the WWE roster — far too long away for a guy who was once thought to be a future major player. And in the last several years, including earlier in 2023 at Backlash, every time Carlito has shown up in a surprise appearance, the fans have been thrilled to see him in the mix again. 
Does this mean Carlito is going to be a factor in WWE once more? Who knows and honestly who cares? It was nice to see him getting an ovation that was filled with both excitement and respect, in addition to having a good showing as part of the LWO. 
Loser: The Ringside LED Boards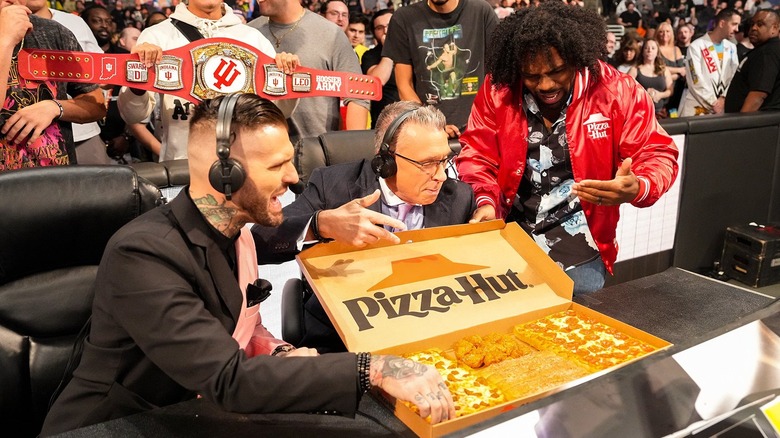 WWE
WWE installed LED boards around ringside, and especially as part of the front ring apron, in order to allow for some extra flexibility in what is showcased there. It didn't have to be restricted to just the name of the current show happening or the company in general. Instead, really anything at all could be put there, which meant it was only a matter of time before WWE looked to cash in on these new display opportunities as prime real estate for advertisers. 
I don't mind advertising in my wrestling — all major sports have it. It's how the bills get paid and profits get made. But there has to be a more seamless way to do it that doesn't lure my eyes away from the very thing I'm supposed to be watching and toward this eyesore you insist on making unavoidable. Prior to Carlito's appearance as the mystery partner in the six-man tag match, I honestly couldn't tell you much about what happened in the ring. However, I can tell you that no one outpizzas the Hut. In that case, I guess Pizza Hut got its money's worth for whatever it paid for that space. However, it didn't prompt me to order a pizza (I had already eaten dinner) and it pulled my attention away from the wrestling. Sounds like a lose-lose on all fronts. 
Winner: Real Press Conference Questions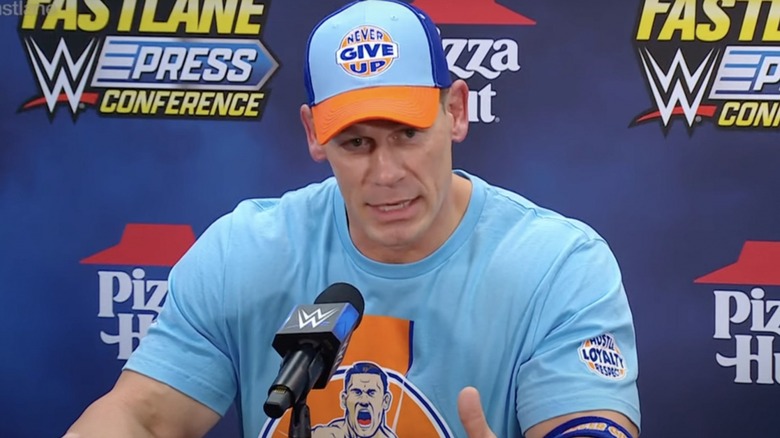 WWE/Peacock
It's amazing how much more interesting one of these post-show press conferences can be when those in the media decide to actually ask real questions of those at the microphone. 
Wait... someone actually asked about John Cena's future with WWE if the actors' strike is resolved? Someone else asked about the hypocrisy of his actions in leaving wrestling for Hollywood, given his words toward The Rock over the years? We also got questions about Cody Rhodes speaking with Jade Cargill, Triple H's impressions of Adam Copeland's departure, the growth of "NXT" — wow! 
It's almost as if reporters realized they could put forth challenging inquiries and get genuine answers of legitimate substance. So this is what a wrestling presser looks like when the media takes its job of journalism seriously and isn't so concerned with protecting access or being friends with the wrestlers. What a nice change for once. 
Loser: Taylor Swift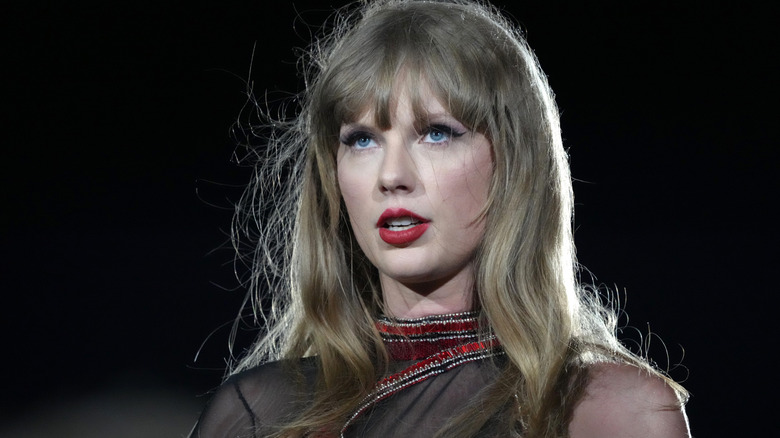 Jeff Kravitz/tas23/Getty Images
Poor Taylor Swift. This woman shows up to one football game, and now everyone is looking to cash in on her name wherever they can. Yes, she is without a doubt a cultural phenomenon — and right now, everything she touches is money. But it has become appalling just how low people are willing to sink to go viral or capitalize on her popularity. 
Is Taylor Swift going to come into WWE and wrestle? No. Hell no. Absolutely not. There is a better chance of pigs flying as hell freezes over. So why would a wrestling reporter waste everyone's time at the Fastlane presser asking the three women of Damage CTRL such an unserious question? 
My wife told me not to ask the Taylor Swift question. #WWE #WWEFastlane pic.twitter.com/aIu1QgvBi2

— Steve Fall – Ten Count (@SteveFall) October 8, 2023
Let this woman date who she wants, go where she wants, and do all the things the rest of us get to do without hassle. She doesn't have to be everywhere all the time and, in order to work toward getting back to that — keep her name out your mouth!