WWE NXT Results 10/10 - Carmelo Hayes Vs. Bron Breakker, We Hear From Cody Rhodes
Welcome to Wrestling Inc.'s results for "WWE NXT" on October 10, 2023, coming to you live from the WWE Performance Center in Orlando, Florida with a special commercial free first half hour!
Carmelo Hayes and Bron Breakker are no strangers to one another in the squared circle, having previously faced one another in singles and tag team competition on multiple occasions. In fact, Hayes was the one to dethrone Breakker as "NXT" Champion at "NXT" Stand & Deliver earlier this year and later retained the title in their rematch at "NXT" Battleground the following month. Tonight, their longtime rivalry will be renewed as the duo go one-on-one, only this time will be a little different than their previous encounters, as former multi time WWE Champion John Cena will be in Hayes' corner and "The Wise Man" Paul Heyman will be in Breakker's.
For the first time since she and Kairi Sane successfully defended the Women's Tag Team Championship against Dakota Kai and Tegan Nox on October 30, 2019, Asuka will be competing in an "NXT" ring as she takes on Roxanne Perez.
One half of the new Undisputed Tag Team Champions, Cody Rhodes, has some major news that he will be sharing with the WWE Universe tonight. Rhodes and Jey Uso became the new titleholders after dethroning Judgment Day at WWE Fastlane this past Saturday, and had their first defense against Kevin Owens and Sami Zayn during last night's episode of "WWE Raw".
The Pub Rules match will be making its long awaited return as Gallus squares off with The Brawling Brutes' Butch and Ridge Holland, and Tyler Bate. Not only do issues between the two parties date back to "WWE NXT UK", but Butch and Joe Coffey recently encountered one another in the "NXT" Global Heritage Invitational. This will also be the first (and only other) Pub Rules match since Josh Briggs and Brooks Jensen defeated Gallus on the September 27, 2022 episode of "NXT".
We are live! Vic Joseph and Booker T greet audiences at home as Cody Rhodes makes his way down to the ring.
Cody Rhodes Shares Some Major News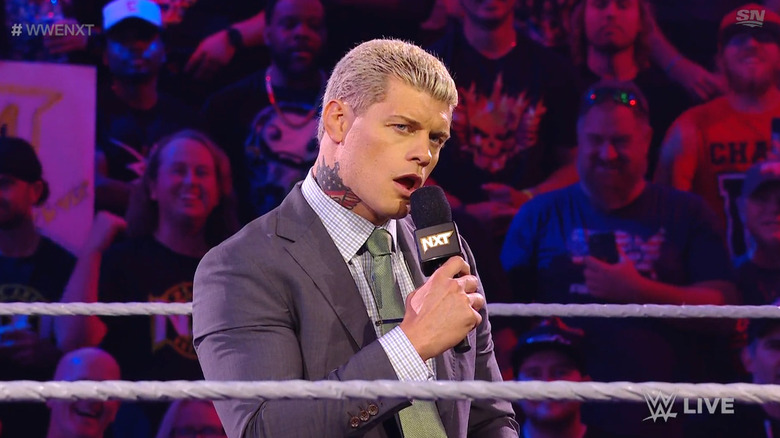 WWE/USA Network
Rhodes asks the "NXT" Universe what they want to talk about, then says he'd be lying if he thought he'd be standing in an "NXT" ring. He says something feels right about it given his family's long history with Florida. He says he has a couple announcements, then says that everyone has been enjoying the "NXT" Women's Breakout Tournament. He says there will also be a "NXT" Men's Breakout Tournament, as well as the return of the Dusty Rhodes Tag Team Classic. He then says that he has the privilege of announcing himself as the special guest General Manager of "NXT".
Ilja Dragunov's music hits and he makes his way down to the ring. After fans wish him a Happy Birthday, he says he couldn't pass up the opportunity to welcome Rhodes to "NXT". He says Rhodes' announcements bring hope back to "NXT" and breathe life into it, then adds that he simply wanted to meet Rhodes and the man who brings passion, energy, and the will to suffer. He continues speaking highly of Rhodes, then says he aspires to push "NXT" to the next level.
Dominik Mysterio's music hits and he makes his way down to the ring along with Rhea Ripley. Dominik says fans are here to see him tonight rather than Rhodes or Dragunov, then tells Dragunov to ask Rhodes about the energy levels after Judgment Day lays him out. Dragunov tells Dominik that no one wants to talk, then says he knows how to turn a barking dog into a sweet puppy as the result of his father working in a prison. Dominik dares Dragunov to put his "NXT" Championship on the line since he wants to be like Rhodes, and Rhodes intervenes. He clarifies that Dominik isn't willing to put his North American Championship on the line, and Ripley says he's been carrying WWE on his back and just won back the title. Dragunov reminds Dominik that today is his birthday, and Rhodes makes the "NXT" Championship official with LA Knight serving as the special guest referee.

Roxanne Perez then makes her way down to the ring. Asuka follows, and Shotzi is hot on her heels to join the announce desk. 
Asuka vs. Roxanne Perez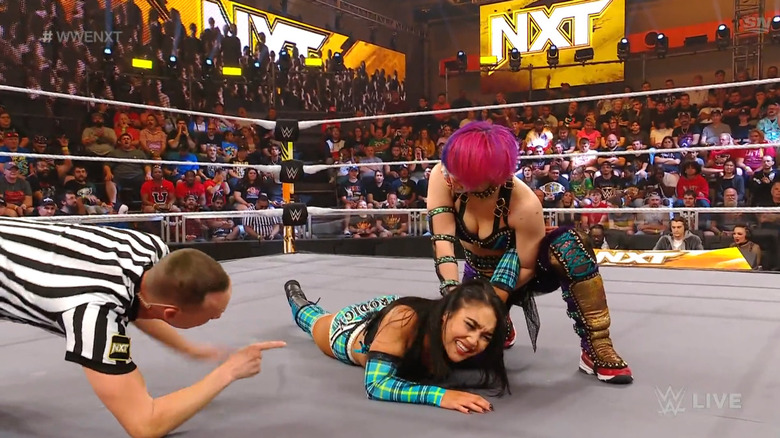 WWE/USA Network
The bell rings and the two lock up. They go back and forth locking one another in submission holds before Asuka is sent to the outside and Perez looks for a tope suicida. Asuka catches her with a right hand to her head and a missile dropkick off the top rope. Perez fires off right hands on Asuka's spine and follows it up with a dropkick. She lands a Side Russian Leg Sweep and a tope suicida before getting Asuka back in the ring and delivering an uppercut. Asuka cinches in an Asuka Lock, but Perez escapes. Asuka lands a spinning back fist, then follows it up with a spinning back heel kick. She then lands a kick across Perez's head for the win.
Winner: Asuka
After the match, Kiana James confronts Perez, but Shotzi hops in the ring and lands a DDT on her before helping Perez up and raising her hand.
The Brawling Brutes and Tyler Bate then make their way down to the ring. Gallus blindsides them on the ramp.
The Brawling Brutes and Tyler Bate vs. Gallus in a Pub Rules Match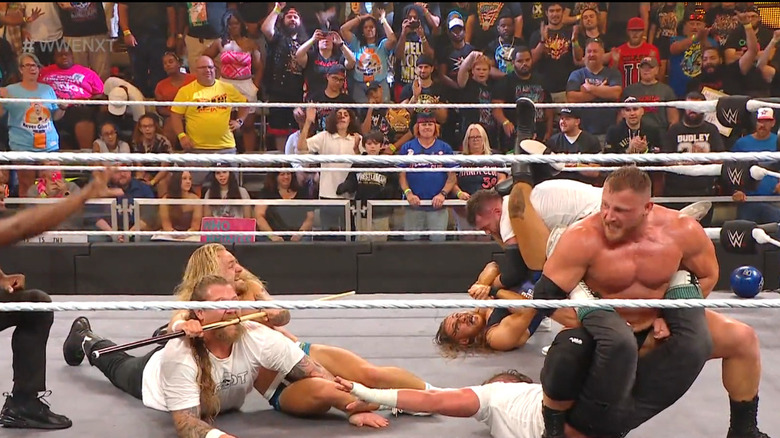 WWE/USA Network
The bell rings and Wolfgang gets Bate in the ring. Bate levels everyone else on the outside, then goes flying off the apron to level Wolfgang. He grabs a cue stick and hits Wolfgang with it as Bate uses a dart on the dart board to manipulate Joe's fingers. Mark tries using a fire extinguisher on Holland back in the ring, but Holland grabs it from him and uses it instead. Holland stuffs Mark in a garbage can, and Bate uses a bowling ball to land a strike. Gallus then sends Butch crashing through a table.

Back from the break, Butch stomps on Wolfgang's triceps before all six men brawl with one another. Butch delivers a moonsault to Mark off the ropes on the outside as Holland and Bate hit a pair of Airplane Spins on Wolfgang and Joe. The Brutes and Bate then execute The Ten Beats of the Bodhran on Gallus, and Bate and Butch deliver a clothesline-German suplex combination. Wolfgang goes flying to level Butch and Holland on the outside, leaving Joe and Bate in the ring. Joe delivers a German suplex on Bate and locks in a full body submission, but Holland breaks the hold by cracking a cue stick across his spine. He locks in a Boston Crab on Joe as Butch locks in a Triangle on Mark and Bate locks in a Crossface on Wolfgang using the cue stick. Mark powerbombs Butch on Wolfgang and Bate to break the hold, and Butch looks for a kick on the latter. He accidentally collides with Bate before Mark and Wolfgang double team on him and go for a pin. 
Bate breaks the fall, and Holland passes him a table from under the ring. Bate sets it up inside and Bate looks to send Mark crashing through it. Wolfgang levels him before he can and rains down right hands on Holland's spine along with Mark. Holland dumps them both out of the ring, but gets leveled by a crossbody at the hands of Joe. Butch hits him with an enzuigiri, but Joe runs over him and lays him on the table. He grabs a beer, but Bate breaks the bottle across his face. The Brutes and Bate then deliver a Triple Powerbomb to Joe through the table, and Bate pins him for the win.
Winners: The Brawling Brutes and Tyler Bate
We then head backstage and see Tegan Nox tell Lyra Valkyria that her match for the "NXT" Women's Championship against Becky Lynch will have to wait, as she wants a rematch given that she came up short in her title match last night on "Raw". 
Back from the break, John Cena makes his way down to the ring.
We Hear From John Cena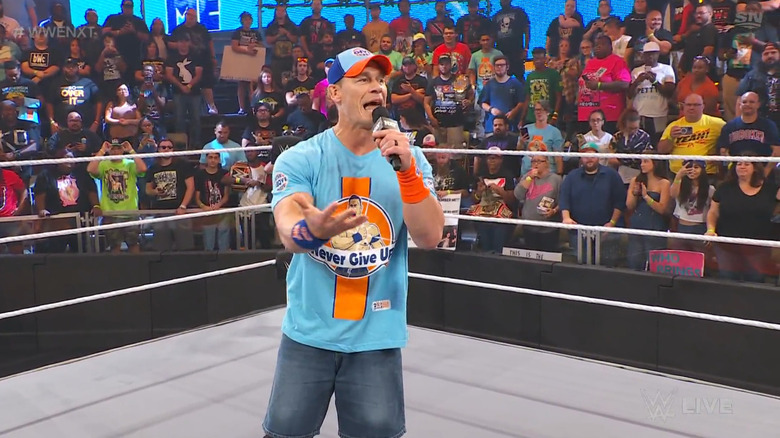 WWE/USA Network
Cena thanks fans for their warm reception, then talks about how big of a night it is. He says he is honored to be in "NXT", as is Cody Rhodes and LA Knight. He thanks fans for creating an environment in which the main roster talent want to visit, and when Carmelo Hayes called him up, he couldn't say yes fast enough. He says Hayes shares a lot of the same qualities as he does.
Bron Breakker's music hits and he appears on the ramp. He tells Cena that tonight is a big night for "NXT", but fans didn't come to see him. Breakker says they are here to see him and says Hayes still has no chance of beating him even with Cena in his corner. Cena tells Breakker that everyone knows that wrestling is in his blood and he is athletic, however, the one thing that hinders him is his attitude. He says he is excited to watch Breakker and Hayes square off, then wishes Breakker good luck and offers him his hand.
Breakker blindsides him with a right hand on his head and looks to hit him with a Spear, but Cena avoids it and gets him up on his shoulders. Breakker escapes before he can land the Attitude Adjustment.
Back from the break, we head backstage and see Cody Rhodes run into The Family. Channing "Stacks" Lorenzo says himself and Tony D'Angleo are looking for their next tag team challengers. D'Angelo suggests a 10 Tag Team Battle Royale for Halloween Havoc, with the last two teams left standing squaring off in a normal tag team match. Rhodes makes the match official, calling it the Bada Bing, Bada Boom Battle Royal.
Back at ringside, LA Knight makes his way down. Dominik Mysterio, Rhea Ripley, and Ilja Dragunov follow.
Ilja Dragunov (c.) vs. Dominik Mysterio (w/ Rhea Ripley) for the NXT Championship - LA Knight is the Special Guest Referee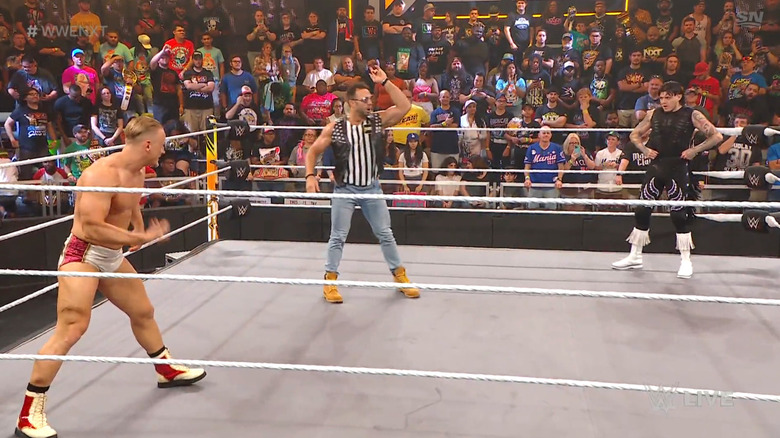 WWE/USA Network
The bell rings and the two lock up. They go back and forth exchanging submission holds with one another before Dragunov lands a senton on Dominik and follows it up with a chop. He lands a German suplex, but Dominik delivers a thumb to Dragunov's eye as Knight is distracted by Ripley.

Back from the break, Dragunov lands an enzuigiri on Dominik, then follows it up with a Constantine Special. He then delivers a German suplex and a series of chops before Dominik fires back with one of his own. Dragunov gets fired up and lands several elbow strikes. He fires off Machine Gun Chops, but Dominik responds with a dropkick and dials it up for the 619. Dragunov avoids it and looks for the Constantine Special, but Dominik avoids it and sends him into the ropes. He dials it up for the 619 and goes for a pin, but Dragunov kicks out.
Dragunov delivers a superplex to Dominik, but Dominik rolls onto the apron. Dragunov follows him out there, and Dominik spikes him with a DDT. He follows it up with a powerbomb as Finn Balor and JD McDonagh appear to try and interfere. Balor gets taken out by Knight, and Dragunov sends McDonagh crashing into the middle turnbuckle face first before Knight lands BFT on him. Ripley looks to hit Dragunov with her Women's World Championship, but Dragunov ducks out of the way and Trick Williams pulls her off the apron. This opens the door for Dragunov to deliver Torpedo Moskau for the win.
Winner (and still): Ilja Dragunov
After the match, Baron Corbin makes his way down to the ring and captures Dragunov's attention. Dijak blindsides Dragunov from behind.
We then head backstage to Carmelo Hayes and Trick Williams chatting with John Cena in the locker room. Hayes leaves to prepare for his match later tonight, and Williams asks Cena how he knew it was his time. Cena tells him that they should talk.
We then see Jade Cargill pull up to the Performance Center, where she is greeted by Shawn Michaels.
Back at ringside, Lola Vice and Elektra Lopez head down. 
Back from the break, Baron Corbin runs into Cody Rhodes and tells him that he owes him. He demands a match against Ilja Dragunov for the "NXT" Championship at Halloween Havoc, and Rhodes says Dijak has already made a great case for as to why he should earn a title shot. He says the winner of the match between Bron Breakker and Carmelo Hayes also has a good case for a shot, and makes a Number One Contenders Triple Threat match between Breakker and Hayes, Corbin, and Dijak official for next week. 
Back at ringside, Dani Palmer heads down. 
Lola Vice (w/ Elektra Lopez) vs. Dani Palmer in a First Round Match for the NXT Women's Breakout Tournament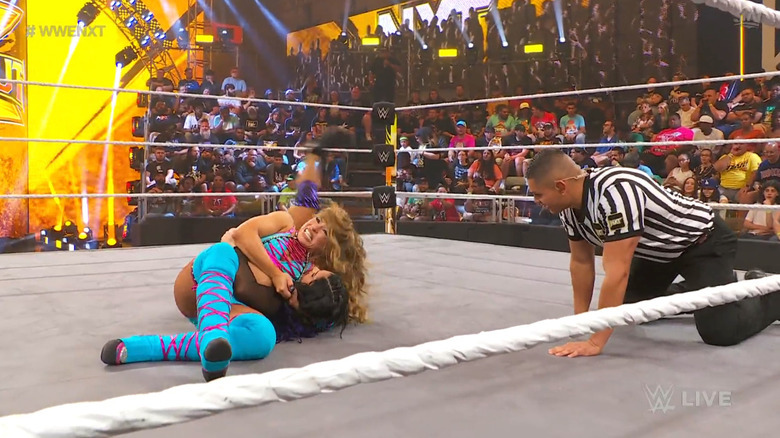 WWE/USA Network
The bell rings and the two lock up. Vice delivers a shoulder tackle and a pair of kicks to Palmer's midsection before landing a kick on her jaw and following it up with a Hip Attack. Palmer delivers a crossbody and a pair of clotheslines, then lands a dropkick and a corkscrew off the top rope. Vice locks in a Guillotine, but Palmer counters into a pinfall. Vice kicks out and lands a roundhouse kick across her head for the win.
Winner: Lola Vice
We then head over to Chase U, where Jacy Jayne is crashing Andre Chase's class with Thea Hail.
Back at ringside, John Cena and Carmelo Hayes head down. 
Back from the break, we head to a video teasing the debut of Brian Pillman Jr..
We then head backstage and see several women saying hello to Asuka, including Fallon Henley. Tiffany Stratton cuts in front of her to introduce herself and Henley confronts her. 
Back at ringside, Paul Heyman introduces Bron Breakker and they make their way down to the ring.
Carmelo Hayes (w/ John Cena) vs. Bron Breakker (w/ Paul Heyman)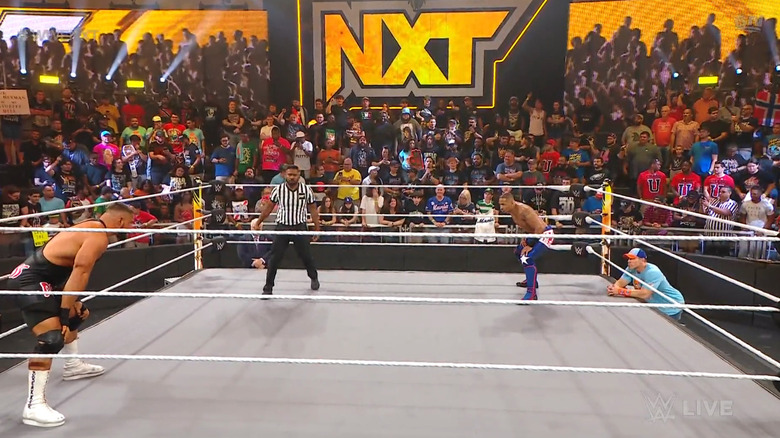 WWE/USA Network
The bell rings and the two lock up. Hayes looks for a crossbody off the top, but Breakker catches him and delivers a powerslam. He gets him up on his shoulders, but Hayes escapes and levels him with a springboard clothesline.
Back from the break, Breakker and Hayes are brawling on the apron, firing off strikes on one another. Breakker sends Hayes into the top turnbuckle face first and fires off right hands. He lands a back body drop, but Hayes fires back with a pair of drops. Breakker gets Hayes up on his shoulders and executes a gutbuster, then delivers a pair of shoulder tackles and plants Hayes. He mocks Cena with his "You Can't See Me Gesture" and looks for the Five Knuckle Shuffle, but Hayes catches him with a superkick and follows it up with a pair of splashes in the corner and a variation of a neckbreaker.
Hayes and Breakker teeter on the top rope before Breakker sends Hayes crashing into the mat. He sets up for a spear, but Hayes sends him crashing into the ring post shoulder first and ascends to the top. Breakker catches him and plants him, then grabs a ring step. Cena takes it from him before Solo Sikoa appears and brawls to the back with Cena. On the outside, Hayes lands a Codebreaker and gets Breakker back in the ring. He ascends to the top and executes Nothing But Net for the win.
Winner: Carmelo Hayes
The Undertaker Confronts Bron Breakker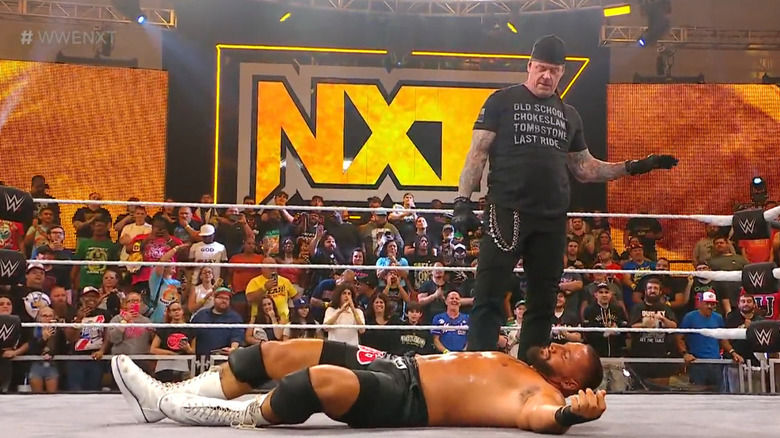 WWE/USA Network
After the match, Breakker spears Hayes and says there's only one badass in all of WWE. A gong then sounds before "The American Badass" The Undertaker heads down to the ring on a motorcycle. He stares down Breakker, but Breakker starts running his mouth and says there's only one badass on "NXT". Undertaker grabs the mic out of Breakker's hand and tells him that he's been watching him for a long time. He says Breakker will be a special talent one day, but it won't be today.
Undertaker lands a right hand across Breakker's jaw and executes a Chokeslam. He picks up the mic again and tells Breakker that there's always an older, bigger, badass waiting around the corner. He tells Breakker he just met the baddest of them all, then helps Hayes up and celebrates him as the show goes off the air.