AEW Dynamite Results (10/10) - Special Title Tuesday Edition, Adam Copeland's In-Ring Debut, More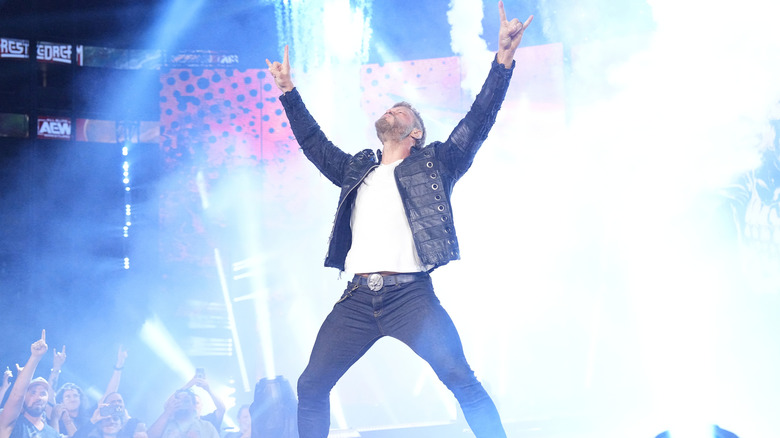 AEW
"AEW Dynamite" is live on TBS at 8 pm Eastern for a special "Title Tuesday" edition of the program. Not only is "Dynamite" airing on a special night but will also feature a "Buy In" pre-show at 7:30 pm Eastern on YouTube, X (formerly Twitter) & Facebook.
The show is being headlined by Adam Copeland's AEW in-ring debut, which will see him face Luchasaurus. Also set for "Dynamite" is a rematch between AEW International Champion Rey Fenix and Jon Moxley, with Moxley looking to regain the title he lost after suffering a concussion at AEW Grand Slam. The other title match set for "Title Tuesday" will be AEW Women's World Champion Saraya defending her title against former champion Hikaru Shida. "The American Dragon" Bryan Danielson will face Swerve Strickland in a battle of Seattle area natives.
Also set for "Title Tuesday," Chris Jericho battles Powerhouse Hobbs, and Jay White faces Hangman Page.
On the pre-show, NJPW STRONG Openweight Champion & ROH World Champion Eddie Kingston will defend both titles against former GHC Heavyweight Champion Minoru Suzuki.
The Buy In Double Title Match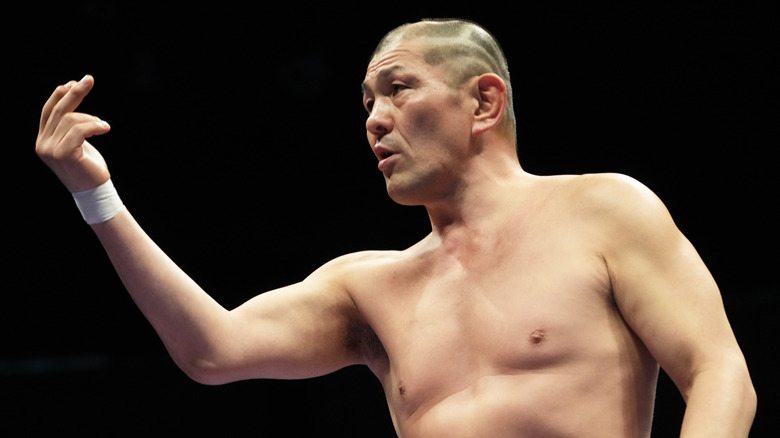 Etsuo Hara/Getty Images
The show kicks off with Renee Paquette and RJ City running down the card.
NJPW STRONG Openweight Championship & ROH World Championship Double Title Match: Eddie Kingston (c) vs. Minoru Suzuki
Staredown to start, neither man flinching or moving from their corner. Kingston takes the straps down from his singlet and the two go back and forth with knife-edge chops. Kingston holds his own in the chop battle but is staggered by Suzuki's strikes. The two begin trading forearms. Suzuki knocks Kingston out with an elbow. Suzuki continues to daze Kingston with elbows. Suzuki locks in an armbar and manipulates Kingston's wrist and fingers until Kingston fights to the ropes.
Suzuki maintain control of the match. Kingston gets mad and the two start trading chops again. Backstage, Jeff Jarrett, Karen Jarrett, Jay Lethal, Satnam Singh, and Sonjay Dutt are watching the match, Dutt giving Lethal pointers. Back in the ring, Kingston flips off Suzuki and Minoru grabs the fingers and wrenches. Suzuki intimidates the referee. They trade blows again. Suzuki bounces off the ropes and is dropped with a chop to the chest from Kingston. Kingston corners Suzuki and delivers Machine Gun Chops to little avail. Suzuki absorbs the damage and comes back with a series of Penalty Kicks. Suzuki covers for a nearfall.
Kingston gets back to his feet and the two men trade more strikes. Kingston is getting worn out, Suzuki is seemingly gaining strength from the damage. Suzuki unleashes a flurry of strikes and Kingston falls to the canvas. Suzuki locks in a Stretch Plum. Kingston tries to fight out. Suzuki transitions to a Bulldog Choke. Kingston struggles to his feet. Kingston counters a Gotch Piledriver and hits a spinning backfist for a nearfall.
Kingston hits another Spinning Backfist for another nearfall. Kingston hits a third spinning backfist. Suzuki ducks a Backfist but immediately runs into another. Kingston hits an Enzuigiri. Kingston hits Northern Lights Bomb for the pinfall in 10:38.
WINNER AND STILL NJPW STRONG OPENWEIGHT CHAMPION & ROH WORLD CHAMPION: Eddie Kingston
After the match, both men bow at each other. Suzuki and Kingston exchange respectful chops and then hug. Kingston raises Suzuki's hand.
Eddie Kingston gets on Excalibur's headset and says "watch Dynamite," then goes to the ramp to high-five Renee and flip off RJ City, while the two run down the card.
Backstage, Tony Khan announces that Jon Moxley has not been medically cleared for his match against Rey Fenix. Hook comes over and says that Orange Cassidy should be Moxley's replacement. Khan asks Cassidy if he'd like the match, Cassidy says sure and wishes Khan a happy birthday.
Title Tuesday Kicks Off With The Dragon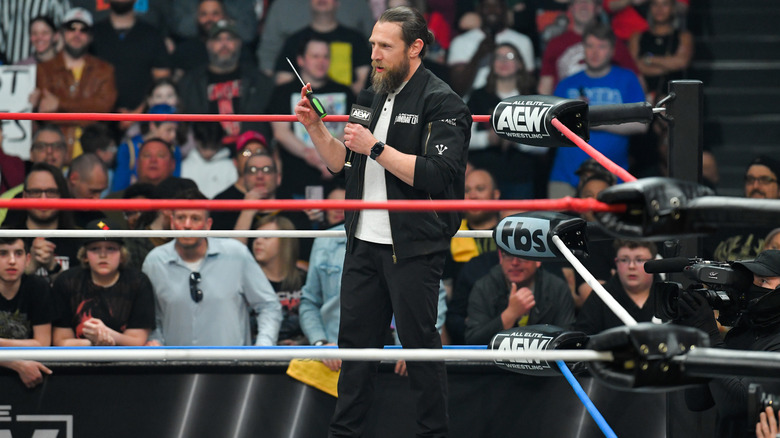 AEW
The show opens with Christian Cage in the prouduction truck. He addresses both Swerve Strickland and Bryan Danielson, who will face off to determine who will face Christian on Saturday at "AEW Collision." Christian says he's going to elaborate on why he told off Copeland last week. He calls himself the face of Warner-Discovery and welcomes the fans to Dynamite.
AEW TNT Championship #1 Contender Match: Bryan Danielson vs. Swerve Strickland (w/ Prince Nana)
A very hesitant lock-up to start. Strickland tries to overpower Danielson but Danielson takes Strickland to the canvas. Swerve starts to get control but Danielson Monkey Flips out of the hold and both men stare each other down. Strickland tries to goad Danielson into some mat wrestling and is successful. Swerve and Danielson trade holds. Swerve gets Danielson on the ropes and smacks him. Swerve flips out of a Monkey Flip and trips up Danielson for a nearfall. The two men trade package pin attempts. Another staredown.
They lock up. Swerve gets Danielson on the ropes and strikes him in the ribs. Danielson counters a suplex and lands on the apron. Swerve gets on the apron and eats a big boot. Both men trade chops on the apron. Danielson targets the wrist and Swerve sends Danielson into the ringpost. Swerve slams Danielson on the apron. Back in the ring and Swerve dominates Danielson for a nearfall. Swerve sends Danielson pillar to post. Swerve hits an Oklahoma Slam. Swerve hits a brainbuster. Swerve gets both knees on the chest for a nearfall.
Swerve locks in a Crossface Chickenwing. Danielson fights out. Swerve blocks a kick and counters with a unique Back Suplex Backbreaker. Swerve climbs the top rope. Danielson gets his knees up and blocks a 450 Splash. Swerve retreats to ringside. Danielson hits a Running Knee Strike from the apron to the floor.
Back in the ring, Danielson climbs the rope. Danielson hits a Diving Missile Dropkick. Both men are down. Danielson recovers and delivers a series of kicks. Danielson hits a roundhouse to the head for a nearfall. Danielson corners Swerve and chops away at him. Swerve fights out, criss-cross and Swerve hits a huge kick to the gut. Danielson retreats from the ring. Danielson dodges a Tope. Swerve blocks a dive from Danielson with a forearm to the face. Swerve hangs Danielson from the turnbuckle. Swerve hits a huge Swerve Stomp onto the apron. Danielson crumples to the arena floor.
Back in the ring, Swerve goes for a Diving Double Stomp but Danielson counters with a Single Leg Crab. Danielson transitions to a Heel Hook. Swerve gets to the ropes. Danielson climbs to the top rope. Swerve blocks the attempt. Danielson counters a Superplex and hits an Avalanche Back Suplex. Danielson recovers and begins kicks Swerve's head in. Swerve begins to recover and Danielson puts him back down with a series of knees. Danielson transitions to a Labell Lock. Danielson transitions to an Armbar but Swerve gets to the ropes.
Swerve counters a running dropkick, hits a House Call, climbs the top rope, hits a Diving Double Stomp and covers for a nearfall. Swerve hits an Alley Oop Driver for a nearfall. Prince Nana distracts the referee while Swerve grab's Nana's crown. Hangman Page arrives out of nowhere to stop him from using it. Danielson counters a JML Driver with a roll-up for a nearfall. Danielson hits a Running Knee Strike for the pinfall in 16:03.
WINNER AND AEW TNT CHAMPIONSHIP #1 CONTENDER: Bryan Danielson
A video plays and Samoa Joe says that he will be at "AEW Collision" on Saturday and will show fans why he deserves to be the champion.
Another Chapter In The Book Of Hobbs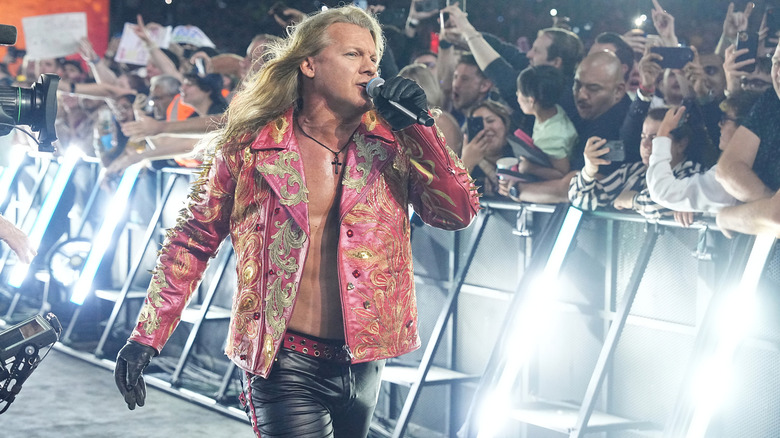 AEW
Chris Jericho vs. Powerhouse Hobbs (w/ Don Callis)
Staredown to start. Jericho charges Hobbs in the corner but Hobbs quickly overpowers him. Jericho fights off the assault but ends up eating a Spinebuster from Hobbs for an early nearfall. Hobbs mounts and pummels Jericho. Hobbs hits another Spinebuster. Hobbs hits yet another Spinebuster. Hobbs hits a huge headbutt to Jericho. Hobbs batters Jericho with forearms and hits another Spinebuster. Hobbs delivers knees to the midsection. Hobbs chokes Jericho with his boot. Callis trash talks Jericho throughout. Hobbs hits another Spinebuster.
Jericho tries to fight back but fails to get Hobbs off his feet. Hobbs throws Jericho into the corner. Jericho dodges a splash and hits a Codebreaker for a nearfall. Hobbs goes back to punching Jericho. Hobbs hits another Spinebuster. Hobbs chokes Jericho. Hobbs goes for an Oklahoma Stampede but Jericho counters. Jericho locks in Walls of Jericho. Hobbs fights out and hits a World's Strongest Slam for a nearfall. Hobbs hits another World's Strongest Slam for the pinfall in 7:23.
WINNER: Powerhouse Hobbs
After the match, Callis raises Hobbs's hand. Hobbs delivers another World's Strongest Slam to Jericho. Hobbs and Callis exit the ring.
We head to Roderick Strong's house, where Strong makes the injured Cole cut his grass. Roddy and The Kingdom nitpick the work that the hobbled Cole does. Cole is forced to wear a Neck Strong shirt. Cole learns about the giraffe that Roderick is taking Neck Strong inspiration from. Cole thinks it's weird that Strong has no internet or TV. Strong calls TV "the devil." Cole leaves to "go get surgery" but Strong says he needs one more thing. Cut to black.
AEW International Title Match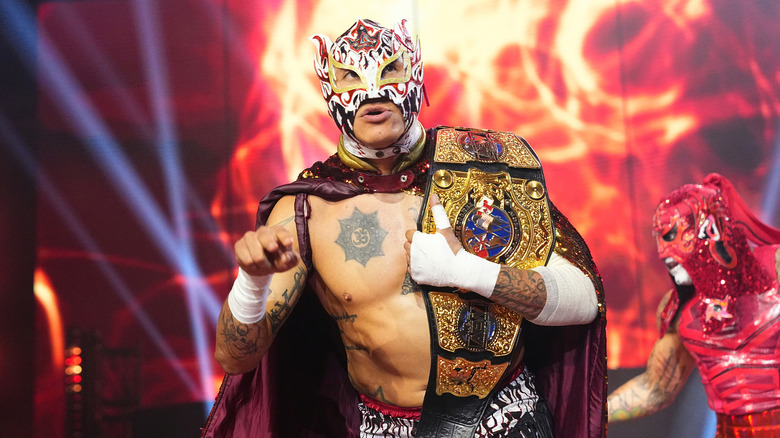 AEW
AEW International Championship Match: Rey Fenix (c) vs. Orange Cassidy
They trade elbows to start. Fenix hits a series of lariats. Fenix tries for a German Suplex but his back gives out. Fenix hits a rope-run kick for a nearfall and then a superkick. Fenix climbs to the top rope and hits a Frog Splash for a nearfall.
Cassidy counters a Fenix Driver and dropkicks Fenix out of the ring. Cassidy sends Fenix into the barricade. Cassidy sends Fenix over the guardrail. Cassidy slams Fenix into the ringpost. Cassidy gets back in the ring and breaks the count. Cassidy sends Fenix back in the ring. Fenix comes back with a Baseball Slide. Cassidy catches Fenix's leg and flips him on the apron. Fenix retreats back to the ring. Cassidy climbs to the top rope. Fenix stops him. Fenix goes for the Muscle Buster but his back gives out. Cassidy hits a Diving DDT. Cassidy hits a Tilt-A-Whirl DDT for a nearfall.
Fenix counters Orange Punch with a Superkick. Cassidy takes advantage of a slip up and hits a Beach Break for a nearfall. Cassidy hits Orange Punch. Cassidy uses a Mouse Trap Pin for the win at 4:38.
WINNER AND NEW AEW INTERNATIONAL CHAMPION: Orange Cassidy
Confetti rains down on Cassidy as Hook, Chuck Taylor, TRENT and Rocky Romero meet him out of the ring to celebrate. We head backstage to RJ City interviewing Toni Storm in black & white. Toni Storm introduces her silent film "Lover's Lament" which plays through the Picture In Picture.
Back from commercial and Wardlow is making his entrance
Wardlow vs. Matt Sydal
Wardlow charges Sydal and hits a series of Powerbombs. The referee stops the match after 47 seconds.
WINNER: Wardlow
Backstage, Daniel Garcia checks on an injured Chris Jericho, much to the chagrin of Matt Menard.
Hangman Page Breathes With The Switchblade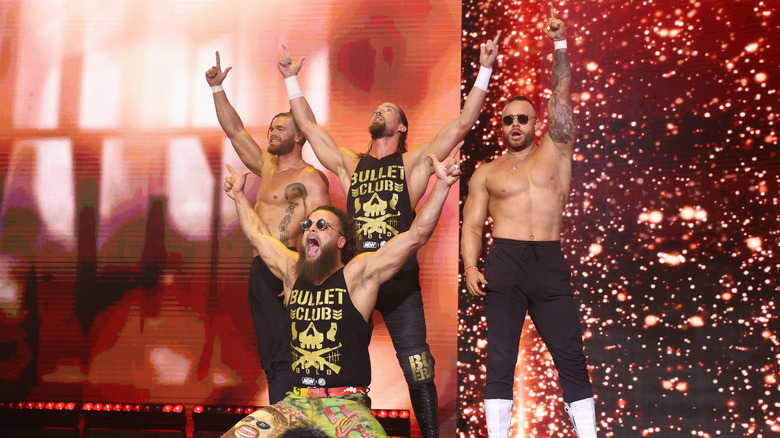 AEW
Jay White enters, followed by Bullet Club Gold on little tricycles.
Hangman Page vs. Jay White (w/ Austin Gunn, Colten Gunn, Juice Robinson & A Cardboard Cutout Of Himself)
White talks trash to start. White smacks Page. White retreats from the ring and hypes himself up with BCG. White gets back in the ring and they lock up. Page corners White and White smacks Page. White retreats from the ring and Page dives out with a tope to take out White. Page smacks Jay around ringside as we head to commercial.
Back from commercial and White is in control of the match, trying to choke out Page. Page fights out and the two men trade strikes until White hits a Dragon Screw. White mocks Hiroshi Tanahashi with some air guitar. Page fights back and chops away at White. Page hits a Death Valley Driver. Pages hacks away at White some more. Page hits a Fallaway Slam. Page hits a Running Shooting Star Press for a nearfall. White retreats from the ring again. Page misses a Plancha, landing on his already strained knee. Page powers through and hits a Pop-Up Powerbomb on the apron.
Back in the ring and Page hits a Pop-Up Sitout Powerbomb for a nearfall. White fights out of a Dead Eye attempt. White continues to attack the injured knee and then hits an Exploder Suplex into the corner. Both men fight to the apron where White hits a kneebreaker on the apron. We head to commercial. White continues to torture the knee during picture-in-picture.
Back from commercial and both men are fighting on the top rope. Page hits a Moonsault Fallaway Slam from the top rope, injuring his knee further. Page pulls down his knee pad. White goes for Page's eyes to buy some time. Page continues to assault the leg. White hits a Uranage for a nearfall. The two men trade blows. Page hits a rolling elbow. Page goes to the apron. White recovers and hits a rope-assisted Dragon Screw. White rolls Page to the apron. White drags Page to the top rope. Page fights out of a Uranage and sends White crashing to the apron and then the floor. Page hits a Golden Triangle Moonsault to the floor, tweaking his knee further. Hangman rolls White back in the ring. Page sets up on the apron. White crumples. Page gets in the ring where White hits a Complete Shot and a Deadlift German Suplex for a nearfall.
White continues to attack the injured leg and hits a Sleeper Suplex. Page recovers and hits a clothesline. Page rolls to the apron. Page goes for the Buckshot but limps and White goes for Bladerunner. Page counters with Dead Eye. Bullet Club distracts the referee. Page covers for a nearfall. The referee fights with Bullet Club as Prince Nana sneaks down to ringside. Page stops Nana from using the crown but White rolls up Page for the pinfall in 18:16.
WINNER: Jay White
After the match, MJF comes out. MJF says that White has his match for Full Gear but he needs to give him back the Triple B belt. White says no one wants to hear from MJF anymore. White says he would've given the belt back but the crowd was rude to him. MJF says he used to be Jay White, the guy who will do whatever it takes to get what he wants. MJF says that White is using Bullet Club Gold to get where he wants to be, and says that's right out of MJF's playbook. MJF says he finally likes himself. MJF says the only things he cares about are Adam Cole and the Triple B Title. He says the title is his livelihood and his legacy. MJF says he's the best wrestler in the godd*** world because he has that title. MJF says he knows that White is talented and will likely be World Champion someday, but that day is not today. MJF asks Jay White to do the hard thing, be a man, and show some respect to AEW and pro wrestling by handing over the title belt. 
White says asking for the belt won't work. He has to earn it, win it officially, so he tells MJF to wait until AEW Full Gear, where he'll fail. White goads MJF into taking the title then and there. White says MJF doesn't have enough friends to take on Bullet Club Gold. White tells MJF to find three friends to help him out. Juice Robinson says that he's gonna be in the battle royal for the AEW Diamond Ring next week on "Dynamite." Robinson says he's got a roll of quarters with MJF's name on it. He says he's gonna break MJF's jaw. MJF says that if Juice comes near MJF with the quarters, he'll kill him. White says "guns up" as Bullet Club Gold leave the ring.
Act 2 of Lover's Lament takes place during Picture-In-Picture.
AEW Women's Title Match
AEW
AEW Women's World Championship Match: Saraya (c) vs. Hikaru Shida
Shida charges Saraya to start. Saraya fights back and corners Shida. The two women trade blows in the corner. Saraya escapes mounted punches but eats an enzuigiri. Saraya retreats from the ring. Back in the ring and both women pummel each other. Shida regains control and drops Saraya with an Argentine Rack Slam. Shida hits a running knee lift.
A masked woman tries to spray Shida with spraypaint. Shida pulls up the mask, reveals Ruby Soho, and sprays her with spraypaint. Toni storm runs out and beats Soho with a shoe. The two women brawl through the audience as Saraya regains control against Shida at ringside. We head to commercial as Saraya maintains dominance.
Back from commercial and Shida is mounting a comeback. Shida hits a big running knee out of nowhere. Shida mounts and pummels Saraya in the corner. Shida hits a missile dropkick for a nearfall. Saraya retreats to the apron. Saraya pulls Shida off the top rope and slams Shida's back into the apron. Shida comes back with a German Suplex on Saraya on the apron. Shida hits a Meteora off the apron. Shida gets Saraya back in the ring and hits a Running Knee Strike for a nearfall.
Shida hits a Question Mark kick. Shida climbs the top rope. Saraya blocks a dive with a kick and hits Knight Cap for a nearfall.
Saraya grabs a kendo stick but the referee stops her. Saraya sprays Shida with spraypaint and hits Knight Cap for another nearfall. Shida recovers and hits a Falcon Arrow. They trade rollup attempts and Shida rolls up Saraya for the pinfall in 11:17.
WINNER AND NEW AEW WOMEN'S WORLD CHAMPION: Hikaru Shida.
Excalibur announces that Chris Jericho suffered internal injuries against Hobbs and went to the hospital. Tony Schiavone announces that AEW is donating $1 million dollars worth of toys to Toys For Tots on Christmas.
Backstage during Picture-In-Picture Don Callis draws a painting of Kenny Omega getting stabbed and says that Hobbs destroyed Omega and Jericho. Callis says his revenge is far from over and Sammy Guevara will be back.
Back from commercial, MJF says he's not in the mood to be interviewed. He calls Adam Cole and gets through. Cole is stuck at Roddy's. The connection cuts out. Billy Gunn and The Acclaimed says they'll back up MJF against Bullet Club Gold. MJF doesn't respond and walks away. Billy Gunn questions when Caster could offer up his services. Caster explains that MJF is his friend and he thinks he needs help.
Christian Cage Gets Personal, Copeland Debuts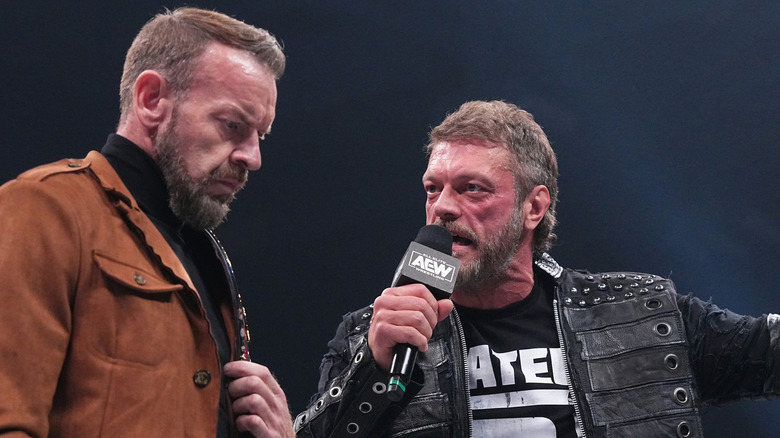 AEW
Christian Cage comes to the ring and tells Kansas City they should be proud of him as a champion since he doesn't need help like the Kansas City Chiefs. Cage says that Copeland was wrong about Nick Wayne and Luchasaurus's loyalty. Cage says that Copeland's wish to end their careers together rings hollow because Copeland left Christian behind when he became a main eventer. Christian says Copeland is on a downward slope while Christian keeps rising. "You need me, I don't need you," Christian says. Christian says that he appreciates Copeland being a fan of his, and he knows that Beth Phoenix is a big fan of him. Christian says that he will take good care of Copeland's children after Luchasaurus murders him. Christian tells Beth to put fresh sheets on the bed, "because your new father is coming home."
Copeland charges the ring. Nick Wayne holds Copeland's leg. Luchasaurus strikes. Luchasaurus hits Copeland with an Extinction Lariat. Copeland appears too hurt to compete from the lariat to the back of the head. Copeland struggles to his feet and decides to fight through the pain. The bell rings and Luchasaurus immediately batters Copeland.
Luchasaurus (w/ Nick Wayne & Christian Cage) vs. Adam Copeland
Luchasaurus hits a Tombstone Piledriver for a nearfall. Luchasaurus continues to unload on Copeland. Luchasaurus slams Copeland into the corner. Luchasuarus chokes Copeland with his boot. Luchasaurus throws Copeland from pillar to post. Luchasaurus maintains dominance.
The two men trade blows. Luchasaurus keeps Copeland from building momentum. Luchasaurus hits a big suplex. Luchasaurus keeps up the assault. Copeland eats a big boot as we head to commercial.
Back from commercial and Luchasaurus dislodges the ringsteps. Copeland fights off a chokeslam attempt and takes out Luchasaurus at the knee. Copeland hits a Diving DDT from the apron. Back in the ring and Copeland hits a Diving Crossbody to the back of Luchasaurus. Copeland counters a chokeslam with an Impaler DDT for a nearfall. Luchasaurus tries for a Superplex onto the steel steps but Copeland fights out. Copeland hits a Superplex into the ring. Christian comes to the ring to distract the referee. Wayne wedges a chair in the corner. Copeland goes headfirst into the chair. Luchasaurus hits a Chokeslam for a nearfall. Doube Big Boot and both men go down. Luchasaurus goes to the outside, Copeland hits a running spear on the outside. 
They get back in the ring and Copeland sets up for a Spear. Copeland stops Christian from using the title and hits Luchasaurus with it. Nick Wayne gets knocked off the apron. Christian has his title back and Luchasaurus thinks Christian hit him with the title. Copeland capitalizes on the confusion and hits a Spear to get the pinfall in 15:31.
WINNER: Adam Copeland
After the match, Nick Wayne attack Copeland. Copeland gets beaten down. Bryan Danielson runs out and makes the save. Luchasaurus and Cage beat down Danielson. Blackpool Combat Club runs out to even the odds. Mogul Embassy joins the brawl. Hangman Page comes out to join the brawl. In the ring, Cage submits to the LaBell lock as the show goes off the air.