Jim Ross Reveals The Role WWE Hall Of Famer Had In Adam 'Edge' Copeland Being Hired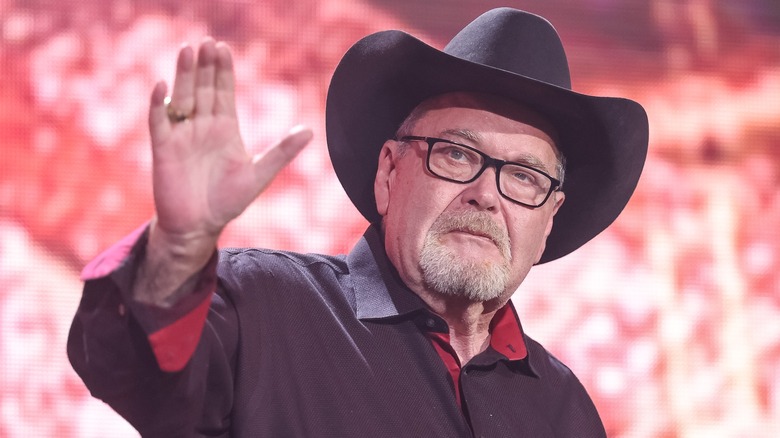 AEW
As narrated in his 2005 autobiography, Adam Copeland indirectly benefitted from Bret Hart going down with a knee injury in 1997. As the story goes, former President of WWE Canada, Carl De Marco, contacted Copeland and urged him to visit The Hart Dungeon in Calgary to put in some reps in the presence of Hart — advice that Copeland heeded. Subsequently, Hart contacted Ross and recommended that WWE offer a roster spot to Copeland.
On a recent episode of "Grilling JR,"  Ross noted that while Hart's recommendation was helpful, Copeland was already on WWE's radar after his impressive showing in some dark matches.
"We were aware of Adam's abilities," Ross said. "He had a great personality, he was a total team guy — 'Yes, sir. No, sir.' He was very polite. His momma raised him well. God bless her. But Bret calling me to speak up in a positive way for Adam was really the cherry on the sundae. I mean, nobody in the business of wrestling was more respected than Bret Hart, so he was very effusive about Adam's potential."
While brushing off the notion that Hart was sticking up for a fellow Canadian, Ross stressed that the call from Hart "was all it took" for WWE to offer Copeland a contract. "Bret definitely did a great job of recruiting and selling him, and I'm sure glad he made that phone call." 
As for convincing Vince McMahon on the potential of Copeland, Ross revealed it was a rather easy sell since the WWE boss believed in Edge as well, to the point where WWE agreed to pay off Copeland's "significant" student loans. "I looked at my [WWE] budget and the right thing to do was paying off Edge's student loans," Ross recalled. "So you start your career debt-free, and that's what we did. I'm glad Vince thought it was a great idea. At that time, Vince was sold — this kid had something."