WWE Star Karrion Kross Discusses Potential John Cena Match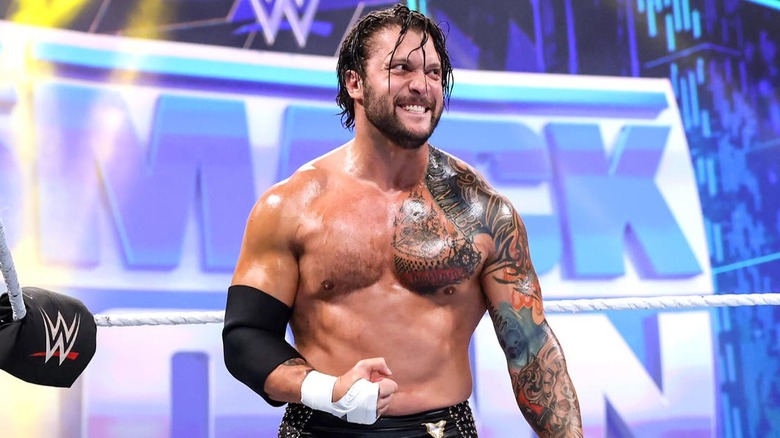 WWE
Karrion Kross got the wrestling world talking recently after he shared a video of himself watching John Cena in action on "WWE SmackDown." It prompted speculation of a potential match between the two with Kross admitting to the "Insight" podcast that he can't say the match is not impossible. 
"During the lockdowns, fans were fantasy booking tons of stuff; they started fantasy booking me vs John Cena — that blew my mind," he said. "I was still in 'NXT.' I was expecting ideas and concepts like that would come at a later time one day when I'm on main roster. They were already saying, 'I want to see that.'"
The conversation surrounding Kross vs. Cena intensified when the 16-time world champion shared an image of Kross on his Instagram at the time. But Cena's Instagram is notorious for triggering fans as he often shares pictures without any captions or context, allowing his followers to project whatever meaning they want onto them. So Kross asked Cena about the post.
"I said, 'Was that you, or was that your media team?' He goes, 'It was on Instagram,' I go, 'Yeah,' he goes, 'That was me,'" Kross confirmed, revealing Cena was the man who sent it.
Kross admitted people went crazy over the picture at the time, but he was released from WWE shortly thereafter at the time, stunting that fan appetite. However, that Kross is back, he wonders who wouldn't want to see a collision between the two of them. "I just thought I'd put it out there and see how people still felt about it," he said. "There was a lot of people who didn't forget."

If you use any quotes from this article, please credit "Insight with Chris Van Vliet" with a H/T to Wrestling Inc. for the transcription.