Road Dogg Speculates As To Why Vince McMahon Didn't Make Samoa Joe WWE Champion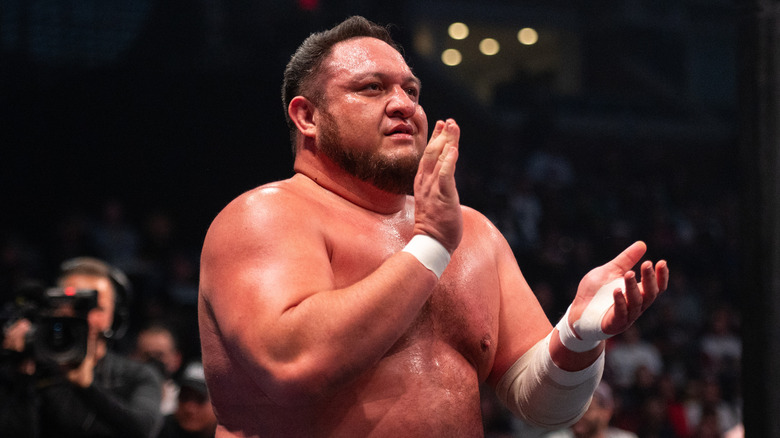 AEW
Samoa Joe has held World Championships in several promotions, but that accolade evaded him throughout his WWE run. Despite coming close during his memorable storyline against AJ Styles, Joe never managed to win the big one. Despite Brian "Road Dogg" James claiming that Joe was great at storytelling, he wondered if Joe simply didn't get the chance on "Oh You Didn't Know."
"Vince is a babyface champion guy, and I get that from a promotional standpoint, you're not going to promote JBL, you're going to promote Cena. I don't know, I just feel like maybe that had something to do with it." James admitted he watched the situation from a distance, but noted Joe did have injury issues which kept him off television at times. However, he insisted that Joe is top-shelf, clearly being an advocate for the current ROH TV Champion. "I think Hunter realized that when he brought him back down to "NXT," even if you can't do nothing, just come and talk for us because you're so good at it, and you have such great facials when you cut a promo," James said.
James insisted that everyone was high on Joe within the company, reflected by the fact he was involved in some major storylines. From feuding against Brock Lesnar to holding the "NXT" and United States Championships, Joe was given plenty of opportunities to build a memorable career, even if he didn't capture WWE's top prize. "I know Vince was high on him and I know Hunter was high on him," James said. "It just makes me think there was something medical that wasn't out there or something that was a reason he went away and came back, I don't know the answer to that. He went pretty high, he just didn't win the title, you know what I mean?"
If you use any quotes from this article, please credit "Oh You Didn't Know" with a H/T to Wrestling Inc. for the transcription.