Matt Hardy Thinks AEW Should Employ A Specific Type Of Segment More Often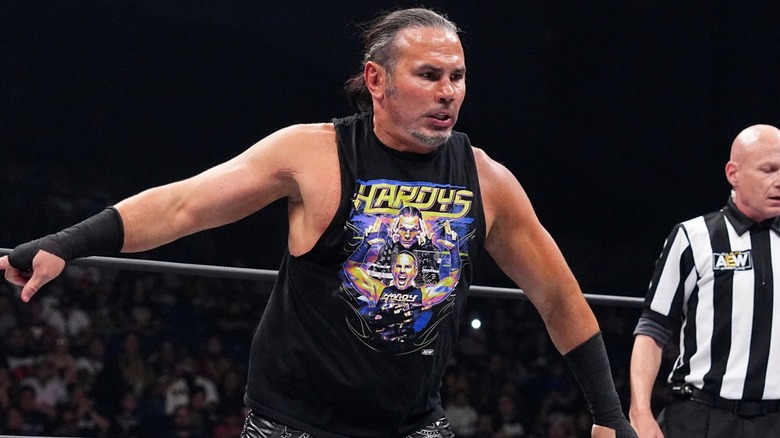 AEW
The ongoing AEW storyline between MJF and Adam Cole has often seen their friendship develop through bond-building vignettes, most of which have been well-received by wrestling fans. On the latest episode of "The Extreme Life of Matt Hardy," the titular AEW star said that Tony Khan deserves a lot of credit for AEW's creative successes, but he'd also like to see more vignettes used in storylines to enhance characters.
"Personally, that's my tick. Once again, I don't own the company, I'm not paying the bills, so at the end of the day, it's just my opinion when it's all said and done. But I think if you look back at the stuff MJF and Adam Cole did, extremely entertaining vignettes, an interesting relationship, and it left you wanting to tune in because you're not sure where it's going to go next."
What's more, Hardy believes that the MJF and Cole storyline is a prime example of how to take two unique characters and make them interact in a compelling way. Wrestling is fine and all, but the in-ring action is always better when there's an entertaining storyline attached to it.
"I think that's the perfect synergy for taking a couple of characters — and both of them were perfect in the roles, right — and letting something play out where the story is what sucks the people in. And then when you have a great match on top of that, that's the icing on the cake."
Of course, not everyone is a fan of AEW's creative process. For example, Eric Bischoff believes that Khan needs to delegate these duties and take advantage of the wealth of experience he has around him. The former WCW president has frequently said that the company's product isn't compelling as most of the storylines are just an excuse to book a match.
If you use any quotes from this article, please credit "The Extreme Life of Matt Hardy" with a h/t to Wrestling Inc. for the transcription.