AEW Dynamite Results (10/18): Sting Speaks, Omega Competes, Copeland's R-Rated Rebuttal
This is Wrestling INC.'s live coverage of "AEW Dynamite" for October 18, 2023!
Tonight the Icon, Sting is set to address the fans, which has led to a lot of speculation about his future. While it is unknown what he is going to be talking about, he is set to speak to the audience and make an announcement.
A man Sting was recently involved with, Adam Copeland, is also set to speak tonight. He helped Sting from a brutal beatdown at the hands of Christian Cage and his group, and tonight the "Rated-R Superstar" is going to give a response to his former tag team partner, which has been promised to be an "R-Rated rebuttal."
When it comes to in-ring action, Jay White will be continuing to build his momentum toward his upcoming AEW World Championship match as he goes one-on-one with Penta El Zero Miedo for the first time ever.
Speaking of the AEW World Champion, there will also be a battle royale amongst members of the roster where the winner will get to face MJF for the AEW Dynamite Diamond ring.
Elsewhere, Kenny Omega will be in singles action as he competes against Kyle Fletcher. The Aussie Open star has recently aligned himself with the Don Callis Family, which is a group that The Elite star has been at loggerheads with as of late.
Toni Storm will also be debuting her newest blockbuster film as she continues to develop her new 'Timeless' character.
Jay White vs. Penta El Zero Miedo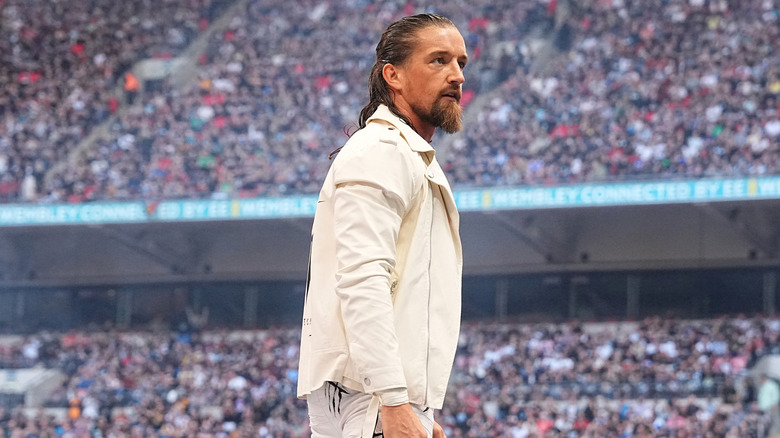 AEW
Penta El Zero Miedo kickstarts the match hot by launching himself over the top rope to wipe out all of Bullet Club Gold, following it up with a Slingblade to Jay White outside the ring. The Lucha Brothers star then nails a diving stomp, but as he continues to remain in control Colten Gunn pulls his foot and that allows White to nail a DDT and turn things around. The two men then exchange chops and kicks with Penta coming out on top. 
However, as he charges into the corner White manages to reverse and send the masked man over the top rope only to drop him face-first on the apron afterward. White then ties up Penta to the second rope via his mask as he then stomps away on him until the official unties it. Back inside the ring, the Bullet Club Gold star remains in control by throwing Penta onto the top rope as he bounces to the floor. 
Penta then turns things around with a few strikes and then a sling blade, and he then dives over the top rope to wipe White out on the outside. Back inside the ring the two of them exchange chops until White hits a dropkick to the knee, which Penta responds by planting White to the mat, but he's able to kick out. White fires back with a sleeper suplex, but his Blade Runner attempt is reversed as Penta connects with Made In Japan, but White kicks out once again. 
However, Bullet Club Gold stars then get up on the apron to distract the official, allowing Juice Robinson to nail Penta with a punch with his ring which sees him fall into a Blade Runner. 
Winner: Jay White
Post-match White gets on the microphone, he says he is still waiting for MJF to respond to his offer and he presumes it's because he can't find a partner. Robinson then says that in the main event, he is going to win the battle royal and win the right to face MJF for the Dynamite Diamond Ring which he is going to pawn for another gold tooth.
MJF is then shown backstage and says he could've run out like a good guy, but he isn't as he's a scumbag. He prays that Robinson wins tonight as there will be blood between them, and that will be in the hands of White. He is ready to give an Adam Cole update and The Acclaimed then turn up and suggest they team up and get MJF's belt back. MJF says no, so Max Caster says he might enter the battle royal, and then MJF will have to put a ring on it.
Emi Sakura vs. Hikaru Shida (Title Eliminator Match)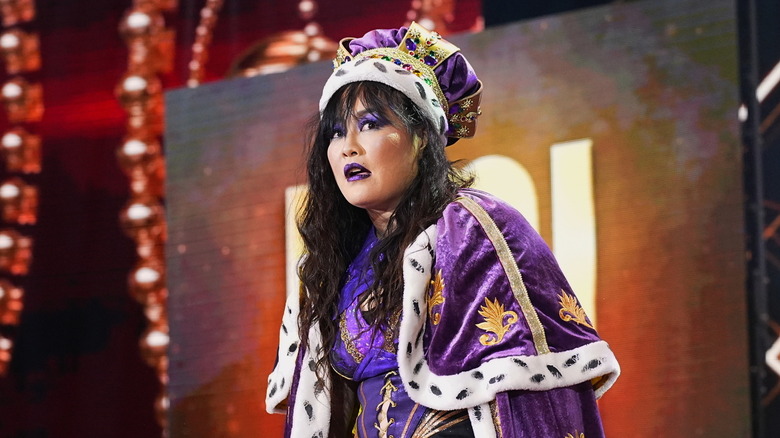 AEW
As soon as Hikaru Shida gets into the ring she is jumped by Emi Sakura, and as the match officially gets underway the AEW Women's World Champion begins fighting back as they exchange forearm strikes and chops. However, as Sakura attempts to charge into Shida in the corner she reads it and hits her with a knee with the two then rolling around the ring in a pinfall combination.
Shida then misses with a missile dropkick, and Sakura hits a standing dropkick straight after as she has the champion rocked. Sakura then rags Shida around the ring and dominates with some heavy strikes before lifting the champion in an inverted position, holding her for a long time before moving into a backbreaker. She continues to dominate with some heavy chops which is followed by dragging Shida on the top rope as Sakura then launches herself through the middle rope to send Shida to the floor.
Shida responds with a missile dropkick back in the ring, but Sakura kicks out of the pinfall attempt. Despite that Sakura nails a Tiger Driver, and once again the champion is forced to kick out. However, Sakura misses with a moonsault and then gets nailed with the Katana, yet somehow Sakura kicks out immediately and she then almost catches Shida with a roll-up, but Shida then hits a backbreaker only for Sakura to nail one of her own. 
The champion nails an elbow strike and then a falcon arrow, but Sakura kicks out again only to eat another Katana, and this time Sakura is unable to respond. 
Winner: Hikaru Shida
Adam Copeland is then shown speaking with Renee Paquette and he admits he's still confused as the idea of coming here was to end his career with Christian Cage. He sounded on board with it until it got real. Then he sat down this week and replayed their relationship, he recalls how they became best friends over a love of wrestling as kids. Copeland recalls him getting the dream gig and he told them about his partner and he believes Cage is the most underrated person in wrestling, but he thinks them being talked about together is a cancer that Cage has let fester. 
Copeland is surprised that there's still jealousy between them. He knows Cage is riding high, he came first, and Copeland doesn't want to take that spotlight, but he knows Cage will come crashing to the ground. He says he won't fight him, but he will be the one to pick him up when Luchasaurus and Nick Wayne drop him.
Wardlow In Action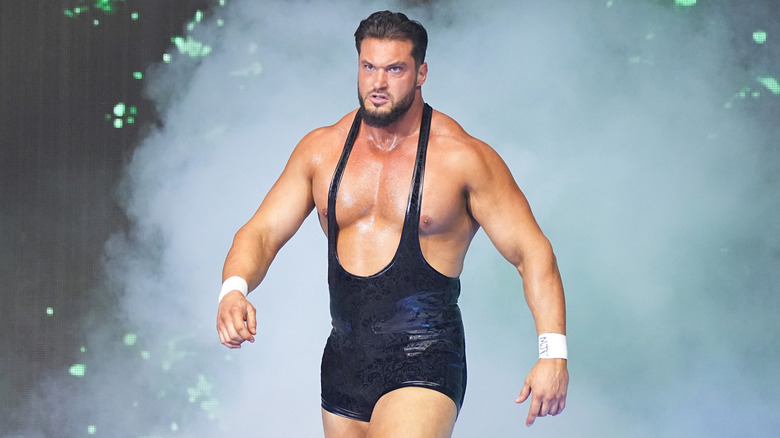 AEW
Ryan Nemeth attempts to jump Wardlow as soon as he gets into the ring, but he immediately grabs him for a Powerbomb and that leads to an immediate referee stoppage. 
Winner: Wardlow
Post match Tony Schiavone asks Wardlow what he is back for. He shows that MJF is written on his wrist tape, and then he barges past Schiavone and knocks him to the floor. 
Kenny Omega is then shown backstage as he discusses tonight's match. MJF then turns up and says he respects him and says, "13 days b*tch."
Adam Cole is then shown at Roderick Strong's house giving him coffee, but he spits it out as he hates hot coffee. Cole says he's out of here but Strong apologizes and says he is craving Cole's PB&J sandwiches. Strong complains about that but Cole flips and says he is done and leaves. Strong says he will have to be nice to that scumbag to get his friend back.
Don Callis then joins Schiavone in the ring and says they made history last week, as Chris Jericho has never been manhandled like he was last week. Will Hobbs then recalls getting tickets to meet Jericho when he was young, but Jericho treated him poorly. He swore the day he got to look Jericho in his eye he would hurt him over and over. Callis says Hobbs has always been told to bottle his anger, but his family will tell him to be what he is, which is a killing machine, and they're going to unleash it. 
Callis then takes a shot at Kyle Fletcher for letting them down, but he comes down to the ring and says he did that as a favor. He might've been the weakest link that night but tonight he has another chance and he will prove to everyone and especially Callis that he doesn't need anyone's help to beat Omega.
Kenny Omega vs. Kyle Fletcher
AEW
Kyle Fletcher jumps Kenny Omega as soon as he gets into the ring and makes a hot start by beating down on The Elite star. Omega turns things around with a suplex and he then dives over the top rope to take out Fletcher on the floor. However, Fletcher gets into the ring first and then nails a dropkick on Omega as he tries to get back into the ring, and he then charges Omega over the barricade and into the front row. 
Inside the ring, Omega avoids Fletcher's moves and sends him out of the ring, but as he attempts to dive out of the ring Fletcher pulls him out and they exchange chops outside the ring. Omega gets the best of the situation, but as he tries to charge into Fletcher he gets tripped by the younger wrestler as Omega falls into the barricade. Inside the ring, Fletcher slams Omega to the mat, but he fires back with some Polish hammers, but as he goes for a moonsault Fletcher avoids it by going to the floor. However, Omega leaps over the ropes and nails the moonsault to the outside instead.
Omega hits a dropkick to the lower back as they get back into the ring, but Fletcher manages to kick out. Fletcher then avoids Omega's charge and as he bounces from the ropes Fletcher nails a half-and-half suplex before charging into the corner with a big strike which is followed by a brainbuster, but that only gets him a near fall. Fletcher launches Omega head-first into the second turnbuckle as he nails a Michinoku Driver, but yet again Omega kicks out. 
Fletcher nails a big kick to the back of OMega's head, but Omega then reverses Fletcher's plans and nails a kick of his own before a huge powerbomb and then a V-Trigger, but Fletcher kicks out! However, the Aussie Open star then locks in a Grapevine submission, but Omega escapes with a pinfall attempt and then hits a snap dragon suplex only to eat a thrust kick. The two men then hit the ropes as Omega nails a running knee strike and then the One Winged Angel. 
Winner: Kenny Omega
A vignette is then shown for Danhausen, who says everyone will be cursed soon enough.
Let's Hear From Sting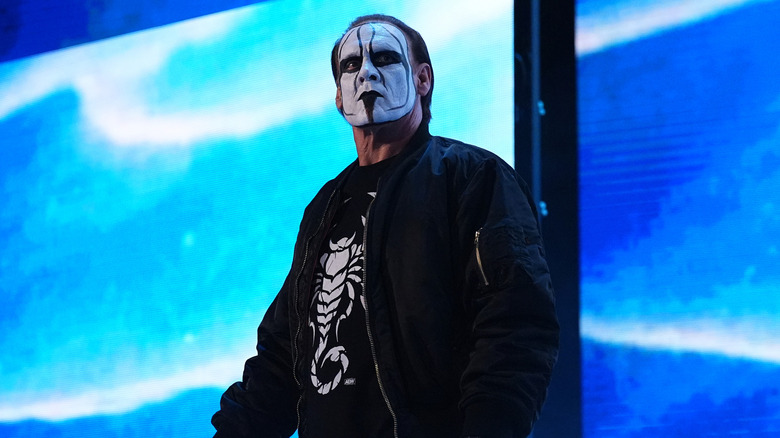 AEW
Lance Archer makes his way out with his own opponent in hand, throwing him down to the ring. His opponent attempts to dive out of the ring into him but Archer catches him and slams him onto the ring apron. He then launches Baron Brown across the ring with Archer charging into the corner repeatedly before placing him on the top turnbuckle to then drive him down to the mat for a routine win. 
Winner: Lance Archer 
Swerve Strickland and Prince Nana are then shown as they promote Strickland releasing his new video this week. However, Strickland says he should be celebrating that while also being TNT Champion, but that's Adam Page's fault. He warns him that you don't want to go to war with someone who gives less of a damn than him, and he says it's not always you that pays for your actions.
Sting then makes his way out to the ring, and he says he wants to reflect on all the years traveling up and down the road with people like Lex Luger and The Steiners. They'd look at the generation ahead of them with guys like Dusty Rhodes, and Hulk Hogan (who gets booed, and Sting says he did learn something from him). He wants to give a lot to Ric Flair, he thanks him for all the moments. They used to wonder why these guys hung on, but now he's here and he understands why.
Sting says people are thinking that he's retired once already, but the one in 2015 didn't sit right with him, plus there was a key moment in that speech was that the only thing about Sting is, that nothing is for sure. Sting wants to address the word retirement, he started at Revolution, in 2021, and his very last match will be at Revolution, in 2024. He says the key thing is that his retirement in 2024 is for sure. 
JR Interviews Nick Wayne And His Mother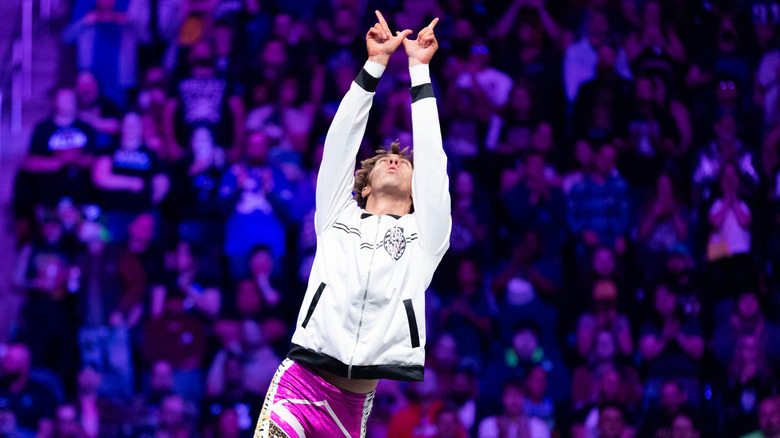 AEW
Toni Storm then shows her life's work in 'Gone With The Storm.'
Jim Ross sits down with Nick Wayne and his mother and she admits it was shocking what went down with her son and Darby Allin as he has been like a brother. She says it's out of character, and the things that Christian Cage has said about his father. She doesn't recognize her son right now, she puts her hand on his leg but he pushes it away. He says it was always Darby getting congratulated so he's proving why he's here. He has a new father figure now, better than his father ever was. Cage then turns up and they walk away which leads to her slapping him as he says she is dead to him. 
However, as they leave the room Allin lays out Cage and then attacks Wayne as well. The brawl continues into the arena with Sting coming to level the numbers with the heels escaping away. 
Renee Paquette is backstage with Best Friends as Kris Statlander says she's proven her title is about great wrestling. She's giving a title show to someone who deserves it and someone she respects, Willow Nightingale. Orange Cassidy says he didn't understand the saying, 'You don't know what you've got till it's gone,' until he lost the AEW International Championship. He sees unfinished business, and this Saturday he has something to prove.
Dynamite Dozen Battle Royale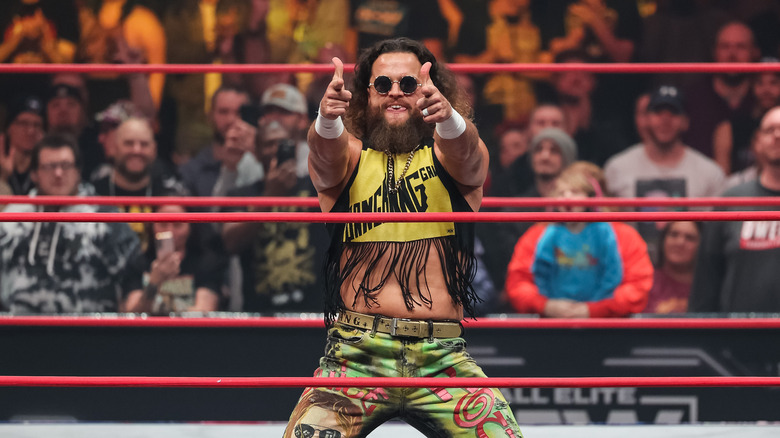 AEW
Immediately Johnny TV eliminated Matt Sydal, bouncing off the top rope to then do a head scissors to take him out. TV then dances and while Daniel Garcia teases doing the same Jeff Hardy takes him out and then dances. Meanwhile, Matt Hardy and Dustin Rhodes work together to eliminate TV. Matt Hardy attempts to jump from the second rope onto Jake Hager, but he catches him and then dumps the veteran out of the ring. 
Meanwhile, MJF heads down to the ring and offers Rhodes some money, and he then takes the fight to Juice Robinson as he nails Shattered Dreams. In the other corner, Hager takes the right to Kommander but he hangs on and then he springboards with a dropkick to Hager. However, he gets caught by Daddy Magic and Garcia in mid-air and they dump him out of the ring. 
Rhodes then drops Garcia with a Canadian Destroyer and he then hugs Trent, but Hager breaks that up by attacking them. However, Rhodes then sends him over the top rope and Trent charges and knocks him off to eliminate Hager. Trent and Daddy Magic then trade chops on the ring apron but Garcia saves his partner and Magic eliminates Trent. Jeff Hardy tries to attack Magic, but he then gets dumped out by Garcia. He tries to dance but Magic says no and they then begin arguing, but ultimately work together to attack Rhodes. 
However, Rhodes manages to eliminate Magic, but before he can turn around Garcia throws him out, leaving just Garcia, Max Caster and Robinson left. Garcia dances but that leads to Caster eliminating him. Caster and Robinson then brawl with the Bullet Club Gold star hanging onto the ropes on the apron, but he fires back by attacking him in the midsection. 
Both men then end up on the apron going back and forth with punches until they head back to the ring with Caster nailing a Mic Drop. Meanwhile, White attacks MJF, and the two of them brawl on top of the stage as the champion gets his belt back only for White to hit a low blow. Caster is distracted and Robinson gets out his ring and nails Caster with it as he then dumps him out. 
Winner: Juice Robinson