Wrestlers Immediately Axed After A Match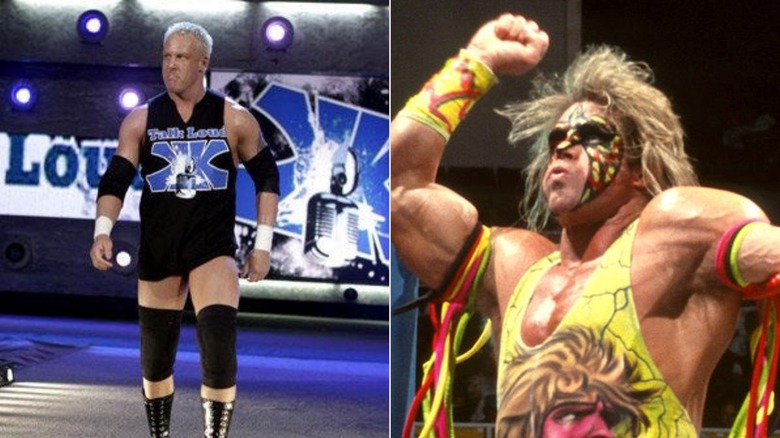 WWE
Pro wrestling often throws curveballs the way of its performers. Talent releases and contract expirations are commonplace across all the major promotions. WWE has a reputation of major cuts every so often, with the latest batch of releases seeing the likes of Dolph Ziggler, Shelton Benjamin and Mustafa Ali all let go after extended tenures. On the flip side, AEW has gone the route of allowing contracts to expire as opposed to terminating them.
But what wrestlers certainly couldn't be prepared for is being fired immediately after a match — whether it be at a live event, on weekly television, or during a pay-per-view. Here, we will take a look back through history at wrestlers who have been axed in the wake of a match.
Mr. Kennedy (2009)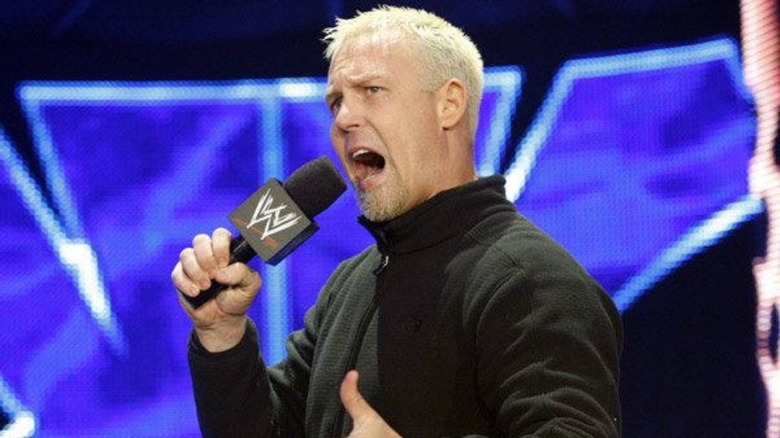 WWE
Wrestling fans from the mid-2000s will undoubtedly remember Mr Kennedy. The brash, loud-mouthed, and bleach-blonded Green Bay native looked poised to become a breakout star in WWE for a number of years, with his quick call-up from Ohio Valley Wrestling to the main roster leading to plenty of early success. That included capturing the United States Title and the Money in the Bank briefcase. 
Unfortunately, his run with the company would come to a premature end following a 10-man tag team bout on an episode of "WWE Raw" in May 2009. During the match, Kennedy would accidentally drop Randy Orton in an awkward fashion on the back of his neck. In the aftermath, "The Viper" would blast Kennedy for the mishap and go straight to Vince McMahon to express his frustration at the incident. He also convinced fellow main event superstar John Cena to raise concerns over Kennedy's performance. A few days later, Kennedy was gone from the company and has never returned — instead working with Impact Wrestling and on the independent scene throughout the 2010s. 
In an interview with WrestleZone following his departure, Kennedy admitted there were a number of issues leading up to his eventual exit but believes the complaints from Orton and Cena were the final straw for his time in WWE. "I wouldn't say that's what got me fired because there were so many other things before that ... it was like they were looking for a reason to get rid of me," he said. 
Brad Maddox (2015)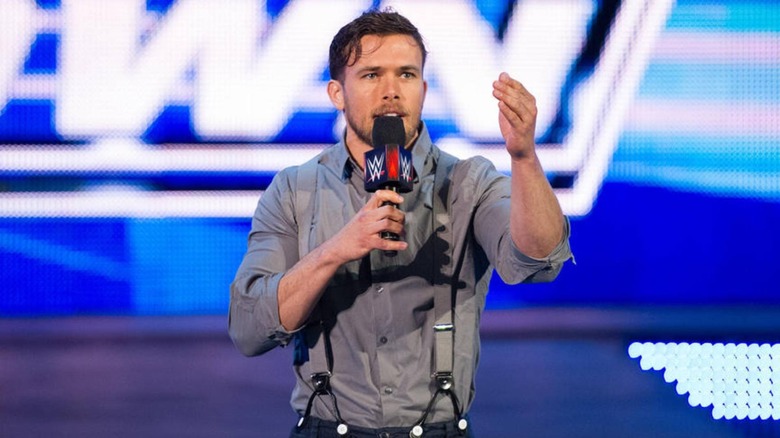 WWE
For a number of years in the mid-2010s, one of the most despised heels in WWE was none other than Brad Maddox. After coming through the developmental program, the 39-year-old was called up to the main roster as a referee instead of an in-ring competitor. During a Hell In A Cell bout between Ryback and CM Punk in 2012, Maddox would turn heel before going on to become the Raw General Manager for a number of years. 
After finishing up in his role as an on-screen authority figure, Maddox would begin working as a wrestler once again, mainly competing in undercard matches on the house show circuit and on "WWE Main Event" — in both singles action and in a tag team with Adam Rose. During a live event match in November 2015, Maddox would lean into his heel persona and begin trash talking the crowd in a standard manner. However, he would take things too far when he referred to the audience as "cocky pr*cks." He was released from his contract with WWE in the immediate aftermath by Vince McMahon. 
Maddox would wrestle one match on the independent scene after his abrupt WWE exit before fading out of the limelight and returning home to South Carolina.
Eugene (2009)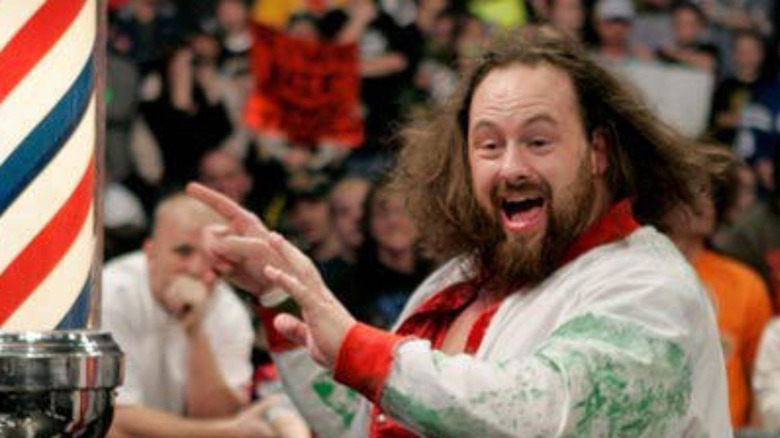 WWE
Nick Dinsmore's Eugene persona came to an abrupt end following a match with The Miz on an episode of "WWE Raw" in August 2009. In a Contract on a Pole Match with The Calgary Kid — who was just The Miz in a mask and costume — the babyface would fall short. Four days later, he was released by WWE for the second time in his life. Various reports in the aftermath indicated that Vince McMahon wasn't impressed with Eugene's weight and performance, leading to his sudden departure.
Dinsmore would later return to WWE in a coaching role for "NXT" in September 2013. However, he would last just one year before being let go yet again. After moving on from WWE, Dinsmore would work the independent scene across the United States, including running his own promotion in South Dakota, before retiring from active competition in 2021. 
Buff Bagwell (2001)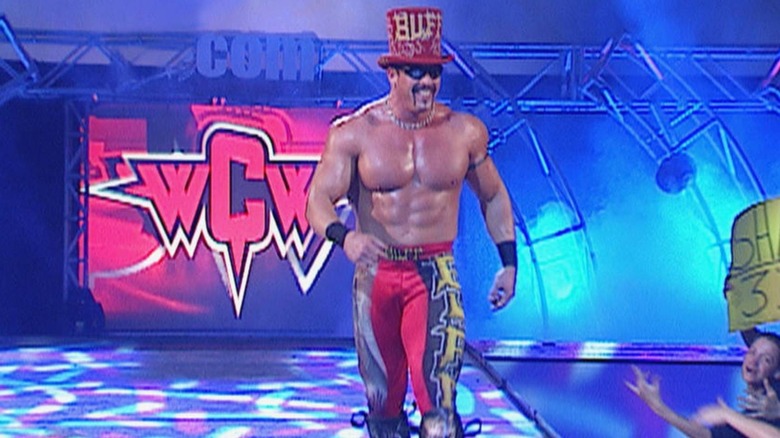 WWE
Perhaps one of the most infamous firings in WWE history — the sudden release of Buff Bagwell in 2001 — has been well-documented over the past two decades. 
After WWE purchased WCW, a main event bout on "Raw" between Bagwell and Booker T occurred for the World Heavyweight Championship. The match would end in a no-contest after interference from "Stone Cold" Steve Austin and Kurt Angle. But many would criticize the encounter with one describing it as "the worst match ever" at the time. It would be the only match with the promotion Bagwell ever had. 
One week later, Bagwell would arrive at the "Raw" television tapings and be informed that his time with WWE would be coming to an end immediately. His efforts in the clash with Booker T, in addition to backstage attitude issues and an altercation with Shane Helms, were to blame. 
There were also reports that Bagwell faked an injury prior to the "SmackDown" tapings the night after his match with Booker T — a story which he has since denied. The initial plans for WCW and WWF were set to have them as separate brands, but the Bagwell experience ultimately led to that idea being scrapped. 
After being let go by the company, Bagwell would work for TNA sporadically and wrestled on the independent scene for 20 years. 
Cain Velasquez (2019)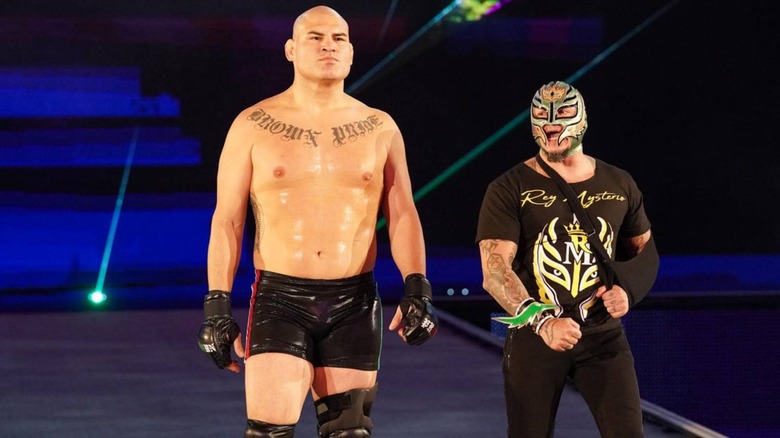 WWE
WWE and real sports have long gone hand-in-hand over the past five decades. The likes of Mike Tyson, Lawrence Taylor, Floyd Mayweather, and Rob Gronkowski have all had featured roles at WrestleMania, and former two-time UFC Heavyweight Champion Cain Velasquez looked to follow in their footsteps.
After retiring from MMA in 2019, Velasquez would begin working for the Mexican-based organization AAA. There, he had two matches before signing by WWE later that same year. He debuted alongside Rey Mysterio in October on "WWE SmackDown" to confront his former UFC rival Brock Lesnar. In his debut match for the company at Crown Jewel 2019, the 41-year-old would challenge for the WWE Championship, losing in just over two minutes. Velasquez was initially planned to appear at the Royal Rumble in January 2020 but succumbed to an injury and was released from his contract in April at the beginning of the COVID-19 pandemic.
Velasquez returned to the ring for AAA in 2021. However, his initial comeback was cut short after being charged with attempted murder relating to an incident in February 2022. Velasquez would ultimately be released on bail and allowed to compete for AAA once again in November last year as he awaits a trial date in 2024.
Abraham Washington (2012)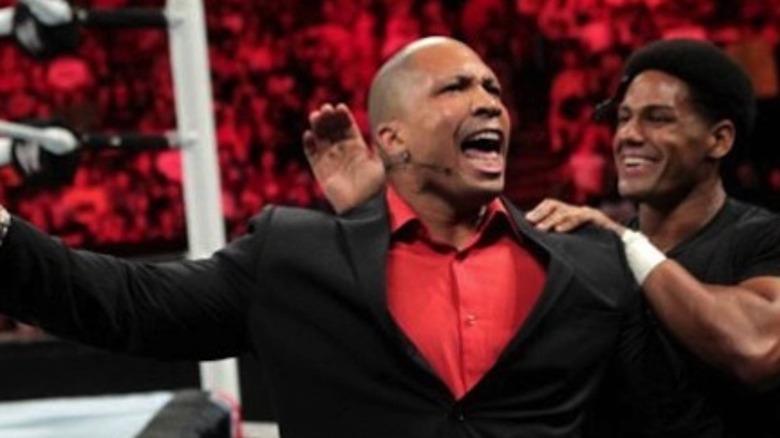 WWE
Abraham Washington had a short but controversial run with WWE as an on-screen figure. After signing with the company in 2009 and sporadically working in the developmental system of FCW, he hosted a talk show and becoming the show's general manager. Washington would arrive on the main roster for a brief period in ECW brand before moving back to developmental shortly after.
Washington would earn his most prominent position with WWE in 2012, starting a kayfabe talent agency known as All World Promotions. He would initially act as a manager for the tag team of Primo and Epico before turning on the pair to link up with Titus O'Neill and Darren Young — The Prime Time Players. On a July 2012 episode of "WWE Raw" that year, Abraham would make a tasteless joke ringside during a match when he said that "O'Neill is like Kobe Bryant at a hotel in Colorado — he's unstoppable". Moments after the incident, WWE commentator Michael Cole would apologize on-air; Washington took to his own social media in an attempt to diffuse the situation.
Unfortunately, his time with the company would end just 11 days after the poor attempt at humor. Washington claimed he had "no malicious intent" despite the clear reference to the late NBA legend's 2003 sexual assault charges. After moving on from WWE, Washington has worked on the independent scene in North America. 
Chavo Guerrero (2013)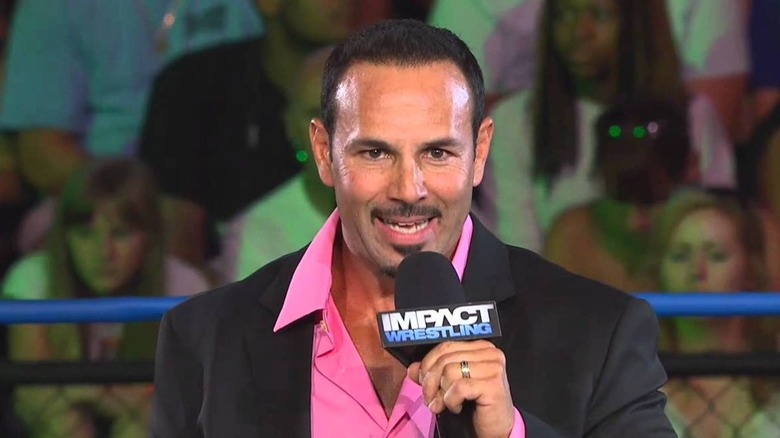 IMPACT Wrestling
Chavo Guerrero's time with TNA came to an abrupt end in 2013 after a messy on-screen and backstage scenario. The third-generation wrestler was already an established name by the time he began appearing in the Impact Zone, having worked with both WCW and WWE for close to two decades in a variety of roles. Chavo — the nephew of the late Eddie Guerrero — would sign with TNA in 2012, feuding with a number of the promotion's top stars and gaining tag team gold with Shawn Hernandez.
After the pair split up and began feuding on-screen, Guerrero would collect one of the four briefcases in a Feast or Fired bout. However, in the aftermath of the contest, it was revealed Guerrero captured the briefcase containing a pink slip and the company was hoping to legitimately fire him. Guerrero would bring a lawyer into the equation to void the potential real-life axing but would end up quitting due to feeling disrespected by the situation. 
Following his departure from TNA, Guerrero would go on to work with Lucha Underground for five years before a short stint with AEW as the manager of Andrade El Idolo. 
Teddy Hart (2003)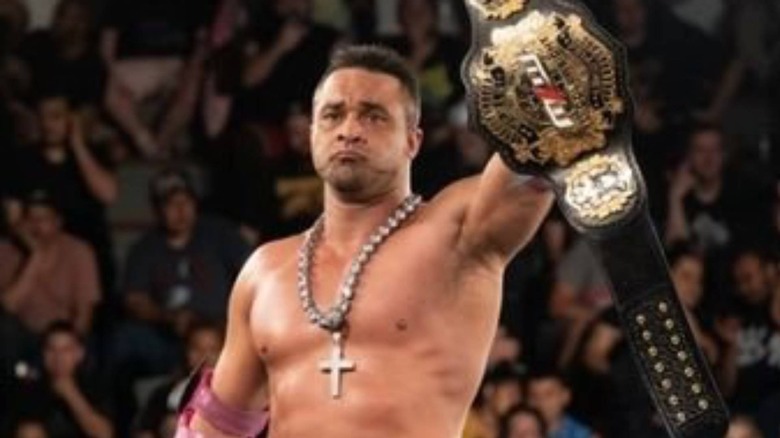 Twitter
A member of the legendary Hart Family and the grandchild of Stu Hart, Teddy Hart was signed to WWE in the late '90s on a developmental contract — the youngest to ever receive a deal at the time. But he was let go before ever appearing on television due to attitude problems. 
In the wake of his WWE departure, Hart would make the jump to upstart promotion Ring Of Honor but lasted less than three months. Following a losing effort in a Steel Cage Match in New Jersey in November 2003, Hart would begin to scale the structure and perform high-flying moves including a shooting star press and moonsault off the top to some unsuspecting wrestlers below. Hart would subsequently be fired by ROH for his antics, which he later attributed to suffering a concussion during the bout.
In the years that followed, Hart would return to WWE on a handful of occasions before wrestling two more matches with ROH. The 43-year-old has since worked across the United States and abroad on the independent scene, in addition to stints with both TNA and MLW. 
Arn Anderson (2019)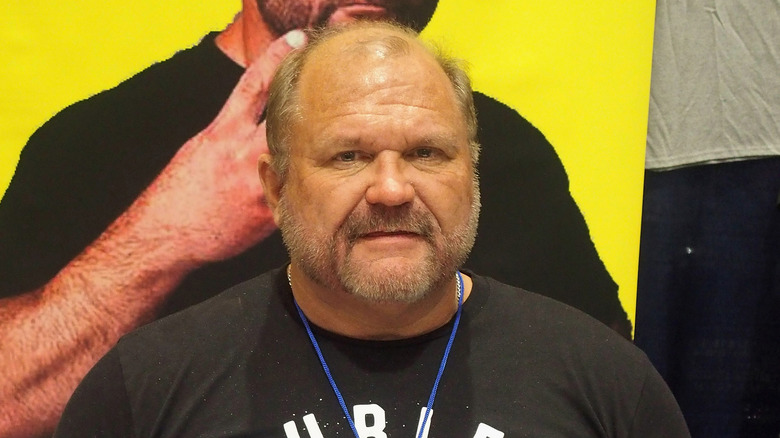 Bobby Bank/Getty Images
During a live event match in February 2019, former WWE star Alicia Fox would allegedly turn up for her match intoxicated. Despite the obvious issue, Arn Anderson would allow Fox to walk through the curtain and compete in the match, which ultimately led to him being dismissed by WWE in the days that followed.
During an appearance at Starrcast II, Anderson briefly touched on his release from WWE, concluding that he was no longer wanted by WWE while refusing to go into details of the incident with Fox due to an NDA. His abrupt exit ended a lengthy association with the company, but ultimately the decision was one that Anderson was at peace with due to the workload and hours that came with being employed by WWE. 
Since moving on from his role with WWE, Anderson has worked on a full-time basis with AEW as a coach and on-screen manager for the likes of Cody Rhodes and his son Brock.
The Ultimate Warrior (1991)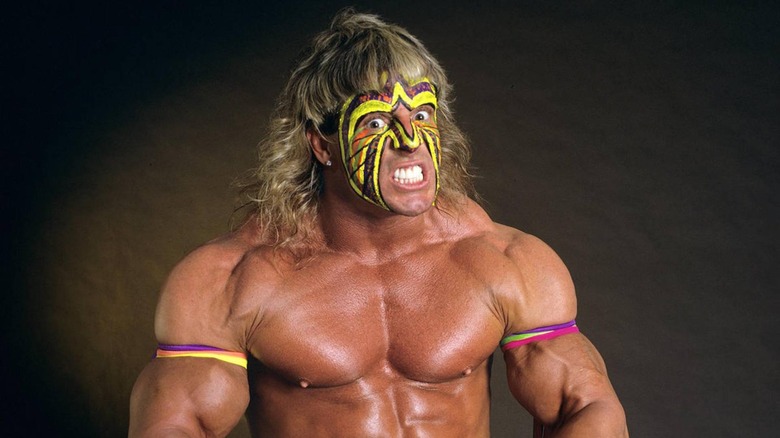 WWE
The Ultimate Warrior had an extremely toxic relationship with WWF during his various tenures. The man behind the facepaint had a tumultuous fallout with Vince McMahon in the early-1990s, leading to his first departure from the promotion in messy, high-profile fashion. 
In the lead-up to SummerSlam, Warrior was involved in a pay dispute with McMahon. That changed the initial plans for the show, which initially had him slated for a showdown with Jake "The Snake" Roberts. Instead of a high-profile singles match, Warrior would team up with Hulk Hogan. But immediately after the bout, he was informed that he was suspensed for jeopardizing the pay-per-view due to his demands and threats.
"You threatened to stay at home thereby not even appearing at Titan's major summer pay-per-view event SummerSlam," the letter stated. "I had no choice but to accede to your exorbitant demands. This was a serious mistake on your part."
Warrior would return to the company briefly in 1992, but the crackdown on steroids in wrestling led to yet another departure. His final run with WWF came in 1996. He would defeat Triple H at WrestleMania 12 but again have a falling out with McMahon after missing several house shows. The majority of his issues with McMahon were spotlighted in the 2005 WWE-produced documentary "The Self-Destruction of The Ultimate Warrior." The pair ultimately patched things up in 2014 prior to his sudden passing — just two days after his public appearance on "WWE Raw" and three days after his Hall of Fame induction. 
Kurt Angle (2006)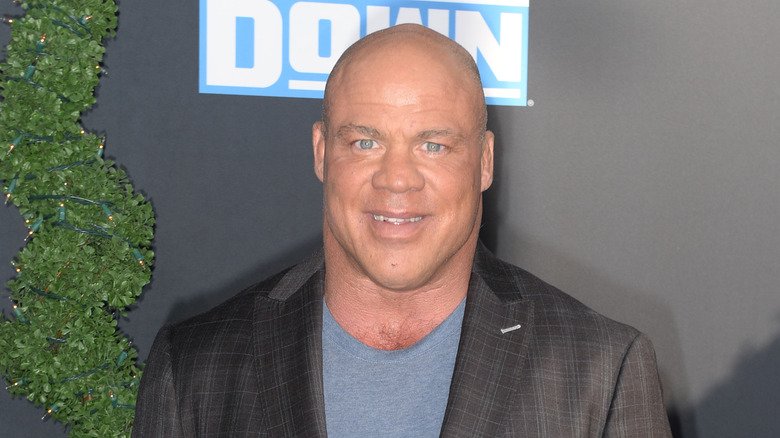 Jerod Harris/Getty Images
This is an interesting addition to the list, especially given the career Kurt Angle had and his likeable personality. After winning an Olympic Gold Medal — with a broken neck, no less — Angle signed with WWE in 1998, went on to have one of the greatest rookie years in the history of the business, and became a multi-time world champion with the company.
However, the pace and intensity at which Angle performed would eventually take a toll on his body and following a match with Sabu on the re-branded version of ECW in August 2006, the Pittsburgh native went directly to WWE boss Vince McMahon and asked for his release. With a build-up of injuries stemming from both his amateur and pro wrestling tenures, Angle was desperate to move on from the hectic schedule WWE superstars were expected to perform at on a weekly basis and forced the issue with McMahon, who obliged given the pair's tight-knit relationship. 
Later that year, Angle joined TNA and become an instant main-event attraction for the secondary promotion, feuding with the likes of Samoa Joe and AJ Styles, before ultimately returning to WWE for a Hall of Fame induction and retirement tour from 2017 to 2019. Since hanging up the boots, Angle has appeared sporadically for WWE in non-active roles and has remained in the public eye with his self-titled weekly podcast. 
Peyton Royce (2021)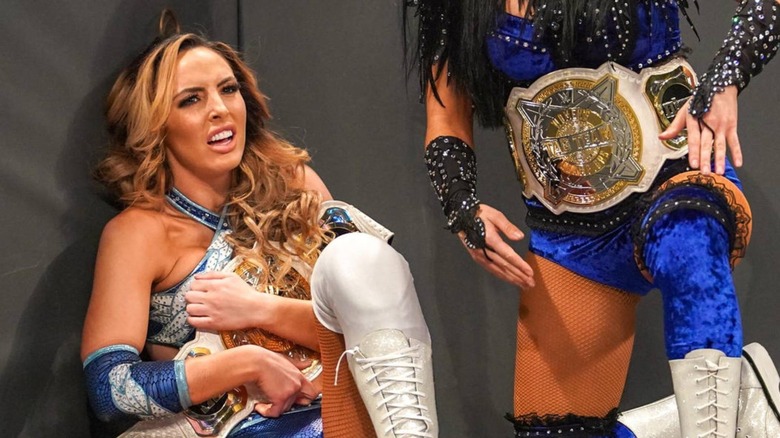 WWE
A groundbreaking Australian star who set the stage for a number of her fellow compatriots, Peyton Royce — aka Cassie Lee — had a mixed tenure with WWE after first signing with the company's developmental program in 2015 alongside her close friend and tag partner, Billie Kay (Jessica McKay). The pair burst onto the scene during the hottest period of NXT, competing in both singles and tag team competition as The IIconics, before earning a main roster call-up in April 2018. Royce and Kay went on to capture gold together at WrestleMania 35 the following year, before ultimately splitting up and going their separate ways on-screen in August 2020.
With the hopes of a singles push dissipating in the midst of the COVID-19 pandemic, Royce took to WWE's weekly post-show "Raw Talk" to vent her frustrations, claiming that she was 'haunted by her own potential' in the wrestling industry. Her promo — which many believe had at least some elements of truth behind it — led to an opportunity against champion Asuka on the March 2021 episode of "WWE Raw," which saw the Aussie come up short. Unfortunately, her performance in the match after pushing for an opportunity wasn't enough to convince the promotion's decision-makers and Royce was released by WWE.
Since her departure, Royce has worked under her previously-used name with IMPACT Wrestling and across the independent scene, while also taking time away from active competition to start a family with her husband, AEW stalwart Shawn Spears.