Former WWE Star Melina Explains How Managing First Made Her A Better Wrestler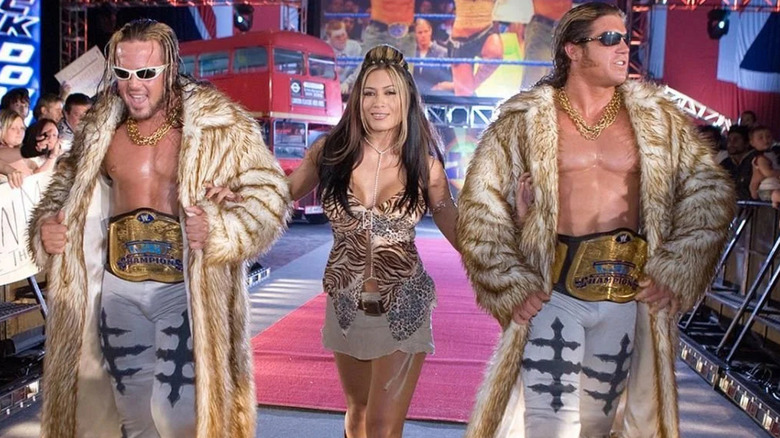 WWE
Melina was primarily designated as the manager for Johnny Nitro and Joey Mercury before she ever made her in-ring debut on WWE television. Collectively, the trio was known as MNM. And though her initial ambitions were heavily focused on competing inside the squared circle, Melina admits that her managerial experience actually shaped her into becoming a better wrestler in the long run.
Speaking with "Wrestling Shoot Interviews," Melina recalled the benefits of working as a manager in WWE at the start. "The skills I learned as a manager really blew my mind. It is an art form. I don't know if it gets taught the same way, but it's a beautiful art where I sit there, and I used to get yelled at a lot by mostly the girls [saying] 'You just want to hang out with the guys.' No, when they go over their matches, I stand there and I go over the matches with them," she shared. "I need to know what they're doing, where they're at, what the moves are –- I have to know every little thing. I have to know the guys on the other side, on the other team. I have to know every single person's movements because if somebody gets hurt, if somebody forgets, I have to know where to go, what to do, what's next, talk to the ref, all these beautiful details. To me, it helped me more when it comes to learning how to wrestle."
Despite her initial hesitation to serving in such a role, what she learned there eventually laid the path for her to become one of the company's most decorated women's champions with five title reigns to her name.
If you use quotes in this article, please credit "Wrestling Shoot Interviews" and provide an h/t to Wrestling Inc. for the transcription.