AEW Dynamite Results (10/25): MJF Faces Robinson, Two Title Matches, Okada In Action
This is Wrestling INC.'s live coverage of "AEW Dynamite" for October 25, 2023!
Tonight's show will see the issues between MJF and the Bullet Club Gold members continue as the AEW World Champion competes against "Rock Hard" Juice Robinson. The Dynamite Diamond Ring will be on the line here after Robinson won the battle royal last week, and he has promised to win the ring and turn it into another tooth for himself.
Meanwhile, there will be two title matches on the show, with the ROH World Six-Man Championships being defended as The Young Bucks and Adam Page compete against The Hardys and Brother Zay.
Hikaru Shida will also put the AEW Women's World Championship on the line as her issues with The Outcasts continue. After taking the title from Saraya to kickstart her third reign, she will now defend the gold against Ruby Soho, who is continuing to try and claim her first title since joining the company.
Elsewhere, Swerve Strickland is set to address Page as he continues to explain their issues, while Chris Jericho is going to have a sitdown interview with Renee Paquette as he reflects on his recent defeat against Powerhouse Hobbs and his ongoing issues with the Don Callis Family.
There is also a major tag team match set as Kazuchika Okada will be stepping into an AEW ring to team with Orange Cassidy against Blackpool Combat Club members Bryan Danielson and Claudio Castagnoli.
In another tag team bout RVD will be making his return to AEW as he once again teams with HOOK as the duo faces John Silver and Alex Reynolds.
Finally, after announcing his retirement date last week Tony Khan has a gift for Sting.
MJF vs. Juice Robinson (Dynamite Diamond Ring Match)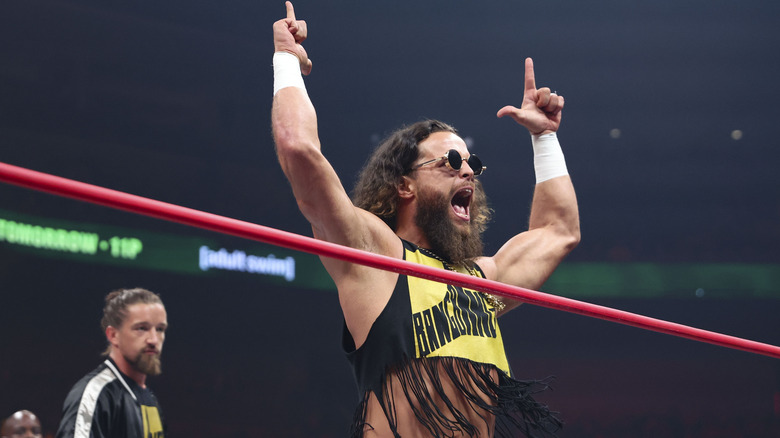 AEW
Tonight's "AEW Dynamite" starts with MJF backstage with Renee Paquette. Roderick Strong appears and says he will help him with his Bullet Club Gold problem, but MJF just rolls him away. He then says he is coming to deal with his Jay White problem, and he has a bullet with Juice Robinson's name on it, but then the camera switches to the mystery devil mask which simply nods along.
When the bell rings MJF immediately takes Robinson down and begins stomping away on him in the corner as he then launches him into the barricade and over the timekeeper's table. He then catapults Robinson face-first into the ring post which busts him open as the AEW World Champion then slams him off the steel stairs. However, he then gets distracted by The Gunns, and that allows Robinson to trip him into the stairs as he then DDT's MJF onto the apron.
Robinson slowly remains in control while Jay White comes out to watch from the commentary table. However, when The Gunns try to distract the official MJF uses his scarf to choke Robinson which he follows with some clotheslines and a bodyslam. MJF then nails the Kangaroo Kick, but as he tries to dive out of the ring The Gunns trip him which allows Robinson to return with a big boot.
MJF then avoids another big boot but he then gets spat on and powerbombed, only for MJF to kick out of the pinfall attempt. Robinson avoids the Heat Seeker, but MJF dives out of the ring to wipe out The Gunns. He then catches Robinson in the ring skirt as he rakes Robinson in the eyes, but Robinson hits the Juice Is Loose back inside the ring, yet MJF kicks out once more. 
The Gunns end up distracting the official which allows Robinson to try to use his ring, but MJF clocks him with the real Dynamite Diamond Ring and then the Heat Seeker to retain. 
Winner: MJF
After the match, The Gunns attack MJF until The Kingdom turns up to try and help, only for them to be sent out of the ring. The Acclaimed then hit the ring and chase Bullet Club Gold away. White tells MJF he will never get his hand on his title again. The Gunns then challenge for an ROH World Tag Team title shot, and MJF agrees to it at Full Gear, while also saying next week it'll be an eight-man tag team match and he will get his triple B back.
Roderick Strong then says MJF will obviously pick them, but MJF tells him to roll off a cliff. Max Caster then says that means he will pick them, but MJF says he wouldn't tag with him even if his body was on fire. Caster says that means there's a chance and he wants to scissor, but MJF just shuts them.
Kenny Omega then appears and makes it clear he wants an AEW World Championship shot. MJF says they can do it this Saturday night at "AEW: Collision."
RVD & HOOK vs. John Silver & Alex Reynolds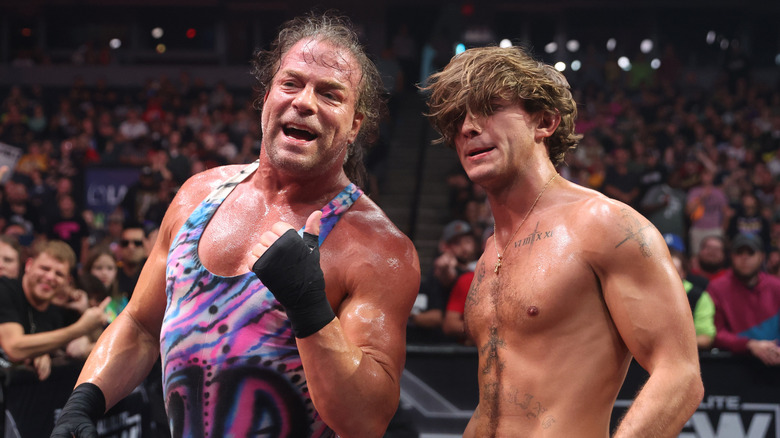 AEW
A video package is shown of Wardlow explaining he had to watch MJF become the name of the company, see the man he beat main event the biggest show in the history of the business. That changes a man. He has felt the devil's claws dig deeper into his back and now MJF has nothing to take from him, so he will take everything from him. 
Alex Reynolds talks trash to HOOK early on, but he immediately gets brought down to the mat as HOOK controls his arm until tagging in RVD. The Dark Order ends up taking over though after RVD turns his back and John Silver comes in to attack him only for RVD to flip him across the ring. RVD and HOOK then work together and send both of their opponents outside the ring.
RVD brings HOOK in who starts attacking the arm of Silver, but the numbers game eventually distracts HOOK, who gets sent to the floor. Silver connects several round kicks while Reynolds then tags back in only for Silver to immediately make a blind tag and powerbomb him onto Renyolds' knees. HOOK turns things around with a Northern Light's release and RVD tags in and lights Silver up with a thrust kick.
He follows it up with Rolling Thunder, but Reynolds breaks the pinfall and then attacks the veteran. RVD attacks him with a suplex and then a kick to Silver as HOOK comes back in with some crossfaces. The official then gets distracted as Evil Uno tries to use a chair but RVD boots it in his face before attacking Reynolds. He then nails a Five-Star Frog Splash while Silver is locked into Red Rum. 
Winners: HOOK & RVD
The next Toni Storm black and white picture is shown as they tease her 'Hollywood Homecoming' for Full Gear while Luther is shown as her butler.
Tony Khan's Gift For Sting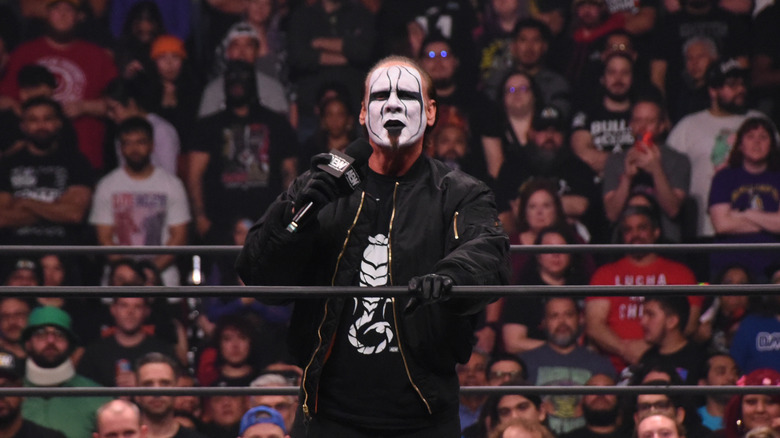 AEW
Tony Schiavone is shown in the ring as he welcomes Sting and Darby Allin. Sting wants to thank two people he forgot last week, he thanks Allin, saying he couldn't have come this far without him by his side and he's the best tag team partner he ever had. He also wants to thank Tony Khan for letting him wrestle a little longer. Schiavone speaks on behalf of Khan and thanks Sting. He then brings out Khan's 'special gift' which is Ric Flair!
Flair says there are few and far between magical moments, but it's what makes you the best. 35 years ago, Sting and he made history on TBS at the first Clash Of Champions, and to go 55 minutes is hard but Sting never took a deep breath. He says Sting is not only one of the biggest celebrities in AEW, but one of the nicest guys he has ever known. 
When he got an invite from Tony Khan to be here he couldn't say no, and he wants to be here the whole journey all the way to his retirement. Flair then drops a "Woo." However, Christian Cage interrupts him and says Khan is a billionaire and this is the gift he gets. He gave him a suit, gold chains, and a black liver. He says it's impressive that he doesn't look like Weekend At Bernie's.
Cage says he knows Flair isn't dead, and he knows there isn't a God because if there was Flair would be dead 20 years ago. He says this situation won't go away until he makes it. He knows Sting wants to make it to AEW Revolution, it's a beautiful picture, but he sees it differently. He wants him gone right now. He suggests Sting and Allin get a partner and at Full Gear it won't be a celebration, it will be more like a funeral. Sting accepts it after saying he's allergic to jackasses.
The Young Bucks & Adam Page (c) vs. The Hardys & Brother Zay (ROH World Six-Man Tag Team Champions)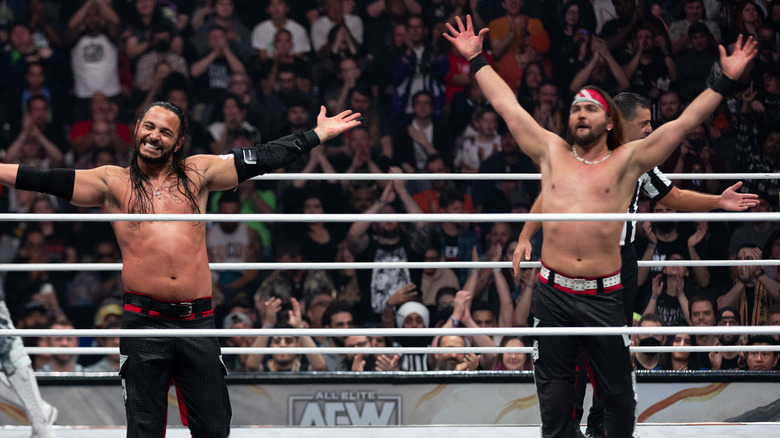 AEW
Chris Jericho admits the thing that's hurting the most for him is his ego, when speaking with Renee Paquette. Jericho says he is always reflecting, and he's always had immense self-confidence in knowing he could beat anybody. He didn't see it coming against Powerhouse Hobbs, does he still have what it takes to beat Hobbs? Is it time to step back? Or is it time to get stronger and know that he's Chris F'in Jericho. Is it time to get revenge?
Don Callis has a lot of friends, but Jericho has a lot of friends too, and some are even bigger than Hobbs, maybe it's time to give them a call.
The Young Bucks start out hot against Brother Zay, launching him around the ring as Adam Page jumps in with a clothesline leading to Matt Hardy tagging in. Jeff Hardy takes a cheap shot to Matt Jackson after he tags in with a knee to the back, while Zay launches himself over the top rope to take out the rest of the champions. Jeff then tags in and begins attacking the arm of his opponent while he cuts the ring off.
He gets ready to hit his classic leg drop to Matt but Nick Jackson superkicks him, only for Jeff to fall down onto him anyway. Matt Hardy then tags in and catapults Matt Jackson neck-first into the second rope before missing with a second rope move which leads to Jackson hitting a double Northern Light's suplex to Hardy and Zay. Page tags in and immediately take the fights to the challengers, taking all three men down.
He nails a Death Valley Driver to Zay, but he's able to kick out. He aims for Deadeye but Zay hits Silly String with Jeff which turns things around. Nick and Jeff tag in but The Elite star rocks all of his opponents with superkicks. Matt then comes, but Zay gets the best of both of them with a flurry of moves. Jeff then nails Matt Jackson with a Twist Of Fate and holds him while Zay launches off his back to take the rest out. Meanwhile Hardy nails a Swanton Bomb but Nick makes the save. 
The Elite turn things around quickly though as Page nails a Buckshot Lariat to Zay while The Young Bucks take down The Hardys with superkicks. Zay gets hit with the BTE Trigger to end the match.
Winners (and still champions): Adam Page & The Young Bucks
A video is then shown of Swerve Strickland and Prince Nana entering Adam Page's house. He rips some of his children's drawings and he then goes into Page's child's bedroom, with Nana telling him he doesn't like the idea. Page says Page owes him a debt, so he questions if Hangman Jr. will pay him the debt. He leaves the baby a t-shirt as a reminder that they're always indebted to him. 
Hikaru Shida (c) vs. Ruby Soho (AEW Women's World Championship Match)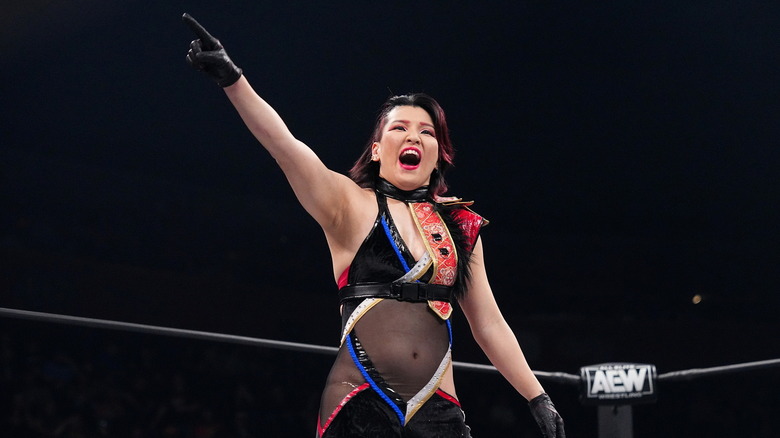 AEW
Adam Copeland tells Renee Paquette he still doesn't want to fight Christian. Darby Allin turns up and says that's not the world we are living in, it's kill or be killed here. Sting then says he can't believe we are having this conversation and Copeland needs to take his blinders off. He learned how to see through guys like Christian, and he tells Copeland to open his eyes.
Hikaru Shida manages to catch Ruby Soho with a crossbody which she follows with a bodyslam. However, Soho responds by driving the champion down and the two women then roll through around the ring trying to pin each other. Shida then takes the fight to Soho with a series of punches in the corner before a dropkick that sends the challenger out of the ring. 
However, as Shida attempts to get out of the ring Soho hits her with No Future, pulling Shida down to the floor. Back inside the ring, Soho headbutts Shida before just standing on her to add insult to injury. The champion responds with a sharp running knee and both women are then down. Shida then nails a running forearm, but as she climbs to the top turnbuckle Soho counters and throws her off and down to the mat. 
Soho then gets the spray paint but throws it to Shida and pretends the champion used it. She then grabs the title and attempts to hit Shida and she sprays the belt. Aubrey Edwards pulls it away only for Soho to use her tape to choke Shida into the Destination Unkown, but Shida kicks out. She then nails Soho with a knee strike and a falcon arrow, but as she goes for a pinfall Soho reverses only to be sent into the exposed turnbuckle. Shida hits the Katana and retains.
Winner (and still AEW Women's World Champion): Hikaru Shida
Post-match Toni Storm and her butler, Luther, appear staring down the champion. 
MJF is then shown backstage as Samoa Joe says he will be MJF's friend, and he agrees. However, Joe will do it on one condition, and that's to give him a title rematch.
Bryan Danielson & Claudio Castagnoli vs. Kazuchika Okada & Orange Cassidy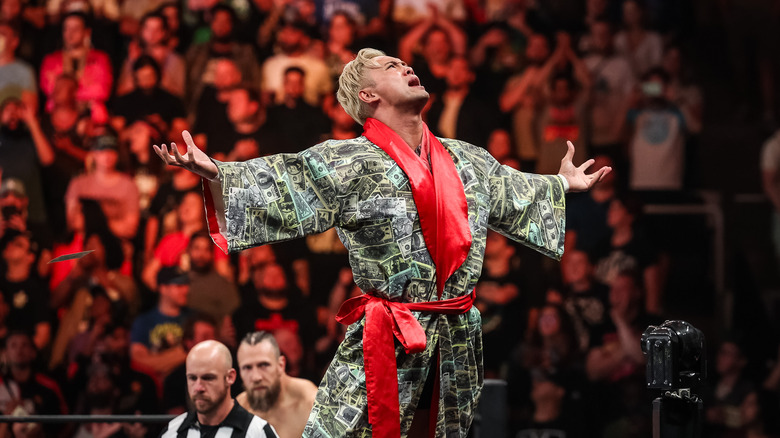 AEW
Orange Cassidy tries to put his hands in his pockets, but Bryan Danielson stops it by kicking him and he then stomps away on the elbow of the AEW International Champion. Claudio Castagnoli then tags in and launches Cassidy across the ring as he then drives him down to the mat and mocks his kicks repeatedly until Cassidy tags out. 
Kazuchika Okada steps in and the two men compete in a battle of strength until the NJPW star brings him to the mat. He then charges toward Danielson, but he jumps down from the apron and Okada turns into a big uppercut as they go back and forth with them. Cassidy tags back in only to be sent into the top turnbuckle with Castagnoli powering him up into the air to drop him on the top rope. 
Danielson tags back in and drives his knee down onto Cassidy as he dangles on the top rope. The "American Dragon" then grounds Cassidy to the mat with a series of submissions while driving his knees into him repeatedly. Castagnoli comes in and Cassidy sends him outside, but just as he's about to tag the Blackpool Combat Club member crawls in and denies it, but Cassidy does drop him with a DDT when countering an uppercut.
Danielson and Okada then tag in and they begin exchanging chops and forearms as Danielson lights him up with a few strikes, but Okada responds with a running back elbow and then a DDT. He drops Danielson face-first, but he responds with his traditional kicks, missing with the last one which allows him to be rolled up. Despite that Danielson reverses out into the LeBell Lock, but Okada gets out. Both men then go for their finishes but aren't able to hit them while they then have the same idea and run into each other in the middle of the ring. 
Cassidy and Castagnoli then tag in and the champion unloads with a series of kicks, but he when he goes for another DDT he gets reverses into the Giant Swing, but Cassidy has a counter for it and nails Stundog Millionaire. Cassidy misses with the Orange Punch and that sets up the Giant Swing. Okada gets back in the mix to help out his partner and ends up connecting with the Rainmaker. 
He hits his classic pose but Cassidy hugs him at that point only for Danielson to attack them both. A flurry of moves from everyone starts to clear the ring out as Danielson is nailed with the Orange Punch and a Rainmaker, but Castagnol removes Okada and then nails a huge uppercut. 
Winner: Claudio Castagnoli & Bryan Danielson
Post-match, Danielson sells an injury that led to all of the Blackpool Combat Club members appearing as they end up staring down their opponents.