WWE SmackDown Results 10/27 - Crown Jewel Contract Signing, John Cena & Bianca Belair Speak
Welcome to Wrestling Inc.'s results for "WWE SmackDown" on October 27, 2023, coming to you live from the Fiserv Forum in Milwaukee, Wisconsin!
With WWE Crown Jewel quickly approaching, Roman Reigns and LA Knight will put pen to paper and make their Undisputed WWE Universal Championship match at the upcoming Premium Live Event official. Tensions between the two have been on the rise over the past few weeks, most recently coming face-to-face with each another during Reigns' last televised appearance on the October 13 episode of "SmackDown".
While on the subject of The Bloodline, it was announced earlier today that Solo Sikoa will be squaring off with John Cena on November 4 as a result of the issues between Cena and the stable over the past few weeks. In light of that, Cena has something on his mind to share.
Bianca Belair hadn't been seen on WWE television since late August, but made her return to programming last week when she saved Charlotte Flair from an attack at the hands of Damage CTRL after she unsuccessfully challenged IYO SKY for the Women's Championship. Tonight, Belair will be addressing the WWE Universe for the first time since.
Before he defends his United States Championship against Logan Paul at Crown Jewel, Rey Mysterio will be joining forces with his LWO teammate Santos Escobar to take on Montez Ford and Angelo Dawkins. The four men are no strangers to one another, having met one another in the squared circle on a couple occasions including the September 22 episode of "SmackDown" and in a Six-Man tag team match at WWE Fastlane earlier this month.
Additionally, the aforementioned SKY, Jimmy Uso, and Bobby Lashley are slated to be in town tonight, per WWE's event page.
We are live! Michael Cole, Corey Graves, and Kevin Patrick greet audiences at home as Roman Reigns and Paul Heyman make their way down to the ring. However, as Reigns looks to hold up his Undisputed WWE Universal Championship, LA Knight's music hits and he breezes past him and gets in the ring to join Nick Aldis. 
Roman Reigns and LA Knight's Contract Signing for Their Undisputed WWE Universal Championship Match at Crown Jewel Goes Awry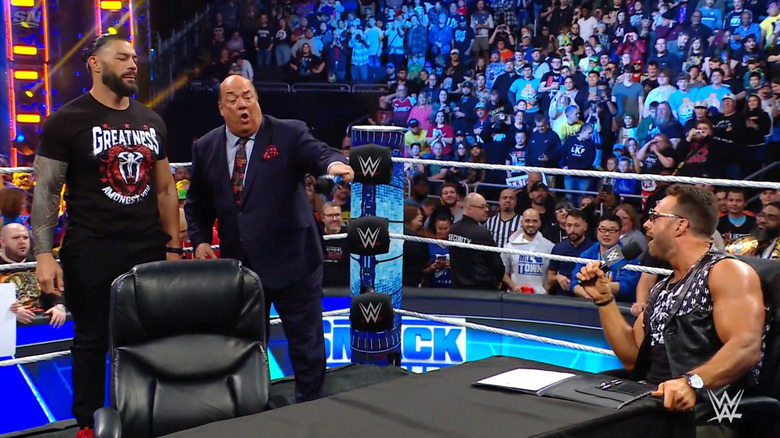 WWE/FS1
Knight sits in the chair at the head of the table, and says it's time to sign this deal to take Reigns' title from him. Aldis welcomes fans to "SmackDown" as Reigns takes his seat, and Knight says that in the contract they're about to sign, it says that Reigns is about to hand his title over to him. He then signs the contract and hands it over to Reigns.
Reigns says Knight must be stupid to just sign away and asks him if he's ever had a contract signing or a championship match before. He says Knight has no clue what he's doing, but lucky for him, he'll go easy on him and signs the contract. Aldis takes the contract and says that his responsibilities have been concluded, then heads to the back. Reigns looks to stand up to leave, but Knight cuts him off and tells Reigns to acknowledge him since he's sitting at the head of the table. He says that he hopes Reigns goes easy on him, but his underestimation means that he's already beat and Reigns will be asking himself what happened when he's dethroned at Crown Jewel. Knight says while Reigns failed over and over again, he's been telling everyone who's game this is. He says he can't stop the gravy train with everyone saying his name.
An enraged Reigns flips the table on Knight and fires off stomps on him in the corner. He sends Knight colliding with the ring post shoulder first and grabs a second table from under the ring and slides it inside. He sets it up and fires off a right hand on Knight, but Knight gains the upper hand and fires off stops on Reigns in the corner. He looks to plant Reigns through the table, but Jimmy Uso appears out of nowhere and fires off stomps on Knight. Reigns slides out of the ring while he has the chance and tells Jimmy to continue beating down Knight. Knight sends him crashing through the table with a back suplex and stands tall before staring down Reigns on the ramp.

Santos Escobar and Carlito (Rey Mysterio's last minute replacement) then head down to the ring. We see Rey watching the action from backstage as The Street Profits and Bobby Lashley follow suit.
The Street Profits (w/ Bobby Lashley) vs. Santos Escobar and Carlito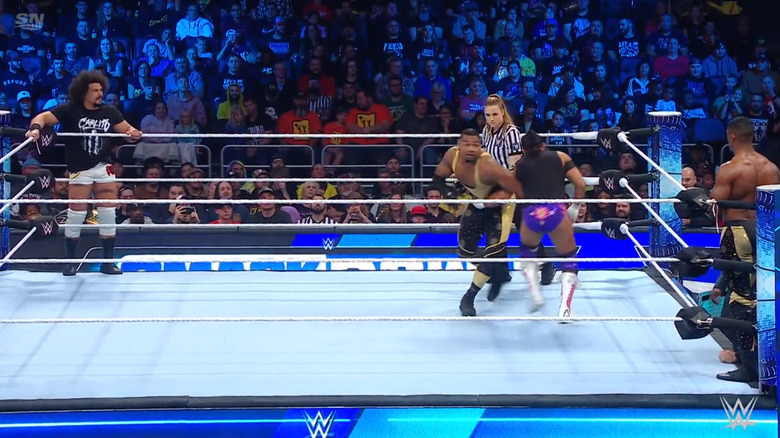 WWE/FS1
Escobar and Dawkins begin the action. The bell rings and the two lock up. Dawkins lands a shoulder tackle, but Escobar fires back with a dropkick and tags in Carlito. Carlito delivers a double ax handle from the bottom rope, but Dawkins connects with a kick to his face before running into Carlito. Dawkins overpowers him and wears him down in the corner, but Carlito manages to hit a dropkick. Ford gets in the ring, but Carlito sends him to the outside and goes flying over the top to level The Profits.

Back from the break, Ford delivers a standing splash to Escobar and goes for a pin, but Carlito breaks the fall. Ford fires off right hands on Escobar, but Escobar connects with an enzuigiri. Ford then flattens him with a clothesline and tags in Dawkins. Dawkins delivers a splash in the corner, but Escobar rocks him with a running knee out of the corner and tags in Carlito. Ford tags in and Carlito delivers a double underhook suplex to him. He follows it up with a sit out powerbomb and a swinging neckbreaker, then goes for a pin but Dawkins breaks the fall. Escobar clotheslines Dawkins out of the ring, then tags in as we see Logan Paul blindside Rey Mysterio from backstage. Escobar tells Carlito to go check on Rey before delivering a hurricanrana to Ford. He follows it up with the running double knees in the corner. Dawkins tags in and delivers an enzuigiri on Ford from the apron before The Profits catch him with a sit out powerbomb-neckbreaker combination for the win.
Winners: The Street Profits
We head backstage to Roman Reigns and Paul Heyman promoting a WWE Championship made for the NFL's Green Bay Packers. Heyman tells Reigns he's going to give Knight the table as it's the only title he'll ever get close to. Jimmy Uso walks in and Reigns asks him what happened. He says he ran the play, and Reigns tells him he ran the wrong play. Jimmy says he called an audible, and Reigns tells him to deal with it before sending Heyman to make a match between Knight and Jimmy official.
Back from the break, we see Paul walking around backstage. Cathy Kelley approaches him and asks Paul why he attacked Rey, and Rey says his fist is bigger than Rey's head, then walks off. He runs into Kevin Owens wearing one of Rey's shirts and stares him down, then walks away. Grayson Waller and Austin Theory then appear and begin arguing with Owens. Waller and Theory keep running their mouths, and Owens clocks them.
We then head over and see Cedric Alexander introducing himself to Dragon Lee before the pair agree to a match later tonight.
Back at ringside, Shotzi heads down. Chelsea Green and Piper Niven follow.
Shotzi vs. Chelsea Green (w/ Piper Niven)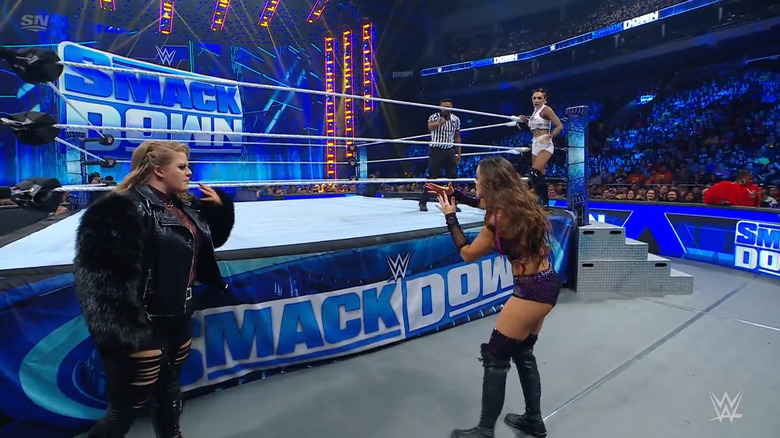 WWE/FS1
The bell rings and Green delivers a dropkick out of the gate. Shotzi rolls her up, but Green kicks out and sends her into the top turnbuckle face first. Green takes a second to strategize with Niven on the outside, but Shotzi doesn't give them much time as she goes flying off the apron to level her. The pair get back in the ring, and Green delivers a Side Russian Leg Sweep from the middle rope. She follows it up with a running dropkick, but Shotzi connects with a kick to her head and drags her up to the top rope. Green sends her crashing into the mat and delivers a dropkick. She goes for a pin, but Shotzi reverses the fall for the win.
Winner: Shotzi
Back from the break, John Cena heads down to the ring.
We Hear From John Cena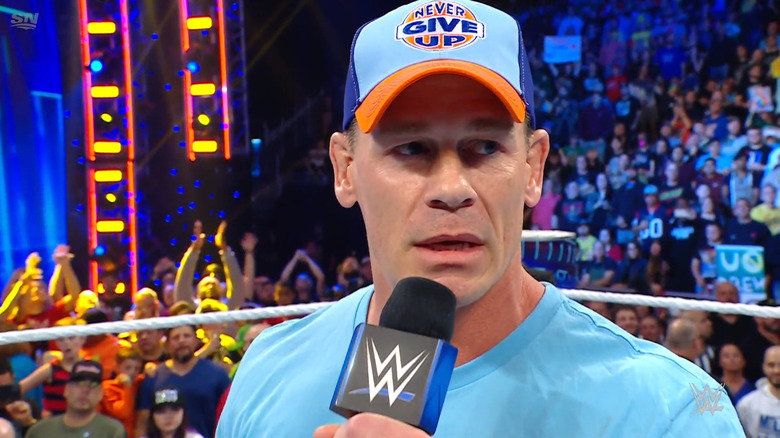 WWE/FS1
Cena says there is a special excitement and energy in the Fiserv Forum, but for him personally, it's more of a serious energy he hasn't felt since he was almost fired 20 years ago. He says he tried to give his heart and soul for the past 20 years in return for noise from fans, then thanks them for their support and respect. He says Crown Jewel is serious for him because for the first time in 20 years, he feels in jeopardy of losing the support and respect of fans. He says the math can't be ignored and if he doesn't deliver soon, he loses what he has with the fans and his wrestling career. He says he wants to keep the ride going, so there is only one thing left to do at Crown Jewel: win. He says WWE uses words like must see all the time, and not only is Crown Jewel a must see for him, but it's must win. He says it takes guts to promise a win.
Paul Heyman then makes his way down to the ring and says he's out here with respect. He says based on his past actions, he deserves to be booed as he's being right now but not tonight. He shakes Cena's hand and thanks him for everything he's done over the past 20 years. He recalls picking John Cena as his first OVW pick and says he raised his kids to be more like Cena than himself. He says that although Roman Reigns proved to be better at WWE SummerSlam, Cena has proved to be better at communication and says he has a special bond with the fans. He says Cena could've had a future just talking and he could've been him, that is, until he angered The Bloodline. He says Cena has come back from cracked ribs and a match with Jimmy Uso, but once Solo Sikoa hits him with the Samoan Spike, he takes away his greatest ability of communication. He says Cena comes out and opens his heart, and the one match left in his career that he must win is the one he can't do that in. He says that's not a prediction but a spoiler as Sikoa runs down to the ring and clocks Cena from behind.
Sikoa fires off right hands on Cena and plants him with Spinning Solo, then hits him with a Samoan Spike. 
Dragon Lee then makes his way down to the ring. Cedric Alexander follows. 
Dragon Lee vs. Cedric Alexander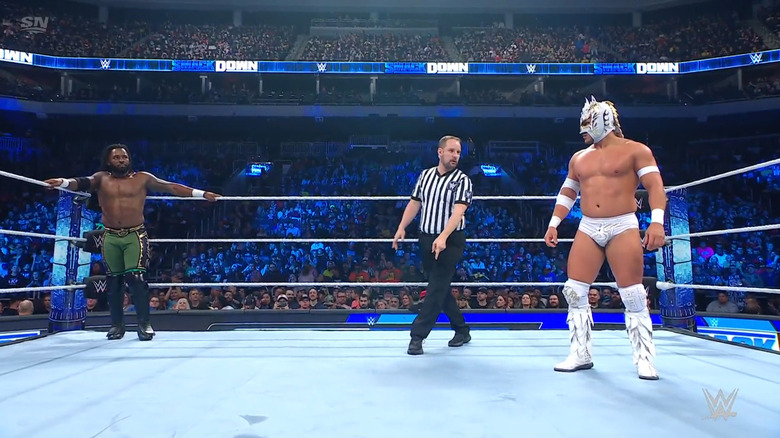 WWE/FS1
The bell rings and the two lock up. Lee executes a hurricanrana before the pair level one another with dropkicks and quickly kip up. Lee connects with a jumping knee strike on the apron, but Alexander sends him crashing into the apron spine first.

Back from the break, Alexander plants Lee with a Michinoku Driver and looks to send him crashing into the top turnbuckle face first. Lee prevents him from doing so and does the same to him. Both men find themselves teetering on the top rope, and Lee delivers a double stomp to Alexander's chest. He connects with a knee to his spine and plants him with an inverted DDT for the win.
Winner: Dragon Lee
After the match, the two shake hands as a show of respect and Alexander holds up Lee's hand.
Bianca Belair then makes her way down to the ring.
We Hear From Bianca Belair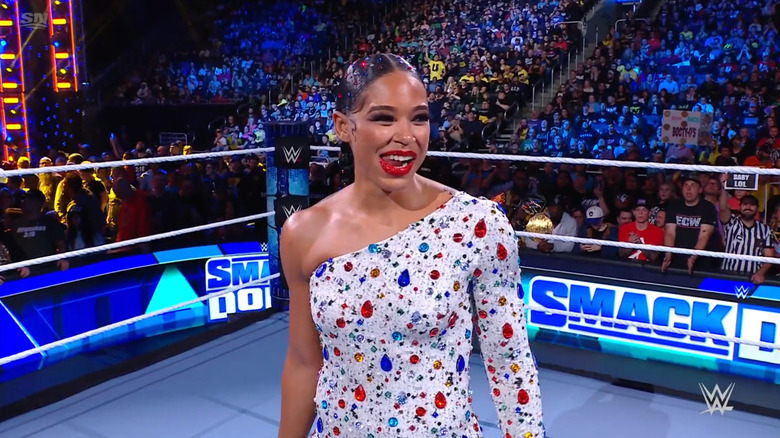 WWE/FS1
Belair says she's excited to be back, and she was just getting started last week. She says one thing has been playing over and over in her head during her absence: being attacked by Damage CTRL backstage. She says getting attacked from behind two weeks after losing her title to IYO SKY at WWE SummerSlam did something to her physically and mentally. She says she was out for the first time with nothing except her thoughts, but her mind couldn't focus on anything except how to make Damage CTRL pay for what they did whilst she was recovering. She says she was consumed with vengeance and it acted as her motivating factor during her recovery. She says she came up with a plan she took to Nick Aldis, and announces that not only will she be facing SKY for the WWE Women's Championship at Crown Jewel, but she will be taking on Bayley in singles competition next week.
Jimmy Uso then makes his way down to the ring. LA Knight follows.
LA Knight vs. Jimmy Uso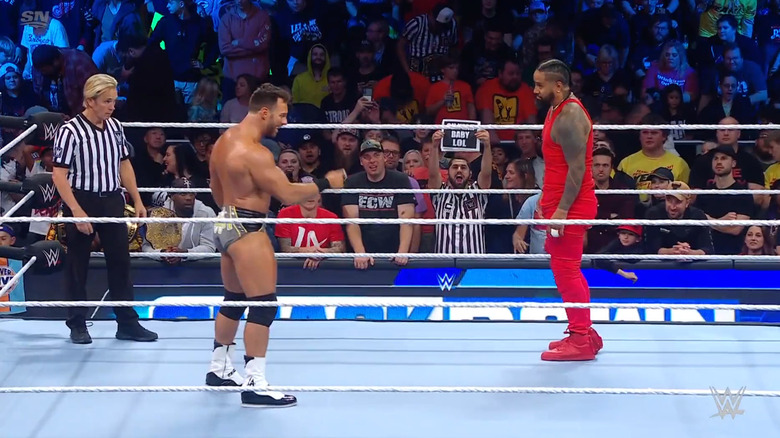 WWE/FS1
The bell rings and Jimmy delivers a shoulder tackle. Knight gets back up and lands an elbow strike, then follows it up with a suplex. Jimmy responds with a headbutt and a chop, but Knight levels him with a clothesline and a kick to his knee. He lands a second one on his head before the two men end up on the apron and Jimmy delivers a suplex to Knight.
Back from the break, Jimmy clocks Knight and fires off right hands on his head. He lands a Hip Attack in the corner, but Knight levels him with a clothesline. Jimmy sends Knight crashing into the ring post shoulder first, then looks for a bodyslam but Knight hits a reverse DDT and fires off right hands. He follows it up with a Side Russian Leg Sweep and a DDT, then fires off several stomps in the corner and sends his head repeatedly bouncing off the announce desk on the outside.
Once the pair get back inside the ring, Jimmy lands a Samoan Drop and ascends to the top. Knight joins him up there, but Jimmy pushes him off and connects with The Uso Splash. He goes for a pin, but Knight kicks out. The two wind back up on the top rope, and Knight executes a superplex. He follows it up with BFT for the win.
Winner: LA Knight
After the match, Roman Reigns looks to blindside Knight, but Knight catches him with a BFT.