Declan McMahon, Grandson Of WWE's Vince McMahon, On Potentially Entering Wrestling Industry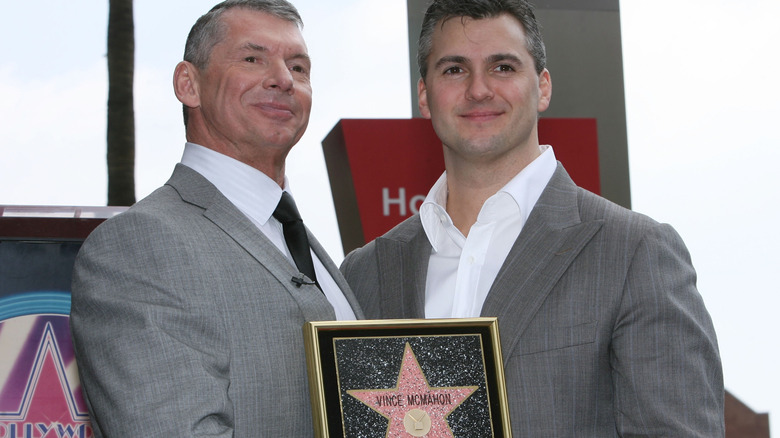 Alexandra Wyman/Getty Images
Wrestling has historically been a family business, and the McMahon family ranks among the most significant. Vince McMahon, of course, took over WWE from his father Vince Sr. — the son of promoter Jess McMahon — and his own children, Stephanie and Shane McMahon, have held significant roles with the company over the years. Could the tradition extend into the next generation?
Declan McMahon, Vince's grandson through Shane, addressed his own future in the industry during an interview with "Developmentally Speaking". 
"I think I would probably give wrestling a try," he said. "If I can only do one match, I've told my grandpa that I would want to do a match against my two brothers, a triple threat match, probably Hell in a Cell, you know, maybe jump off something."
The fifth-generation McMahon recognized the family privilege he has, getting to see the inner workings of the business at his leisure, and compared putting together shows to assembling an orchestra considering the many moving parts. He said that it's almost like solving a puzzle, and he appreciates the process. But he is also currently committed to football and getting his college degree, so he will wait and see. 
Which isn't to say Declan doesn't have ideas for his eventual arrival.
"I mean the story's already written, right?" he said. "I mean, the rightful heir, the good-looking one who looks like Vince."
Of course, Declain isn't the only would-be claimant to that particular role — he explained that Aurora, daughter of Stephanie McMahon and current WWE Chief Content Officer Paul "Triple H" Levesque, has also talked about stepping through the ropes. Declan still feels he would be the best, though, claiming to have inherited the ego from his father and grandfather.